Adventure Sports in Kashmir
In times of yore, before the development of modern communications, even getting to Kashmir was an adventure. Cupped within some of the highest mountains in the world ranging in altitude from 5,000 to 7,000 m, some unnamed and unclimbed, the remote beauty of Kashmir has become comparatively more easily accessible only since it came under the umbrella of modern Jet travel.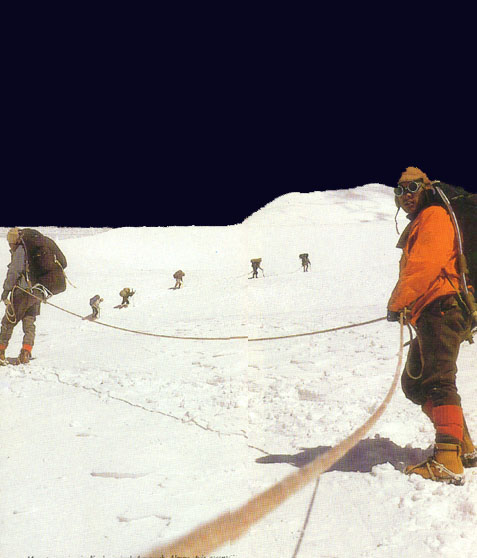 Following contemporary holiday tradition, Kashmir extends an invitation to breathtaking adventure. Climbing sheer ice-walls and vertical granite slabs, trekking the beautiful forest trails to glaciers and mountain lakes, angling in swift flowing trout streams, golfing on some of the highest courses in the world, rafting down rapids and narrow gorges, hang-gliding and hot air ballooning, skiing down some of the finest slopes and ski-mountaineering across range upon range of mountains are among some of the exciting sports Kashmir has to offer. In Kashmir, you can even be a pioneer in what you do - if you're daring enough. It's the adventure playground par excellence.
Watersports


Kashmir's two major natural advantages are its mountains on the one hand, and lakes and rivers on the other. These waterways enhance the beauty of the land and are one of the chief sources that attract tourists to its verdant valleys. But more than just a means of pleasure, the water-ways are an activity oriented way of discovering new leisure sports.

>>>
Fishing


Kashmir has often been referred to as an angler's paradise, with a network of rivers and streams as well as high altitude lakes all abounding in trout - both brown and rainbow. Trout fishing in Kashmir is far, far cheaper than it is in any other part of the world.

>>>
Cycling


While our capital city, Srinagar, is too sprawling to be explored on foot, taxis may be thought a trifle 'insulated' for some. Cycling, therefore, remains a popular, not to say inexpensive, way of experiencing the flavour of the city.

>>>
Mountaineering


Kashmir's mountain ranges are both Alpine and Himalayan and can be grouped into four distinct regions: Kashmir, Kishtwar, Zanskar and Ladakh.

>>>
Skiing


People think of mountains only in the summers, reflecting on their cool shade and lovely breezes. The meadow of flowers, Gulmarg is about 50 km from Srinagar, situated at an altitude of 2,730 m. It turns into a meadow of romance in winter, a small ski resort where everyone knows everyone else.

>>>
Golfing


Kashmir offers a unique opportunity to play golf all through the summer - from April to November - in invigorating surroundings where the wind whispers through trees of chinar and pine.

>>>
Trekking


For trekkers, Kashmir is the ultimate paradise. The terrain from the Shivalik hills of Jammu to the rugged mountains of Ladakh is a geographer's delight. Nowhere in the world can one see so much change in geography in such a small distance: flora and fauna; Alpine pastures saddled among snow clad peaks with pure oxygenated air; high-altitude lakes of Kishensar, Vishensar and Gangabal full of trout.

>>>
Wildlife


Dachigam National Park amidst forests of silver birch and conifer roams the hangul. Rare and on the verge of extinction till a few years ago, the national park at Dachigam contains the last viable hangul population in the world.

>>>
Caving
There are many caves in different parts of the state which have remained unexplored so far. It is said that the Kalaruss caves of Lolab extend upto Russia. People have explored the caves for up to two days and then given up due to the darkness. >>>
Hang Gliding and Hot Air Ballooning
Though some trials for hang gliding have been held in the valley, the sport still continues to be rare. The location of a flat valley surrounded by high mountains is an ideal terrain for hang-gliding. Higher up, the meadows at the foot of mountains such as Yusmarg, Gulmarg and Sonamarg are idyllic spots to try hang-gliding. >>>
A Picture Gallery
Acknowledgments