Barrister Bishan Narain Dar
Our Founding Father
By Dr. B.N. Sharga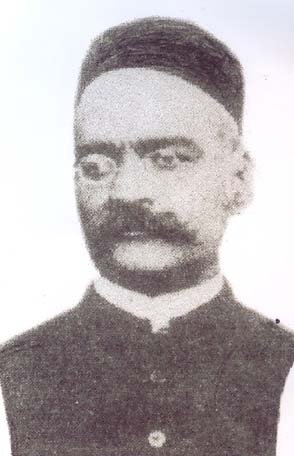 Whenever a person tries to break the existing social barriers of his times he has to pay a heavy price for it. There are innumerable such instances in the history when the great men had even to sacrifice their lives because the ideas propounded by them were not acceptable to the people of their period. We should not forget that Jesus Christ was crucified, Socretes was forced to drink poison and Mahatma Gandhi had to face the bullets not for committing any sin, but for cherishing certain basic human values and ideals which were not to the liking of a certain section of the society in their era.
Pandit Bishan Narain Dar likewise was excommunicated by his own community members from the Biradari for undertaking a sea voyage which was considered to be an unpardonable sin in those days although he created history by becoming the first Kashmiri Pandit to go to England and the first Indian to become a Barrister.
Family History
Barrister Bishen Narain Darís ancestor Data Ram Dar who was a resident of Purushyaar locality of Srinagar district in Kashmir came to Lucknow during the rule of nawab Asaf-ud-Daula in Awadh around 1780 and settled down in Kashmiri Mohalla with his family which was a common practice in that era among the Kashmiri Pandits as they generally used to prefer to live together as a community to maintain their distinct identity and to strengthen their community bonds. Data Ram Dar had two sons: Rati Ram Dar who was born around 1798 and Dila Ram Dar who was born around 1800. The latter had a son Tika Ram Dar who was born around 1820 had a printing press which used to print royal farmaans and decrees. Tika Ram Dar played an important role during the mutiny of 1857. He used to print and distribute pamphlets against the British to mobilize the opinion of local residents against the British atrocities. To avoid the searching eyes of British secret agents he shifted his base on a big boat on river Gomti which he used to move from one place to another on slightest suspicion. It is said that Tika Ram Dar after the mutiny migrated from Lucknow to Benares and settled there permanently.
Rati Ram Dar had a son Hari Ram Dar who was born around 1820. After completing his studies he succeeded to become an Akhbar navees of king Wajid Ali Shah. Some say that he was so much attached with the king that when British detained king Wajid Ali Shah in Matiya Burj in Calcutta Hari Ram Dar went along with him. Hari Ram Dar had four sons: Kishen Narain, Jagat Narain, Kashi Narain and Raj Narain.
Jagat Narain Dar had two sons: Pran Narain and Dharam Narain besides three daughters: Lalita (Lasso), Mathura, and Parvati (Battoo).
Kashi Narain Dar who was born around 1848 had two sons: Swaroop Narain and Roop Narain besides two daughters: Chandra and Durga. Swaroop Narain Dar was born in 1869 married twice. From his first wife he had a son Sri Narain and a daughter Sharika who was married with Pushkar Nath Sopori. Sri Narain Dar had three sons: Anand Narain, Tribhuvan Narain and Shanti Narain besides two daughters: Vidya married with Parmeshwar Nath Topa of Delhi and Leela married with Avtar Kishen Zutshi of Gwalior. Swaroop Narain Dar from his second wife Jawahar Rani daughter of Vishambhar Nath Dar of Agra had two sons: Inder Narain and Avtar Narain besides three daughters: Jwala, Kanta and Vijaylaxmi. Swaroop Narain Dar died in 1931.
Roop Narain Dar after completing his studies joined the judicial service and became a judge in the Gwalior estate. He was married with Brij Kumari (Roop Rani) the daughter of Shiv Nath Chak of Lucknow. It is alleged that he was keeping tawaif which was considered to be the status symbol among the elite of the society in that era and she used to live in front of his house in Murar, Gwalior. He had three sons: Kailas Narain, Maharaj Narain and Prakash Narain. Kailas Narain Dar was married with Kripa Kaul. It is alleged he was also keeping a begum but he remained a strict Hindu all through his life. He had three daughters: Kamini, Padma and Rani.
Maharaj Narain Dar had leisurely life and did nothing. He used to pass his time in composing Urdu poetry. He was married with Raj Dulari, the daughter of Nand Lal Hukku of Kashmiri Mohalla, Lucknow. He had three sons: Rajendra, Surendra and Arun besides three daughters: Kirti married with Radhey Raina, Gargi married with Dhanpal Sharma and Radha married with Pradeep Kitchelu.
Prakash Narain Dar was born in 1917. He married Kiran the daughter of Man Nath Muttoo. He died in 2000. He had two sons: Man Mohan and Ravi and a daughter Malini married with Avtar Nath Yaksh.
Raj Narain Dar had no son. He adopted his nephew Tej Narain Dar who was the son of Kishen Narain Dar. Tej Narain Dar was married with Vilas the daughter of Pran Nath Bazaz of Kashmiri Mohalla, Lucknow. Tej Narain Dar had a son Suraj Narain besides two daughters: Roopan married with Brij Mohan Nath Hukku of Jodhpur and Nano married with Ram Narain Gurtoo of Jodhpur. Suraj Narain Dar joined the British Indian army and rose to the rank of Brigadier. After his retirement from active service he settled down in Delhi. He had a son Vikram and daughter Milan married with Brahma Narain Bahadur. Hari Ram Darís eldest son Kishen Narain Dar was born around 1845 at Lucknow. After completing his studies he joined the judicial service in the then United provinces and became a munsif . Subsequently, he got promotion and became a judge at Faizabad. He was a progressive minded person and an ardent admirer of Shiv Narain Bahar who was pioneer in leading the young boys of Kashmiri Pandit community towards English education against heavy odds. Kishen Narain Dar after the death of Shiv Narain Bahar took the responsibility of publishing the first community magazine from Lucknow known as Mursala-e-Kashmir around 1871. He had seven sons: Bishen Narain, Hriday Narain, Hari Narain, Tej Narain, Kripa Narain, Udit Narain and Ratan Narain besides two daughters: Mrs. Lado Rani Zutshi and Mrs. Dulari Mal.
Hriday Narain Dar had two sons: Prem Narain and Uttam Narain besides a daughter Shano who was married in a longer family. Prem Narain Dar went to Kashmir and became a forest officer. He had a son Govind and a daughter Usha. Uttam Narain Dar first joined the Lucknow Cooperative Paper Mills and then after leaving his job he used to run a Kashmiri hotel in Lalbagh owned by Mrs. Dulari Mal. Uttam Narain Dar was married with Kusum the daughter of Kamta Prasad Kitchelu. He had two daughters: Kamal and Laxmi and a son Kapil. Kapil married to Maya Muttoo the daughter of Kailas Nath Muttoo of Barabanki.
Udit Narain Dar was born in 1888 and died in Lucknow in 1965. He had three sons: Jagpal Narain, Jagdish Narain and Kunwar Narain (Ganesh) besides three daughters: Roop Kishori Maharaj Kishori and Giri Raj Kishori. Kunwar Narain Dar was born in 1920. He joined the Indian Railways and died at Lucknow in 2000. He was married with Kishan (Shobha) the daughter of Madan Mohan Kishen Masaldan of Rani Katra, Lucknow. He had three sons: Pramod, Vinod and Subodh.
Pandit Bishan Narain Dar was born in 1864 in Barabanki district of United Provinces. Incidentally it was the same year in which Canning College was established in Lucknow by the Taluqdars of Oudh loyal to the British for imparting European education to the Indian students and to perpetuate the memory of Lord Canning who was the Governor General and first Viceroy of India at the time of annexation of Oudh by the British.
After crushing the Mutiny of 1857 by the native sepoys of East India Company Lord Canning read the proclaimation of Queen Victoria from the ramparts of the Allahabad Fort on 1st November 1858. Allahabad was made the capital of the country during that period. Thus Victorian era began in India.
The ancestors of Pandit Bishan Narain Dar left the Kashmir Valley in the first half of the 19th century. His grandfather Pandit Hari Ram Dar travelled whole of North India in search of a good job and ultimately succeeded in becoming an Akhbar Navis for king Wajid Ali Shah, who was the last ruler of Oudh and was counting his days almost like a prisoner in Matia Burj at Calcutta at that time, as he was dethroned by the British in 1856 and was taken to Calcutta from Lucknow under a heavy military escort to be lodged there in Fort William as a precautionary measure to contain almost civil war like conditions in Lucknow after his removal from the throne.
Pt. Hari Ram Dar's cousin Pt. Tika Ram Dar had a printing press. During the Mutinity of 1857, Pt. Tika Ram Dar to hoodwink the British secret agents gathering information about the revolution aries, shifted his printing press on a big boat in the river Gomti from where the pamphlets were printed against the British to be distributed among the citizen of Lucknow to rise in revolt. But when things became quite difficult for Pt. Tika Ram Dar to continue his compaign due to British intelligence, he very secretly migrated to Benaras now Varanasi to avoid being framed for treason by the British.
Since Bishan Narain Dar's father Pandit Kishan Narain Dar became a Munsif in the post-annexation period and got his posting at Lucknow so his family shifted from Barabanki to this city after the Mutiny of 1857 and settled down again in Kashmiri Mohalla around 1860 when the British had total administrative control over this city after crushing the rebellion of native forces under the command of Begum Hazrat Mahal. The Kashmiri Mohalla of Lucknow was having a big concentration of the population of Kashmiri Pandits in those days.
Pandit Bishan Narain Dar had his early schooling in Lucknow like many other Kashmiri Pandit boys of that period. He also did his graduation from the Canning College in 1884 which was affiliated with the Calcutta University at that time. In Canning College he came in contact with Pandit Pran Nath Bazaz who was a teacher there. Pandit Pran Nath Bazaz was a student of La-Martiniere College in 1850, so he was having a very broad outlook and was slightly ahead of his times in his ideas and thinking than many other Kashmiri Pandits of that period. Actually he inspired young Bishan Narain Dar to take a trip to England for higher studies although the Biradari members were not at all in favour of such a preposition and were on the contrary deadly against this move of Bishan Narain Dar which was considered to be something highly inauspicious for the entire community due to very rigid social customs and beliefs prevalent in the community at that time.
Naturally under such adverse circumstances with no support forthcoming from the community members and not even from his close blood relatives Bishan Narain Dar had no choice left but to plan his trip to England very secretly so that it may not lead to any unpleasant situation or might not create an embarrassment to his parents.
He somehow managed Rs. 3,000/- from his close friends and well-wishers and left for London along with Professor Gaul who was his teacher in Canning College on 21st March, 1884. Before his departure from Bombay by ship, he wrote a letter to his father in Lucknow demanding more money for his stay in England. His letter further electrified the already surcharged atmosphere in Lucknow. The news about his clandestine departure to England spread like a wildfire among Kashmiri Pandit families living in Kashmiri Mohalla and aroused a storm of indignation particularly among the women folk of the community.
Consequently a meeting of the Biradari was called on 1st June 1884 in Ganjoo Walon Ka Shadikhana and the crisis was precipitated to such an extent between the supporters and opponents of Bishan Narain Dar that a sharp division of the Biradari took place into two groups known as Bishan Sabha and Dharam Sabha on this major issue concerning the Biradari.
As a good majority of the Kashmiri Pandits living in Kashmiri Mohalla were either big landlords or zamindars with vast rural properties under their command, so they were wielding a considerable influence on the community due to their position in the society and money power. These highly orthodox and traditional people who were not at all prepared to introduce any reform in the community constituted the Dharam Sabha under the leadership of Pandit Raj Narain Bakshi who was against acquiring western way of life, whereas very small number of Kashmiri Pandits with progressive ideas and who were against the very rigid social customs and traditions and were in favour of Bishan Narain Dar's trip to England formed a separate group in the Biradari known as Bishan Sabha.
The prominent members of this group were Dewan Amar Nath Kaul, Pt. Tribhuwan Nath Sapru Hijr, Pt. Ratan Nath Dar Sarshar, Pt. Baij Nath Kaul, Pt. Udit Narain Chakbast and Pt. Lalta Prasad Batpori, etc.
It is interesting to note here that though this division of the community took place in Lucknow, but this controversy reached upto Lahore and divided the community even in that city because of the matrimonial alliances between the Kashmiri Pandits of Lucknow and the Kashmiri Pandits of Lahore. Many articles on this topic were published in the Tribune an English daily of Lahore in those days strongly condemning the action of Bishan Narain Dar.
It may be recalled here that prior to this incident in 1834 Pandit Mohan Lal Zutshi was excommunicated from the Biradari for undertaking extensive journeys to the Arabian countires. On his return to his home land this unfortunate Kashmiri Pandit was subjected to so much of humiliation and insult by his own community members that he became a Muslim by embracing Islam. Simply because there was no one in the community to support him at that time.
It should be mentioned here that young Bishan Narain Dar was an active member of the circle of desciples of Pandit Sheo Narain Bahar who was the editor of Mursala-e-Kashmir a caste journal of Kashmiri Pandits which was brought out in Kashmiri Mohalla in those days.
This group for the first time around 1870 established a Kashmiri Young Men's Club under the guidance of Pandit Sheo Narain Bahar. The main object of this club was to inculcate good habits in Kashmiri Pandit boys and to inspire them to discard bad Nawabi habits like visiting the Kothas of tawaifs in Chowk indulgence and addiction which were spoiling the future prospects of the youths of the community by deviating their attention and concentration from their studies.
This club also used to provide access to information about modern society and standards of living so that the Kashmiri Pandit boys could compete with others in every walk of life without any handicap or hesitation.
Now one could very well imagine the impact of all these developments at home on the tender mind of young Bishan Narain Dar who was busy in studying law in England far away from his land of birth.
The mental state of mind of Bishan Narain Dar on a foreign soil could very well be imagined by his speech, which he delivered to the Carlyl Society in London on 4th November, 1886 describing about his departure from India. Being the first of my sect who intended to visit England and I had to manage everything very secretly. Nobody with the exception of few friends and relatives know anything about my resolve and I have actually left India than there was commotion in my community and those who were supposed to be my instigators were excommunicated. I myself received a telegram while my ship was passing through Suez Canal to return at once. I did not mind the telegram and my friends did not mind excommunication from the Biradari.
While living in England Bishan Narain Dar realised the true meaning of independence and observed the difference between the democratic rights being enjoyed by the citizens of a free country and that of subjects of a country under subjugation of a colonial power.
He decided to launch a crusade against this injustice being meeted out to Indians by treating them as second class citizens. He resolved that he would fight till his last breath against this exploitation of Indians by the British till his fellow countrymen would get their legitimate democratic rights like any other European citizen in the country so that they could also live with honour and dignity. Because the treatment of the British towards Indians was very bad in those days and they were generally subjected to all sorts of insults and humiliations.
In July 1887 Bishan Narain Dar came to Kashmiri Mohalla from England as a Barrister. But he had to face a hostile atmosphere as his own community members were not ready to accept him. Because according to them Bishan Narain Dar had committed an unpardonable sin by undertaking a sea voyage to a foreign country against the wishes of the community. Even his own mother after great persuation allowed him to enter his ancestral house in Kashmiri Mohalla. Eventually he was excommunicated from the Biradari.
It is interesting to note that Pandit Tribhuwan Nath Sapru Hijr who was a progressive Urdu poet of that period composed a number of poems in praise of Bishan Narain Dar and his achievements. He also wrote a number of articles out rightly condemning the attitude of highly orthodox and traditional Kashmiri Pandits for downgrading Bishan Narain Dar. Some of ardernt admirers of Bishan Narain Dar even redeculed those orthodox and traditional Kashmiri Pandits for their hypocracy. Because some of these orthodox Kashmiri Pandits were found travelling with Muslims in railway compartments, taking meals cooked by Muslims and even keeping Muslim Begums as their concubines as a status symbol and a sign of affluence like Pt. Mehtab Rai Gurtu, Pt. Shyam Prasad Taimni, Pt. Maharaj Narain Saraf, Pt. Laxmi Narain Dar and Pt. Jawahar Krishnan Zaru etc. When at that time it was supposed that a Kashmiri Pandit would only take a meal cooked by a Kashmiri Pandit cook and not by any other person belonging to a different caste-group.
Though Bishan Narain Dar was very progressive in his views but he was not an Arya Samaji. He was an ardent admirer of Swami Daya Nand Saraswati. It is interesting to note here that in 1873, three years before the Arya Samaj was established at Lahore Swami Daya Nand Saraswati was invited to the house of Pandit Daya Nidhan Ganjoor who was Tahsildar of Lucknow in the post annexation period where he gave a lecture to the assembled Kashmiri Pandits on how the Hindu religion ought to be interpreted according to the Vedas. The aura of Swami ji's personality and his convictions about life had great impact on the mind of Bishan Narain Dar. His English speeches always reflected that bent of mind.
Though Bishan Narain Dar was very critical about Brahminical caste system, yet atleast in his poems in Urdu he always felt proud of having a Kashmiri Pandit lineage. Because he always had a great praise for his ancestors in Kashmir who were determined to lose everything but to preserve their name.
Chhote bade amiro fakiro mard-o-zan
Sab ke dilon mein chashmaye iman tha muazam
kahte the tan se jan chhote jan se badan
Lekin kisi tarah na mite nam-e-brahman.
Bishan Narain Dar commemorated the Kashmiri Pandits who were persecuted in the period after the death of Zainul Abideen in Kashmir and his feelings were thoroughly conservative in tone For our religion hundreds of us gave our lives. They could take everything from us except our faith.
In one of his poems he described the migration from Kashmir as an exile. Because according to him leaving Kashmir for us was like the soul leaving the body behind.
Hai arzue dil ki teri arzu karen
Jab tak zuban hai teri guftagu karen
Gul se aziz humko tera khar khar hai
Muddat se ishtiaq hai ek bar dekh laien
Bulbul hai chashme shauk mein gulzar dekh laien
One day Bishan Narain Dar had to attend a party arranged by some of his European friends in his honour. He wore a three piece black dinner suit for this occasion, which was not to the liking of the traditional Kashmiri Pandits of the locality. As he was a man with a dark complexion so to make fun of him a Kashmiri Pandit poet in a sarcastic way recited the following Urdu couplet :
Hazrate Dar nein bhi, aaj ek suit naya pahana hai
Kali rangat pe syah jame, ka kya kahna hai
He was a true patriot. He had an immense love for his motherland which is reflected from his following lines in Urdu :
Habeeb-e-mulk hein, apne watan se hamko ulfat hai
Tamanae vilayat kya karen, Hindustan hokar
Once he went to Delhi to attend a Mushaira being organised there. During his stay in Delhi he also paid a visit to some historical monumets there. He climbed the stairs of historic Qutub Minar to have a birds eye view of the whole city. When he got down from the Qutub Minar a fellow Urdu poet who was accompanying him asked curiously Panditji Kya Dekha Bishan Narain Dar in his own poetic style replied :
Duniya ki ajeeb ham ne hasti dekhi,
Pahunche jo bulandi pe to pasti delhi,
Minar-e-Qutub se ham ne dali jo nigah,
Ujri hui Dilli ki bhi basti dekhi.
Bishan Narain Dar was a great visionary, a renowned scholar, a prolific writer and above all a reputed Urdu poet. He has written a number of articles in English on topics of social relevance and also authored a few books in English. His Urdu poetic compositions were published in Bahar-e-Gulshan-e-Kashmir which was brought out in two volumes in 1931 and 1932.
The revolutionary speeches of Bishan Narain Dar brought him very close to the top leadership of the Congress Party in the country in those days. Participating in the session of Indian National Congress held in 1887 at Allahabad he earned very high appreciation from the Congress stalwarts who applauded his oratory and command over English language. He became a member of the Imperial Legislative Council in 1914. Though after 1904 he was not very active in politics due to his poor health yet his close friends and admirers in the Congress Party felt that his calibre would not be allowed to be rusted like this. He was persuaded to preside over the 27th Plenery Session of the Indian National Congress held at Calcutta in December 1911 and was unanimously elected as the President of the Congress Party.
Somehow in the fag end of his life this genius became a frustrated and dejected person. Because he could not get the recognition and the active support and co-operation from his own community members which he was dreaming althrough his life with the result that he developed Tuberculosis and ultimately died on 19th November 1916 at the age of 52 years in his new found home in China Bazaar.
According to C.Y. Chintamani, he was one of the most learned among the national leaders of his period. Yet he was very modest, a great writer, many of whose writings are still renowned. It was generally believed that Bishan Narain Dar was one of the two most outstanding literary political leaders of India, the other being Rash Behari Ghosh.
Though it is alleged that Pt. Bishan Narain Dar had very close links with some women of that period but there is no official record about his marriage with any one of them. Some elder members of the community still believe that he was married with Lakshmi the daughter of Pt. Janki Nath Safaya of Bazaar Sita Ram, Delhi.
Pt. Bishan Narain Dar's younger brother Pt. Ratan Narain Dar was born in 1889 at Faizabad where his father Pt. Kishan Narain Dar was posted as subjudge. After completing his education at Lucknow he became a teacher on 17th July, 1917 in a government school at Kanpur. He became the deputy inspector of schools in 1926 at Sitapur. He was also an Urdu poet. He had no problem in getting married within the community fold. The social stigma of the excommunication of his elder brother did not come in his way and he had a happy married life with full respect from one and all in the community. His one of the descendants Pt. Pramod Kumar Dar, still lives in Katra Bizen Beg, Lucknow.
Though Pt. Bishan Narain Dar was the only person from Lucknow till date to become the President of the Indian National Congress and a leading light of our freedom movement, yet there is no memorial in his honour at Lucknow, when he was the real Bharat Ratna. Our present day political leaders of all hues have completely forgotten the contributions made by this great son of the soil in various fields, to uphold very high standards of human values. In this respect the golden words of Samana Sultan said long back carry much meaning that subdue pride by modesty, overcome hypocracy by simplicity and dissolve greed by contentment."