Pandit Brij Nath Sharga
A great protagonist of Hindi language
By Dr. B. N. Sharga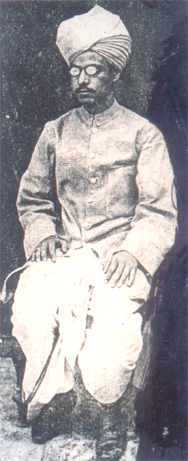 Sanskrit is the mother of all the languages of the world. It is being regarded as the divine language with perfect grammar. According to the learned scholar Sir William James (1747-1794) Sanskrit is more perfect than Greek, more copious than Latin and more exquisitely refined than both of them. In the words of famous lexicographer Sir Monier Williams (1819-1899) Sanskrit represents the Indian mind and India's true national character. Sanskrit was the medium of instructions in ancient India. But the regular Muslim invasions destroyed the rich Sanskrit literature to a considerable extent Sultan Zainul Abideen (1420-1470) of Kashmir was the first who replaced Sanskrit with Persian as his court language. Then Mughal emperors made Persian as their court language and in this process Sanskrit lost its pride of place.
During the reign of king William IV (1830-1837) of England a British national Lord Thomas Babington Macaulay (1800-1859) introduced the English education in India in 1835 to train the young Indian minds to suit the British needs and to cut the very roots of India's centuries old cultural heritage and civilization just to make Indians rootless people like a dum kata gilahra.
Hindi is an offshoot of the Sanskrit language. It was being regarded as the language of homely women belonging to the cow belt of the country during the British period as all the government work was done either in the English language or in the Urdu language. Mahatma Gandhi had a dream to make Hindi as the national language of free India, but even after 62 years of our independence it is yet very difficult to say that Hindi has acquired that status in the country. Pt. Brij Nath Sharga was a great protagonist of the Hindi language and it was due to his untiring efforts that Hindi was introduced as a subject in the curriculum of the Lucknow University both at the under graduate and post graduate level inspite of heavy opposition from all the quarters. He left no stone unturned to see to it that Hindi should get its due place and proper recognition in the society being a true Gandhian. His contribution for the cause of Hindi language can never by forgotten.
Shargas trace their ancestry from Pt. Narayan Kaul (1640-1712) the famous historian of Kashmir. Their ancestors were Dattatrey Kauls of Rainawari. Pt. Brij Nath Sharga's ancestor Pt. Zind Ram Kaul came to the imperial capital, Delhi during the reign of emperor Aurangzeb (1658-1707) and settled down in Bazaar Sita Ram with his family. He was a good scholar of Sanskrit and Persian language besides an able horseman and fencing expert. So he got a job very easily in the Mughal army as a commander of one of its mounted divisions and was placed under Siddique Beg Khan Bahadar.
Pt. Zind Ram Kaul had a son Pt. Sahib Ram Kaul who was equally good in Sanskrit and Persian language and also inherited the skills of his father. He was also absorbed in the mounted regiment of the royal Mughal army and was placed under the command of Murshidzada Ifaq Nawab Mohammad-ud-Daula. Pt. Sahib Ram Kaul had two sons Pt. Laxmi Narain Kaul and Pt. Niranjan Das Kaul besides three daughters. Saraswati was married with Pt. Ganga Ram Raina who was in the court of Maharaja Ranjeet Singh of Punjab, Laxmi was married with Pt. Bakht Mal Madan of Delhi who was the father of Raja Dina Nath Madan and Parvati was married with Pt. Sada Sukh Thullal of Lahore.
It is interesting to note here that the term Mughal is used in the Persian language to describe a Mongol. As the Mughal emperors were of Mongol descent. The word Sharga had its origin in Mongolia where a province is known as Sharga and there is also an ethnic group known as Sharga. In Mongolian dialect the word Sharga is also used for a horse. It is just possible that being in the mounted division of the Mughal army this particular Kaul family adopted Sharga as their surname to project their distinct social status.
Naib Wazir Shuja-ud-Daula (1754-1775) of Oudh was developing Faizabad as his capital by bringing eminent people from every walk of life from Delhi to that city. He brought Pt. Laxmi Narain Kaul Sharga and his younger brother Pt. Niranjan Das Kaul Sharga from Delhi to Faizabad and made them commanders of his royal mounted guards. In the battle of Buxar which took place in 1764 between the forces of East India Company under Muneroe's command and the royal army of Shuja-ud-Daula. The latter was saved by the exemplary courage shown by Pt. Laxmi Narain Kaul Sharga and Pt. Niranjan Das Kaul Sharga in the battle field due to which Bahu Begum the principal wife of Shuja-ud-Daula granted a hereditary Wasiqa of 200 silver coins per month to both these brothers thus placing them on equal footing as the other royal family members and also granted some jagirs in the Farrukhabad district.
When naib wazir Asaf-ud-Daula (1775-1797) made Lucknow as his seat of government in 1775 in place of Faizabad both Pt. Laxmi Narain Kaul Sharga and Pt. Niranjan Das Kaul Sharga came to Lucknow from Faizabad and started living in Khet Gali of Rani Katra locality with their families where Pt. Niranjan Das Kaul Sharga died in 1824 leaving behind four sons Narsingh Dutt, Badri Nath, Kanhaiyya Lal and Kedar Nath besides two daughters Chanda who was married with Pt. Thakur Prasad Mushran of Rani Katra and Meena who was married with Pt. Brij Nath Sopori of Kashmiri Mohalla, Lucknow.
Pt. Narsingh Dutt Sharga apart from a Wasiqedar having royal patronage was a big landlord as well with vast landed properties in Lucknow and Farrukhabad districts. He used to live quite lavishly. He was a very strict person and a great disciplinarian. But in spite of all this his wife and only son Uma Dutt Sharga, who was of unsound mind deserted him, Pt. Narsingh Dutt Sharga then to fill the vacuum in his life married again with the hope to have another son to look after his big Zamindari, but his second wife bore him only one daughter Bilaspati (Bishsho) who was married with Pt. Bishambhar Nath Tikku of Rani Katra, Lucknow and whose son Pt. Prithvi Nath Tikku, subsequently migrated to Kanpur for better prospects after the Nawabi rule. Incidentally the Sanjay Gandhi Post Graduate Institute of Medical Sciences was built on the Zamindari of Pt. Narsingh Dutt Sharga after its abolition in 1950 by the state government.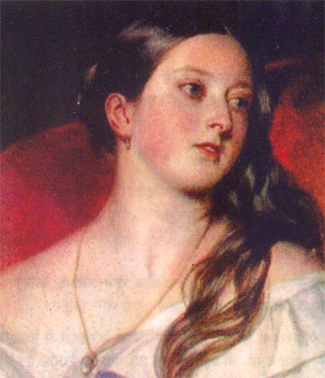 The Nawabi rule in Oudh came to an abrupt end in 1856 when Lord Dalhousie deposed its last king Wajid Ali Shah and placed him in detention in Fort William at Calcutta (Kolkata). Queen Victoria of England then became the empress of India on Ist November 1858 thus ushering the Victorian era in the country. Under this fast changing political scenario Pt. Narsingh Dutt Sharga on 18th January 1869 adopted Vishwa Nath as his legal heir who was born around 1864 and was the son of Pt. Bhola Nath Kaul Nala of Kashmiri Mohalla, Lucknow to carry on the family lineage.
Pt. Narsingh Dutt Sharga died on 24th August 1878 at Lucknow after which the payment of Wasiqa was stopped to his adopted son Pt. Vishwa Nath Sharga as per Muslim Law in which there is no such provision. Pt. Vishwa Nath Sharga had to fight a long legal battle citing cases of adoption in Kashmiri Pandits where adoption was declared as legal. Ultimately the British granted him the royal Wasiqa but with a condition that after his death it was not given to his progeny Pt. Vishwa Nath Sharga died around 1936.
Pt. Vishwa Nath Sharga married twice. From his first wife he had only one son. Brij Nath Sharga and from his second wife he had two sons Narendra Nath Sharga and Jyoti Nath Sharga besides two daughters Senapati married with Dr. Hriday Nath Kunzru of Agra and Lakshmi Shuri (Lakkhi) married with Pt. Badri Prasad Shunglu of Lahore whose daughter Mrs. Swaroop Kumari Bakshi was a cabinet minister in the U.P. Government.
Pt. Narendra Nath Sharga it is alleged was deeply involved with a girl in the neighbourhood, but when her, marriage was fixed with some other boy, he in utter frustration consumed poison and died quite young, Pt. Jyoti Nath Sharga became a guard in the railways after his studies. He was married with Raj Kumari the daughter of Pt. Raghunath Prasad Bhan. He had a son Shyam Mohan Nath Sharga besides two daughters Chandra married with Pt. Ram Chandra Kunzru of Gwalior and Meera married with Pt. Raj Kumar Bakshi of Lucknow.
Pt. Shyam Mohan Nath Sharga was born in 1938. After doing his intermediate from the Kali Charan Inter College, Lucknow he was selected in the Indian Military Academy, Dehradun. He developed blood cancer and died in 1959 at the age of 21 years. His ultimately death gave a big shock to his father Pt. Jyoti Nath Sharga which had a very bad effect on his health and he died in 1969 at the age of 64 years as a completely devastated man.
Pt. Brij Nath Sharga was born in 1884 in his ancestral Haveli at Khet Gali of Rani Katra locality. When he was hardly four years old his mother expired so he was brought up by his grandmother. As per tradition in those days in the Kashmiri Pandit families Maulavis taught him Urdu and Persian language at home. He then did his matriculation from the Government Jubilee High School in 1900 in first division. He then took admission in Canning College, which was then affiliated with the Allahabad University and did his B.A. in 1904 in first division. He then scored highest percentage of marks and topped in the final examination of M.A. in English literature in 1906 which was a great feat for an Indian student among the Europeans at that point of time. For achieving this academic excellence Chancellor's Gold Medal was awarded to him.
Pt. Brij Nath Sharga then did his LL.B. in first division by scoring very good percentage of marks and started his legal practice in the Oudh Chief Court. But he never took his legal profession very seriously. He instead concentrated all his energies towards selfless social service to uplift the down trodden in the society and to bring happiness in their otherwise morose life. As he had the other sources of income to sustain his family so he could very easily afford that luxury in that period when every thing was damn cheap and within means of a middle class family.
The British started Mohammad Bagh Club in Lucknow Cantt, which was exclusively meant for the recreation of British army officer sand civil servants where the entry of Indians and dogs was not allowed. As a counter to that the tallukedars of Oudh established the Rafah-e -Aam Club in 1877 in Golaganj which subsequently became a nerve centre for the activities of the Congress Party.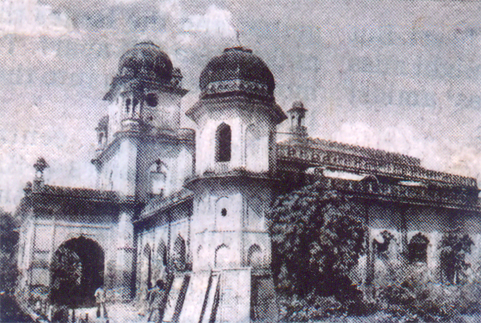 Rafah-e -Aam Club
Initially Pt. Brij Nath Sharga had a very great influence of his British professors on his psyche. So when the British encouraged the people of pro British leanings to form Amaan Sabha under their policy of divide and rule to check the growing popularity of the Congress Party in the masses of the country, Pt. Brij Nath Sharga became an active member of this out fit. When ever any Congress Party meeting used to take place inside the premises of Rafah-e-Aam Club the Congressmen used to shout anti British slogans like Bol gayee my lord kukrun kon the followers of Amaan Sabha used to assemble on the road outside in good number to raise the counter slogan Bol gaye charkhe ki charrakh chun at the pitch of their voice to disrupt the meeting. The general public of Lucknow used to enjoy this tamasha very much.
Mahatma Gandhi came to Lucknow for the first time in 1916 to take part in the convention of Congress Party. After listening his speech a great revolutionary change took place in the personality of Pt. Brij Nath Sharga and he became a true Gandhian and started wearing hand woven clothes. He then adopted the principle of simple living and high thinking in his life to set an example for others.
Dr. Sir Tej Bahadur Sapru drafted the Lucknow University Act in 1919. It was passed by the Legislative Council of the state in 1920. The Lucknow University started functioning from 1921 in the campus of old Canning College where the first class of the Persian language was taken on 17th of July. The then Chancellor of the university and Lieutenant Governor of U.P. Sir Harcourt Butler nominated Pt. Brij Nath Sharga to the Lucknow University Court as well as its Executive Council as their honourable member. Pt. Brij Nath Sharga along with Vice-Chancellor Pt. Jagat Narain Mulla played a key role in the growth and development of the Lucknow University in its formative years.
Pt. Brij Nath Sharga used to go to the Lucknow University daily on his private bugghi wearing achkan and chooridar paijama with gold pocket watch and gold framed spectacle to supervise the construction work of various departments of the university. The British professors used to come to the campus either on horses or horse driven carts. For their horses a stable was built in the campus where now stands the P.G. Block behind the Tagore Library. Due to meticulous planning and farsightedness of Pt. Brij Nath Sharga the Lucknow University became a centre of academic excellence within a very short span of time and its academic standards became at par with that of Oxford and Cambridge Universities of London. Students from far off places in the country started coming to the university for their studies and its faculty of law was regarded to be the best in the country in that period.
In that era Rani Katra locality of Lucknow was the nerve centre of Hindi enthusiasts and its literary figures like Pt. Radhey Krishna Bajpai, Pt. Roop Narain Pande, Pt. Vishal Bajpai, Pt. Nand Kishore Awasthi and Prem Narain Tondon who used to edit the Madhuri magazine brought out by the famous Newal Kishore Press. Many outstanding Hindi literary magazines and books used to be published regularly from the Vidya Mandir Publications in Rani Katra. In the company of such Hindi stalwarts Pt. Brij Nath Sharga also became a great Hindi protagonist though he never studied Hindi language at any level althrough his academic career as Hindi was looked down upon in those days to be the language of homely women. It was due to the untiring efforts of Pt. Brij Nath Sharga that the teaching of Hindi literature became possible at the under graduate and post graduate levels in the Lucknow University inspite of big opposition from every quarter for the same. It was his greatest contribution to the Hindi literature which can never be forgotten. He always took personal pains to solve the problems of teachers and students to build up a healthy academic life in the campus for smooth functioning of the university so that it may not be disturbed for any reason. For all this he used to command a great respect from all the quarters in the university.
During the rule of naib wazir Asaf-ud-Daula in Oudh one Baba Gomti Das popularly known as Baba Hazara came to Lucknow from Hazara village in undivided Punjab . He set up his mutt in the Thakurganj area on the southern bank of Gomti. Due to his spiritual attainments a very large number of local people became his disciples. After his death to perpetuate his memory his disciples built a big complex in Sartaj Bagh. King Nasir-ud-Din Haider (1827-1837) also gave financial assistance to this project and for its proper, maintenance gave Sidhauli and some other villages on the Sitapur Road as its jagir.
In 1915 the then district and sessions judge of Lucknow Mr. H.P. Barbeton for the first time constituted a trust for the proper maintenance of this entire complex known as Baba Hazara Bagh and made Pt. Brij Nath Sharga as the Chairman of this trust. Pt. Brij Nath Sharga took this new responsibility as a great challenge to show his merit and talent. He then chalked out an elaborate plan in consultation with experts to develop this 200 year old historical complex as a great tourist spot and a centre for spiritual learning. Under his supervision the temple inside the complex was properly renovated, pucca roads were laid, a large number of fruit bearing trees were planted for the green cover, drinking water facilities for the pilgrims were made and beautiful flower beds with green lawns were laid to give the whole area the look of a resort with beautiful landscape. But due to utter negligence of the subsequent authorities and their lack of interest this dream project of a great visionary which would have been a source of earning huge foreign exchange by the state government through religious tourism by now is lying in utter neglect whereas crores of hard earned tax payers money is being spent in the city on unproductive projects which have no utility for the general public just to satisfy the whims and fancies of certain individuals close to the corridors of power.
Impressed by the teachings of Swami Vivekanand some youths of the city having nationalistic views formed an organization known as Ram Krishna Pratishthan and opened its office in 1914 in a rented room in Marwari Gali of Aminabad. Pt. Brij Nath Sharga was made its President and Shri Kripa Shankar Sinha became its secretary respectively. Due to the efforts of Pt. Brij Nath Sharga very soon this organization had its own office building. In 1925 this organization became a part of the Kolkata's Ram Krishna Mission at Belur and Pt. Brij Nath Sharga became the chairman of the Lucknow branch. He remained on this post for a very long time and through it did a lot of social work for the poor and down trodden in the society.
It is alleged that surgeon Bhatia of King George's Medical College , Lucknow was a very greedy person. Once he was performing an operation for appendicitis on a 16 years old boy. Suddenly he came out from the operation theatre and said to the relatives of the patient anxiously waiting outside that if you want Bhatia's knife then put 5000 rupees on the table. When this haggling was going on outside the boy died on the operation table due to an overdose of anesthesia. This news captured the headlines in the local newspapers the very next day. When Pt. Brij Nath Sharga read this news in the morning while taking his break fast he lost his temper. He used all his influence in the Executive Council of the Lucknow University to get that corrupt and greedy doctor dismissed from the service to save the reputation of the noble medical profession and to instill confidence in the patients for a fair treatment.
Once Pt. Brij Nath Sharga went to Hyderabad in connection with some case to appear in the court of Nizam Osman Ali Khan. In those days train journey for highly orthodox and superstitious persons believing in untouchability was an arduous task. So elaborate arrangements were made much in advance for the same. In lighter moments he used to share his experiences with his close friends and relatives about his encounter with the Nizam of Hyderabad Osman Ali Khan and how he won the case by his oratory and forceful legal arguments.
Pt. Brij Nath Sharga was elected as the member of the executive of Oudh Bar Association on 28th August 1935 for three years. He worked with all sincerity and devotion to enrich the Bar with his valuable suggestions. He was in the managing committees of many educational institutions of the city and was actively involved with a number of social, literary and cultural organizations of the city in different capacities. The well known personalities of the city like Justice Gokaran Nath Misra, Justice Wazir Hasan, Justice Bisheshwar Nath Srivastava, Sir J.P. Srivastava, Brij Krishna Dhaon, Pt. Sidh Nath Misra Acharya Narendra Dev and Babu Ganga Prasad Verma etc. were his close friends.
Pt. Brij Nath Sharga was married around 1910 with Jai Kishori the daughter of Pt. Brij Krishna Wattal of Agra. He had one son Hari Mohan besides two daughters Brij Kumari married with Pt. Omkar Nath Muttoo of Varanasi who was a chemical engineer and Shyam Kumari was married with Pt. Praduman Krishna Hukku of Jodhpur who was a Sales Tax Officer in U.P.
Pt. Hari Mohan Nath Sharga was born in 1925. After doing his B.Sc. from Shia College , Lucknow , he became a medical representative, But after sometime he left his job due to some problems in the family. He had an innovative mind and tried to prepare various products to brand them in the market but could not achieve much success for one reason on the other. Ultimately he went to Delhi and took up a job in Pandit Brothers at Chandni Chowk. He again came back to Lucknow and started living with his brother in law Pt. P.K. Hukku in a flat in Darul Shafa where he died in 1989 at the age of about 64 years. His cousin sister Mrs. Swaroop Kumari Bakshi made all the arrangements for his cremation at Bhaisakund.
Pt. Brij Nath Sharga was a fair complexioned person with impressive personality. He was a versatile genius with command over English and Persian language. He was a great social reformer, a selfless worker, educationist, visionary and a great political thinker. The former Chief Minister of U.P. Shri Chandra Bhanu Gupta always regarded him as his political mentor and used to touch his feet. He was an staunch Arya Samaji and never believed in wasteful expenditure on performing various religious rituals. He authored two books on the life of Mahatma Gandhi and Swami Ram Krishna Paramhans. He was a voracious reader and used to read books on varied subjects due to which in the fag end of his life he completely lost his eye sight and became blind. Even then the people used to come to his residence to seek his advice on complicated issues. This saintly person left for his heavenly abode in 1958 at the age of about 74 years leaving behind a large number of his well wishers to mourn his death. Thomas A. Edison said long back that nonviolence leads to the highest ethics which is the goal of all evolution until we stop harming all the living beings, we are still savages.
(Dr. B.N. Sharga)
Manohar Niwas
Kashmiri Mohalla,
Lucknow