Prof. Iqbal Krishna Sharga was a born Philosopher
By Dr. B.N. Sharga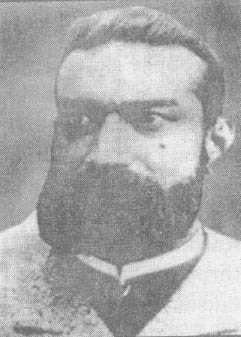 Prof. Iqbal Krishna Sharga was an original thinker and an outstanding philosopher. He elucidated the Vedantic philosophy in an entirely new perspective correlating it with the modern thought about the theory of evolution.
His ancestor Pt. Zind Ram Kaul 'Dattatreya' was originally a resident of Rainawari, Srinagar. After taking refuge at Murree, Rawalpindi and Lahore, Pt. Zind Ram finally landed in Delhi. Aurangzeb (1658-1707) was the reigning emperor. Pandit Zind Ram was a scholar of Sanskrit and Persian. He got employment in the Mughal court and started living in Bazaar Sita Ram. His family too lived here. Not much is known about his son Sahib Kaul. Pt. Sahib Kaul had two sons-Laxmi Narain Kaul and Niranjan Das Kaul. The two brothers had received traditional education in Urdu and Persian language at Delhi. They moved to Oudh during the rule of Nawab Shuja ud Daula (1753-1775). Faizabad was the seat of the provincial government. Their good physique helped them to get job in the Shahi Fauj as company commanders of its mounted division. They were entrusted the security of Nawab's daughter-in-law, Begum Shamsul Nisa and her Jagir. The Nawab's wife Jenab Bahu Begum Ammat-uz-Zuhra was very much pleased with Kaul brothers. She granted them a royal Wasiqa (a sort of hereditary pension) in 1813.
In 1775 Nawab Asaf-ud-Daula, after the death of his father, Nawab Shuja-ud-Daula, shifted the seat of government to Lucknow. The Kaul brothers came to Lucknow alongwith the royal entourage and started living in Rani Katra Mohalla. This mohalla was founded in 1720 by Rani, the wife of a Hindu Risaldar Girdhar Nagar during the rule of Mughal emperor, Mohammad Shah. Pt. Laxmi Narain Kaul and Pt. Niranjan Das Kaul, after receiving the royal recognition in the form of Wasiqa, started writing Kaul Sharga as their surname.
The elder brother Pt. Laxmi Narain Kaul Sharga had three sons--Durga Prasad, Sheo Prasad and Prem Narain. The younger Sharga, Niranjan Das Kaul Sharga had four sons--Narsingh Dutt, Badri Nath, Kanhaiya Lal and Kedar Nath. He had two daughters--Chando, married in Mushran family and Meena. Pt. Niranjan Das Kaul Sharga died in 1824. His third son Pt. Kanhaiya Lal Kaul Sharga had a son-Sheo Krishna. He was married to Rameshwari (d. 1878).
Prof. Iqbal Krishna Sharga was born to Sheo Krishna and Rameshwari at Rani Katra in 1861. He received his education in Urdu and Persian, under the guidance of learned maulvis in a nearby maktab. He passed his matriculation in 1877 from Govt. Jubilee College and FA (1879) and BA (1881) from Canning College. This college had been established by Taluqdars of Oudh in 1862 in a rented building at Aminabad to commemorate the memory of Lord Canning. This college had affiliation with Calcutta University that time. There were only three universities then-Calcutta, Bombay and Madras all established in 1852. Entire north, from Calcutta to Peshawar was under the jurisdiction of Calcutta University for conducting the examinations and for awarding the degrees.
In 1883, Prof. Iqbal Krishna Sharga was appointed Professor of Philosophy in Bareilly College, Bareilly. A voracious reader and a gifted thinker, Prof. Sharga was extremely popular among his students. He also authored some books and earned recognition as an authority on Hindu Philosophy for his innovative ideas and interpretations. He expounded that in Hindu philosophy everything originated from 'Om'. This syllable is indeed Brahma and the highest. Whosoever knows this syllable obtains all that he desires.
The goals which all the vedas declare, which all austerities aim at, and which men desire when they lead a life of contentment is symbolised with this syllable "Om" as per the saying :
Na The Jab Ved Or Brahma
Hua Tab Shabd Onkara
Prof. William knight of the St. Andrews University, Scotland was much impressed by Prof. IK Sharga's new interpretations of Vedantic philosophy. While reviewing one of his books, he wrote, "I rejoice that such teachings are given to the young men who attend the lectures at Bareilly. Prof. DG Ritchie, Prof. of Philosophy commented that Prof. Sharga's book was most admirably written. Though only BA, Prof. Sharga taught students of MA with ease and great authority. A man with progressive ideas, he always kept himself update with new ideas. He used to command great respect for his academic depth.
In 1882 Kashmiri Pandits organised an annual convention 'National Club' at the historic 'Ganju Walon Ka Shadikhana' in Kashmiri Mohalla, Lucknow. The main focus of this convention was to prepare the younger generation mentally in taking up the European education, so that they did not lag behind in the job market. Prof. IK Sharga took an active part in the convention. Prominent Pandits--Ayodhya Nath Kunzru, Shyam Narain Masaldan, Jagat Narain Mulla, Bishan Narain Dar, Madho Prasad Sharga and Ratan Nath Dhar "Sarashar", Ganga Prasad Taimini, Manohar Nath Sapru, Bisheshwar Nath Hangal Sangam Lal Chak, Sri Krishan Tikku, Bishan Narain Razdan and Brij Narain Gurtu had participated in the convention.
Dr. Annie Besant came to India in 1893 to study Vedas. To revive the Vedantic philosophy she formed the Theosophical Society of India. Pt. Suraj Narain Bahadur, a sub-judge and an educationist became the secretary of this society. He used to organise its meetings at his Kashmiri Mohalla residence. Progressive-minded and liberal Pandits of the locality-Prof. Iqbal Krishna Sharga, Hari Krishna Kaul, Sri Krishna Tikku, Jagat Narain Mulla, Bishan Narain Dar, Madho Prasad Sharga and Ratan Nath Dar Sarashar etc. generally used to take part in the deliberations. In this way, Prof. Sharga came in close contact with Dr. Besant. She was highly impressed by Prof. Sharga's command over the English language and his knowledge of the Vedantic philosophy.
Prof. Iqbal K. Sharga helped and guided Pt. Brij Narain Chakbast to start a library and form Kashmiri Youngmen's Association in Kashmiri Mohalla in 1905 to prepare young Kashmiri Pandit boys to face the challenges of life with grit and determination.
At the initiative of Dr. Besant, Sri Pratap Singh Hindu School was established in 1898 at Sathu Barbar Shah, Srinagar. It was housed in a rented house. This later became SP College. The college was founded in 1905 as an intermediate college, managed by the Central Hindu College Trust, Benaras. Its first principal was Professor MU Moore, a reputed Irish scholar and a graduate of the Cambridge University, London. He functioned as Principal till 1908. Prof. E. William Collie, who succeeded him died in the same year in a fire accident in a house-boat in which he was staying. Prof. Vinamali Chakraborty was then appointed as the first Indian Principal of SP College. He could not function due to certain reasons.
In 1909 Professor IK Sharga and a fellow Kashmiri from Kashmiri Mohalla, Pt. Chand Narain Bahadur had just gone to Kashmir for sight-seeing. Professor Sharga was appointed as the first Indian and Kashmiri Principal of the College. Pt. Chand Narain Bahadur became the Professor of English in the same institution. Prof. Sharga joined the select band of those old Kashmiris who got chance to serve the land of their forefathers. They included - Har Sahai Bahadur and his grandson CN Bahadur, Raja Suraj Kaul and his son Daya Krishan Kaul, Dr RN Haksar, Sri Ram Taimni, Brij Lal Nehru, Shiv Narain Bhan, Brij Mohan Dattatreya, Avtar Krishan Wattal, Praduman Krishna Kitchlu etc. These Kashmiris were close confidants of Maharaja Pratap Singh. Professor IK Sharga, due to his awe-inspiring personality and deep knowledge about his subject, became quite popular among his students. They held him in great respect.
Professor Sharga used to live near Residency Road, besides a famous bakery shop owned by a Parsi fellow, nicknamed as Odu. He was fond of wearing the European dress and was a reserved person by temperament. He was a strict disciplinarian and never indulge in loose talks. He excelled in Chess and Bridge playing and was a connoisseur of Urdu and Persian poetry. His untiring efforts helped SP College become a Degree College in 1911. Initially, it was affiliated to Benaras Hindu University. The British government was alarmed over the influence, Dr Besant wielded in the Valley. It prevailed upon the state government to take over the college. In 1912 it was affiliated to Punjab University, Lahore and the word Hindu was dropped.
It was during the tenure of Professor IK Sharga that science classes were introduced up to the intermediate level in this institution. He also started the tradition of celebrating the spring festival in the college premises on a grand scale every year. Professor Sharga not only toned up the administration, but also tried his best to maintain high academic standards. Due to his efforts MA classes were started in the College in 1917. Professor Sharga hated sycophancy. His work was not appreciated by Dr A Mitra, a Bengali, who was then minister of Higher Education. To bring about understanding between the Hindu and Muslim students, Professor Sharga started a common tea club for them and used to subsidise it. To encourage the meritorious students he used to give them prizes and awards from his own pocket. He also used to give the financial aid to widows and orphans from his income. To improve the over all performance of the students, he introduced the monthly examination system in the college to assess their knowledge. He used to organise debates and lectures of the eminent people in the college regularly to broaden the outlook of his students.
As Principal of the prestigious college, Professor Sharga was well-known among the elite of the town. He also developed a good rapport with Mr. Neidou, the owner of the Neidou's Hotel in Srinagar. Prof. Sharga due to his intake of Tobacco and beetle leaves, developed throat cancer and died at Varanasi in 1925 at the age of 64.
Professor IK Sharga was married to Jai Kishori (Iqbal Rani) D/o Kedar Nath Muttoo of Khetgali, Rani Katra, in 1874. He had one son, Hari Krishna Sharga and a daughter Raj Dulari. The latter was married to Dr. Roop Narain Haksar (son of Dewan Swaroop Narain Haksar of Indore state), personal physician to Maharaja Pratap Singh of J&K. Dr Haksar died young, while his wife committed suicide by jumping into a well. The couple had three sons--Shyam Sunder Haksar, Ram Chandra and Mahendra.
Pt. Hari Krishna Sharga was employed in the education department in UP and lived at Kamachcha in Varanasi. He was married to Krishna Dulari D/o Ram Narayan Channa of Kashmir. They had three daughters - Lalita, Kamla and Girja. Lalita was married to Chand Narain Haksar and Kamla to Madan Mohan Lal Kitchlu S/o Kishori Lal Kitchlu, a sub-judge in Jammu. Girja was married to Shyam Sunder Padru.