Dr. B. N. Sharga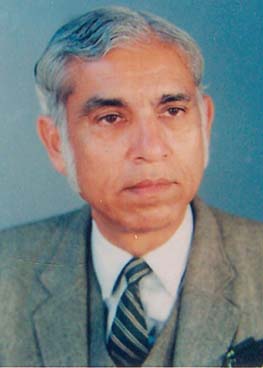 Dr. Baikunth Nath Sharga
Dr. Baikunth Nath Sharga was born on 21st December, 1938. He had his early education from Parker Inter College, Moradabad and college education from Govt. Jubilee Inter College and Shia Degree College, Lucknow. He passed B.Sc in 1959. Later, he did his M.Sc (1962) and Ph.D (1967) in Chemistry from Lucknow University. He taught Chemistry at his alma mater, Shia Degree College (1967-1994). As a Reader in Chemistry, he taught at Shia Post Graduate College (1994-1999).
Theatre
Dr. Sharga has also been involved in the theatre movement. He has so far produced over 400 plays, which have been shown in different parts of the nation. Since 1965, Dr. Sharga has been involved in different roles in the theatre – actor, director, producer, etc. The themes of his plays have been varied –social, mythological, comedies, etc. Dr. Sharga is an institution builder. More than 100 new artistes had begun their career in Sharga's plays. Some of these artistes are now working in films, TV serials. Dr. Sharga has remained President, Panchsheel Kala Mandir (1970-73), President, Sanket Theatre Group (1973--), Vice-president Avadh Cultural Club (1976-1980), Member Lucknow Film Association.
Dr. Sharga is a prolific writer having published over 400 articles in different periodicals. Besides over 4000 'Letters to the Editor' to his credit. American Biographical Institute, North Carolina, selected him for the 'Man of the Year' award in 1998. Dr. Sir Tej Bahadur Sapru Memorial trust, Allahabad, honoured him with a Silver plaque and a citation in 2004. Besides this Dr. Sharga has remained General Secretary, Yuvak Bharti (1973-76), Vice-president, World Association of World's Federalists (1970-73), General Secretary, Lucknow University Associated Colleges Teachers' Association (LUACTA) 1973-76.
As a proud Kashmiri Pandit Dr. Sharga has been taking keen interest in the welfare of the community. He has remained President, Lucknow Kashmiri Association (1996-99) and senior vice –president, AIKS (1997-2000). His role during the past 15 years and more towards the displaced Pandit community has remained unique, identifying totally with the exiled community.
Dr. Sharga's magnum opus "Kashmiri Panditon Ke Anmol Ratna", six volumes of which already stand published, has assured a place for him in History. Kashmiri Pandit community (whether old Kashmiri families or 'Taza Koshur' newly migrated families from the Valley) have remained indifferent to the task of preserving their history-achievements or saga of continued persecution.
This pains a sensitive man like Dr. B N Sharga. He undertook the challenging task of recording and preserving the history of families, which have brought pride to India. In this effort some of the families remained indifferent while some others cooperated to an extent. His effort has been a solo endeavour. He has been spending his meager savings in accessing material and publishing his research work. At times many make fun of his work. But that is the way how all great people in history have managed to do great things.
Dr. Sharga's work and scholarship has made him immortal. He has worked out his own methodology to reach out to the families for recording their family history. At times, he has to face embarrassing questions.
Next time when Dr. Sharga asks for your 'Vanshavali' (genealogy) don't hesitate to co-operate with him because he is the living Kalhan of our times. He preserves your history for posterity. We wish him good luck and a long healthy life.
The origin of Shargas
My grandfather Rai Bahadur Pandit Shyam Manohar Nath Sharga, who was a voracious reader and a scholarly person with great command over Sanskrit, Hindi, Urdu, Persian, Arabic and English language used to say quite often during family discussions ... >>>

Dr. B. N. Sharga
Lucknow, the home of Dr. Baikunth Nath Sharga holds key to Kashmir's past. Two centuries back many families from Kashmir, among Kashmiri Pandits, Shia Muslims and Bhands-the folk theatre performers, moved to Lucknow and made it their permanent home. >>>

Pandit Bisheshwar Nath Kathju
All our holy scriptures lay due emphasis on building up character by observing certain moral values in life as per old saying that when money is lost nothing is lost, when heath is lost something is lost and when character is lost everything is lost. So naturally to develop this character we have to follow certain rules and regulations to control our desires and behaviour in public life to become a role model for others. >>>

Shivala of Raja Dina Nath Madan
Lahore now in Pakistan is a very old historic city. According to a legend this city on the bank of river Ravi was founded by Luv the son of Lord Ram the hero of Hindu epic Ramayana. But according to Cunningham the ruins of Amba Kapi indicate that Lahore city was probably founded around first century A.D. The Chinese traveller Hieun Tsiang who visited this place in 630 A.D. describes it as a large Brahmanical city. >>>

Rishi Peer Padshah

Kashmir has been regarded as the land of gods and goddesses from times immemorial. Its rich natural resources of flora and fauna have always been a great attraction for different people since ages. In the golden period of its history it was considered to be an ideal place for meditation and for spiritual pursuits to become one with the supreme being. >>>

Barrister Bishan Narain Dar

Whenever a person tries to break the existing social barriers of his times he has to pay a heavy price for it. There are innumerable such instances in the history when the great men had even to sacrifice their lives because the ideas propounded by them were not acceptable to the people of their period. >>>

Rai Bahadur Pandit Sri Krishna Tikku
Though we generally say that all men are equal in this world, but the fact is that some men are more than equal simply because their level of understanding things differentiates them from one another. A person who thinks beyond his narrow self and works for the general good of the mankind naturally carves out a special place for himself in the society at large and develops an aura around his personality. >>>

Pandit Shiv Narain Fotedar
The Bhagwad Gita depicts the essence of Hindu philosophy which lays emphasis on the theory of Karma. It teaches us how to over come our short comings and failures. As the salt makes the various food preparations more delicious and palatable. So it is with life. The Gita leads a taste to life like does salt to food. The philosophy of Gita plays an effective role in the growth and development of both body and mind. It is an important ingredient in one's life. >>>
Rai Bahadur Pt. Shyam Manohar Nath Sharga "Saghir"
Hinduism as we all know is no religion. It is actually a way of life being governed by the Vedantic wisdom. It has been evolved over thousands of years by different learned saints and sages through their doctrines, who were actually the original thinkers and philosophers. >>>

Prof. Prithvi Nath Kaula
In our country the tradition of maintaining big libraries as a store house of knowledge was prevalent even in ancient times. These libraries were considered to be the treasure of knowledge and wisdom. >>>

Pandit Ajit Narain Haksar

To check the fast growing monopoly of the American Tobacco Companies in the world market especially of James Buchanan Duke thirteen British tobacco and cigarette companies including the famous W.D. & H.O. Wills of Bristol merged together in 1901 to form the Imperial Tobacco Company to carry out their business in the global market under this new brand name. Mr. William Henry Wills of the leading W.D. & H.O. Wills group became the first chairman of the Imperial Tobacco Company on 24th August 1910. >>>

Dr. Triloki Nath Khoshoo

The people have started now realizing the fact that the environment plays a key role in maintaining the good health of any nation. The different forms of pollution not only shorten one's life span, but also bring various dreadful diseases. That is why now various governments and other non-governmental and voluntary agencies are striving hard to educate the people, about the importance of maintaining a proper ecological balance in nature which is very important for the survival of the mankind. >>>

Prof. Iqbal Krishna Sharga was a born Philosopher

Prof. Iqbal Krishna Sharga was an original thinker and an outstanding philosopher. He elucidated the Vedantic philosophy in an entirely new perspective correlating it with the modern thought about the theory of evolution. >>>

Chandrahari Mahadev Temple of Ayodhya

History tells us that civilizations which once flourished on this planet, the remnants of are now only preserved in the museums of different countries. The pyramids of Egypt symbolise a part of that civilization which existed during the days of Pharaohs there. We also some time watch the traces of those civilizations on the discovery channel... >>>

Air Chief Marshal Swaroop Kishna Kaul

Air Chief Marshal S.K. Kaul's ancestors were originally the residents of Habba Kadal area of the Srinagar district of the Kashmir valley. His ancestor Pandit Maharaj Kaul "Dattatreye" came out from the Kashmir valley in the beginning of the 19th century during the rule of Mughal Emperor Shah alam-II (1759-1806) around 1804 via Mughal route and finally settled down in Bazaar Sita Ram of Delhi. >>>

Pandit Sri Krishna Gurtu

Pt. Sri Krishna Gurtu's ancestors used to write Raina as their surname in the Kashmir Valley. They subsequently started writing Raina Gurtu as their new surname. His ancestor Pt. Narain Das Raina Gurtu was basically a resident of Habba Kadal in the Kashmir Valley. After completing his traditional education in Urdu and Persian language he came to Oudh during the rule of Nawab Asaf-ud-Daula (1775- 1797) probably at the fag end of the 18th century. >>>

Pandit Rameshwar Nath Kao

In modern times, a well organised intelligence net work is a must for any country for maintaining its internal security and for properly protecting it from foreign aggression. It is now considered as the back bone of the administration to maintain proper law and order. The intelligence inputs help the government of the day to take effective measures in time for maintaining peace and communal harmony. >>>

Pandit Swaroop Kishen Reu

IN our country the people have a great fascination for the game of cricket. They watch this game with great passion that is why it is being generally regarded as the second religion of the country, All the T.V. channels now regularly telecast their programmes based on this game in which experts express their viewpoints on the finer aspects of this game. It has now become a source of earning big fortunes almost overnight. >>>

Sanskrit is the mother of all the languages of the world. It is being regarded as the divine language with perfect grammar. According to the learned scholar Sir William James (1747-1794) Sanskrit is more perfect than Greek, more copious than Latin and more exquisitely refined than both of them. In the words of famous lexicographer Sir Monier Williams (1819-1899) Sanskrit represents the Indian mind and India's true national character. Sanskrit was the medium of instructions in ancient India. >>>

I know a person called Dr. B.N. Sharga who is multitalented, vivid personality who is so charismatic that if who speaks to him/read his articles, you will feel fresh and rejuvenated.

got the opportunity to meet him (through letters) way back in 2000-2001 when I was doing my engineering. One of my Kashmiri friends' uncle Mr. M.L. Dhar made me introduce to book called "Kashmiri pandito ke anmol ratna" written by Dr. Sharga. When I got the fortune to read them (some 2 volumes), I was amazed to see the way he has portrayed the ideas/information about ancient Kashmiri families, their history. >>>

Sri Pratap College
The British came to India as the traders during the rule of the Mughal emperor Jahangir (1605-1627). For this purpose the East India Company was formed through a royal charter on 31st December 1600 at London duly signed by Queen Elizebeth I (1553-1603) of England. >>>

Kashmiri Pandits re basically the worshippers of Lord Shiva, Kashmir is abode of Baba Amarnath. Every year in the month of Sawan according to Hindu calendar lacs of pilgrims from all over the country visit the holy cave of Amarnath ... >>>

Sometimes in this mad world strange things happen which one cannot imagine in his life. The British came to India as traders during the reign of the Mughal emperor Jehangir, but after the battle of Plassey which took place in 1757 in which Nawab Siraj-ud-Dula of Bengal was defeated by the British they became a major political player in the country and gradually our masters by adopting their well known policy of divide and rule. >>>

There was no concept of forming a caste based organization till the beginning of the 19th century. There were three important centres of Kashmiri Pandits' population outside Kashmir at that time. They were Bazaar Sita Ram of Delhi, which came into existence during the Mughal rule, Kashmiri Mohalla of Lucknow which came into existence between 1775 and 1778 during the rule of Nawab Asaf-ud-Daula in Oudh and Vachchuwali of Lahore, which came into existence during the reign of Maharaja Ranjeet Singh in Punjab. >>>

The Sharga family is one of the oldest families of Lucknow which is living in Kashmiri Mohalla for the last 7 generations since 1775 when Nawab Asaf-ud-Daula of Awadh made Lucknow as his seat of government instead of Faizabad and Kashmiri Mohalla came into existence on a hill surrounded by beautiful gardens like Kashmiri Bagh, Wazir Bagh, Angoori Bagh, Buniyad Bagh, etc and water bodies.

Pandit Shiv Prasad Chaudhari-Khatkhate Baba
India as we all know has been a land of spiritual pursuits of a very high order from times immemorial, with the main aim to become one with the Supreme Being to drink the nectar of eternal bliss. There are various paths to reach that stage where the difference between the man and God cease to exist and he develops supernatural powers to perform miracles. No doubt it is a tedious path, which requires deep meditation and concentration of mind in seclusion to attain that supreme state. >>>

Raja Sir Daya Kishan Kaul
Politics we all know as per old saying is the last refuge of scoundrels. But in the words of Paul Valery the politics is the art of preventing people from taking part in affairs, which properly concerns them. Paradoxically the politicians with no base and mass appeal have started taking help from criminals, musclemen and mafia dons to win the elections. Now these criminals and mafia dons dominate the political scene in our country. >>>

Pandit Sheo Prasad Kak "Mahjoor"
It is generally said that the Kashmiri Pandits are self-centred people with inflated egoes so they do not accept any body as their leader. Here we should keep in mind that exceptions do not make a rule. It is a general weakness that we all suffer from the importance bug even though we may be important only in our own estimation. >>>

In our holy scriptures two concepts about the self (atman) are commonly mentioned. The first being the individual self which is confined with in the manifested gross body known as sthul sharir and the second being the modification of the body with the associated consciousness, which is called as sukshma sharir and is experienced in the dream state. >>>

Koshur And Our Identity

At the out set I would like to frankly admit that I am not competent enough to write with an authority on this highly emotional and sensitive issue. So, under these circumstances, I will only try to express my views on this subject on the basis of the information which I have collected from different sources over the years in connection with my exhaustive research work on Kashmiriology vis-a-vis the Kashmiri Pandits. >>>

Kashmiri Pandit Diaspora and Social Reforms

History tells us that the migration of the Kashmiri Pandits from the Kashmir Valley is not a new phenomenon. It has been going on for the last so many centuries uninterrupted for one reason or the other. The large scale migration of the Kashmiri Pandits from the Kashmir Valley to the other parts of the country was mainly due to religious persecution, but at times economic factors also played a major role in coaxing the ambitious Kashmiri Pandits ... >>>

Zutshis of Bazaar Sitaram, Delhi

We should always remember the fact that a nation is known by its civilizational experiences, which are naturally constructed through noble missions and by the hard work of a few extraordinary persons, historically identified with age and century. Such people who live and die for a cause have always been instrumental in the development of human values and ethos both at the national as well as the international levels. >>>

Whosoever takes birth on this mother planet has to go one day, but some people are remembered even after their death for their deeds and their valuable contributions for the welfare of the mankind. Pandit Brij Narain Chakbast was one such personality whose name is still taken in high esteem by the lovers of Urdu literature all over the world for his soul-inspiring compositions. Some Urdu critics even compare his poetic genius to that of Allama Iqbal and place him on the same footing. >>>

Municipal Girls Inter College

Inspired by the teachings of Swami Vivekanand and Vedantic philosophy Dr. Annie Besant an Irish lady came to India in 1893 to study Vedas in depth. She was a champion of women's education and their empowerment. So, to propagate her ideas and philosophy she formed the Theosophical Society of India and made Pt. Suraj Narain Bahadur, a resident of Kashmiri Mohalla Lucknow and a sub judge, as its secretary. >>>

The Sharga family occupies an important place in the history of Oudh. Shargas are the royal "Wasiqedars". They belong to a Marshal race and their ancestors were brave fighters. They trace their origin from Mongolia, where a province, a river and a tribe exists by that name. >>>

Miscellaneous Documents

Shargapuran