Chandrahari Mahadev Temple of Ayodhya
By Dr. B.N. Sharga
History tells us that civilizations which once flourished on this planet, the remnants of are now only preserved in the museums of different countries. The pyramids of Egypt symbolise a part of that civilization which existed during the days of Pharaohs there. We also some time watch the traces of those civilizations on the discovery channel, but in clear contrast to all this the creed and culture of the ancient Indian civilization can still be found in every village of our country, very much alive through centuries old customs, traditions and beliefs.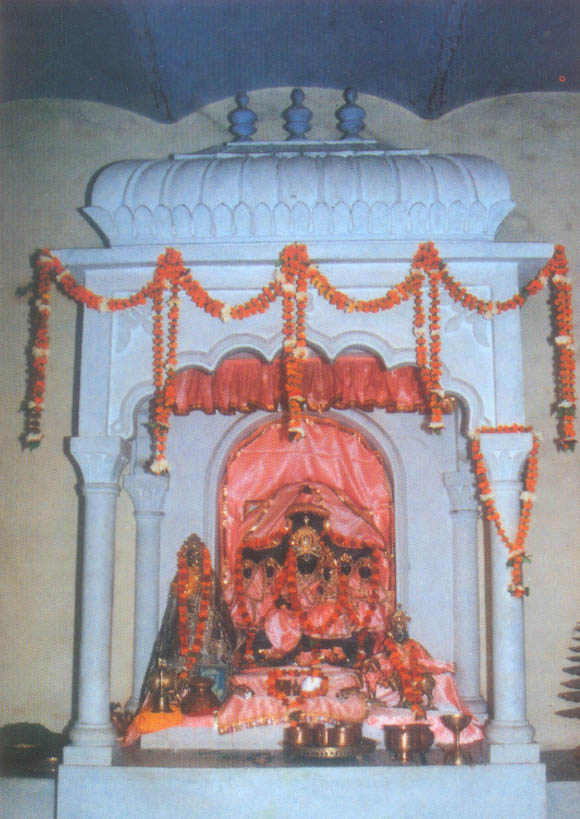 In ancient India both Kashi and Kashmir were regarded as the seats of higher learning. The 'Sharda Peeth' of Kashmir was supposed to be the highest seat of learning for the seekers of knowledge to attain perfection in academic pursuits. These learned people of Kashmir propounded their own doctrines from time to time which were mainly based on their studies and their practical experiences in life. The most important of them all is the Doctrine of Recognition, which we now call as Kashmir's Shaivism. It was propounded by a eighth century Sage, Acharya Vasugupta and was later on further elucidated by Acharya Abhinavgupta.
Kashmiri Pandits, the original inhabitants of the Kashmir valley, who are the descendants of those saints and sages who used to live once on the banks of the mythological river Saraswati, are the natural custodians of this Shaiva Philosophy which is deeply ingrained in their psyche. That is why all the Kashmiri Pandits are basically the worshippers of Lord Shiva.
We also know fully well that pilgrimage is an important part of Hindu religion and ethos and every devout Hindu believes in doing the same in his life time. The Kashmiri Pandits are no exception. Many Kashmiri Pandits had come out from the Kashmir valley in different times in the past on a pilgrimage to the important holy cities of north India like Hardwar, Mathura, Ayodhya and Kashi (Varanasi) where they built beautiful and magnificent Shiva temples and "Dharamshalas" for their biradari members. Some of them have gone upto Puri in the far far east to pay their obeisance to Lord Jagannath there.
Ayodhya has its own importance for Hindus, being the birth place of Lord Ram. It is an ancient city whose history is linked with the Vedic period. This city is being described as "Astchakra Navdwara" or "Devpuri" in Athar Veda. It is said that this holy city was established by Vaivswat Manu, the son of Vivaswan. He gave this city to his son Ishwako to make it the capital of his kingdom. Its area at that time was from Azamgarh in the east upto Lucknow in the west with two magnificent gates at both the ends. It used to have four main highways connecting the four directions and was a well planned city with rectangular buildings and well laid out beautiful gardens.
According to the information collected from different sources and then putting up the facts regarding the history of this ancient temple in their true perspective one Pandit Gulab Rai Tikku came out from the Kashmir valley in the second half of the 18th century during the Afghan rule there on a pilgrimage to Ayodhya and rebuilt this ancient temple of "Chandrahari Mahadev", around 1770. When this temple was originally built and by whom is not known to any body.
There is a very interesting legend connected with the history of this most ancient temple of Ayodhya. It is said that this ancient temple at Mohalla "Swarg Dwar" now known as "Ram Ki Pauri" was originally built by the Moon himself. When the district of Faizabad was formed by the British in 1858 they mentioned the name of "Chandrahari Mahadev temple as the most ancient temple of Ayodhya in its Gazetteer along with Ram Janma Bhoomi, Hanuman Garhi, Nageshwar Nath, Treta Ke Thakur, etc.
The unique feature of this ancient temple is that in its sanctum sanctorun 12 "Shivlingas" are placed on a single huge "Yoni". Then in its premises there is an idol of Lord Ganesh, two idols of Nandi and an idol of goddess Durga. The whole assembly of these idols is now also being called as the "Shiva Mandal" i.e. the extended family of Lord Shiva. It is being purposely done to represent all the 12 manifestations of Lord Shiva at one place, so that a devotee paying his or her obeisance here many attain salvation simply by reciting all the 12 names of these ''Jyotir Lingams'. The origin of "Chandrahari Mahadev" temple has been traced to the period of Raja Harishchandra when he ruled over Ayodhya. The Chandrahari is actually one of the seven sanctuaries of Lord Vishnu in Ayodhya the other six are Dharmahari, Vishnuhari, Chakrahari, Guptahari, Vilvahari and Punyahari.
A European scholar Hans Bakker has done an exhaustive research work on the history and architecture of the temples of Ayodhya and he published a comprehensive document in 1986 under the title "Ayodhya" describing his findings in it. In this research document he has devoted one complete chapter to Chandrahari Mahadev temple. He has written in this document that "No doubt Chandrahari tirtha is one of the oldest holy places of Ayodhya. Its foundation might possibly go back to a visit of Gohadavala King Chandra Deva to Ayodhya in 1093 AD. Its legend which tells us about the Chandra Deva's pilgrimage to Ayodhya and his erection of an idol of Lord Vishnu (Hari) there for worship, is structurally identical with the legend which goes with this temple".
According to Hans Bakker the concept of Seven Sanctuaries of Lord Vishnu in Ayodhya came into limelight probably in the 18th century and accordingly five Hari Sanctuaries namely Chandrahari, Dharmahari, Vishnuhari, Chakrahari and Guptahari were fixed, but the other two Haris due to certain reasons may not have yet been fixed. Bilva tirth was later on transformed into Bilvahari and was recognised as such. But the name of the seventh Hari remains still uncertain. It is believed that probably it relates to king Bharat the son of Dushyanta who belonged to the Purva line of the Lunar dynasty. However a Bharathar sanctuary dedicated to king Bharat is unknown from any other source. The records only mention Punyahari as the seventh Hari and this holy place is about 17 kms in the south east from Ayodhya.
A remarkable contradiction in its description is that the modern Chandrahari temple is not an abode of Lord Vishnu but instead an abode of Lord Shiva where his "lingam" has been installed. The temple borders on the west side of Ganga Mahal (Palace) and infact forms a part of its compound. This temple complex contains several shrines, the central being known as "Shiva Mandala". To the left of the main shrine is the sanctum sanatorium of "Chandrahari" containing two beautiful idols of Lord Krishna and his consort Radha, which is believed to have been built by Gulab Rai Tikku, a Kashmiri Pandit in the second half of the 18th century, who arrived in Ayodhya from Habba Kadal Mohalla of the Srinagar district in the Kashmir valley around 1770 AD during the rule of Nawab Shuja-ud-Daula (1753-1775) in Oudh. Quite a good number of Kashmiri Pandit families from Kashmir and Delhi came to Faizabad during this period and all of them settled down either in Mohalla Rath Haveli or in Kashmiri Mohalla to live as a community there. Naturally they felt the need of a Shiva temple there for their religious congregations on festivals and for performing their rituals just to maintain their distinct ethnic identity in the completely new environment far away from the land of their birth. So this temple was built for this purpose for which they donated money liberally. Another Kashmiri Pandit Rama Kak who came to Ayodhya on a pilgrimage from Kashmir during the rule of Nawab Saadat Ali Khan (1798-1814) in 1805 not only repaired this ancient temple again but also built a "Dharmshala" for providing proper boarding and lodging facilities to a large number of pilgrims visiting this historical temple to pay their obeisance. Since 1805 the management of this shrine and the dharmshala attached to it is under the control of the Kashmiri Pandits, who are looking after its day to day affairs. The names of many Kashmiri Pandits are inscribed on the marble tablets fixed in this shrine who liberally donated a lot of money for the proper upkeep of this temple and the "dharamshala".
The most striking feature of this ancient temple is that the beautiful idol of Radha installed in it with Lord Krishna used to be dressed up in a Kashmiri attire wearing 'attahroos' and 'dejahroos' signifying the Kashmiri link. Pt. Amar Nath Kaul of Kashmiri Mohalla, Lucknow, who went to Ayodhya in the second half of the 19th century and subsequently became a dewan of Ayodhya Naresh, Raja Man Singh a Sakaldipi Brahmin, used to live in the 'Dharamshala' of this temple on the bank of Saryu river in the fag end of his life after taking a 'Sanyas' from the wordily affairs in the beginning of the 20th century around 1904.
In 1925 a Trust was constituted known as "Chandrahari Mahadev Trust Association" with Pandit Ram Nath Shangloo, a leading criminal lawyer of Faizabad as its Chairman for the proper management of this shrine, which was duly registered in 1926. The other important members of this Trust were Pt. Shiv Narain Jais, Pt. Parmeshwar Nath Sapru, Pt. Krishna Nath Kaul, Pt. Mohan Lal Sukhia, Pt. Shambhu Nath Kaul and Pt. Ayodhya Prasad Wantoo. According to the records of this Trust after the death of its Chairman Pt. Ram Nath Shangloo and Secretary, Pt. Hari Krishna Shangloo in 1980, Pt. Prem Krishna Ganjoo became its Chairman and Pt. Prem Krishna Shangloo became its secretary respectively. But due to non renewal of the Association's registration as per new UP's Registration Act for Firms and Societies which was enacted in 1975 this Trust became almost defunct and so a need was felt to constitute another Trust to infuse new life into the managing body of this ancient temple of Ayodhya for its all round progress and development.
It was due to the untiring efforts of Dr. Sudhakar Adeeb who was posted in Faizabad as A.D.M. (F/R) that a new Trust under the name "Sri Chandrahari Mahadeva Trust, Ayodhya" was formed on Ist May 2000 with Swami Krishnakantacharya, Pt. Prem Krishna Shangloo, Pt. Ram Chandra Kaul 'Anam', Pt. Gadadhar Prasad Wantoo, Pt. Anand Kaul, Dr Sudhakar Adeeb and Shri S. Kumar as the patron members of this newly constituted Trust. The executive body of this Trust will now consist of the following members Pt. Sanjay Shangloo, Mrs. Shobha Adeeb, Mrs. Kirti Gandru, Arvind Wantoo, Arvind Kaul, Yatin Mohan Pratap Misra, Alok Bansal, Ajeet Garg, Misrilal and Prabhat Kumar Tandon. It has also been decided that Swami Krishnakantacharya would function as the chairman and Pt. Sanjay Shangloo as the secretary of this Trust till the next elections for its office bearers. These Trustees will not only manage the Shrine and its other properties, but will also try their best to develop it as one of the important tourists' destination of the country by providing proper infrastructure facilities to the pilgrims and other foreign tourists who visit this ancient temple in large numbers on festive occasions.
On every "Shivaratri" and "Navratra" this ancient Shrine which is of great historical and religious importance attracts huge crowds of devotees from far of places who come to pay their obeisance to the deities installed there with great spiritual powers for salvation. The managing committee of this Shrine also organises regular festivals on auspicious occasions for the benefit of the pilgrims to this holy city. The 'havans' and 'yangnas' are also performed from time to time in this temple chanting Vedic mantras for the purity of mind and soul and for bringing all round peace, progress and prosperity in the country. The Kashmiri Pandits are the undisputed custodians of this Shrine and its other assets for the last more than 200 years, and are carrying out the affairs of this shrine with a missionary spirit with full devotion and dedication. It is hoped that they will continue to do the same for many more years with selfless, spirit. May god bless them for their noble work. The following lines of the reputed Hindi poet Jai Narain 'Arun' convey a lot of meaning in this respect.
"Man garajta raha aur barasta raha
Roop pyasi dhara ka sarasta raha
Kintu ek boond ki as mein Swati ki
Hai! Chatak bichara tarasta raha".