Municipal Girls Inter College
A symbol of Kashmiri Pandit's vision
By Dr.B.N. Sharga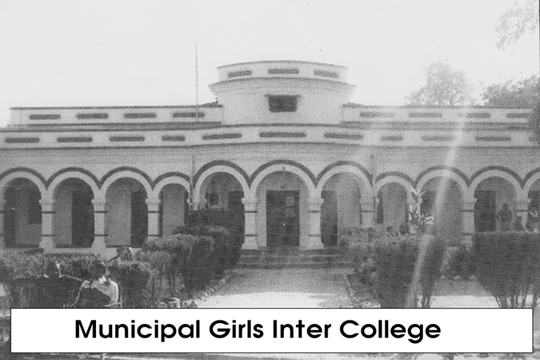 Inspired by the teachings of Swami Vivekanand and Vedantic philosophy Dr. Annie Besant an Irish lady came to India in 1893 to study Vedas in depth. She was a champion of women's education and their empowerment. So, to propagate her ideas and philosophy she formed the Theosophical Society of India and made Pt. Suraj Narain Bahadur, a resident of Kashmiri Mohalla Lucknow and a sub judge, as its secretary.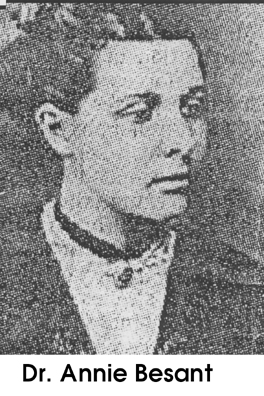 It must be noted here that Kashmiri Mohalla of Lucknow was the biggest centre of Kashmiri Pandits' population outside Kashmir and main nucleus of their cultural, literary and political activities. There was no system of formal education for women because of strict purdah system being followed in the society then. The girls were given the lessons in Hindi and elementary arithematic at home before their marriage. Dr. Annie Besant advised Pt. Suraj Narain Bahadur to take a lead in this direction by starting a school to impart formal education for the Kashmiri Pandit girls of the locality in a missionary spirit.
Consequently, around 1900 Pt. Suraj Narain Bahadur decided to start a vernacular primary school in his haveli for imparting formal education to the girls of the community, but strangely he had to face a very stiff opposition from his own community members as nobody was willing to send their daughters to the school due to simple fear that by doing this they would mar the chances of their good marriage prospects. Under such adverse atmosphere of that era Pt. Suraj Narain Bahadur was left with no other option except to enroll his daughters-in-law as students in this school to make a beginning and to show the way to others to follow suit. His untiring efforts in this direction ultimately started bearing the fruits and gradually the other members of the community also started sending their daughters to this school for studies.
The school started functioning from its present site since 1904 when the land and money for its proper infrastructure was donated by some progressive minded Kashmiri Pandits of the locality. The prominent people among them were Pt.Janki Nath Chak, Rai Bahadur Pt. Shyam Manohar Nath Sharga, Pt. Har Prasad Dar, Pt. Sangam Lal Chak, Pt. Iqbal Narain Bakshi, Pt. Lalta Prasad Batpori, Pt. Hari Kishen Bakshi, Pt. Bakht Narain Kitchlu, Pt. Maharaj Narain Chakbast, Pt. Jagat Narain Mulla, Pt. Jagpal Kishen Ganju, and Pt. Brij Narain Chakbast, etc.
The school was shifted to its new premises in 1904 where it had a humble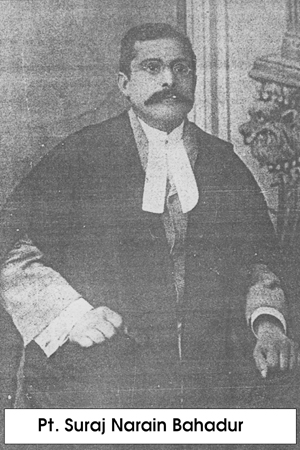 beginning with only 15 girls on its rolls. Sugra Begum was made its in charge on six rupees per month as her salary. Two maid servants (kaharins) were employed to bring the girls from their homes to the school and then to escort them back to their respective places after the school hours. In 1905 Dr. Annie Besant brought another Irish lady Miss Birkett who became in charge of this school on rupees 25 per month as her salary.

My grandfather Rai Bahadur Pt. Shyam Manohar Nath Sharga made arrangements for her her comfortable living near the school premises. Miss Birkett was a regular visitor to our residence. My eldest bua Janak Dulari Sharga was her favourite student. Though my bua was good in her studies, but she was quite careless in keeping her books properly.

Whenever my grandmother Mrs.Dhan Rani Sharga enquired about the progress of my bua in her class from Miss Birkett her comment always was, "Janak dal mein namak, but kitab like a chithra" with a big smile.

After Miss Birkett another Irish lady Miss Rae became in charge of this school. By that time the school building had 8 big classrooms and an office. The members of other communities living in the adjoining localities also started sending their daughters to this school and it acquired a cosmopolitan outlook.

In 1908 on the advice of Pt.Maharaj Narain Chakbast the then executive officer of the Lucknow Municipal Board Pt. Suraj Narain Bahadur handed over this school to Lucknow Municipality for better management. On 23rd Dec, 1911 Lady Porter became in charge of this school. During this period Mrs.Kamla Nehru also studied here. It was duly recognized by the education department as Middle School in 1911.

In 1915 an America trained Miss Neff became Head Mistress of this school. Then in 1923, Miss Rosline Inglis became its Head Mistress. She continued on this post upto 1929. This school had the patronage of Dr.Annie Besant who used to take keen personal interest in the activities of this school. The founder Pt. Suarj Narain Bahadur worked as its manager upto 1928. He then became seriously ill and died in 1930.

Mrs. Durga Bai Gupta a very dynamic lady then became the first Indian principal of this school in 1929. She was a very strict lady who worked with great zeal and dedication in a missionary spirit to take the institution to new heights. Due to her efforts it became a High School in 1938 and Inter College in 1947. She used to maintain a very strict discipline and purdah system within the college premises. She introduced specially designed hand driven carts (thelas) covered from all sides to bring the girls from far off places to the college. She also purchased a college bus for the same purpose. She was a lady with a vision who also made the teachings of science subjects upto the intermediate level possible in this college. Her memory was so sharp that she used to remember the name of each and every girl of the college.

Mrs. Durga Bai Gupta had a keen desire to upgrade this college to the degree level for which she approached my father Pt. Kailas Nath Sharga who was ADM(J) then with a request to give his two adjacent houses on a token money for the expansion of the college for constructing a new degree block. My father readily agreed to this proposal in the wider interest of girls education and gave his two houses in a nominal amount to the college so that undergraduate teaching could be started in it without much trouble.

This college is one of the oldest and premier girls institution of the city which had the support and backing of great visionaries of that time who laid its solid foundations with a

missionary spirit. They were not self seekers to glorify their deeds like the present

generation of our politicians.

Mrs. Durga Bai Gupta, who served this college as a principal for about 40 years brought

great laurels to this college by her sustained hard work and single minded

devotion. During her tenure there were about 3000 girls on its rolls studying different

subjects of arts and science under the supervision and guidance of well qualified lady

teachers. The girls of the college also won various shields and medals in different competition both at the state and national level thus bringing both name and fame to their

alma mater.

In 1975 the then administrator of the Lucknow Municipal Corporation Mr.Rajiv Ratna

Shah emphatically declared in the annual function of this college before a big gathering

that he would see to it that this institution would become a degree college soon so that

girls of this area may not have to go to other far off places for their higher studies.

Surprisingly, in 1994 some highly communal elements in collusion with certain vested

interests in the administration tried to grab this important girls college by changing its

name arbitrarily to Maulana Kalbe Abid Girls Inter College without any rhyme or

reason. Then Kashmiri Association, Lucknow authorized Dr.B.N.Sharga to take up this

matter with the concerned authorities to thwart this attempt of undesirable elements. A

deputation of Kashmiri Association, Lucknow consisting of Dr.B.N.Sharga, M.L.Raina, Mrs.Priya Raina, J.L.Raina, Mrs Raj Raina, K.N.Bakshi, and A.N.Raina also

met the then governor of UP Shri Moti Lal Vora and a memorandum was handed over to

him in this regard. A representation was also sent to the then education minister, Govt. of

India Mrs.Sheila Kaul requesting for her personal intervention in this matter. It was

because of her intervention that this name change game could be stopped otherwise this

college founded by Kashmiri Pandits would have become a minority institution by now.

The centenary celebrations of this college were organized on a grand scale in 2008. The

Mayor of Lucknow Dr.Dinesh Sharma while presiding over these celebrations again

made a promise to raise the status of this important institution to a degree college. When

this dream would become a reality is still a million dollar question. Dr, Hari Narain Bahadur, the grandson of its founder Pt. Suraj Narain Bahadur, who attended this function

expressed his feelings by reciting the following Urdu couplet:

Ai khuda apni adalat mein meri zamanat rakhna,

Main rahon ya na rahon is kalej ko salamat rakhna.