Dr. B.N. Sharga
A SMALL Odyssey with a BIG Man
by Roshni Ashok Tankha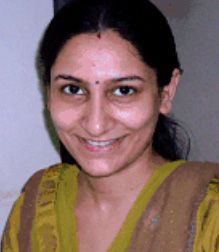 I know a person called Dr. B.N. Sharga who is multitalented, vivid personality who is so charismatic that if who speaks to him/read his articles, you will feel fresh and rejuvenated.
I got the opportunity to meet him (through letters) way back in 2000-2001 when I was doing my engineering. One of my Kashmiri friends' uncle Mr. M.L. Dhar made me introduce to book called "Kashmiri pandito ke anmol ratna" written by Dr. Sharga. When I got the fortune to read them (some 2 volumes), I was amazed to see the way he has portrayed the ideas/information about ancient Kashmiri families, their history. He has store of old data/history with picture to publish them in attractive manner. Not only that, but he has an "Engineer" mind where lot of material is stored, where lot of nascent news get flashed. Whenever I speak to him, I feel that I'm speaking to someone who is of my age, who has an urge to pen down his imaginative insight so that people like us can read and feel blessed.
The purity of his character has given effulgence to his public virtues. Person's behavior gets reflected in his/her work and that is easily seen in our beloved Dr. Sharga writing.
Words falls short when I write about him. When a person is good at one thing, we can write about his strengths and can also focus on what can be improved upon. But if I have to categorize such things for him, I find him all-rounder. He has been a good teacher, gave so many students the path to move ahead in life, gave a light and became the source of inspiration for many young forces. During his college days, he was very good at extracurricular too, directed many stage shows. So far, he has written 400 plus articles in magazines, news settlers like Kashmir Senitel, Naad, Här-van etc.
After all, he is rara avis person who has bestowed upon many accolades.
Family:
This great personality was born on 21st December 1938 in Lucknow. He had his early education from Parkar College, Moradabad and college education from Govt. Jubilee Inter College and Shia Degree College, Lucknow. He did his B.Sc (1959) and M.Sc (1962) in Chemistry from Lucknow University. Later he completed his PhD (1967). He became Chemistry Professor in alma mater, Shia Degree College.
He is the eldest son born to Pt.Kailash nath Sharga and Rajwanti Sharga, daughter of Pt. Rameshwar Nath Dar of Kanpur. Being the eldest, he has to take care of many outdoor household activities because father was Chief Justice Magistrate and most of the time got postings outside Lucknow. Being eldest is the first thing which makes a person more responsible and independent. And same is seen with him. He was there whether it was for his siblings' admission or any other schooling activity.
Second eldest is Saroj Dar, who did her M.A and B.Ed from Lucknow University and became a Principal in college in M.P. Now she is retired.
After her is Dr. Amrit Nath Sharga who has done his MSc and PhD in Agriculture from Kanpur. He worked in National Botanical Research Institute (NBRI) in Lucknow and then retired as Director.
Fourth is Dr. Sita Zutshi who did her M.B.B.S & M.S from King George Medical college Lucknow. Presently she is residing in Nagpur and still practicing. Her daughter Dr. Gargi Zutshi is also a Doctor.
Younger to her is Arjun Sharga who is a renowned journalist. He is Chief Editor of "Pioneer", oldest newspaper of Lucknow.
Youngest is Vinay Sharga who did his B.A. and L.L.B. and now residing with Shargaji in their residence at Kashmiri Mohalla.
School / as a student:
When India got independence in 1947, on the suggestion of Dr. Hridya Nath Kunzru, National cadet corp. scheme was introduced throughout the country in schools and colleges to develop patriotism and nationalism in the youth of the country. Under this scheme, schools used to organize "Shram daan" (श्रमदान) by students in the selected villages every month to teach then fundamentals of basic health and hygiene. As a student, he use to take keen interest in this Shram daan as it use to provide an outing in nearby villages to feel the pulse of the people there. Being an educative program, it was very well accepted by the villagers. These things made him being more social and responsible.
Persons who shaped / influenced him to write, who gave dimensions to his character:
During school days, he had great fascination for reading all kinds of books and watching English movies in Mayfair Cinema.
He develop a keen interest in the works of noted Hindi novelists, a prominent Hindu writer "Amritlal Nagar", a Hindi author "Yashpal" renowned for "Jhutha Sach", an Urdu poet Brij Narain Chakbast. So, to learn the basic nuances of writing under their tutelage he stated visiting their homes.
He was lucky to have their full support and co-operation in his mission. All of them were very kind to him and use to treat him like a family member. Yashpal's wife Mrs. Prakashwati Pal & daughter-in law Ms. Neena Pal were quiet co-operative and provided him with number of books written by Yashpal to understand his philosophy and approach while treating a particular subject. The able guidance of these men of letters was his main source of inspiration which over a certain period of time made him write few sketches. Professor R.C. Dixit made him learn the importance of being united and leadership qualities.
As a student of science, initially he started writing in English in which he was more comfortable to express himself. But later on after picking up Hindi language, he started writing in Hindi with the same ease. That is how a great writer was born around 1960's.
Personal Interests:
He was fond of extracurricular activities. He started doing theatres in 1970's and from "Sanket Theatre Group" to stage plays and got opportunity to develop close contacts with some of the top models of Lucknow stage of that era like Neena Solomon, Mehru Jaffer, Neena Sharma, Preeti Gupta, Neena Raha, Neera Sharma and Asha Singh who were well known faces of Hindi Theatre at that time. In their company, he learnt the style and fashion to make one presentable before audience. Occasionally these personalities use to give him tips on etiquette and stage craft. In their company, he developed a keen interest in Fashion and stage mannerism.
He was involved in theatre and directed, acted, written more than 400 plays which have been shown in different part of the nation. The concept of his play was not limited to one theme rather it was all, drama, mythological, religious. His role was unlimited, from finding the heroine of the play to directing and playing the role as well. Many artists had begun their career in his plays. Some of the artists are now working in films, TV serials.
Shargaji is a creative writer and having published more than 450 articles in different news settlers besides over 4000 'Letters to the Editor' to his credit. American Biographical Institute, North Carolina, selected him for the 'Man of the Year' award in 1998. Dr Sir Tej Bahadur Sapru Memorial trust, Allahabad, honored him with a Silver plaque and a citation in 2004. Dr. Sharga has remained General Secretary, Yuvak Bharti (1973-76), Vice-president, World Association of World's Federalists (1970-73), General Secretary, Lucknow University Associated Colleges Teachers' Association (LUACTA) 1973-76.
He has done a prestigious work of preserving the history of Kashmir and Kashmiri people which is a very difficult task. And still he has so much of old data stockpiled in his "Engineered" mind. Whenever I speak to him and ask him about anything, he has answers ready with him with date, and all the relevant details; amazing personality.
Present Activities:
Presently he is writing for Govt. of India - Sanskriti division. He has plans to write an interesting article on "Babu Beharylal Pandit", great grandfather of Ashok Pandit who wrote several books in the Oriya language for the people of Orissa who were deprived of the religious texts on Hinduism at that time in their own language.
---
PICTURES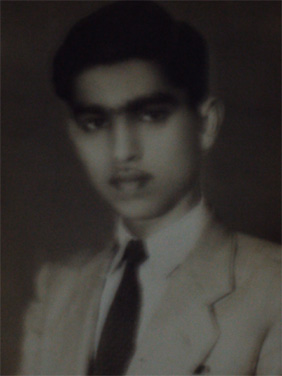 Dr. B.N. Sharga - 1956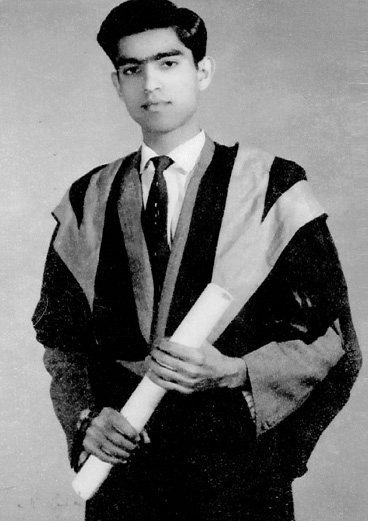 Dr. B.N. Sharga - 1962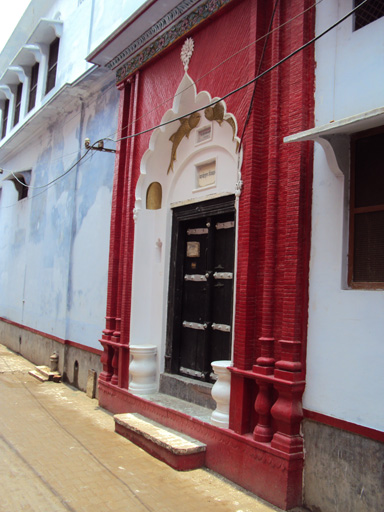 A view of Sharga Haveli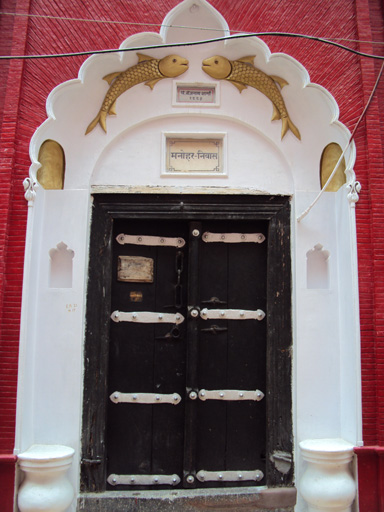 Entrance of Sharga Haveli, Kashmiri Mohalla, Lucknow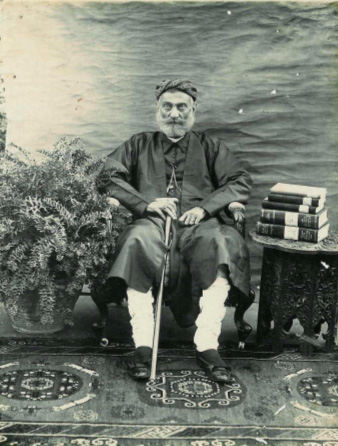 Babu Beharylal Pandit