Rai Bahadur Pandit Sri Krishna Tikku
A great humanist and reformist
By Dr. B.N. Sharga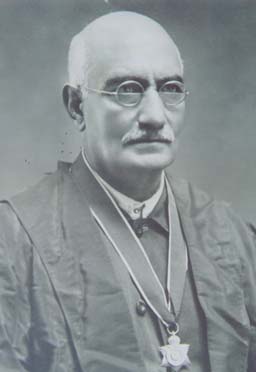 S.K. Tikku (1866-1950)
Though we generally say that all men are equal in this world, but the fact is that some men are more than equal simply because their level of understanding things differentiates them from one another. A person who thinks beyond his narrow self and works for the general good of the mankind naturally carves out a special place for himself in the society at large and develops an aura around his personality. His actions and deeds symbolize the inherent qualities of his head and heart and generally reflect high moral values on which they are based. A man acts and behaves according to his innate nature. The difference in the behaviour is due to the fact that the actions done in pursuance of certain desires in the past propel us to do what we do in this life. Therefore the knowledge and wisdom acquired in this life helps in purifying the mind to achieve something great in life. Rai Bahadur Pt. Sri Krishna Tikku was an ardent admirer of this philosophy and fully realized that the essence of life is that righteous actions should be done with total dedication to seek self realization and for the betterment of the entire humanity. His entire life thus became a noble example for others to follow for its simplicity and godliness.
According to the famous Kashmiri historian Mohammad Fauq the ancestors of Pt. Sri Krishna Tikku were highly religious and orthodox people. As they used to put up a big tilak on their forehead so they were nicknamed as Tikkus. Pt. Sri Krishna Tikkuís ancestor Pt. Anand Ram Tikku was a shawl merchant and used to live in the Tikku Mohalla of Habba Kadal in the Srinagar district of the Kashmir Valley. Pt. Anand Ram Tikku had two sons Bhaskar Ram and Vishwa Nath. Pt. Bhasker Ram Tikku who was born around 1755 left the Kashmir Valley around 1780 and came to Lucknow during the rule of Nawab Asaf-ud-Daula (1775-1797) in Oudh and finally settled down in Kashmiri Mohalla with his family members. His descendant Pt. Trilok Chand Tikku, who was born around 1810 after completing his education became a daroga of some department during the rule of king Ghazi-ud-Din Haider (1813-1827).
Pt. Trilok Chand Tikku had a son Pt. Daya Shanker Tikku who was born around 1830 in Kashmiri Mohalla, Lucknow. After completing the last text book of Persian under the supervision of a learned Maulvi, he developed a taste for poetry writing both in Urdu and Persian language. He used to write his couplets under the penname or takhallus Figaar. For writing the Persian poetry he became a disciple of Mirza Natik Makrani and for writing the Urdu poetry he became a disciple of Khwaja Haider Ali Atish (1778-1847). Some writers quite often confuse Pt. Daya Shanker Tikku Figaar with Pt. Daya Shanker Kaul Naseem who was also a famous Urdu poet of Lucknow but was an altogether different person though both of them were the disciples of Khwaja Haider Ali Atish.
After the annexation of Oudh in 1856, the British appointed Pt. Daya Shanker Tikku Figaar as a Sarishtedar in the collectorate at Gonda around 1859. While working in the collectorate at Gonda as a head clerk he came into close contact of Maharaja of Balrampur Sir Digvijay Singh, who became deeply impressed by his style of working, honesty and sincerity and took him to Balrampur and made him incharge of the office of the state at a much higher salary with certain perks and benefits.
The Balrampur state has a very interesting history. The rulers of the Balrampur sate trace their ancestry from the celebrated Pandava hero Arjun and belong to the Janwar Rajput clan. The founder of the Oudh family Bariar Sah was the youngest son of a Sombansi Chief Raja Mansukh Deo of Pawagarh in Gujrat the forty first descendant in the direct line from Arjun. During the rule of Sultan Firoz Shah Tughlak Bariar Sah in 1374 cleared the district of Bahraich of the numerous gangs of marauders who then infested it for the safe pilgrimage of the Sultan. The Sultan became so much pleased with this work of Bariar Sah that the former awarded the whole tract of land to the latter. Barier Sah then in 1414 took up his residence in village Ikauna in Bahraich and thus became the founder of the famous House, which has given the rulers to many states in the districts of Bahraich and Gonda.
Around 1566 Madho Singh the brother of Ganesh Singh and the seventh in descent cleared the area between the Rapti and Kuana rivers of the Barhi tribes in the Gonda district and founded a separate Raj. His son Balram Sah laid the foundation of the present town of Balrampur.
In 1777 Raja Newal Singh became the ruler of the Balrampur state and is still remembered as one of the most famous warriors of that period. He was though defeated quite often but never subdued. He engaged the imperial nazims in twenty two pitched battles and succeeded in keeping the revenue paid for his pargana at a pitch which was more than a tribute. He had two sons Bahadur Shah and Arjun Singh. On the death of Raja Newal Singh in 1817 A.D., his younger son Arjun Singh became the ruler of the Balrampur state. Raja Arjun Singh died in 1830 A.D. and was succeeded by Raja Jai Narain Singh, who died quite young in 1836 A.D. without any offspring. His brother Maharaja Digbijay Singh then succeeded him and became the ruler of the Balrampur state.
Maharaja Digbijay Singh was born in 1818 and was only 18 years old when he became the ruler of the Balrampur state. He recorded conspicuous service to the British to crush the Mutiny of 1857 with an iron hand. At the close of the Mutiny he even joined the British forces in person in the trans Ghagra campaign, rendering most valuable assistance in procuring supplies and giving most accurate information about the movements of the rebels.
The British on their part then gave a lot of concessions and favours to Maharaja Digbijay Singh for his eminent services and loyalty to the British crown in extremely trying times, besides a handsome khilat and most liberal revenue remissions for his life time. He was granted the whole of the confiscated pargana of Tulsipur in addition to the large portions of Ikauna, Charda, and Bhinga states in Bahraich. He also received the personal title of Maharaja while at a durbar held at Agra on 20th November 1866. At the imperial Assemblage at Delhi on the New Yearís Day in 1877 on the occasion of the proclamation of Queen Victoria as the empress of India he was granted the exceptional honour of a salute of nine guns.
Maharaja Digbijay Singh took Pt. Daya Shankar Tikku from Gonda to Balrampur to streamline the administrative structure of his big state properly which Pt. Daya Shanker Tikku did with great ability and devotion. In due course of time Pt. Daya Shanker Tikku developed a great command over the administration of the state due to his integrity and farsightedness and became a right hand man of Maharaja Digbijay Singh who then made the former deputy administrator of the state. When Maharaja Digbijay Singh died in May 1882 due to a fall from an elephant while hunting in the forests at Allahabad and his principal Maharani Inder Kunwar became the incharge of the Balrampur state, she then appointed Pt. Daya Shanker Tikku Figaar as her principal advisor to run the administration of the state properly and smoothly without much trouble.
Maharani Inder Kunwar then as per will of the late Maharaja Digbijay Singh, who had no male issue adopted Maharaja Bhagwati Pratap Singh in October 1883, who was born on 19th July 1876 and was merely four years old at the time of his adoption. Pt.Daya Shanker Tikku also functioned as the tutor and guardian of Maharaja Bhagwati Pratap Singh and thoroughly groomed him in running the affairs of his state properly. Maharaja Bhagvati Pratap Singh succeeded as the ruler of the Balrampur state on the death of Maharani Inder Kunwar on 12th June 1893 and assumed active management of his state on attaining majority on 19th July 1900.
Pt. Daya Shanker Tikku Figaar died around 1890 at the age of about 60 years during the life time of Maharani Inder Kunwar, who had a great respect for him for his loyalty and administrative acumen. Pt. Daya Shanker Tikku was a workholic and down to earth person. He had a great taste for literature and wrote extensively in the Urdu and Persian language. He always preferred to use simple and easy words in his poetic compositions so that even a lay man could understand them properly. We find a fluency and purity of language in his writings. He had compiled all his poetic works in the form of a Dewan which was in the possession of his eldest son Pt. Shiv Shanker Tikku. This Dewan is not traceable now. Some of the poetic compositions from that compendium have been published in 1932 in the second volume of Bahar-e-Gulshan-e-Kashmir. The following Urdu couplets composed by him will give an idea about his style of poetry writing and the selection of words to express different feelings and emotions.
Main kya kahon ki apna sa muh le ke rah gaye.
Saaf ayene ne muh pe jo unke diya jawaab
Likhta to hun khat us bute beraham ko figaar.
Par dil mein khoob samjha hon jo ayega jawaab
Sauda hai apni ankh ko chashm syah ka
Khar mazame uljha hai daman nigah ka.
Sauda tamam umr buton ka raha mujhe
Sar par pahad leke chala hun gunaah ka
Pape nigah mein kiske chubha nahin Figaar
Mehman sarai dahar mein kanta hamraah ka
After doing a lot of field work and scrutinizing various old documents and records in Urdu and Persian the names of only three sons of Pt. Daya Shanker Tikku Figaar could be traced, who were Pt. Shiv Shanker Tikku, Pt Sri Krishna Tikku and Pt. Hari Krishna Tikku. But it is still not clear as to how many children he had in all. Because in that period the people generally used to get married quite early in life and at times even two to three times due to early death of their wives.
Pt. Daya Shanker Tikkuís eldest son Pt. Shiv Shanker Tikku was born around 1864 in his ancestral house in Kashmiri Mohalla, Lucknow. He came under the magic spell of the great social reformer Pt. Sheo Narain Bahar of the locality who was spearheading the movement for bringing certain reforms in the K.P. community and was encouraging young K.P. boys to take up English education for better furture prospects. Pt. Shiv Shankar Tikku then did his matriculation from the Government Jubilee High School around 1880. He then passed his F.A. examination in 1882 and B.A in 1884 from the Canning College, Lucknow, which was affiliated with the Calcutta University at that time. He was a contemporary of Pt. Shiv Prasad Jijja and Pt. Kamta Prasad Jijja of the locality. The British took Pt. Shiv Shanker Tikku in the judicial service and appointed him as Munsif around 1886. After doing service for a few years in the then United Provinces, he went to the Dholpur state and became a judge of the small cause court there around 1894 during the rule of Jat Raja Nihal Singh.
The Dholpur state at that time was a small principality of Rajputana near Agra with no administrative infrastructure although the place has a very long and colourful history. This territory near the Chambal river was under the control of Tonwar Rajputs who ruled over Delhi from 792 A.D. upto 1164 A.D. From the time Mohammad Ghori over ran the Kannauj kingdom in 1194 A.D. till the invasion of the Mughal emperor Babar in 1526 A.D. this area witnessed a number of battles between different warlords for the supremacy over each other. In 1450 A.D. Dholpur state had an independent Raja who met Sultan Bahlol Lodhi of Delhi in 1487 A.D. for getting recognition and also offered few mands of gold as a tribute.
The Mughal emperor Akbar made Dholpur as a part of his Agra province for the administration. After the death of Aurangzeb in 1707 A.D. Raja Kalyan Singh Bhadauria of Etah obtained the Dholpur state and ruled over it till 1761 A.D. The Dholpur state then came under the control of the Jat hero Raja Suraj Mal after the battle of Panipat. This territory was then seized by Mirza Najaf Khan. On his death in 1782 it came under the control of Maharaja Daulat Rao Scindia of Gwalior.
The British after the second Anglo-Maratha War (1803-1805) through a treaty again gave this territory in 1805 to Maharaja Daulat Rao Scindia after obtaining some other territories and war compensation from him.
In 1806 the British made this territory an independent state after uniting the districts of Dholpur, Bari and Rajakhera and made Rana Kirat Singh a Jat from the Bamrolia clan as its ruler. He died in 1836 and after that his son. Rana Nihal Singh became the ruler of Dholpur state. Pt. Shiv Shanker Tikku became the judge of the small causes court during the regime of Rana Nihal Singh who died in 1901 and was succeeded by his eldest son Rana Ram Singh.
Pt. Shiv Shanker Tikku served in the Dholpur state under the rule of both Rana Nihal Singh and Rana Ram Singh and won their confidence for his frankness and devotion to duty. He always tried his best to uphold the rule of law without any fear or favour while administering justice. He was a very reserved person with no ego. He died around 1928 at the age of about 64 years.
Pt. Shiv Shanker Tikku had a son Pt. Swaroop Krishna Tikku who was born in 1901. After completing his education he joined the Dholpur state service. He got married at Lahore around 1934 with Pukhraj who was the daughter of Pt. Shiv Narain Bhan of Agra. After his marriage he left the job and joined NICCO at Delhi a concern of his brother in law Pt. Jagdish Narain Bhan. He died at Delhi in 1972 at the age of 71 years without any issue. His wife Mrs. Pukhraj Tikku died later on at Calcutta in 2002 at the age of 90 years.
Pt. Daya Shanker Tikkuís third and youngest son Pt. Hari Krishna Tikku was born around 1870 in his ancestral haveli in Kashmiri Mohalla, Lucknow. He died quite young due to Cholera around 1888 after doing his F.A. from the Canning College, Lucknow. Pt. Daya Shanker Tikkuís second son Pt. Sri Krishna Tikku was born around 1866 in Kashmiri Mohalla, Lucknow. He passed his entrance examination from the Government Jubilee High School around 1882. He then did his F.A. and B.A. from the Canning College, Lucknow around 1884 and 1886 respectively, which was affiliated with the Calcutta University then.
Pt. Sri Krishna Tikku then passed the pleaderís examination of the Oudh Chief Court and started his legal practice as the pleader of the Lucknow Municipal Board around 1888 and subsequently became its vice chairman.
Here the learned readers should keep in mind that the British after annexing the kingdom of Oudh by dethroning its last ruler Nawab Wajid Ali Shah in 1856 just to transform the Lucknow city from a Nawabi capital to a provincial town of a larger British empire constituted a committee in 1858 with deputy commissioner as its president, the city magistrate as its secretary and a native extra assistant commissioner to look after the civic affairs of Lucknow.
In 1864 this committee was modified and renewed as the Municipal Committee with the powers of levying taxes and taking punitive action against the violaters of its rules. The Judicial Commissioner of Oudh was made its president and the commissioner of the Lucknow district became its vice president with deputy commissioner as its secretary. There were nine other members including inspector general of police, civil surgeon and city magistrate besides two members each from the Hindu and the Muslim community. The Muslim members were Nawab, Mohsin-ud-Daulah and Nawab Mumtaz-ud-Daulah. The Hindu members were the two bankers Shah Banarsi Dass and Shah Makkhan Lal. Then in 1870 the government of India brought a legislation to streamline the working of these municipal bodies which was later on in 1882 made more effective by the then governor general of India Lord Ripon. Under this new measure the Lucknow Municipal Board was constituted on 14th September 1884 with the district magistrate as its chairman with 32 members. Pt. Sri Krishna Tikku worked as vice chairman in the formative years of this Municipal Board.
Pt. Sri Krishna Tikku also became the member of Jalsa-e-Tahzeeb an organization founded by Pt. Sheo Narain Bahar of the locality in 1867 to bring political awakening in the Kashmiri Pandit boys of that era. The other important members of this organization were Pt. Suraj Narain Bahadur, Pt. Bishan Narain Dar, Pt. Shyam Narain Masaldan, Pt. Iqbal Krishna Sharga, Pt. Shiv Narain Uppadhya, Pt. Brijendra Nath Sharga, etc. who were in favour of bringing drastic educational and social reforms in the community.
On the suggestion of Pt. Suraj Narain Bahadur, who was the secretary of the Theosophical Society of India and who was very close to Dr. Annie Besant, Pt. Sri Krishna Tikku not only became an active member of the Theosophical Society but also played a key role in establishing a girls college in Kashmiri Mohalla, Lucknow for the education of the Kashmiri Pandit girls. He made valuable contributions in the social, political and educational fields in the Lucknow city in the fag end of the 19th century.
In 1904 Plague broke out in Kashmiri Mohalla and other adjoining localities as an epidemic and many Kashmiri Pandits lost their lives due to this dreadful disease and many of them migrated to other places to save their lives. Pt. Sri Krishna Tikku migrated to Kanpur to work under the guidance of Pt. Prithvi Nath Chak who was the leader of the Kanpur Bar then after selling out his ancestral property to Rai Bahadur Pt. Shyam Manohar Nath Sharga.
Pt. Sri Krishna Tikku then on the advice of his mentor Pt. Prithvi Nath Chak became the member of Temperance society which was formed by Pt. Bishan Narain Razdan of Amritsar to reform the highly orthodox K.P. community of that period.
After the death of Pt. Prithvi Nath Chak in 1910, Pt. Sri Krishna Tikku started his independent legal practice and purchased the house of Pt. Prithvi Nath Chakís Munshi Chaitan Lal at 20/206, Chatai Mohal, Kanpur for his living. He subsequently became the government pleader of Kanpur. He resigned from this post in 1942 to devote his time in the service of the humanity. In the same year Lord Linlithgow the then governor general of India conferred upon him the civilian title of Rai Bahadur for his long unblemished record of service for the British empire.
Pt. Sri Krishna Tikku was married with Sharika, who was the daughter of Pt. Suraj Narain Kaul, district and sessions judge of Chaupatian, Lucknow. He had only one daughter Shyam Kumari (Rameshwari) who was married with Pt. Rameshwar Nath Dar the son of Pt. Kashi Nath Dar of the Jaora state.
Pt. Sri Krishna Tikku was a saintly person and an ardent admirer of Mahatma Gandhi. The main motto of his life always was simple living and high thinking. He had a deep faith in Kashmiri Shaivism and was a great worshipper of Lord Shiva. He was a down to earth person with a sacrificing spirit. He was a great philanthropist and helped many people in many ways in their difficult times. Reading books on different topics was his main hobby. He never compromised with his principles of life and lived on his own terms. Pt. Kailas Nath Nagu the then assistant commissioner of Excise in Kanpur, Pt. Suraj Nath Wanchoo, Rai Brij Narain Gurtu and Pt. Harihar Nath Muttoo the then Income Tax commissioner of Kanpur were his close friends.
Pt; Sri Krishna Tikku was a very keen observer and a great visionary. He was a good Chess and card player. He never nursed any ill will against any body. He was a symbol of nobility and simplicity. He left this materialistic world like a saint on 24th August 1950 at the age of about 84 years leaving behind a large number of friends and admirers to mourn his death. The philosophy of his life can be expressed in these words. Prayer is the most direct way to Godís heart, the quickest and the easiest way to find solutions, the way we can be the greatest help to others and the surest way to find the best in life.