Dr. Triloki Nath Khoshoo - A world-renowned Environmentalist
By Dr. BN Sharga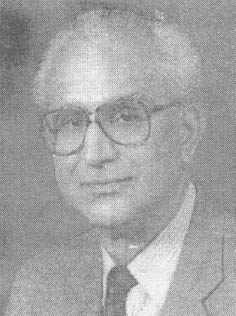 The people have started now realizing the fact that the environment plays a key role in maintaining the good health of any nation. The different forms of pollution not only shorten one's life span, but also bring various dreadful diseases. That is why now various governments and other non-governmental and voluntary agencies are striving hard to educate the people, about the importance of maintaining a proper ecological balance in nature which is very important for the survival of the mankind. The scientists all over the world are working hard to derive ways and means for the qualitative improvement in the environment around us by making it free from all sorts of pollution. Even various courts of late have become active in this direction and have issued certain guidelines to be followed strictly in this regard to check the abnormal rise in the level of pollution in the atmosphere so that it may not become a health hazard for the citizens of this country. One such outstanding environment scientist, who did an exhaustive research work in this field and had won various prestigious awards for that, was Dr. Triloki Nath Khoshoo whose excellent contribution in this newly developed discipline will always be remembered for all times to come.
Dr.T.N Khoshoo's ancestors were originally the inhabitants of the Sopore town of the Kashmir valley and therefore used to write Sopory as their surname. One of his ancestors became a Mint officer during the rule of Mughal emperor Shahjahan (1627-1658) when Ali Mardan Khan was the governor of Kashmir. Some Shohdah poisoned the ears of Ali Mardan Khan by telling him that the Mint Officer is minting under weight coins thus making a big fortune. There upon Ali Mardan Khan called the Mint Officer to his court to know the truth and asked the Mint Officer to weigh the coins before his eyes. It was found that the weight of the coins was accurate as required and the allegations levelled against the Mint Officer were totally malafide and baseless. Ali Mardan Khan then honoured him with a royal Khilat for his honesty and sincerity. Since he used to do everything very quickly by his left hand so he was nicknamed as Khoshoo which means a left hander in the Kashmiri language. Subsequently his family adopted Khoshoo as the surname in place of the original surname Sopory after migrating from Sopore to Srinagar and settling down in Ali Kadal mohalla there.
Dr. T.N. Khoshoo's another ancestor Rishipeer the son of Pandit Govind Joo Khoshoo of Ali Kadal became a saint of very high spiritual order during the rule of Mugal emperor Aurangezeb (1658-1707). Reshipeer was born in 1637 in a boat when his mother was going from Ali Kadal to their ancestral town Sopore through the Jhelum river. It is said that once a big fire broke out in Ali Kadal and engulfed the entire area in which a number of houses were burnt down. When it became impossible to control the leaping flames the people in utter panick approached Rishipeer for some solution. Rishipeer then asked them to throw his one sandle into the fire and lo behold it was extinguished. Because of his super natural powers even Aurangzeb who was a bigot Muslim had to give him the epitaph. "Peer Pandit Padshah Hardual Jahan Mushkil Asan." Rishipeer left his mortal frame in 1697 at the age of 60 years. His shrine is still there at his birth place in Sopore on the bank of the Jhelum river. His another shrine was in Ali Kadal where his one sandle was kept. It is now shifted to Jammu .
After the fire incident the ancestors of Dr. T.N. Khoshoo changed their residence and shifted from Ali Kadal to Chalpan Kocha near Zainakadal. The ancestors of Dr. Khoshoo were all highly cultured, learned and deeply religious people and so used to command a great respect from the biradari. They were all very learned people, well versed in Sharda, Sanskrit, Kashmiri, Hindi, Urdu, English Persian and Arabic language. The name of Dr. Khoshoo's great grand father was Pandit Birbal Khoshoo who was a widely respected person in the entire Kashmir valley. Dr Khoshoo's grand father Pandit Sridhar Khoshoo and great grandfather Pandit Kashmira Khoshoo were expert calligraphers and the employee's of the grazing department of the Jammu and Kashmir government. They wrote Ramayan and Mahabharat in Urdu and Persian language in their beautiful hand writing.
Dr. Khoshoo's father Pandit Samsar Chand Khoshoo was an employee in the Customs Department of the Riyasat during the rule of Maharaja Pratap Singh (1885-1925). Pandit Samsar Chand Khoshoo was married to Vanamala Khosa who was from a trading family of Kashmir. This couple had in all eight children five sons and three daughters.
Pandit Samsar Chand Khoshoo's eldest son Pandit Jialal Khoshoo did his BA from the Punjab University, Lahore and won a gold medal by securing the highest percentage of marks in the examination. He was rewarded by Maharaja Hari Singh (1925-1947) for unearthing illegal deforestation after joining the service in the Forest department of the Riyasat. He retired as the conservator of the forest department of the Jammu and Kashmir government.
Pandit Samsar Chand Khoshoo's second son Pandit Raghu Nath Khoshoo retired as the deputy conservator of forests of the Jammu and Kashmir government. His third son Dr. Prithvi Nath Khoshoo after completing his medial education became the deputy director general of the health department (Leprosy) of the government of India. The civilian title "Padma Shree" was conferred upon him for his outstanding services in the health sector especially for his efforts in controlling the Leprosy in the country by launching various awareness drives in the country against this dreadful disease, besides other national and international honours and awards for his outstanding work in this field.
Pandit Samsar Chand Khoshoo's fourth son Pt. Dina Nath Khoshoo was an officer in the food department of the Jammu and Kashmir state. His fifth and the last son Dr. Triloki Nath Khoshoo was born on 7th April 1927 in his ancestral house in Chalpan Kocha near Zaina Kadal (fourth bridge) in Srinagar district of the Kashmir valley. He had his early schooling in Baramulla, under the guidance of his eldest brother Pt. Jialal Khoshoo who was posted there at that time, in the National School. After completing his early education in Baramulla he came back to Srinagar and took admission first in Sri Pratap Middle School and then in SP College from where he did his matriculation in 1940 in first division. Prior to this in 1938 his parents shifted from Chalpan Kocha to the posh civil lines area of the city. He did his intermediate with Biology, Physics and Chemistry as subjects in 1942 and secured the highest percentage of marks in Biology in the Punjab University, Lahore which conducted this examination and got the Prince of Wales gold medal for this achievement.
He then went from Srinagar to Lahore for higher studies and did his B.Sc. (Hons) in 1944 and M.Sc. (Hons.) in Botany in 1946 from the Punjab University (Lahore) in first division.
In his B.Sc. (Hons.) citation Prof PN Mehra of the Punjab University (Lahore) remarked that Dr Khoshoo was one of the best products of this laboratory during the recent years and could be trusted with investigations of high order. In Dr. Khoshoo's M.Sc. (Hons.) thesis Prof. C.D. Darlignton. FRS of the Oxford University London remarked in his report that Dr. Khoshoo's interpretation showed a thorough knowledge of the subject and convincing interpretation.
The government of Jammu and Kashmir then selected him for an advanced training course in forestry at Edinburgh which was the main profession of his family. But due to the partition of India in 1947 purely on communal lines and subsequent merger of the Jammu and Kashmir state with the Indian Union this programme could not materialize as the new government of the state under the leadership of the then Prime Minister Sheikh Mohammad Abdullah cancelled that scheme.
After the partition of the country in 1947 Dr. T.N. Khoshoo joined the Punjab University (Chandigarh) as a lecturer in its Botany Department. After a year in 1948 he was made a senior lecturer in the Botany department of the Punjab University (Chandigarh). He worked on this post till 1962.
In the meantime he did his Ph.D from the same University in 1952 as a faculty member. His examiner of the thesis was Prof. G.L. Stebbins of the Genetics Department of the California University of America wrote that it was an excellent work which was truly exceptional inoriginality, thoroughness of execution and with miner exceptions entirely accurate.
When Jammu and Kashmir University was established in Srinagar, Kashmir in 1962 Dr T.N. Khoshoo became head of its Post Graduate Botany Department. He functioned on this post till 1964. He then came to Lucknow from Srinagar and joined the National Botanic Gardens as the Assistant Director, which was established by Dr. Kailas Nath Kaul who was the brother in law of the then Prime Minister of India Pt. Jawaharlal Nehru in 1952 in the premises of the historic Sikandar Bagh of the Nawabi period.
In 1974 Dr. T.N. Khoshoo became the Deputy Director of this prestigious Botanic garden of the country and in 1976 he became the full fledged director of this institution. Due to his untiring efforts the status of this institution was raised and it became the National Botanical Research Institute in 1978. He worked on this post till 1982. He used to live in Mahanagar where he built a house for his family members.
Dr. T.N. Khoshoo then became the secretary of the newly created Department of Environment of the Central Government at New Delhi and he then started living there in 103-H, SARITA Vihar with his family members. He worked on this post till 1985. After that he was made a distinguished scientist of the Council of Scientific and Industrial Research (C.S.I.R.), New Delhi.
In 1991, Dr. T.N. Khoshoo became an international fellow of the World Institute of Washington and Jawahar Lal Nehru Fellow; Nehru Memorial Fund New Delhi. He then became a distinguished Fellow (Honorary) of the Tata Energy Research Institute, New Delhi in 1993 and worked very actively on this post till his death in 2002.
Dr. TN Khoshoo started his career in plant genetics and through his pioneering research work in this field became an international authority on plant genetics. His breadth of vision and depth of knowledge coupled with his broad humanism made him a unique figure and a dedicated strategist for human survival. His work both in high office and outside in the field relating to the management of the available resources and the proper utilization of the bio-diversity emphasizing the need to develop the forest cover in the country for a long range ecological security was really path breaking.
Dr. Khoshoo's concern and understanding of the issues focusing on sustainable development in the Indian context on the ethical aspects of resource consumption and on environment friendly technology along with the bio-industrial development of rural India and other developing countries of the world contributed greatly to the integration of environmental considerations into out developmental imperatives which was widely applauded and recognized by every one.
Dr. Khoshboo had also made significant contributions to the genetic evolutionary understanding of several non-agricultural economic plants (including ornamentals). He applied this knowledge for their improvement and had evolved over 30 cultivars of ornamentals many of which are now in the nursery trade thus helping to beautify the environment. He also made original contributions towards elucidating the genetic system of gymnosperms (soft woods in particular). Many of the basic concepts developed by him are known for their originality and have stood the test of the time. His work has considerable practical implications for tree breeding and genetics and is mainly aimed at making forestry in India sustainable for proper ecological balance of the environment.
Dr. Khoshoo has published 253 research papers of a very high academic standard in reputed international scientific journals dealing with genetics as related to plant evolution and breeding, biomass energy, forestry, bio diversity (conservation and utilization) and management of natural resources and environment. He authored 7 books on botanical research and sustainable management of geosphere, and environment besides editing other 11 books of equal importance. His book Mahatma Gandhi. An apostle of Applied Human Ecology" (1996) won him the Gandhi Medal of UNESCO.
Dr. TN Khoshoo was a fellow of the Indian Science Academy New Delhi, Indian Academy of Science, Bangalore, the Third World Academy of Sciences, Trieste Italy, National Academy of Sciences Allahabad, Institution of Engineers India, Indian Society of Genetics and plant breeding New Delhi and Indian Botanical society, Indian Academy of Agricultural Sciences, New Delhi.
Dr. Khoshoo was the President of the Botany section of the Indian science Congress in 1982 and was General President of the Indian Science Congress in its 1985-86 session. He was the President of the Bio-Energy Society of India in 1985-86, President of the National Academy of Sciences 1985-86, President of the Indian Society of Genetics and Plant Breeding in 1986 and President of the Indian Society of Tree Scientists from 1988 to 1991.
Dr. TN Khoshoo had won various awards and medals in his long meritorious career like Rafi Ahmad Kidwai Medal and Prize of C.S.I.R. in 1977, Birabal Sahni Gold Medal of the Indian Society in 1982, Seth Memorial Medal of the Indian Society of Tree Scientists in 1983, Ram Deo Misra Medal of the Indian Environmental Society in 1984, Dayavati Vira Medal in 1985, Sanjay Gandhi Award in 1986, Distinguished Service Award in 1998, Om Prakash Bhasin Foundation Award in 1989, The Award of Indian Society of Genetics and Plant Breeding in 1991, Indira Gandhi Environment prize in 1993 and Centurian Prize of Indian Science Congress in 1999.
Dr TN Khoshoo functioned as the National Chairman of the Scientific Committee on Problems of Environment (SCOPE) New Delhi from 1988 to 1991. He was also a member of the National Committee on International Biosphere Geosphere Programme of the Indian National Science Academy New Delhi, during this period. He was a member of the Scientific Advisory Committee of the department of Bio-technology of the Central government from 1989 upto 1996, and Chairman of the Task Force on Biomass production and Bio-diversity of the department of Biotechnology of the central government from 1989 upto 1992.
Dr. Khoshoo had also delivered important lectures from time to time on important topics during his long service period like the National Lecture of the University Grants Commission in 1981, Guru Prasad Chatterjee Award lecture in 1985, Dr AC Joshi memorial lecture in the Punjab University in 1986, Guru Prasad Chatterjee Award lecture of the Indian Science Congress in 1989, Govind Ballabh Pant Award lecture of the GB Pant Institute of Himalayan Environment and Development in 1992, Dr Hussain Zaheer memorial lecture of the Indian Institute of Chemical Technology Hyderabad in 1992, Jawahar Lal Nehru Birth Centenary Award lecture of the National Academy of Sciences in 2000. He was a widely travelled person and in all had delivered over 200 lectures in Indian, British, French, German, Russian, Hungarian, Canadian and American Universities and Institutes and during international conferences all over the world.
He was deputy chairman of the Working Group on Cytogenetics of International Forestry Research Organisation, Washington from 1964 upto 1967; Vice-Chairman of the Governing Council of the United Nations, Environment programme in Nairobi in 1982; member Scientific Advisory Committee of the union cabinet from 1982 to 1985; member Indian Wildlife Board under Mrs Indira Gandhi as Chairperson from 1982 to 1985; Member International Task Force on Tropical Forestry, World Resources Institute, Washington in 1984; member Advisory Board of the World's Resources Report from 1989 upto 1998; member Plant Advisory Group of International Union for conservation of Nature and Natural Resources, Switzerland from 1988 to 1990; member Scientific Committee of the International Lake Environment Committee; Tokyo from 1988 to 1990; member National Environmental Council with Prime Minister Mrs. Indira Gandhi as Chairperson from 1993 to 1995; Trustee, Centre for Research in environment; Ecology and development (CREED) 1995-2002 and Trustee of World Wide Fund Nature, New Delhi from 1996 to 2002.
Dr. Khoshoo was co-editor of "Silvae Genetic" an International journal of forest genetics and tree breeding of Germany from 1960 to 1984, he was on the editorial board of "Plant Systematics and Evolution" Springer Verlag Vichna, New York from 1978 to 1993 member of the Advisory Board of another prestigious journal. "Lakes and Reservoirs" of the Research and Management of the International Lake Environment Committee Foundation, Shiga, Japan from 1994 to 2002 and member of the editorial board of the "Environment, Development and Sustainability", Kluwer Academic Publishers of Netherland from 1998 to 2002.
After 1980, Dr Khoshoo mainly focused his attention on the biomass production on the degraded lands of the country, because of its socio-economic, importance. This work has led to the ecological revival of the derelict lands with a new state of human made biodiversity in natural locations. The knowledge thus gained was ably used in developing various ecological programmes to improve the quality of environment around us. This also formed the basis for standing world's first Eco Task Force involving Indian armed forces for the eco-development of Mussoorie Hills.
During this period he was also involved in paraphrasing sustainable development in the Indian context and spearheaded science and technology based environmentalism. He was the principal architect of some major environmental initiatives which were taken up in the country like Ganga Action Plan, Institute of Himalayan Environment and Development, centres of Excellence in Environment, Eco-development of degraded lands, conservation and utilization of bio-diversity on a holistic basis in the country, etc.
For all this outstanding work in the field of bio-diversity and its proper management he was honoured with the UNEP Sasakawa Environment Prize in 1996 and the then president of India Dr. Shanker Dayal Sharma conferred upon him the civilian title Padma Bhusan in 1992 Rashtrapati Bhawan for his valuable research in this field.
Dr. T.N. Khoshoo was married in 1946 in Srinagar, Kashmir to Arundati Ganjoo the daughter of Mrs. Prabhawati and Pandit Janaki Nath Ganjoo. Mrs Prabhawati Ganjoo was the only sister of Pandit Balkak Dhar who was a highly respected person of the community in the Valley at that time. Arundati Ganjoo has become famous as Mrs. Mohini Khoshoo after her marriage with Dr. Khoshoo. This couple has two sons Rajiv Khoshoo and Dr. Vikram Khoshoo. Rajiv khoshoo is married to Priti the daughter of Mrs. Kaushaliya and Pandit Janki Nath Chaku. He has a son Siddhartha and a daughter Amrita.
Dr. T.N. Khoshoo was a person of very sharp intellect with pleasing manners. He was quite unassuming person who never tried to throw his position on others. He was always humble and polite in his dealings with his subordinates. His superiors always respected his ideas and suggestions. He had a very charming personality with an electrifying effect. He used to tackle even the most difficult problems with ease and confidence. Apart from a scientist of international repute he was also a very good administrator and above all a very good human being having a great regard for human dignity. He was a highly sophisticated person with a difference. He was the only Pandit from the valley who got the civilian title Padma Bhushan. He breathed his last after a protracted illness at the age of 75 years on 10th June 2002 at his residence 103-H, Sarita Vihar, New Delhi- 110044. He will always be remembered for his fondness, respect, affection and devotion to duty by all those who had the proud privileged to work with him. The reputed Hindi poet Jai Narayan Arun has expressed the philosophy of life in his own words in the following lines:-
Kalilka ne janam liya, Dhul mein badalne ko,
Suraj ka yauvan hai Sandhya ban dhalne ko'
Sanso ka kya hai phir, Lauten ya na lauten'
Sansen hain mrityu, ki god mein palne ko."