Inder Krishen Koul (Talib Kashmiri)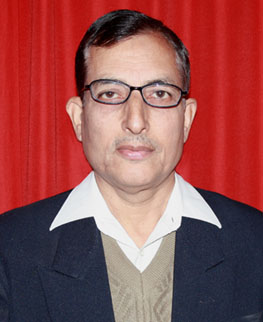 Inder Krishen Koul (Talib Kashmiri)
Inder Krishen Koul (Talib Kashmiri) was born on Nov 10, 1948 at his native place Chattabal, Baghi Sunder Balla, Srinagar. His father Pt. Keshow Nath Koul working in Revenue Deptt. was a gifted writer in Urdu and Persian and his articles and write-ups often appeared in the local papers of Srinagar viz. Martand, Jyoti, Khidmat and Hamdard between Forties and Sixties of 20th Century. After completing his education from school to university level at Srinagar itself (including MP Higher Secondary School, Baghi Dilawar Khan and SP College), Talib worked in several departments and finally got appointed in the Ministry of Home Affairs, Government of India where he got opportunity to serve at various places in the country including his parent state JandK. He bid adieu to his professional career in November 2008.
Strictly speaking the literary talent of Talib Kashmiri had started coming to fore from his school and college days itself, but these couldnít find a proper vent subsequently due certain reasons including his extreme preoccupation with professional duties in a sensitive organization. However, with each passing day he kept on observing very keenly those aspects of social, political and public life which were eating into the vitals of the society irrespective of wherefrom they originated and against whom they were directed. One such bizarre development was the unpredicted turn of events that took place in the Indian sub-continent particularly in Jammu and Kashmir which had their impact on the creative and literary faculties of Talib too. The cumulative effect of all these events forced the writer within Talib to come out and what he had observed and experienced silently for years abruptly erupted in the form of poetry in Urdu and English enthralling the readers for several years. At Jammu Talib remained associated with several literary organizations including Anjuman Frough-e-Urdu, Anjuman Tarraqui-e-Hind (JandK chapter) and Adbi Kunj, JandK, Jammu. Of these he is still the General Secretary of the last mentioned organization. Towards the beginning of the ongoing Century he switched over to writing short stories and has emerged as an acclaimed writer at international level also. His first short story collection in Urdu titled "Shanakht-e-Gul" was published by Urdu Book Society, Delhi in 2009. Apart from being published in state and national level Urdu papers and magazines his stories have been regularly finding place in the magazines published abroad like Sher-o-Sokhan (Toronto, Canada), Jadeed Adab (Germany), Dastak (Karachi, Pakistan), Deedahwar (Boston, USA and Aligarh, India) etc. Talibís outstanding contribution to Urdu literature has been acknowledged by various quarters, the latest one being awarding of a Certificate of Honor by the Urdu Development Council, JandK and Taskeen group of papers, Jammu. Talib writes fiction in English too and intends bringing out a collection of his short stories for the benefit of those not conversant with Urdu. He is also an ardent researcher in ancient historical geography of Jammu and Kashmir and contemplates publishing an anthology on this subject of his choice in near future.
Titles of various stories in the book are Mukti, Qaatil, Deewar, Chakma (Humor and satire), Qasoorwar, Bey Khabar, Taaqatwar, Khota Sikka, Chilly Bomb (Humor and satire), Chori, Shanahkt-e-Gul (Composition), Hasrat, Raasta Kaat Gaya (Humor and satire), Uljhan, Aasoodgi, Aag, Kismat, Nakami (Humor and satire), Imandari, Sawaab, Khoon Ki Chot and Wheel Chair.