Jawahir Lal Raina 'Saroor'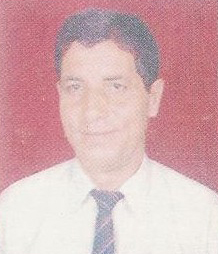 Jawahir Lal Raina 'Saroor'
1.

Name

Sh. Jawahir Lal Raina 'Saroor'

2.

Father's Name

Late Jialal Raina

3.

Pen name

Saroor

4.

Language

Kashmiri & Urdu

5.

Date of Birth

2nd November, 1939

6.

Place of Birth

Mahanoor, Badgam, Kashmir (J&K), India

7.

Educational Qualification

B.A. B.ED, BEC

8.

Occupation

Retired in 1998 as Master from Education Department, J&K.

9.

Field of Interest

Literature & Music

10.

Publications

v Looluk Sada : Poetry, 1956

v Paghach Aash : Poetry, 1957

v Wajad : Poetry, 1997

v Pining for the Morrow : Translation of poems in English by Sh. R K. Bharti, Sept. 2001

v Shivay Namah Om : Devotional Songs, 2002

v Poshe Halam : Devotional Songs, 2005

v Lol Ti Reh : Poetry, 2006

v Lavi Hatye Gulab : Poetry, 2008

v Hindi translation of Kashmiri poems by Dr. Agni Shekar and Late Dr. B.L. Koul.

v Myonuy Jigar Chu Tsalan : Poetry 2010

11.

Membership

Ø Aazad Cultuyral Forum, Chadura, Badgam, Kashmir (General Secretary)

Ø Nagrad Adbi Sangam, Jammu (Cashier)

Ø Samprati, Jammu (Member)

Ø Anjumani Adab, Badgam Kashmir (Member)

12.

Other Details

Ø Selected for National Symposium from J&K State on 26-1-2001 at Bhopal, Madhya Pradesh.

Ø My song on the topic of Pollution was sung from different Stations of All India Radio in India.

Ø Attended many literary workshops and Seminars in J&K Cultural Academy, NRLC Patiala; CIIL Mysore and Kashmir / Jammu University J&K.

13.

Awards

v Vitasta Award, 2004.
Miscellaneous Information
Sh. Saroor writes ghazals, nazms, vatsuns, bhajans, rubayaat, fictions, marsias, poems for children, and essays. He is an approved poet by All India Radio (Radio Kashmir/Jammu) and Doordarshan. His poems are published in the journals and newspapers named below:-
Ø Kung Posh (Srinagar)
Ø Khidmat (Srinagar)
Ø Shiraaz (Kashmiri) Srinagar
Ø Aalav (J&K Information Deptt.) Srinagar
Ø Khabar-u-Nazar (Srinagar)
Ø Tameer (Srinagar)
Ø Sakafat (Shopian Kashmir)
Ø Harmukh (Kashmir)
Ø Gulal (Kashmir University)
Ø Koshur Samachar (Delhi)
Ø Kheer Bhawani Times (Jammu)
Ø Nagraad (Jammu)
Ø Naad (Delhi)
Ø Vaakh (Delhi)
Ø Satisar (Jammu)
Ø Vichar (Delhi)
Ø Sangarmal (Srinagar)
Ø Anhar (Kashmir University)
Ø Aash (Anantnag)
Ø Pakdandi (Amritsar)
Ø Soon Adab (Cultural Academy, Srinagar)
Ø Daeesh (Srinagar)
Ø Naib (USA)
He started writing poems and essays in the year 1953-54 when he was reading in 10th class. He has the privilege of having remained in the association of poets listed below:
| | |
| --- | --- |
| v Fariq Badgami | v Margoob Banihali |
| v Rehman Rahi | v Rashid Nazki |
| v Moti Lal Saqi (Next door Neighbour) | v Bashir Badrawahi |
| v Shahid Badgami | v Shahbaz Rajouri |
| v Amin Kammil | v Ranjoor Tilgami |
| v Ghulam Rasool Nazki | v Gh. Nabi Nazir Kulgami |
| v Mirza Arif Beg | v Fayaz Tilgami |
| v Arjan Dev Majboor | v Mohd. Zaman Azurda |
| v Piyare Hatash | v Sajud Sailani |
| v Fazil Kashmiri | v Dr. Agni Shekar |
| v P.N.Kaul Sail | v Dr. R. L. Shant |
| v M.L.Kanwal | v Moti Lal Kemmu |
| v Dina Nath Nadim | v Avtar Krishen Rehbar |
| v Gh. Nabi Gowhar | v Late Chaman Lal Chaman |
| v M.L.Mahav | v R. L. Jowhar |
| v P N. Shad | v Gulam Rasool Josh |
| v Nishant Ansari | v Hamdi Kasmiri |
| v Khazer Magribi | v Late Rasa Javidhani |
| v Gulam Nabi Doolwal | v Mansoor Banhali |
| v Late Prof. B.L. Koul | v |
His ghazals and bhajans have been sung by the renowned TV and Radio artists. The CDs of my songs and Bhajans are readily available in the market e.g. "Tair Tav Gunpathyaar"
His three Musical Features were presented by Radio Kashmir, Srinagar on the eve of Republic day in the year 1994, 1995 and 1996.
The following singers have sung his poems and bhajans:
| | |
| --- | --- |
| Ø Vijay Malla | Ø Tahseena |
| Ø Waheed Jeelani | Ø Altaf Sahil |
| Ø Gulam Hassin Sofi | Ø Anil Jee |
| Ø Muneer Mir | Ø Bilal Jan |
| Ø Assadulla Yattoo | Ø R.K.Kichloo |
| Ø Gulzar Ganai | Ø Gulam Mohd. Rah |
| Ø Raj Begum | Ø Reeta Koul |
| Ø Usha Handoo | Ø Sidharth Koul |
| Ø Aajaz Rah | Ø Wazira Khan |
| Ø Mohd Ashraf Ganai | Ø Kailash Mehra |
| Ø Manzoor Shah | Ø Suman Pandita |
| Ø Rashid Frash | Ø Kiran Koul |
| Ø Aajaz Khan | Ø Kifayat Fahim |
| Ø Qazi Rafi | Ø Gulam Nabi Sheikh |
| Ø Hasina Akhtar | Ø Zubir Jan |
| Ø Nasim Akhtar | Ø Rashida Mochu |
| Ø Shazia Bashir | Ø Wazrta Khan |
| Ø Shazia Hamid | Ø Gulam Nabi Wagay |
Sh. Saroor got married in 1961 with Smt. Dulari Saroor while at that time he was appointed as teacher at Loolipura (Chari-Sharief). He has 3 sons and 1 daughter namely Rajinder Kumar, Dilip Kumar, Aasha and Sunil Kumar. All of them are married and settled in Jammu.
Courtesy: Rinku Koul