BJP election incharge, J&K Prof Chaman Lal Gupta on controversial issues like statehood and discrimination with Jammu…..
"Its not RSS vs. BJP in J&K"

Bharatiya Janata party which is fighting elections on 57 assembly seats in Jammu and Kashmir is faced with a tough situation in the current political scenario. For its parent organization the Rashtriya Swayamsevak Sangh has floated Jammu State Morcha (JSM) to contest assembly elections. Many JSM candidates fully backed by RSS are not only contesting elections but are also pitted against BJP candidates. Though the "tussle" between BJP and RSS-backed Jammu State Morcha is bound to have some negative impact on voting pattern in Jammu city which has elected BJP candidates on its three assembly segments, however Professor Chaman Lal Gupta, BJP state election incharge refuses to accept the simmering differences between the two organizations which share the same ideology. Excerpts from his interview to KAVITA SURI on these issues ……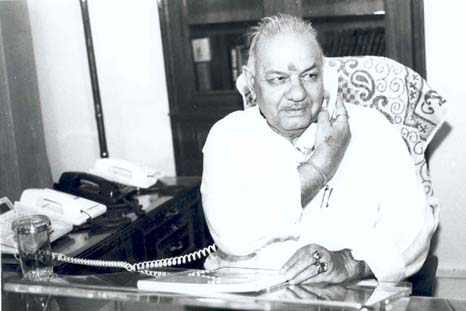 Professor Chaman Lal Gupta
RSS-backed Jammu State Morcha (JSM) is contesting elections and on a couple of seats, they are pitted their candidates against BJP candidates even. How do see this BJP-RSS tussle?
Well, there is no tussle. It is just that due to the discrimination of Jammu for all these years on the hands of Kashmir rulers mainly National Conference, that the RSS has asked for statehood for Jammu and thus has favored trifurcation. However, we do not want trifurcation and support regional councils with full statutory, constitutional powers for all the three regions of Jammu, Kashmir and Ladakh. However, the RSS supports trifurcation. But you have to accept that ultimate problem is discrimination with Jammu and we both (RSS, BJP) know it. Hence, I can just say that to fight discrimination with Jammu, RSS has gone one step ahead of us.
But is it not a setback that they are contesting against you only. RSS vs. BJP? Won't it divide the votes in Jammu which has traditionally been BJP bastion?
Not, I don't think so. We have always stood for the integration of the state. We have a seat sharing arrangement with them and there would be no division of the votes. We have left some very important traditional BJP seats for JSM candidates under our seat sharing arrangements. I do not think it is a set back or that votes would get divides, I do not accept it. .
But how do you expect that RSS would help and support the BJP?
I think wherever we have fielded our candidates, the RSS and BJP cadres would work for us and where they have their own candidates, they may work for their own ones.
But most of the BJP leaders and you yourself are basically from RSS. Now as the fight is between RSS and BJP, what do you consider yourself- a BJP or a RSS man.
There is no denying the fact that I started off as an RSS Pracharak but now as I am with the BJP, my loyalties are definitely with the BJP.
Having a very little difference between the two- BJP and RSS, why don't you accept trifurcation? You reject it at the same time accepting that much discrimination has been done to Jammu. Even Union I&B minister Ms Sushma Swaraj said in Jammu recently that trifurcation demand was neither communal, nor separatist, un-constitutional or anti national.
See, Whatever problems we are facing in Jammu or the voices demanding statehood for Jammu which are becoming stronger day by day are only because of ruling National Conference which still intends to create a republic within the sovereign republic of India and establish a dynastic rule using the autonomy as a clever ploy. This is the old gameplan of this party which it could not attain prior to 1953 because of the still opposition by the nationalist forces from within the state and in the rest of the country. The leadership of the National Conference swayed by its hidden communal agenda and regional bias intends to put up barriers of separation between the state and rest of the India. If the National Conference is not guided by communal consideration, then why it was demanding autonomy for only Jammu and Kashmir state. If Indian constitution can be beneficial for over 100 crore other Indians including Muslims, how its becomes harmful for Jammu and Kashmir where people, in fact, are clamoring for extension of more central provisions of Indian constitution.
While harping on autonomy and Azadi, the National Conference must explain to the people as to how the change of nomenclature of Governor to Sader-e-Riyasat and that of the chief minister of Prime Minister would help the common man in solving his problems.
You haven't replied. Again, if your Sangh Parivar which hold all the strings, also wants separate Jammu and trifurcation of the state- statehood for Jammu, UT status for Ladakh and separate Kashmir - why you are opposed?
Because our party stands for more and more powers to all the state of the country to overcome their fiscal and other similar problems. We are opposed to any differential treatment to any state or part of the country on communal considerations. This policy has already resulted in the painful partition of the country in 1947 and the national is still grappling with complex problems arising out of this division.
Instead of accepting the reality of regional imbalances and discriminatory treatment perpetrated by the successive government of the National Conference and the Congress during the past over hald a century, an attempt has been made by the NC in its manifesto to evade the issue by quoting the figures from the 2001 controversial census wherein, through manipulations, the population of Kashmir valley has been recorded about the lakhs more than that ot Jammu region.
You have also accused them of manipulating census figures of 2001.
Yes, Census figures of 2001 are itself amazing. The increase in the population of border district like that of Kupwara from where thousands of families have migrated to Jammu and other areas, has been recorded as high as 94 per cent since last census of 1981, whereas this increase in the district of Kathua in Jammu has been put just at 46 per cent. The overall increase in the population growth of the valley has been shown as high as over 73 per cent despite migration of over five lakh people. However, this increase in the population of Jammu regions has been put just about 60 per cent although thousands of Kashmir Pandit and other families have settles in Jammu areas.
National Conference leadership must explain to the people that if their census figures are genuine, how the number of voters in Jammu region are over four lakhs more than that of Kashmir valley. The Farooq Abdullah government cannot conceal the facts through manipulation of figures.
In 1996 when NC assumed power, the number of educated unemployed youth registered in various employment exchanges of the state was 1.26 lakhs but now the figure has swelled to over 1.70 lakhs. Even, Congress is equally responsible for the step motherly treatment with Jammu and its owes and explanation as why it shared the decisions of the national Conference leaders to grant just 37 assembly seats to Jammu and 46 to the valley when Jammu was having double the geographical area and almost equal population to that of Kashmir. Why Jammu was granted only two Lok Sabha seats and Kashmir valley three seats.