Ancient Shiva cave temple discovered in South Kashmir near Amarnath cave
A
historic Shiva cave temple complex has been discovered near the Chandanwari-Amarnath area in South Kashmir. The discovery made by a Muslims nomad bakerwal has revealed a small cave with more than one and a half dozen man-made Shivlingams and one idol of Lord Shiva and another idol of Lord Ganesh. The ancient complex is located in a rocky portion of a meadow which is now being called Shiv Marg.
There are at least three natural caves which comprise the temple complex. The main cave is less than 20 feet deep, 10 feet high and about 15 feet wide in which is located a whitish stone idol, a bust of Lord Shiva which is more than one foot high. However, it has been eroded over the centuries. Despite its thousand years of life, certain things of the main idol are clearly visible notwithstanding the blurring of details on the main idol. Lord Shiva's topknot, the Cobra (Nag Devata) coiled around his neck and a hump on his other shoulder (probably a trishul - trident), some of the deity's facial features can still be seen. There are more than a dozen 'Shiv-lings' near this idol. The oval tops of most of them had been sliced off quite neatly.
Mr Parvez Dewan, Divisional Commissioner, Kashmir, Kashmir and former Commissioner-Secretary Tourism said that all these idols have been carved out of a huge rock impended in hill. These idols are said to be 3rd century old. There is, therefore, no question of having idols brought from outside, he added.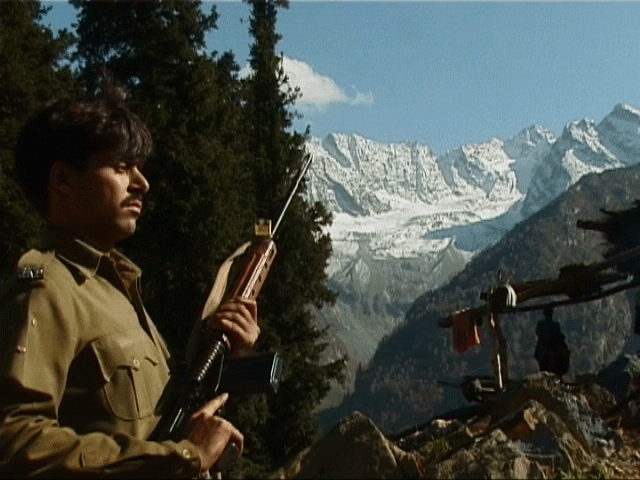 Policemen maintaining vigil en route the newly discovered cave shrine in South Kashmir
The style of these lingams and stone cave, according to Dewan, is that of Pantha Chowk architectural Style. Stone washbasin in a spring indicated that they were not made later than 13th century AD, but could be as old the 3rd century AD.
The discovery of this ancient Shiva temple complex has an own interesting story. A shepherd Ghulam Qadir from Jandrah village in Jammu had lost a sheep and while searching for his sheep in Chandanwari-Amarnath area, he stumbled upon the cave in Chandanwari at a height of 12,500 feet. Surprised by the discovery, he decided to go inside the cave and found that it was 10 feet high and 15 feet wide cave with a one-foot high stone bust of Lord Shiva.
He ran home to tell this to his father-in-law Haji Muhammad Rafique Bocken who immediately took photographs of the ancient cave and claimed this discovery in letters sent to over a half dozen top ranking officers in New Delhi and Srinagar, enclosing photographs of the cave and idols. One of these letters was addressed to the then Commissioner/Secretary, Tourism, Mr. Parvez Dewan who decided to check the veracity of the claim, hoping that this discovery so close to historic Amarnath cave, would be another centre of pilgrim tourism in the State.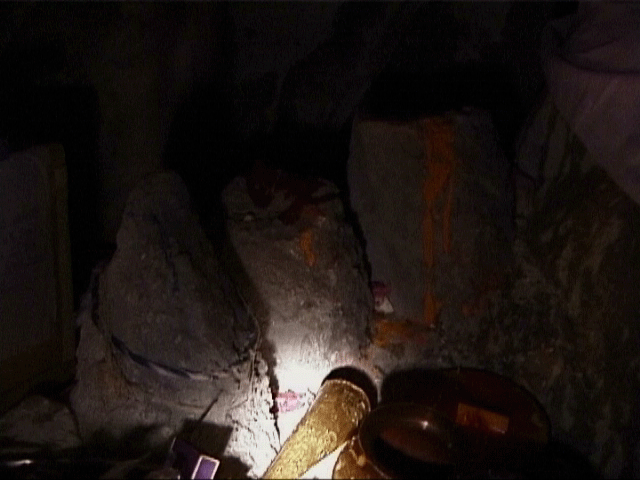 Other idols
Heading a team of engineers, Dewan found the claim true on 4 September last year. After the visit involving a steep track of 5 km near Chandanwari, Dewan said that all these idols and 'lingams' have been carved out of a natural, raised platform, around five or six feet higher than the ground. To reach the platform one has to climb up a rock. The idols are all fixed to the rock below. They have been carved out of that rock which is rooted to the ground.
"When we face the first cave, then to its right (east) there's another, smaller cave. Actually it is a narrow extension of the first cave. One has to crawl up a rock to get to this level, which is about three feet higher than 'Cave one'. There is another idol here. It is covered with Algi. Thus, it is difficult to say if the Algi created the elephant's trunk that can be seen, or a sculptor did," he said. The top-knotted head and humps on the shoulders, on the other hand, suggest that this, too, is a bust of Lord Shiva and not that of Lord Ganesh. Next to it is a Shivlingam, the second best preserved one in the complex. Both are rooted to the rock below. To the left of the main cave is third, dark cave but it is extremely deep.
Dewan informed that water trickles through this cave. "Run your hands along its ceiling and they will be filled with a whitish, lime-like paste", he added The Bakerwals, who are extremely analytical about all natural phenomena, say that rocks get reduced to a paste only after water has run over them for a few thousand years." Dewan said that there appears to be 'Amrit Kund' at the site. He found a perennial spring some 250 metres from the cave-temple which is located on the bed of a seasonal nallah. When the snow melts, water comes hurtling down the nallah, bringing down loose stones, rocks and other debris. The crystal-clear waters of this spring are stored for a while inside a man made stone-trough. " When we reached there, the water inside it was about an inch deep and rested on a bed of sand and pebbles," he said.
The newly discovered cave is at an altitude of 12, 500 feet whereas cave of Shri Amarnath Ji is at an altitude of 14, 500 feet. It indicates that the new discovered cave shrine is the base camp of Shri Amarnath Yatra. The temple and the Kund are much higher than Pissu Top on the Amarnath track.
The Divisional Commissioner said that since the newly discovered cave is at a much lower altitude (12,500 ft) that Shri Amarnath Ji Cave (14,500 ft), the ice-lingams will melt by the second week of June. This is a very major discovery, especially it is in a Cave with man-made idols and lingams and because this Cave is accessible eight to nine months. He pointed out that people of the nearby Phirisilan area are excited at this new discovery as this means a potential rupees 10-crore a year for the economy of Anantnag district.
There is a strong possibility that in ancient time, pilgrims must have traveled to the Amarnath cave shrine on ponys passing through this ancient temple complex. This discovery is likely to attract focus of ASI for establishing its correct history and related issues.
Last week, Haji Bocken called on Dewan and informed him that an ice lingam existed in the newly discovered cave shrine. The Divisional Commissioner said that Bocken's information was cross-checked and indeed two lingams existed in the cave. The lingams were photographed.
He informed that Shri Amarnath Shrine Board has constructed a helipad at a distance of around 900 meters (downhill) from the new cave. However, the commercial helicopters sorties are not likely to operate immediately, he said. Mr Dewan said that it takes two hours to climb from Chandanwari to the newly discovered cave. It is quite cold at that height and anyone desirous of going there should wear woolens, he advised.
The tourism department has also decided to give Qadir's family ten per cent of the cash offerings that would be made at this shrine for a five year period between 2002-2006. Besides, one family member would be present here during the Amarnath pilgrimage. After five years, the family will get one time settlement.

Devotees coming out of the cave shrine complex