Exclusive Interview:
Dr. Farooq Abdullah
"There is no doubt I will fight assembly elections in J&K,"
"With all forces at my disposal, I am going to hit Hurriyat hard if…"
"I hope they will give me Bharat Ratna in my lifetime"
"I would be honored if I am given vice-presidentship of India"
"There is no change in situation in J&K"
One of the most vocal voices against Pakistan-sponsored cross-border terrorism has undoubtedly been that of Jammu and Kashmir chief minister Dr Farooq Abdullah. Though Dr Abdullah has always advocated teaching a lesson to Pakistan by smashing terrorist camps in there, he, at the same time, has kept every option open. The man who nourishes the ambition of becoming the vice-president and then president of India, had also favoured granting of some time to General Parvez Mushrraf to implement all those things that he had said in his 12 January's historic speech. But as nothing has changed on ground after more than a fortnight has lapsed since then, Dr Abdullah asserts that though India does not want war, Pakistan needs to be taught a lesson. He speaks to KAVITA SURI in a detailed exclusive interview about various issues including terrorism and forthcoming assembly elections, which will also see completion of his six-year term as state chief minister.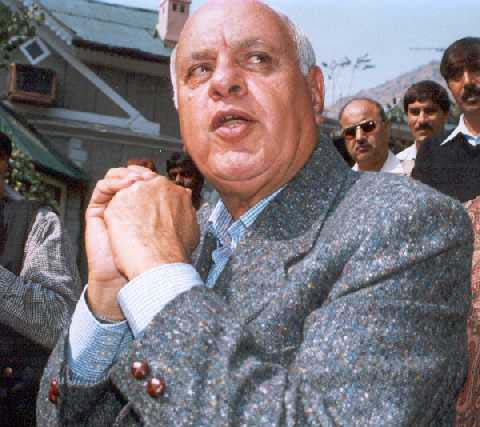 Dr. Farooq Abdullah
Elections are in offing. You have announced that the assembly elections in the state would be held in September. How is your preparedness to contest the elections?
Well, September is too far. Next month we are having parliamentary bye-elections in Poonch-Jammu constituency, which will depict the trend for 20 assembly constituencies. We will get to know our position through it. And to tell you the truth, our preparations would start from July this year. Election campaigning would more or less start from July only. The budget session (starting from 26 February next month) would be the major session for this government. There will be a small session in July.Once this July session is over; campaigning for next elections will start.
Would your change your legislators to give representation to young and untainted people in your party?
Yes. There will be many people. I can't say myself because it will be party decision. It will not be my decision because if we will start talking about it, my sitting legislators will think that they are not being taken. There is not such thing. Decision will have to party's from grass root level. It comes actually from grass root only- who should be given mandate and who should not be given the mandate -all such things are taken into account and then decision taken. If sitting members have done a very good job, they can come back.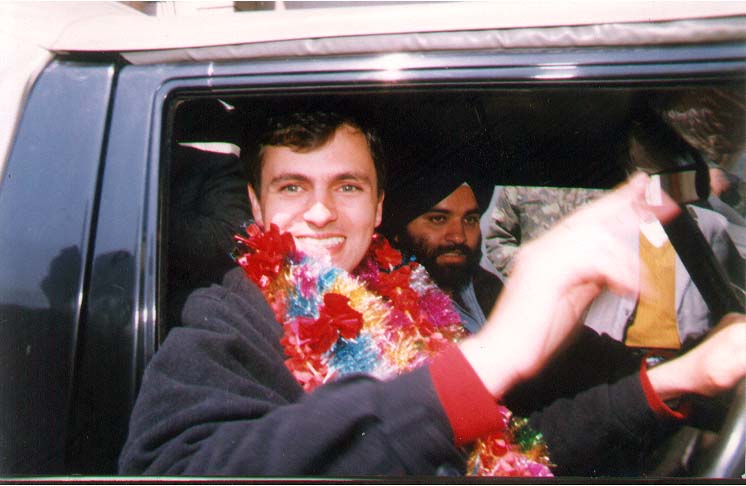 Omar Abdullah
What role would be played by the Youth National Conference headed by Mr. Omar Abdullah in giving mandate to the party people?
Well, we have lots of young people already in the assembly. It's not that we don't have.. I think we'll keep that for the betterment of democracy. Younger elements have to be brought in by the YNC so that the older elements can guide them to take responsibility.
What about the parliamentary bye-elections next month? Rumours are that National Conference wants a friendly contest and thus has deliberately fielded a weak candidate so that the BJP candidate could win.
I think it will be a friendly contest from all of us –the BJP, Congress, Janta Dal, National Conference and all others. They are all friends so its gonna be a friendly contest. Elections are the will of the people. It is a democratic fight and democratic fight is always friendly. Its not a fight of some other nature. It is always friendly.
But allegations are that as Mr. Omar Abdullah is at the Centre and National Conference is a partner of ruling NDA, so your have entered into an arrangement with BJP so that you will help in the win of their candidate from Jammu-Poonch parliamentary constituency.
But the BJP people still always criticise me everyday. Have a look at the newspapers. There is not a speech that is not directed against Farooq Abdullah. All the ills are put at Farooq Abdullah's door and National Conference.The BJP says NC and Congress have spoiled the state, Congress says NC and BJP have spoiled the state. So National Conference is the target of everyone.
There have been hints that the All Party Hurriyat Conference may contest the elections. Even they have decided to have their own EC observers for the polls. How would you comment on it?
It will make no change for the National Conference.Not at all. National Conference has always fought Hurriyat.Now it's the combination of all these parties. But NC from the very beginning, since 1938 when it was formed, has fought all these forces. It is nothing new for National Conference to face them. We have faced them before; we will face them again.
But would you welcome if they will participate in the elections?
I would like them to contest the elections. They claim that they are the true representatives of Kashmiri people. I would like them to come and fight the elections and thus prove their claim. But I want to warn them. I would not allow the guns of Pakistan to help them because if they resort to guns of Pakistan, I am sorry, I am going to hit them hard. With all the forces at my disposal, I will not allow the democratic elections to be made undemocratic by their guns.
Last time when I talked to you, you had said that time had come for you to move out of the state and that somebody else should take charge of the state.
That is true. I do want to move out of state to the Centre but, but (stresses), there is no doubt that I am going to take part in the assembly elections in the state. I am not running away from it.
But what about your wish of becoming the vice-president and then president of India?
It is all in the paper. Like I recently saw that I am going to get Bharat Ratna.Where is that Bharat Ratna that was in the newspapers – that I was going to be one of its recipients. I hope that they will give me Bharat Ratna in my lifetime and not after I am gone. Sometimes, I must tell you, newspapers write all sorts of stories. But as I have always said, if such a responsibility is entrusted on me, if I am chosen for it, I will be honored to accept that after elections.
What would be your poll plank in the forthcoming assembly elections?
Five years that we have put in this turbulent period. We may not have done all the things but we have been able to reset everything, put the things back on the rails which had been derailed from 1990 to 1996.That will be my poll plank.
What about resettlement issue?
No, resettlement is nor our issue.
Autonomy?
Autonomy has always been our issue. So there is nothing we are going to shout about it. We have always told the government that you have to give autonomy to the people of Jammu and Kashmir and Ladakh.
Recently Advaniji said that pre-53 position cannot be restored to J&K but there could be more devolution of powers to the state. We would like to see what is in their bag. We have put our things before them. The autonomy resolution of the state assembly is before them. Now let them tell us what is possible and what is not possible. Once that is told to us, we will know what is in.
But last time you had informed that some dialogue was going on between the Centre and state regarding autonomy. What was that?
Nothing has been spelled out as yet. They are still in the preliminary phases. Unless that is crystallized, there is no use my telling you about it or my people. I assure you, nothing has crystalised in any form that I can tell before the people that we have achieved this except Advaniji's statement that we are ready to give more powers to J&K. What more powers are they ready to give us, we have to see that. We have already placed our report before them. But let me tell you, no such thing would be done that we will place another report or something before them and then they will act. Now the world pressure is on us to settle J&K issue. While we settle this, lets be very clear, we have to win the hearts and minds of the people of J&K and for winning the hearts and minds of the people of the state, autonomy is one of the issue which may be able to bridge some parts of the gap.
In what way you are going to pursue or push for it?
I think the Government of India knows. We are already in discussion with them on it. They know about it.
A few days ago while speaking in the border town of R.S.Pura in Jammu from where large scale migrations has taken place recently due to Indo-Pak border build up, you had said that war is inevitable.
Well, both the armies are standing eyeball to eyeball. What do you make of it? It just needs one flame and it will go. We don't want war. Let me be very clear on it. This state has seen so much of destruction, three wars, terrorism, what not. We have taken five years to rebuild the infrastructure and it will take just a minute to destroy it. I am not for war. But if my neighbour fails to understand the message of peace, then as my people say, lets die once and not so many times.
You have already said that there is no change in the security situation in the state in the past fortnight after Mushrraf's speech. You had welcomed it and had even said that he must be given some time to act.
Mushrraf's speech was good for his own country because his country was going down rapidly. In the yes of the world, it had destroyed every Muslim face, whether he belonged to the Arab world or any other part of the world as a Muslim. In the western free world, he was a targeted figure, a tarnished figure, so he had to turn this boat around. I hope he is able to remove those half-baked imams, one, I also hope he will be able to change those madrasas to scientifc schools .I hope he is able to rein in those extremist elements who are destroying Islam. But that is for him. It was because his economy was bad. But as far as we see on our borders, tension has not come down. My people are suffering. They are out of their homes. There are mines everywhere. One of the young unmarried girls got here foot blow up by a mine only yesterday. How does it hurt Pakistan? Where is that good will gesture that Musharraf intended to show? He has to show that he means what he says. That is what India is waiting for. India is not going to de-escalate at all unless there is definite drop in militancy and killing graph. That has to happen.
You have always advocated smashing of terrorist camps in Pakistan and making them suffer for sponsoring cross border terrorism. Are you not disappointed over the fact that despite a heavy build up on the border, no solid action was taken by India?
I think that is a very strong action that the Government of India has taken. Putting all the three forces-army, navy and airforce- on the high state of alertness is not a joke. I think India is acting firmly and they have told the powers of the world that they are not going to de-escalate unless there is definite change from Pakistan vis-à-vis terrorism.
As chief minister of such a sensitive state, what long-term measure do you suggest to deal with terrorism?
Indian army is already geared up. Now with the western help that we are going to get, surveillance of the border with electronic gadgets and other such things would be quite useful to use as far as cross border terrorism in concerned. These entire things will take time to be put into place. But we are also hopeful that the western pressure and world pressure will work on our neighbours and it is for them to see that it is not helpful to them and that will change lot of things. I am quite hopeful.