Exclusive Interview:
Javed Ahmad Mir, vice chairman, Jammu and Kashmir Liberation Front
Kashmir needs Afghan-type conference,
They should learn lessons from Afghanistan,
Gun has played its role, peace must prevail,
Kashmir is more dangerous than Afghanistan : MIR
Javed Ahmed Mir needs no introduction in the state of Jammu and Kashmir. His is a household name in the trouble-torn state. For he was among the early batches of the Kashmir youth who crossed the Line of Control for arms training in the initial years of movement for the freedom of Kashmir at a time when there was no group but the JKLF, not even the Hizbul Mujahideen- valley's indigenous militant outfit. Thousands of Kashmiri youth joined the "armed freedom struggle" on the call of JKLF in late eighties. Javed, 40, the vice chairman of Jammu and Kashmir Liberation Front (JKLF), who was also the chief commander of the outfit, is now one of the most vocal voices of the separatist leaders who have strongly been advocating the return of peace in the trouble-torn state. The media-friendly man, who recent shunned his "freedom' by marrying a Srinagar-based advocate, spoke to KAVITA SURI about various global developments and Kashmir issue.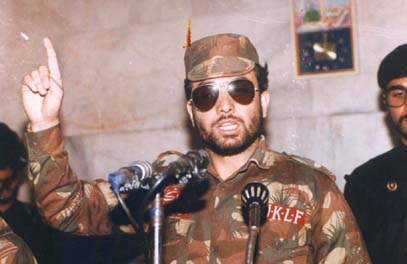 Javed Ahmed Mir
Q. In view of the 11 September terrorist strikes in United States and the subsequent action in Afghanistan, what do you think about Kashmir issue?
A: I strongly believe that India and Pakistan should immediately start a dialogue to end the bloodshed in the state otherwise there is danger of the subcontinent witnessing worse situation than Afghanistan. Both India and Pakistan should not play hide and seek. The Kashmir issue is complex and is infact is a dangerous problem in South Asia.We do not want that crude missiles to be fired on us as are being fired on Afghanistan.We do not want Prithvis, Gaznis or Shaheens to exchange fire. India and Pakistan should resolve their dispute over Kashmir with talks similar to the Bonn conference on Afghanistan. When warring Afghan factions can meet in Bonn, why can't a similar conference to find a solution to Kashmir be held in Delhi, Islamabad or any other neutral venue. India and Pakistan should see reason and concentrate on resolving the perplexed issue (of Kashmir) after peace is restored in Afghanistan.It is the best time for both the countries to end hostilities and start a meaningful dialogue. Problem should be solved.
Q: What suggestions do you suggest for the solution of the problem?
A: We demand that simultaneous trilateral dialogue between India, Pakistan and the people of Jammu and Kashmir should be initiated to resolve the crisis. Two countries should first work for the ending violence in the state before finding a solution, which should be according to the wishes of the people of the state. They should learn from Afghanistan war and solve Kashmir issue. Let's prepare an agenda for solution of Kashmir dispute. If they say we will not talk on Kashmir, then what was in Agra. Talks were held, that is yet another thing that those were not successful. If they show rigidness, problem will not be solved and the people of Kashmir will continue suffering.
Q: But your party had boycotted the tea party hosted by Pak High Commission in July this year on the grounds that no bilateral dialogue should be started between India and Pakistan without taking the people of J&K into consideration.
A: Well let the bilateral dialogue begin. We can join at a later stage. Without the participation of the Kashmir leadership, no solution can be reached But our prime concern is that the bloodshed should end and there is no change in the stand ot JKLF.We want independent Jammu and Kashmir, as we were saying yesterday and will assert always as well. We also believe that these two countries alone can solve the problem. Neither the US nor any other country can do anything as the problem relates to the two nuclear powers. If the dialogue doesn't start today, tomorrow may be late. This is the time to bury the hatchet.
Q: Your organization was the first one in Kashmir which introduced armed freedom struggle in Kashmir.Your cadres asked the youth to fight India.What do you feel is the role of gun now when various foreigners have also joined in?
A: Tweleve years ago, Kashmir was no issue globally. Armed freedom struggle was necessary to infuse a new life into it. We had no option, but to resort to the gun as no one was giving heed to our plight .So we took to gun, which brought Kashmir issue into limelight. The Kashmir issue is out of cold storage, and everyone in the world talks of it. With at least 80,000 people have been killed, hundreds of women raped, thousands of youth killed in custody, many of them subjected to forced disappearance, Kashmiris cannot suffer for long. So we believe that enough is enough , gun has played its role, our job is done and blood bath in Kashmir should stop now.
Q: The Jammu and Kashmir Liberation Front (JKLF) was also the first outfit in Kashmir to declare a ceasefire in 1994.There was much criticism to it at that time. Do you still support the ceasefire or do you want to go with few militant groups who have been appealing for ceasefire?
A: No, we won't. We have learnt from our past experiences. We had announced ceasefire in 1994 but them see what happened. More than 600 cadres of JKLF activists were killed in fake encounters and in the custody of security forces. Scores of our men are still languishing in the jails. New laws are being framed to suppress the Kashmiris. But inspite of all odds, JKLF's diplomatic and political battle is one and we will soon see the dawn of freedom.
Q: But the Government of India is rigid on its stand towards Kashmir.So, in such a situation, how do you foresee "a dawn of freedom"?
A: Kashmir is a vexed 53-year old issue. Even India admits its complexity. It has the potential to trigger a nuke war between India and Pakistan that will engulf the whole of South Asia. Its solution cannot be avoided for long. They have to come to table alongwith Kashmiris who are the principal party to the problem and hammer out an everlasting solution. And it is the duty of other world powers and US to prevail upon India and Pakistan to resolve the issue.
Q: Everybody has been saying that once the Afghanistan war is over, the focus of the World community would shift to Kashmir.What do you feel?
A: Kashmir, I believe, is even more dangerous than Afghanistan.As everyone knows two nuclear powers are attached with this imbroglio. So one can only imagine the catastrophe if a solution to this problem is delayed. One day or the other, United States and other powers have to come forward to prevent the South Asian region from turning to a graveyard.
Q: But there has been an apparent shift in Pakistan policy vis-à-vis Afghanistan and especially Taliban.Do you foresee any change in Pak stance towards Kashmir?
A: Pakistan is an important party to Kashmir problem. Unlike Afghanistan, Kashmir issue is lingering since the partition of Indian sub-continent in 1947.In no way can Pakistan distance itself from Kashmir.
Q: What is your opinion about Osama Bin Laden?
A: We have nothing to do with Osama bin Laden or Taliban.
Q: What about reports of strong differences between JKLF and ALL Party Hurriyat Conference?
A: JKLF is a constituent of Hurriyat. We are the part and parcel of the conglomerate and played an important role in its formation. So the question of differences doesn't arise at all. Besides, if there are some difference, one should realize that if there are as many as 80,000 sacrifices of the Kashmiri people, differences are bound are there.
Q: But Kashmiris have openly supported Taliban and Osama bin Laden which was also evident from the public demonstrations at several places in Valley. Comment.
A: That was an outburst of the emotions. Kashmiris have been facing such kind of situation for the past 12 years. We are involved in it. They could relate themselves with it. That was it.
Q: Do you feel that your movement for the freedom of Kashmir has been hijacked by many other outfits operating in J&K?
A: Well, it is an indigenous movement in which 80,000 people have been killed till date. If people from other countries are involved in freedom struggle of Kashmir, how can we help! What we can do on that? That's why we say India-Pak has to take measures to solve the deadlock. We appeal both Musharraf and Vajpayee to solve Kashmir issue in the interest of the people.