Exclusive Interview:
Shabir Shah
"I feel cheated, betrayed by Indian government"
"K.C. Pant is a failure"
"Talks failed because Government of India was not sincere"
"Indian government is yet to frame policy on Kashmir",
"Let the Centre form a core group of all political parties on Kashmir issue"

Of all the separatist leaders in Kashmir, Shabir Ahmed Shah, president of Jammu and Kashmir Democratic Freedom party (JKDFP) had responding positively to Centre's offer of talks through its interlocutor K.C.Pant. However, today this 45-year old leader who is known as the "Nelson Mandela of Kashmir" for having spent 23 years of his life in prison, feels dejected by the Centre. Shabir Shah who says that the Indian government is yet to frame its policy on Kashmir, talks to Kavita Suri on his expectations from the Centre and Centre's failure in responding to it. Excerpts:
After the recent developments in Kashmir politics – assassination of senior Hurriyat leader Abdul Gani Lone coinciding with Prime Minister's visit to Kashmir, arrest of another hard-liner Syed Ali Shah Geelani and other related things, how do you see the situation on ground?
When the Prime Minister Atal Bihari Vajpayee announced his proposed visit to Kashmir in the parliament, Kaluchak incident had not happened and we had thought that the Indian government would now have made up its mind and framed some policy on Kashmir. We thought that it was in that context the Prime Minister had announced his visit to Kashmir along with his defence and home ministers to study political realities on ground.
When asked by the media, I welcomed this visit terming it a very good development though it should have come much earlier. But anyway, better late than never. We had hoped that that before his visit, the Prime Minister would send his team to valley which would talk to those political leaders and separatists who represent the sentiment of Azadi here and they would properly be given invitation to talk to the him. Our party's stand was as soon as we will get the invitation to talk to Vajpayee on Kashmir, we will respond positively and the respond would be such which would help in reduction of tension and bitterness and bridging the distance.
However, we got to know that Vajpayee was not inviting anybody who was a separatist or who represented azadi sentiments and only that those "routine" people would meet him regularly in his Delhi Durbar also would meet him. I feel that he should have met those persons who are known the world over as representing the azadi sentiments of Kashmiri masses.
That means you consider the last visit of Prime Minister as a total failure.
Yes, to some extent. We have greatly been disappointed with the visit of the Vajpayee. I used to see a ray of hope in Vajpayee. I even used to think that after Gandhi and Nehru, if there is anybody who can take some initiative on Kashmir, it is only Vajpayee. I even felt that he would get his name inscribed in history for solving the Kashmir dispute but to my disappointment. But hope is the way of life.Main Mayoos Nahin Hoon I have not given up hope. May be after his return to Delhi, something must have dawned upon him or his men who are in charge of Kashmir desk and they would have felt that they have not done justice to Kashmiri people. May be they would have thought that they should have invited those who represented Kashmiri sentiments. Last time, they had sent K.C.Pant and all the three steps taken by the Indian government were three positive initiatives. One was the offer for unconditional talks, then K.C. Pant's visit to valley and then thirdly invitation to Pakistani president to visit India. We even felt that this man (Vajpayee) had guts and he was sincere in solving Kashmir dispute. But unfortunately Pant and my discussions could not be carried forward.
But why the discussions between you and K. C. Pant did not bear any fruits?
Well, despite many challenges, even the threats to my life, I had gone ahead with meeting K.C.Pant but it could not go further. Unfortunately, I felt that there was no policy regarding Kashmir.
In this regard, you have also said that you feel betrayed by the Government of India. Can you elaborate how and why?
Yes, I feel cheated, I feel betrayed by Indian government. See, I had yet not talked to Centre's interlocutor on Azadi. I had only talked to him regarding creating conducive environment for talks. The atmosphere which is needed for should have been created first before we could actually go for the talks but somehow that did not happen. So that peace process could not continue. Infact, I had suggested few things to Pant which were not accepted to Government of India.I had asked them to withdraw Disturbed Areas Act (DAA) and Special Powers Act given to armed forces. Well, army should continue with its activities but where there is DAA, there is no accountability. If your have to kill a militant, we will not ask you to release him, but there is no accountability under such Acts.Then if your kill any freedom fighter, his body should be handed over to his family, custodial killings should stop, those people who have been languished in jails for the past 12 years should be released. Notwithstanding the fact that the TADA courts etc have ordered their release, they have been rearrested and kept in jails. All of them should be released. We ourselves should not face any hurdles for reaching out to our own masses. They (state government) stop us, arrest us at various occasions, and do not allow us to meet even our own people… all these things should stop. Recently, I had gone to Hazratbal for offering prayers, but I was arrested there. Then you cannot ignore Pakistan. Pakistan is a party to Kashmir dispute. You should invite them also. Vajapyee took a courageous step and invited Mushrraf to Agra. But we already knew that no miracles would occur at Agra but at least there was a beginning.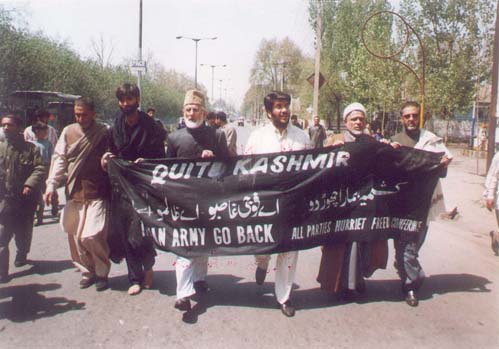 As you say that you had conveyed these things to Pant, what was his response?
Response was quite good initially. We had yet not started dialogue on Kashmir's independence. We just wanted their word that they would do it before initiating the dialogue .For all these years, there has been mistrust only as all the successive Prime Minister's who promised many things, did not fulfill any. India should have understood that after the human investment of over one lakh youth, we were still coming forward for the dialogue. For we believe that only through dialogue, Kashmir issue can be resolved, war will not help. War brings only destruction. War is a crime and should be avoided at all costs. It is in the best interests of people of Jammu and Kashmir, India and Pakistan to sit on the negotiating table and resolve the dispute that has put tremendous strain on the economy of the two South Asian nuclear powers. We want peace. After every war there is a cease-fire followed by negotiations. Why don't we bypass the first two stages and come straight to sincere talks.
Was any assurance given to you by the Centre or its interlocutor to agree to any of your proposals?
Unfortunately, Mr K. C. Pant is just a middleman. He represents India while I represent my people. I told him to convey to the PM that we wanted these things before the dialogue could be initiated so that the process is carried forward. K. C. Pant's role was to convince Vajpayee but unfortunately he could not do so. Instead, Jammu was also included in the Disturbed Areas Act and rate of custodial killings went up. People started questioning me that violence and dialogue could not go ahead simultaneously. Those people who had rejected PM's offer for talks were provided with the opportunity to say that they did not accept these as they knew well that the GoI would not accept anything. But I told them not to doubt GoI. I believe that as people are dying everyday, this bloodshed and killings should be stopped anyhow.
But as I said earlier, I believe that Centre has no policy on Kashmir. This Pant thing was just eyewash to show the international community that they want to resolve the Kashmir issue. K C Pant had not much role in it. He was not failure. Infact the Indian government used to think that nobody would come forward for talks with it, as there is so much of fear of gun in Kashmir. I myself was attacked thrice. The Mujahideen (freedom fighters) did not do that. When we investigated from our own sources, we got to know that it was the handiwork of state government and surrendered renegades besides those leaders who are enjoying everything in this status quo. They are afraid that if the peace process would continue, Kashmir issue would be solved and their shops would be closed.
But when we came forward for talks, the GoI was not only surprised but was at is wits end as what to do. Indian government had the feedback that nobody would come forward for talks in Kashmir but when we did, they were caught unawares as they were not prepared for that. The talks failed because Government of India was not sincere. They thought that we were going to shy away from talks as Hurriyat Conference did but that did not happen.
As Pant could not motivate the Prime Minister and was a failure, do you think he should have been replaced as centre's interlocutor?
Well, only Pant could not do anything. There is one more reason to it, that is, the tussle between the North Block and the South Block. Why doesn't India considers it a national problem and bring together all the political parties like National Democratic Alliance (NDA) allies, Congress (I) and the Left parties etc and make a core group in which there should be PMO officials, defense ministry officials, home ministry people, foreign ministry people and even K.C.Pant. Besides, those persons should also be brought in this core group who deal with Kashmir issue or who have dealt with it for the past 20-30 years.
All these parties should extend full support to Vajpayee in his endeavor to solve Kashmir problem. Delay in doing so would be dangerous as India was spending crores of rupees on the Defence forces - both within Kashmir and the borders. Then they can start negotiations with us. Talks with Pakistan are equally important. Involve Pakistan in talks or if Pakistan has invited you, accept the invitation. More the distance more confusion and thus more misunderstandings.
Changing world political scenario and globalization demanded immediate meaningful and sincere dialogue. It is the high time to initiate dialogue and then hold free and fair elections in the State.
What about the demand from certain quarters for assembly polls under UN supervisions?
I do not accept the demand for deployment of United Nations Organization (UNO) observers during the forthcoming Assembly elections in the state. I believe there is no need of holding the forthcoming Assembly poll under UNO observation. However, elections can be held under the supervision of the former Prime Ministers of India, human rights activists and intellectuals. Most of all, a purposeful dialogue should be initiated to settle the 52 year old Kashmir issue as the Lahore Declaration, Shimla Pact and Tashkant Agreement failed to cut much ice in this regard and the problem continued to dominate all the issues over these years.
Now with Prime Minister again coming to Kashmir valley on 20 June, if he wants to talk to you, would you be ready to meet him?
I am ready to meet anyone who is sincere about resolving the Kashmir issue. Thousands of people have been killed in J and K over the past decade and it will be difficult to put an end to it unless we are a little flexible while talking about the resolution of Kashmir issue.