Exclusive Interview:
Dr. Ayub Thakur, President, World Kashmir Freedom Movement
Tracing a Hawala route, Indian intelligence sleuths who arrested Imtiaz Bazaz, a valley based journalist and two other ISI operatives in Delhi on 25 May, got wind of Dr Ayub Thakur in Britain.The recent arrest of senior firebrand Hurriyat hard-liner Syed Ali Shah Geelani in Srinagar familiarized his name to all of those who are interested in happenings in Kashmir.Dr Ayub Thakur, president of the World Kashmir Freedom Movement (WKFM) was allegedly sending money through his charity organization Mercy Universal Production in London to Val Media Corporation floated by Bazaz in Delhi to finance Hizbul Mujahideen activities in Kashmir.British Foreign Secretary Jack Straw, who was in Delhi recently, said he would look into India's demand for Thakur's extradition.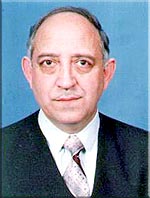 Dr. Ayub Thakur
In the wake Geelani's arrest, government is likely to seek deportation of this London-based Kashmiri separatist leader Thakur in connection with alleged funding of militancy in Jammu and Kashmir. The J&K government is in constant touch with the external affairs ministry to take up Thakur's deportation from the United Kingdom.
Hailing from Kashmir valley, Dr. Thakur began rallying the Kashmiri youth and students since 1960's as a doctoral student in Nuclear Physics at the University of Kashmir where he founded the Students Islamic Organization Jammu and Kashmir in 1974 and continued as a generous patron until 1977. He then climbed to the presidencies of the Kashmir University Students Union and Kashmir University Research Scholars Association. A nuclear physics Assistant Professor at the University of Kashmir who was expelled as a Professor in 1980 and later exiled to Jeddah, has now established a Kashmir Center in London. In London, he says he is galvanizing expatriate Kashmiri community from both sides of the Line of Control.
Thakur, who himself says that he left his bright career as a nuclear scientist to work for the Kashmir cause at the international level, defends himself in an exclusive interview with KAVITA SURI. Excerpts:
You have been accused of being an ISI conduit for funds to Kashmiri militants.
The Inter Services Intelligence (ISI) does not need British soil to transfer money to militants. It may have many other means across the border of doing the same if it wanted. The Kashmiri struggle has three fronts: political, diplomatic and militant. I have been working on the diplomatic front for two decades for the peaceful resolution of the Kashmir conflict according to the wishes of the Kashmiri people enshrined in the UN Security Council resolutions.
British foreign secretary Jack Straw said he would look into India's demand for your extradition?
I will be the last person to misuse my presence in Britain by violating any British law. I am prepared for any inquiry under the British law. Mercy Universal's accounts are thoroughly scrutinized by independent auditors in Britain, who painstakingly examine thousands of documents and amounts spent on our projects not only in occupied Kashmir but in India where people have suffered because of natural and man-made disasters, namely in Orissa and Gujarat. Mercy Universal extends relief to the poor and needy in Bangladesh, Pakistan and Somalia. It also helps in raising funds for British charitable causes.
How are you linked with Imtiaz Bazaz?
I have, and had, no links with Imtiaz Bazaz. People in occupied Kashmir(Kashmir valley) who run vocational training centres for those affected recommended his name by war. Nearly 1,000 girls would be completing their training in tailoring and handicrafts this June and Mercy Universal had promised to donate a sewing machine and handicraft accessories to each successful trainee. Bazaz was provided funds to buy and transport 800 sewing machines and other accessories, to print certificates and to make a documentary on the presentation of these. That was not meant for any other purpose as cooked up by Indian authorities.
Why didn't you pursue your career as a nuclear physicist?
If circumstances in Kashmir were normal, I would have continued research in nuclear science. My services in Kashmir University were terminated in 1980 and I was imprisoned for my political opinion. I left Kashmir in 1981 and continued at Jeddah University's nuclear engineering department. From there I came to London and pursued my post-doctoral programme till 1990. I gave it up to work for the Kashmir cause at the international level.
What is your organization's role?
Set up on 17 June 1990, it is a political organization working for the Kashmiri cause of self-determination. It uses all peaceful, moral and political means within the framework of international legality to achieve its aspirations.
I established the World Kashmir Freedom Movement in London with two-fold objectives: exposing India's human rights atrocities against Kashmiri civilians; and, assembling support for self-determination through peaceful political channels and means. I am also pursuing those lofty objectives as Chairman of the International Institute of Kashmir Studies.
I had organized a landmark international conference in July 1991 in Washington, D.C. -- featuring luminaries from the United States Congress, Britain, and the European Parliament—who called for tripartite Kashmir negotiations including authentic Kashmiri leadership.
You attended a meeting in Dubai recently where Sardar Qayoom Khan, president of Pakistan's National Kashmir Committee, and Hurriyat leaders Mirwaiz Umar Farooq and Abdul Gani Lone were present. Some people link Lone's death to that meeting.
I did not attend the Dubai meeting and have nothing to say about it. I deeply regret the death of Abdul Gani Lone, whom I regarded a consummate and bold Kashmiri leader. We have already condemned his killing.
How do you see your self in Kashmir issue?
I am a Kashmiri who yearns for peace in my homeland. Thousands of Kashmiri men, women and children have sacrificed their lives for the sake of Kashmir of their dream. I am sure their dream will come true one day. I am also concerned about the suffering humanity in Kashmir. I find satisfaction in the charity work that Mercy Universal is doing for the poor, sick and needy in occupied Kashmir. Nobody can stop me in this task.