Candlelight prayers for Kaluchak victims
Kaluchak victims' families, soldiers pray for peace, pledge to fight terrorism
After losing wife, daughter at Kaluchak gunner Gurdev is back to guard borders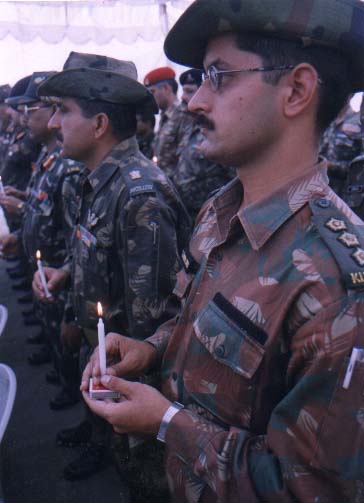 Candlelight prayers for Kaluchak victims
The mood was sombre. A virtual calm prevailed at Khetrpal Vihar in Kaluchak cantonment area as the families of the Kaluchak massacre gathered here exactly a month after the gruesome attack took place in the outskirts of Jammu city. A pall of gloom descended upon a large number of family members, close relatives, friends, civil administration officials and the army personnel who assembled here to hold candlelight prayers in memory of those innocent people, mostly women and children, who had fallen to the fidayeen bullets in one of the worst ever terrorist strikes in Jammu. Tears rolled down the cheeks of those who had lost their family and friends as they observed two minutes' silence and many sought revenge.
Exactly one month after the brutal massacre of children and women of armed personnel, the Khetrapal Vihar wore a different look as. A month ago, the walls of the family quarters were pockmarked with bullets, with blood splattered all around. But now, the smell of fresh paint filled in the air with all sign of bloody massacre washed away. However, the Vihar itself was the poignant reminder of the bloodiest ever massacre of civilians in Jammu. Though it bore a fresh coat of paint but the memories of the same walls pockmarked with bullet holes and broken windowpanes lying on the ground were difficult to erase.
"We have gathered in remembrance of those brothers and sisters who sacrificed their lives while fighting with terrorists. We have pledged that every soldier of this country and his family and every citizen is ready to fight against militancy and is prepared to fight and safeguard the sanctity of our country at any cost," said Brigadier Punita Arora, Commandant, Military Hospital, Jammu. Brig Arora, Commandant, 166 Military Hospital, Jammu said, "We will defend our country at all costs. Not only Army personnel, but even their families are ready for any sacrifice to stamp out terrorism from our land. The need of the hour was for common people to learn from the sacrifices of family members of defence personnel and stand up against terrorists, she said.
"We are proud of the family members, particularly women, who had laid down their lives like soldiers. They have become martyrs," she added.
As the families and the friends gathered in remembrance of those who sacrificed their lives while fighting terrorists, they pledged to strengthen the war against terror to ensure that these lives did not go to waste.
The Pakistan sponsored militants had gunned down 32 civilians, including 11 children and 12 ladies in a pre-dawn attack at Kaluchak on Jammu-Pathankot National Highway and injured 48 others in the outskirts of Jammu city in one of the most daring fidayeen attacks , first of its own kind in Jammu region on 14 May, 2002. The army in the ensuing action later killed all the three fidayeen.
Recalling that morning, Bhagat Ram Sharma, 52 said he along with his wife Parmeshwari Devi had boarded the ill-fated Himachal Pradesh State Road Transport Corporation bus at Kangra around midnight. Returning to their home at Ranbir Singh Pora in Jammu after attending a function in neighboring Himachal, Bhagat Ram had hardly any pre-monition that his wife would fell to the terrorist bullets while coming back in the bus for which they had waited for hours in Kangra. He and his wife were napping when he heard a voice ordering the passengers to get down the bus. Opening his eyes, he saw three army men standing. Bhagat Ram had even not noticed these three army men board the bus at Vijaypur as he was sleeping at that time.
"I thought that these were army men who were going to frisk us," he said. Afterall, he had been living in militancy-hit state and had suffered much on the hand of Pak bullets coming from across the IB in his native border village in R.S.Pura. As he got up, he saw two of them open fire on the passengers. At this movement, he said, the driver of the bus, Prem Singh, stopped the bus, but he was immediately shot dead by the two fidayeen who were standing just near him. Heavens fell on him as he saw his wife Parmeshvari falling to these bullets. He himself was shot on the leg. What followed was a big explosion as the militants had got down the bus leaving seven dead including two children, three women ,driver and conductor dead and lobbed a grenade on the ill fated bus.
As most of these school going children studied in nearby Army School Kaluchak and Army School Ratnu Chak where the classes start at 7.30 a.m., they were getting ready for their schools. Most of the front doors of these family quarters were opened thus making it easy for the fidayeen to get inside their houses.
In this attack, besides others, Havaldar H. S. Chouhan was killed by the terrorists along with his wife and daughter. The four-member family of Havaldar Manjeet Singh was also totally wiped out. Singh and his three-year old son Lovely were killed on the spot in the attack while his wife Jaswinder Kour and six-month-old daughter Pummy were critically injured. While Pummy died in hospital after a surgery, Kour died after battling for life for nearly 54 hours.
Among the many stories of grief, horror and anger is of Subedar Attar Singh and his wife who lost their two children, Amandeep and Hitender, in the attack. For Attar Singh and his wife, their life is no longer the same again. Amandeep, 14, was a class IX student while her younger brother Hitender was 11 years old. A Subedar in the Indian Army for the last six years after years of faithful service, Attar Singh has two dead children and a broken family to show for it. "As a father I can never get over the death of my own children. I only wish they had fired at me and not at my innocent children," he said. The fact that they will never see their children again fills them with a deep sense of anger and betrayal.
While Subedar Attar Singh lost his son and daughter in the attack, Company Quarter master havaldar(CQMH) R.K.Yadav lost his wife and son. Another child was shot dead by the fidayeen in the bath-room while a two month infant was gunned down in his sleep on a bed. A woman running from the quarter in the melee was fired from point blank range on her head resulting into her instant death and a 10 year old girl was killed in front of her dressing table while she was getting ready for school. A grandmother stood at the door and did not allow to enter one of the terrorist inside while another women dragged away some of the children to a corner while another faced all the bullets to save her little son. Infact, there are countless such stories.
For the candlelight prayers, wailing relatives and the army jawans who had lost their kids and wives in the attack had come from border areas where they were posted to attend the last rites of their blood relations. Controlling his tears, one of the jawans who had lost his wife said he had never thought that one day, he who was fighting for the country at the border, will have to witness this day, seeing his entire family being wiped out." While we were on borders to protect the civilians of the nation, there was none to save our dear-ones," one of them said in his choked voice.
Among those who attended the ceremony was Subedar Gurdev Singh of Artillery regiment who has lost his wife and 14-year-old daughter Dimple. On that ill-fated day, Gurdev had gone to his village to bring her another daughter at his village in Punjab on that day. His quarter P-27, was perhaps the first in the complex where terrorists struck during their operation and wiped out the occupants. He is now left with his another 16 year old daughter who is now living with his grandparents in the village in Punjab. Clad in full army uniform, he had to return immediately to his duty on the International Border in R.S.Pura
"We want war with Pakistan only to reply to the numerous terrorist strikes against our people," Singh, who was away manning a forward post when the terrorists struck, said.
Brig Arora who is serving in the Medical Corps of the Army in Jammu said that during all these professional years, though she attended a large number of cases in hospital as a doctor, but she would never be able to forget the scenes on 14 May in her rest of the life. The dying children and cries of the wailing mothers still echo in her ears.
She said we have assembled here to take a pledge of fighting menace of terrorism and wipe it out with our sincere and effective efforts. It is the responsibility of all the citizens to overcome the terrorism and eliminate it from the society.
The gathering lit the candles to take pledge and prayed to God by maintaining two-minute silence in the honour of departed souls who became victims of terrorism on the fateful day of May 14. It was followed by the National song.
Several senior officials of the Kaluchak Brigade were present on the occasion besides General Officer Commanding 26 Infantry Division Major general Promod Grover, Chief of Staff 16 Corps IG BSF Jammu Frontier Mr Dilip Trivedi and Deputy Inspector General of Police Jammu-Kathua Range Mr Dilbagh Singh.