Mufti in the middle
Jammu and Kashmir's beleaguered chief minister fights for time and credibility, writes Kavita Suri
On the fateful night of 16 March early this month, a group of policemen including the Special Police Officers were sitting in the Police Post Ind, Gool in the mountainous district of Udhampur when over hundred terrorists equipped with sophisticated weapons and rocket launchers attacked the post. Shouting slogans like "Allah-O-Akbar" and "Nara-e-Takbeer," these militants did not belong to one particular group. Infact various militant outfits had joined hand together for this deadly attack. Never before in the history of 13 years of terrorism in Jammu and Kashmir, had anyone witnessed such a kind of dare devil attack wherein terrorists groups including the Jaish-e-Mohammad (JeM), Lashker-e-Toiba (LeT), Al-Badr, Hizbul Mujahideen (HM), Tehreek-e-Jehadi Islami (TeJI), Harkat-ul Mujahideen (HuM), Tehreek-ul-Mujahideen (TuM), Peer Panjal Regiment (PPR) and newly constituted J&K National Liberation Army (JKNLA), had executed a joint attack.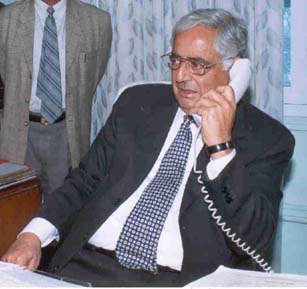 Mufti Sayeed
Though the attack resulted in the killings of 13 cops and two civilians, even the Union minister of state for Home Mr I.D.Swami who visited the police post at Ind, Gool, confessed that this setting up of Joint Coordination Council (JCC) by different militant outfits in mountainous belts of Jammu, had thrown a tremendous challenge before them and the security forces.
Gool was not the only incident but for the past few days, there has been a tremendous increase in the militancy related violence in troubled Jammu and Kashmir. Latest in the series is the massacre of 24 Kashmiri Pandits living in the tiny hamlet of Nadimarg in South Kashmir.
Even though the sudden escalation in militant violence is being attributed to frustration on part of militants due to Improved political environment in the state especially in Kashmir Valley, the killings of Kashmir Pandits in valley has put tremendous pressure on Mufti Sayeed led coalition government.
The killing of Kashmiri Pandits has come at a time when the Mufti government was seriously planning to bring them back to the Valley and rehabilitate them at two places -- Mattan in Anantnag and holy spring shrine of Khirbhawani in Srinagar. Undoubtedly, these killings are a setback for Chief Minister Mufti Mohammed Sayeed's plans to establish a safe haven for members of the Kashmiri Pandit community driven out of Kashmir by militancy in the valley whose rehabilitation was a major promise made by PDP's partner, the Congress in its election manifesto. Nearly 5,000 members of the community continue to live in the Kashmir valley. It was being claimed that a large number of the migrant Kashmiri Pandits would be brought back and rehabilitated at the shrine villages of Khirbhawani and Mattan.
Nandimarg massacre is first major shock to Mufti government since it was installed on 2 November last year. This is also for the first time after the March 2000 massacre of Sikhs at Chittisinghpura that gunmen have conducted a major carnage in Kashmir valley. Apparently, the foreigners-dominated militant outfits have withdrawn their support of silence to Mufti's government and decided to disturb it with a big spree of violence. Going by the past events, indications are enough that with the onset of summer when the snow would start melting and passes would be reopened, many such bloody baths many be witnessed in troubled state.
Analysts believe that sections of militants are now visibly uncomfortable with the new emerging situation in which Mufti has tried to marginalise the National Conference and the separatist Hurriyat . His carrot-and-stick policy vis-à-vis separatists, coupled with some measures of good governance, have other forces too. This kind of situation, obviously, could hardly be swallowed by militants.
However, with the recent upsurge in violence and the steps taken by his government -disbanding of the Special Operations Group of the Jammu and Kashmir Police, appeasement policy and being soft on the militants, the release of political prisoners and other detainees and his daughter Mehbooba Mufti going all her way to Utter Pradesh pleading the case innocent of Kashmiri students studying in various parts of the country involved in militancy – Mufti has come under fire from various quarters for all these reason.
Within few days of disbanding Special Operations Group (SOG) of Jammu and Kashmir police, a fidayeen attack in a Hotel in border town of Poonch exposing the chinks in the security apparatus in the state. It was followed by the Gool incident and now the KPs massacre The sudden spurt in violence has once again demonstrated that the militants are still capable of hitting hard where it hurts more.
Once again the People's Democratic Front (PDP) led coalition government has come under fire from Centre and opposition for its "soft" policy towards militants and separatists.
PDP romped home in the state on the agenda which was till recently the domain of Hurriyat Conference and other separatists. It was widely believed that Mufti Mohammed Sayeed has hijacked the agenda, which was pursued by the separatists. With Hurriyat marginalized , it was a common notion that union government will now feel more comfortable in dealing with Mufti rather than separatists. Because Mufti being in the mainstream mould was still pursuing the separatist agenda which could prove beneficial for union home ministry.
Observers believe that this myth has fell apart. These attacks have again focussed the need to deal with them with firm hand.
In all this high drama Mufti's party stand loser. The populist slogans like "peace with dignity", "healing touch", "disbanding of controversial special operations group of J&K police" and "revoking of POTA" have taken a back seat. Observers feel that if the Mufti continued this policy, he may meet the same fate which National Conference met.
Mr Sati Sahni , former Director general, Information department, J&K government feels that the new challenge thrown by the militants to PDP led coalition government is very serious. And it has narrowed down the options for Mufti. If he will adopt soft policy, there are chances that militants may resort to more deadly attacks taking advantage of the complacency of the security force. And if he adopts proactive policy, he will loose his public support and will be exposed before the people. And in this scenario the National Conference stands benefited because they would exploit the weakness of the PDP government.
"Mufti came to power on the policy of healing touch. Today, that policy of healing touch has received very bad bashing with the Pandits' massacre. That has sort knocked off bottom from the healing touch. And the policy for KPs' return has received a setback too,"said Mr Sahni adding that Mufti has to create new instrumentation to handle the situation with normal means of countering the violence.
However, a number of former diplomats and defense analysts who were incidentally in Jammu, support Mufti in his endeavor. One among those who support Mufti in his policies is former Foreign Secretary Mr M.K.Rasgotra. He greatly believes that five months is too short a period to judge any government and he should be given a chance
"I think with the election and the installation of this government , the situation has basically has been improved. It does not mean that terrorism menace has declined .But this government. needs to be given some space and time to function in the right political manner, to take some developmental activity, generate employment etc, and it will have an positive impact on the internal situation and also in relation to Pakistan," he said.
Rasgotra doesn't hold Mufti's policies responsible for the recent acts of violence in state, Instead, he says, Pakistan is in despair, nobody is buying their line as far as Kashmir issue is concerned and it is generating further frustration.
Similar views are echoed by the Admiral K.K.Nayar who asserts that Mufti has got his priorities right which are to restore normalcy and ensure development and give good governance. He believes that Mufti is tackling all these three things and goes on to add that the security from external threats is the job of the Centre and that one cannot expect the state to take on the state of Pakistan. He also disagrees that release of prisoners of the disbanding of the SOG has to do something with the increase in violence.
"I do not think keeping people in jail against whom no case has been filed for the past 10 years, ensures peaceful conditions in the state. If the SOG had become a problem , was doing more harm, it had to be reorganized. But to say that because these two things had been done, that he is soft on terrorists, it is not correct," he said adding that a policy of hot pursuit and military action across the LoC are the things needed. Another Mufti supporter, former top MHA official Mr Keki Daruwalla also said that the violence has been going on since 1989 and to blame Mufti for this would be wrong
Though Mufti may have found supporters in the top diplomats, however back home, the National Conference has accused his government of encouraging the militants. Militancy has got a boost under new Government while police and security forces were demoralized, the NC says.
President of National Conference and Lok Sabha MP Omar Abdullah said the brutal massacre of 24 Kashmiri Pandits in Kashmir should be an "eye-opener" for the Mufti Sayeed Government in the State to shelve its "ill-conceived" plan of bringing the minority community back to the Valley.
"The State Government plans to rehabilitate them in Mattan and Khirbhawani places thus leaving them an easy prey for the militants," Omar said and regretted that the Chief Minister had "neglected" the security concerns of the minority community that remained on top of the agenda of the previous Farooq Abdullah Government.
"Our Government could have also brought them back. But we have to see whether we are in a position to provide them with cent per cent security or not," Omar added.
After the Nadimarg massacre, now even the Mufti says that the situation has to be made conducive first for the return of KPs to valley. He said in a situation where legislators were not feeling safe, the prime need was to improve the situation.
Nadimarg massacre might provide much needed ammunition to the opposition to attack the government, however the fact remains that the issue of the return of Kashmiri Pandits to their homes in Kashmir valley , has once again been jeopardized. The community which is in exile for the past 13 years, have suffered another severe blow to their existence. EOM
BOX
Chronology of major massacres in J&K

Jan 25/26,1997: 25 Kashmiri Pandits killed at Wandhama-Ganderbal Srinagar
Mar 20 : Seven Kashmiri Pandits killed in Sangrampura (Budgam).
April 18, 1998: 27 Hindus killed in Prankote in Udhampur district in Jammu region.
June 19: Twenty-five Hindus killed in Chapnari area of Doda district in Jammu region.
July 28: 16 Hindus killed in two villages of Doda district in Jammu region.
August 8: Thirty-five labourers killed in Kalaban on Jammu-Himachal Pradesh border.
Feb 20, 1999: Four Hindus killed at Muraputta-Rajouri, nine at Barlyara-Udhampur and seven at Bllala-Rajouri in Jammu.
June 30 : Fifteen Hindu labourers killed in Anantnag district of south Kashmir.
July 19: 15 Hindus killed at Layata in Doda district of Jammu.
February 28,2000: Five Hindu drivers killed near Qazigund in Anantnag district of Kashmir.
Mar 20, 2000 : 35 Sikhs massacred at Chatisinghpora in Anantnag.
August 1: 31 people including Amarnath Yatris killed at Pahalgam in Anantnag.
August 1-2: 27 labourers gunned down in Qazigund and Achabal in Anantnag.
August 2: Seven family members killed in frontier district of Kupwara in North Kashmir.
August 2: Eleven Hindus killed in Doda district of Jammu.
February 3,2001: Six Sikhs gunned down in Mahjoornagar in Srinagar.
Feb 11: 15 members of nomad (Gujjar) families massacred in Kot-Chadwal in Rajouri district of Jammu.
Mar 2: Fifteen policemen and two Medical Assistant killed in Manjakote area of Rajouri.
March 17: Eight people massacred near Atholi in Doda.
July 21: Thirteen people, including seven Amarnath pilgrims killed at Sheshnag in Anantnag.
July 22 : 12 people massacred in Cheerji and Tagood in Doda district of Jammu.
August 4: Fifteen villagers killed in Ludder-Sharotid Har area of Doda.
August 6, 2002 : Nine Amarnath pilgrims killed and 29 others injured at Nunwan base camp in Pahalgam area of Anantnag district in south Kashmir.
24 November 2002: second attack on historic Raghunath Temple
The Statesman
Section: Sunday Accent
Date: Apr 08,2003