Exclusive Interview:
Mr. Omar Abdullah
"Mufti Government is creating a fear-psychosis in the state, indulging in witch-hunting"
Founded by Sher-e-Kashmir Shiekh Mohammed Abdullah, one of the oldest political parties of Jammu and Kashmir - the National Conference - is facing a tough time after its debacle in the recent assembly elections in the troubled state. In the past few weeks, not only many veteran party leaders have left the party to join Mufti Sayeed's Peoples Democratic Party, but the insiders say that many other NC leaders are ready to desert the National Conference. As the president of the party Omar Abdullah, 32, has a tremendous responsibility on his shoulders. Not only he has to inject a new lease of life into the National Conference but he has also to prove to the Kashmiri masses that he is one among them, the son of the soil who can fulfill their hopes. The man who is still considered to an alien by the Kashmiri masses, is also trying to reach out to them at the grass root level. Omar Abdullah speaks to Kavita Suri on various issues. Excerpts…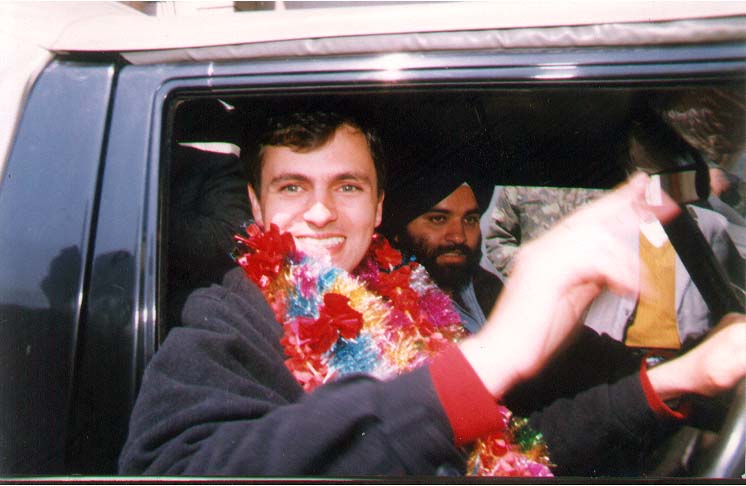 Omar Abdullah
National Conference is going through a bad patch these days. It lost power and is yet to come to terms with the defeat. Three months is enough time to find out the reasons as to why did your party lose the election? Have you done the doing the post- mortem?
There were different reasons. Different regions had different reasons.
But your must have certainly analyzed the facts that led to the defeat of your party in the polls-the causes of the party's drubbing in the elections. You must have pondered over the reason? What conclusion you could draw?
No one single reason at all. There were many reasons. In Jammu essentially we suffered because of this promise of chief minister from Jammu. The fact of the matter is that Congress promised something which they could not keep. They got votes on the issue that they would given the chief minister from Jammu. But that did not happen. And that swayed a lot of voters to Congress and other parties because we never made those hollow promises for our electoral gains. In Kashmir, Bramaulla Uri we were fine. Srinagar district also we did all right. Budgam we had couple of problems perhaps for wrong selection of the candidates. In Anantnag also we made a wrong selection of candidates and the political message that Mufti took on POTA, SOG and jobs to all attracted the people. In his public meetings, he used to distribute job application forms. He used to tell the voters – you fill these form, put your photographs, complete ht formalities and when we will form he government, I will give two jobs in a family. Where are these jobs? And this resentment will grow. Don't worry?
But wasn't this also one of the reason that your nomination as the party president had a wrong timing? You took over as party chief in July last year, just two months before the polls. Your father made the mistake of handing over the party presidency to you a bit too soon?
Its wrong to say one way or the other. The fact of the matter is that whatever the reasons, we lost the elections. Using this defeat as the means to revive the party, that is what we have to do.
What plans you have in store now to revive the party in order to make it a voice of people? Would there some structural changes?
Structural changes will take place. You will see changes at very high levels also in the party in various organizational positions, to bring in new people. People now new in the party but they will be new to the organizational jobs and position. Hopefully, we will keep our party active. We have so many issues on which we can take to the people. This government is not without faults. And we will make the most of it.
What about those National Conference leaders who are responsible for the party's defeat?
Whatever I have to do, I will do but I will not ruffle too many feathers at this stage and time. Even if I take disciplinary action against him and the person joins the PDP, the newspapers will not say that so and so had played a role against the National Conference, they will write that people are leaving National Conference in large numbers. Exodus is going on. So, right now need to play safe, I need to give a sense of confidence to my cadre and move forget.
Now that you yourself have touched this part, many important National Conference leaders are deserting your party and joining the PDP? NC, people say, is threatened and scared by these developments.
See, whosoever left my part, he had individual reasons. Bhawan left as we did not give him the mandate. I had thought that when I would win the assembly elections, we will consider him for Srinagar-Budgam parliamentary seat. I had thought that when I would win. But I did not win so I did not vacate my parliamentary seat. So he left.
But then Mr Sadiq Ali, one of your veteran leader also joined the PDP?
Ali sahib had personal problem with one of our senior Shia leaders.
But he also was one you senior leaders?
True, true. But what can we do? In certain cases one is disappointed as to what has happened. I could not even give mandate to myself but the allegations against two or three of the people who have joined PDP were such that I think the PDP is better off with them.
You have accused the PDP of snatching your flock from you.
Yes, absolutely. Mufti Government is creating a fear-psychosis in the State and is virtually indulging in witch-hunting and thriving purely on the basis of breaking other political parties.
The PDP leaders had written letters to my party cadres asking them to join the ruling party. In cases, where the NC leader joined, well and good, otherwise the next letter was shot to security agencies for withdrawal of personal security or bullet proof vehicles. In several cases, some of my senior leaders who had not complied with the diktats of Mufti Mohammed Sayeed, or his daughter, received a letter from the police that their security was being withdrawn.
How are going to keep your flock together?
That is something my grandfather Sheik Abdullah used to say. That if I have even five committed people of my own, I do not need even 100 of them. That is what I also believe in. Those who have to stay with me would stay with me through thick and thin . Those who are only looking for the power and benefits of power, I cannot keep them. I don't have the power at the moment.
Then what is happening within the National Conference - the largest political party of the state of Jammu and Kashmir? You are not going to sit quietly and watch the developments? What are you going to do?
In my own capacity as the president of National Conference I am now beginning the process of reaching out to the people of the state in a big way – mass contact programmes- reaching out to the people in every district, every tehsil, every block in the state, meeting my workers, meeting the people in a sustained basis so that I cover the entire state block wise.
Is it a part of your renewed strategy to reach out to the people who consider you an alien, alien tot Kashmir culture and all that?
Definitely it is. They think I am aloof. I do not know the state. To an extent that is right. Till now, most of my touring so far has been by helicopter. This is my chance to rebuild, let the people know who I am, to instill some confidence in them and also to learn from them. And plus it will give my party confidence also because as they say –Idle mind is devil's workshop. I do not want my party people to be idle for too long for then the PDP people are trying to snatch them.
And what is happening at the state level? You have said that the forthcoming budget session of the state assembly is going to be stormy one? You have also opposed empowerment of Ladakh Autonomous Hill Development Council……
(Interrupts) , No , now, we are not opposed to that.
But them what this furore is all about?
Our furore is that this has to be a part of the structured system of granting greater autonomy to the state of Jammu and Kashmir both vis-a-vis internal and external autonomy. One of granting independence to Ladakh is not going to help. What about the other regions within the state which are backward development wise? What are you going to do about Doda? Poonch Rajouri, Karnah, Keran, Tangdhar, those regions. You cannot do that. Ladakh hold demonstrations and you just give them sort of legislative powers, you are giving them full of independence. What about other parts of the state. Now tomorrow Doda will demand Chenab Hill Council which has been their demand for past sometime now. What will you do. What will be your answer to Doda people ? That no its not for you, only Ladakh can get the Hill Council, not other parts of the state. It has to be a part of an agenda, part of a structure. Greater devolution of power is one of the ideologies of the National Conference. We do not oppose devolution but we oppose this peace meal sort of thing.
Much is being said about National Conference wholly and solely being responsible for neglected Ladakh by the present government…..
I told you. Ladakh should have been given greater powers as part of the structural amendments to be made within the internal autonomy-- promises that the National Conference had made for the greater devolution of the power. It was not that just we'd have set Ladakh free and forgotten about the rest of the state. Ladakh would have received its share of power along with the rest of the state as and when the internal autonomy report was to be implemented. But the political opposition to that report was so much.
But then you could have given Regional Council to other parts of the state also?
It was part of the process that was being worked out. The internal autonomy report had been submitted, discussions were going on, it was to be part of both the things—internal and external autonomy – both side by side. Mufti for some reason is committed to internal autonomy to Ladakh, but no internal autonomy to any other part of the state and nothing about autonomy within the J&K towards the rest of India.
But then how do you take this move of his that he has inducted two cabinet ministers from Ladakh- one from Kargil and one from Leh. Till now, in all these 54 years, no government took two cabinet ministers from Ladakh giving so much importance to that region?
Okay. So tell me what has he given them in ministry. Tell me what Ladakh people get with Science and technology and Sports and Youth affairs(portfolios given to the two ministers). I would rather be a minister of state for works or health of rural development than be a cabinet minister for science and technology. Mufti is making a joke with the people of Ladakh. At least I would have something to give. What he can do with science and technology? Do he has to open a laboratory there?
Its almost three months of the Mufti Sayeed-led coalition government. As the head of the largest political party, how do you see their performance, his healing touch and other things?
I do not believe that there is any substance so far to Mufti's healing touch slogan . I am increasingly of the opinion that it is a hollow slogan to capture the imagination of the people. The problem with hollow slogans is that soon the shine wears off and then the hollowness comes through. I am sure that is what is happening with Mufti's healing touch.
Electricity was a big part of Mufti's healing touch. Today his own allies are protesting on the streets for massive power cuts. I have seen Mufti's healing touch in Kashmir. Custodial killings are continuing, frisking is going on, people are being pulled out from buses and checked. Militancy continues, innocent people are dying, a few SRO cases have been distributed (under which jobs are given to the kiths and kins of militancy victims). But SRO cases is not the healing touch because it means that for someone to get a state government job, you have to lose someone in militancy. That is not the healing touch. You are not doing anybody a favour. That is an obligation. You show me what beyond that you are doing to heal the people.
New Delhi has said that they would soon talk to the elected representatives of the state.
We are the largest political party in the state. Before they talk to Mufti or anybody, they will have to talk to us first. They have to.