Exclusive Interview:
Mufti Mohammed Sayeed
Soon after he took over as the chief minister of troubled state of Jammu and Kashmir in the first week of November last year, Mufti Mohammed Sayeed, 66, described his new responsibility as a "Crown of thorns". It still is, says the chief minister even after the completion of two months of his coalition government. But at the same time, the man who has a chequered political career spanning to over five decades, seems to be relaxed man who is trying to wipe tears from the faces of militancy-hit people of the state. While he is overwhelmed to see tears of joy in the eyes of those whom his government has provided succor in these past couple of months, the Mufti however misses his favourite game of bridge as he has been devoting his time to clear the "mess the state is into". Mufti Mohammad Sayeed speaks to KAVITA SURI on various like release of prisoners, his healing touch policy, peace process etc Excerpts…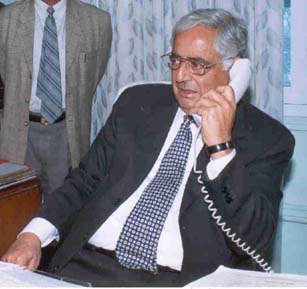 Mufti Mohd. Sayeed
Q: You have completed two months in office, but your promises are still unfulfilled. For instance, your promise of disbanding SOG is still a dream. Besides, you started on a high note; people have so many expectations from you. Would you be able to sustain that?
I haven't started on the high note. But yes, people's expectations are on rise. But these are because of the reason that they did not believe their eyes and ears - Would the elections be held? Would these be free and fair? Would their votes matter?…They had many apprehensions but when they saw the results, they were elated.
My effort are to come up to their expectations. Within this brief period of two months, I visited all the districts and held district development board meetings to speed up development process and mitigate people's sufferings. Government also acceded to the genuine demands of the people of Ladakh and assured redress of grievances of people in all regions and areas.
Whatever we had pledged - to start a political process, to restore peace with dignity, to deliver a good corruption free government and to address their socio-economic problems, we have started working in that direction. Though we have not done much but we have made a small beginning.
Regarding Special Operations Group(SOG),its reorientation is already on the ground. The J&K Police has to play a key role in containing the militancy.
Q: There are reports that Centre has difference with your government over various issues. Even that was also reflective in your policy of release of political prisoners and militants.
There is no disagreement with the State and Centre as to how to face the challenges confronting Jammu and Kashmir State. Our Government has a 'complete understanding' with the Centre as far as 'security concerns' of the State are concerned. Whether it was Prime Minister or Deputy Prime Minister, they have realized the ground realities behind Kashmir problem. The Congress which is a partner in the State Government, too understands the problem very well. My government is committed to dialogue and taking steps to make situation conducive for it. Even the Prime Minister had said from the rampant of Red Fort on Independence Day last year that the Government of India would talk with the representatives of the people of the State and others section, for resolution of the Kashmir problem. There is a great opening and none of us should miss it.

Besides, I know what I am doing. It is a multi-prolonged strategy. Under it, we are striving to give healing touch to the victims of militancy, provide to the people responsive and accountable administration free of corruption, favoritism, red-tapism and address to people's problems.
You have been trying to evolve a consensus on Kashmir at the national level.
Yes, a consensus needs to be evolved at state and national level for resolution of the problem. I would continue building consensus at the national level for a dialogue to end the ongoing bloodshed and sufferings of the people. I hope such consensus would ultimately evolve with the largest political party of the country appreciating the need for a dialogue and the NDA government at the Centre also recognizing the need to provide a healing touch to the situation. There is no alternative to win over the hearts of the people for ushering the state into a positive change.
Q: Your healing touch policy is not showing any positive sign on ground. Kashmir province particularly has been rocked by demonstrations against the alleged excesses of security forces. Several people are missing in custody.
Isn't it good? Protest-demonstrations are good. It shows that people feel relaxed. We are delivering too. I would give two instances. In Kreeri in Pattan, a civilian died in army firing. Mehbooba went there and that army officer was immediately transferred. In Mocchu also where a civilian died in policed custody, we acted. That is part of democratic functioning. That is good.
Q: When K.C.Pant was appointed interlocutor by the Centre to talk to all sections of society including National Conference, your party opposed saying that talks should be held with separatists because they are the peeved section. Now after coming to power you have taken a sudden turnabout and you are saying that talks should be held with elected representatives and "other sections". In a way you are trying to put Hurriyat and other separatists with other sections?
No, but Centre should initiate a dialogue with the elected representatives of the state as promised by Prime Minister Atal Bihari Vajpayee in his Independence Day address. Now even the Deputy PM Mr Advani on his recent visit to J&K has said that they would be talking to others and us too. The Government of India should not feel shy of talking. The J&K Assembly has the credibility and representative character in all aspects.
Q: Even Hurriyat is feeling threatened by you as you have hijacked their agenda.
You should also look at the fact that Hurriyat leaders like Mirwaiz Maulvi Umar Farooq have said that let this government do the good work. Even JKLF's Javed Mir has appreciated us. They are bit defensive. But that is fine.
Q: Your popularity graph has slide down considerably in the valley because of your policies. The police excesses in Batamaloo; Nawab Bazaar and other parts of valley have put the government in a tight spot. They are now feeling that you are a new avatar of Dr Abdullah. A few days ago some policemen were killed by ultras and later to avenge the killings, police thrashed several shopkeepers and handcarts were set ablaze besides destroying the goods worth lakhs of rupees. Is this the healing touch you are claiming?
No, but such small things keep on happening. There is revulsion among the people. Our MLA was shot dead and thousand of people came out on road demanding that the assassin should be brought to book. Among people, there is much reaction. Even Hizbul Mujahideen said they did not do it. So, even they say that if this government is doing something good, let them do it.
Q: Recently, you said that there were certain vested interests who were trying to sabotage your healing touch policy and your government.
Yes, my government faces a big challenge from some vested interests who want to "sabotage healing touch policy. But however hard these people will try to sabotage my policy of healing touch, I will be undeterred and would go from home to home and village to village for providing it.
Q: But when you were saying that there were these vested interests , were you referring to some central leaders?
No, I meant vested interests within the state, those who are thriving on militancy. Unfortunately, few people have this mindset. They say Mufti is soft on militants. But Centre and other leaders understand our situation. You must have seen Blackwill's reaction. A recent write up in Washington Post hailed my healing touch policy and advised governments of both India and Pakistan to allow my government to function smoothly Such opportunity rarely comes. You cannot negate such response. We are making a small beginning in that direction.We want to create a 'conducive atmosphere' for talks. I urge the 'local boys', who have taken to the guns to abandon this path.
Q: But then you policy of healing touch and release of prisoners has come under fire from various quarters.
Well, it is a battle of ideas. We are for healing touch, we are for dialogue and we are for political process. It suits parties to criticize us. But we also have security concerns. After all, it was our MLA who was shot dead. But we have to deal with it politically, gun is no solution. Those who have taken to gun, we tell them we are for peace, we are for dialogue. I do not think they have any reason to taken to guns.
And regarding your other question about release of prisoners, this is not done to "appease" any section of the people but because I firmly believed in the "battle of ideas" in a democratic set up. Our government had the mandate of the people to deliver and we are not irresponsible.
Q: But whatever you are doing, that is, as you say, is trying to get sabotaged.
Let them do, we have to face that. People who want to it do it from Ander Se and Baher Se (inside and outside), want to derail the peace process.
Q: Bahar Se means Pakistan?
Yes, they also do it, Why not. They try to derail the process. Mr Kasoori, Pakistan's foreign minister said this government is a representative government and the GoI has to talk to Mufti also. See the voices within Pakistan. Even Sardar Qayoom Khan who is the chairman of Pakistan's Kashmir Committee said the same thing.
Q: Few reports also suggest that Pakistan's ISI is trying to sabotage your government.
See, one should not blame the other side always.It is we who have to address the internal dimensions. We have to address the alienation of people. We have to try and win hearts and minds of the people. Ander Aag Lagne Wali Cheez Nahin Ho To Aag Nahin Lag Sakti…Pakistan used to do it earlier also. So we cannot blame it entirely on to Pakistan. They have always been trying to do it.
However, all such elements couldn't survive without the 'internal strife'. If the internal discontent was over, no force can ignite the fire from outside. We are determined to move ahead. Let there should be no doubts about that. We will carry forward the peace process initiated by our Government. We will deliver the goods and bring people of the State out of the present 'daldal' (mess) in which they had been trapped for several years now.
Q: You emphasize the need for giving 'healing touch' to the victims of militancy. But what about the issue of return of Kashmiri migrants to their homes and hearth with dignity and honour?
A plan has been prepared for their rehabilitation in groups which needs Centre's financial support. The Pandits represent unity in diversity in Kashmir. It was our goal that they are rehabilitated in their homes. We don't claim that it will happen in a day but we will start the process gradually.
Q: Your policy of providing government jobs to at least one person of a family has almost fizzled out. After coming to power, you have changed the policy and banned the recruitment, which has again created disenchantment among people?
No, I had said that those families which have no earning members, would be given preference. We are working towards that. Recruitment in government departments is being institutionalized leaving no scope for any wrongdoing , not even for the Chief Minister, Ministers or legislators to interfere. Sanctity has to be restored to the institution by making appointments transparent and as per norms. Thus, only the deserving would get the employment in government sector. The victims of militancy, provided they fulfill the criteria, would also have preference in appointment against the vacancies. Besides, a revolving fund would be created on voluntary basis for the education of those destitute children whose fathers had picked up gun and got killed. I believe that these children are not at fault for what their parents had done. I appeal to rich people to voluntarily donate to this cause so that the children of such families were provided education and made better citizens of the country.

I have also urged the Mr George Fernades to launch special drives for recruitment of J&K Youth in Defence and Paramilitary forces with special emphasis on border areas and Kashmir valley. Our State has very little avenues of employment and recruitment in different forces would not only give jobs to our youth but also ensure their participation in the defence of the country. More employment is being created in social sectors especially in education and health. We would be recruiting about 2500 people in state police soon.

Q: What is different between Dr Farooq Abdullah and Mufti Mohommad Sayeed. People say that both are the same. Particularly in the matter of governance, both are the same?
Well, that is up to you to see. But things are quite different from the previous government. There is so much of relaxed atmosphere. Accessibility is there, people are coming and voicing their grievances, our elected representatives are also easily available and having been going to masses. We are reaching out to the people everywhere, especially those who are victims of militancy. Except for Anantnag, Kathua and Kupwara, we covered all the districts giving succors to them in the form of jobs. Whether they were children or families of those assassinated by militants or martyrs of Kargil or those hit by shelling from across the border, we gave them job. This is a continuing process. I tell you, I saw tears of joy in the eyes of these people. Infact, we are considering a proposal for seeking the co-operation of people to mitigate the sufferings of those suffered due to militancy. Though some measures have been taken and job provided to some of the victims, yet much is required to be done.
People have reposed trust in me and we are committed to fulfill its promises and bring about a positive change in the situation. Kashmiris are highly responsible and want peace with dignity. They have been caught between the two guns and are desperate to get out of this situation and we are helping them out.
I ask you and everybody to judge us by our performance. We will show you the results.
Q: Your recently empowered Ladakh Autonomous Hill Development Council (LAHDC) . But don't you think that it can triggered off a series of such demands for having Autonomous Council in other parts of the state too?
I do not see. If you address the injustice, if each district will get is due share, there would be no problem. We have given the powers which were already there in Hill Council. Ladakh
Autonomous Hill Development Council authority needed to be restored to it. In fact, coalition government wants to make it clear that justice will be done with all the three regions of Kashmir, Ladakh and Jammu. I am working towards satiating the urges of the people. There should be no cause for fighting the rights as all issues could be sorted out through dialogue

Q: You often say that one of the main achievements of your government is that almost round the clock power facility has been given to people. How you have achieved that in the state which is used to over 10-12 hours of power curtailment?
We have given substantial relief to the people by giving to them uninterrupted power supply during night and morning and reducing the cut in even during day time. These measures costing the State government Rs. 30 crore monthly. We want to continue it and have sought Centre's financial help to offset this expenditure. I even brought all these problems and genuine needs of the people of the state to the notice of the Prime Minister in a recent meeting with him.

I have taken several measures for collection of power tariff to cover the increasing deficit on account of supply of electricity to the consumers and said that the collection system needs to be institutionalized. I have asked the department to prepare a pragmatic and time bound action plan for collection of power dues and show results immediately making it abundantly clear that it would be entire responsibility of the senior officers to ensure recovery of the tariff.
It is a matter of concern that there are about 10 lakh unauthorized connections. So I have ordered a massive drive to be launched all over the state to regularize these and bring every consumer within the ambit of power collection. At the same time, power tariff collection system should be simplified and made consumer friendly so that nobody has to face inconvenience in depositing the fee.

Several other important decisions of far reaching consequences have been taken to broad base the mechanism for realization of power tariff from the consumers. Every licence, document or certificate issued by any government department would be issued only on the receipt of certificate of the concerned executive engineer, PDD to the effect that applicant or licencee and his family have cleared power dues till date. This decision shall cover certificates like state subject, scheduled castes, schedule tribes, backward classes, income certificate, applications for pass ports, ration card and its renewal, building permissions by competent authorities, all types of licences, etc.

Q: You have been trying very hard to revive tourism and industrial sectors in the troubled state. What have you achieved so far? And what about the revival of sick industries in the state?
Yes, that is also one of our priority areas. Almost all Public Sector Units (PSUs) of the State Government are in the red and it would be government's earnest efforts to bring these back on rails, especially those that can be revived.. I am trying to revive sick PSUs also besides favouring local employment in Central PSUs. We are persuading Centre Public Sector units in J&K to give priority to the local available human resource to meet their requirements. I would soon ask Central units like NHPC to give to the State government their requirement for skilled and unskilled manpower so that the district authorities can provide them the available manpower and ensure that the benefit of the project percolate to the areas concerned. As regards skilled manpower, the authorities would accordingly train the locals in the particular trade.

Besides, we are constituting a core group for revival of viable sick industrial units in the State. But there would be any question of providing subsidies for revival of all units as our experience in the past has not been very happy. If ever such help is found to be vital for revival and promotion of industries, it could be given in the shape of kind like paying for electric dues, infrastructural assistance etc. Unfortunately , even after disbursing huge money as subsidy to industrialists by the previous governments, industrialization has not picked up in the state.
A new industrial policy is being formulated to attract private investment in the State. The existing policy is expiring on March 2003. While I have personally invited big industrial houses of the country to make investment in the State, which would be investment in peace, it would be my personal desire to see local entrepreneurs to excel and make a mark on the industrial map of Jammu and Kashmir and the country.