Kashmiri Pandit Refugees
Behind Vasudev's barely closed eyelids, dreams break violently....the usual dreams…the dreams of returning to his native place in Kashmir valley, to his apple, walnut and almond orchards stretched across the miles…he dreams of basking in the sun…the sun of Kashmir valley, in the land where his ancestors had been living for centuries till he was hounded out of the Valley by the Islamic extremists. Spending every single moment of his frail life in the past one decade remembering his native place with a burning desire to go back to his roots may not seem to be very easy thing for this septuagenarian, but this is what has kept him going. Otherwise, the man who is rendered alone in this world (his relatives died in all these years) would have lost the will to live long ago. Mention the prospectus of his return to Kashmir valley and "Vasu Toth", as he is lovingly known as in Mishriwalla refugee camp (the second largest refugee camp for Kashmiri Pandits in Jammu region), situated near the Akhnoor border, becomes nostalgic. His eyes fill up with great hope--the hope of returning to his village one day whose memories haunts him day and night.
A native of Mujmarg, a picturesque village in Shopian tehsil of Pulwama district of Kashmir valley in South Kashmir, the man who possessed a five storeyed house and orchards besides a huge expanse of agricultural land, now spends his days while sipping Hukka, a habit that has continued for past sixty years now. The dark dingy lanes of Mishriwalla refugee camps which hardly provide enough space for even two persons to walk across them simultaneously, lead us to his one room house .Having enjoyed the salubrious climate in his village amidst popular, willow, apple, almond and walnut trees, "Vasu Totta" does not yearn much…only he wants to sit in the sun but not even a single ray of sunlight can filter through this dark small room, infact the One Room Tenement(ORT) as the state government has named these, as there has been not a single window in any of the rooms constructed here. He wants to pluck an apple but there is not a bush around, talk to talk of an apple tree. Perhaps a prison could have been better than his caged room in Mishriwalla refugee camp.
"Yeti Chum Safar,Teti Osum Aaram (Here I am in journey ,there I was in much comfort,"says Vasudev in his Kashmiri. Driven by the urge to be in touch with Mother earth,despite his failing health and poor eyesight,he has now grown vegetables in his small 9 feet by 14 feet piece of land on which stands his small room as has been provided to each KP refugee in the Mishriwalla camp.
Far from Mishriwalla lives Kamlavati in Nagrota refugee camp situated on Jammu-Srinagar National Highway. "Kasheer Gachka"?(Would you like to return to Kashmir?"…Her eyes shine instantly, her face glows and she becomes excited at the very mention of her homeland "Kashmir" with the thought of going back there.Kamlavati, another septuagenarian Kashmiri Pandit lady suddenly becomes nostalgic and comes out with an unexpected answer… "Tell me to return right now and I'll do so. Emotions overpower he and tears well up in her eyes."Lidder Osum Wassan".(Lidder river used to flow nearby my house in Pahalgam.
Kamalvati and Vasudev are among the people of their generation who nurse the thought of going back to the valley. But perhaps not everybody. Bitterness, anguish and pain has filled their hearts and minds in all these years, not a single person has helped them in their return to the valley. Hoping against hope, many of their generation have died in the past decade with the dream of returning to their land dying in their eyes. Fear, uncertainty and apprehension is palpable among hundreds and thousands of refugees who are put in various camps in and around Jammu city for the past over a decade now.
Despite a lapse of 11 years since the exodus of KPs took place from Kashmir valley, nothing has changed for over 3.5 lakh Kashmiri Pandits.Those who belonged to a better strata of society, they migrated to better places like Delhi, Mumbai or Bangalore but those who had not option were put up in refugee camps.
The sense of deprivation, distrust, hurt, anguish and alienation is evident among the displaced Kashmiri Pandits today. To make them even talk about their sufferings is a gigantic task. For there is a great deal of distrust. "You come to our refugee camps, click pictures, shoot videos and sell these to lucrative channels and newspapers. You are only bothered about earning money and not our cause," shout many of them when visited in the migrant camps in Mishriwalla and Nagrota in the outskirts of Jammu City.
But the fault is not theirs. Their vengeance is due to the repeated denials to the requests for the redressal of their problems that they have been facing for so many years now. But nobody cares for them. Rendered into a territory-less minority within their own country has hurt their psyche, says Dr Agnishekher, convenor Panun Kashmir, the frontline organization of displaced Kashmiri Pandits which has been fighting for the rights of Kashmiri Pandits besides demanding a separate homeland within South Kashmir for Kashmiri Pandits.
Following the exodus of Kashmiri Pandits from Kashmir valley in early 1990, the KPs scattered all around the country are bitter now. Their homes have been burnt down and no confidence building measures have been initiated for their return to valley.The past decade has been a decade of their rootlessness and nomadic existence; a life of travail and deprivations and perpetuation of denial of their fundamental rights. Struggle for their survival in the face of apathy and callousness of the administration has been too hard on them.
Conditions in refugee camps have been sub-human. Lack of healthcare, hygiene, education and other facilities has now slowly and gradually started reflecting on their personalities. Initially put up in tents for six long years in places like Muthi, Nagrota, Mishriwalla, Jhiri,Purkhoo and Batal Ballian in Udhampur, the refugees in their own land were then settled in ORTs in the camps only. But with no proper facilities. On an average, five persons live in a small One-Room Tenement provided to each family in the camps but the roofs leak as the ceilings has developed cracks.
Cluster of small, dingy rooms without even a single window are suffocating. In no way, the place is worth living. Many a times, people have fallen in the drains due to lack of electricity, as the narrow lanes are too difficult to tread. The problems are manifold. Each family in a camp has harrowing story to narrate; each person is having a gigantic problem but no solution at all.
In Mishriwalla refugee camp alone, there are ten hand pumps for a population of 500 families( 2500 people). Last year, the water from these pumps had developed revolting smell and had some worms also. But nobody cared."We are living in concentration camps,"says Dr Agnishekher adding that even Afghan refugees will certainly be having better facilities as may countries including the United Nations helping them out 'but in our own country, our own countrymen have forgotten our plight and cause'.
"We have around 500 children in this camps but not a single playground."says Ashok Kumar a health department employee who hailed from Lolab Valley in border district of Kupwara situated close to the Line of Control in North Kashmir.Conditions of camps is same everywhere, be it Nagrota, Mishriwalla or Purkhoo.
Living in sub-humane existence in camps, deprived of the very basic needs of the life, little children are growing in filth and squalor, the youth are discriminated against in education and employment and have lapsed into depression and despair. Surender, son of Leelwati of Magam in Kashmir who now lives in Mishriwalla camp, had gone to Delhi after his graduation for further studies but could not go for it, as he had no money. His mother Leelawati has aged prematurely. Not only she, but also most of the women in camps are under tremendous stress and are the worst sufferers. The communal carnage, the forced exodus, the changed milieu, alien and hostile environment alongwith a torn social fabric, poor shelter, lack of privacy and security has resulted in serious health traumas.
Hundred per cent of the exiled Kashmiri Pandit women are afflicted with health syndrome. The old and the infirm have met a premature death for want of health and family support. A large number have suffered mental breakdown due to stress, terror, violence, and genocide. Behavioral syndromes, psychological disorders, depression, panic attacks and phobias have seized all age groups.
Dr K.L. Chowdhary, chairman, Political Affairs, Panun Kashmir who himself is a renowned physician, says that the most alarming phenomenon has been a very high occurrence of ovarian failure and premature menopause leading to an alarmingly reduced fertility span, resulting in a negative growth. This has been further accentuated by a high death rate, unnatural deaths, premature ageing, low birth rate due to undesired contraception, elective abortions, late marriages, sexual deprivations due to stress and lack of privacy and reduced conception due to reduced desire.
"The lack of basic necessities in the camps has caused a havoc in the whole mental makeup of KPs and it has indeed threatened out basic existence as a community," said Dr Choudhary.
What is most startling is the fact that the population of Kashmiri Pandits is declining fast and the community is faced with extinction. Dr Choudhary who has conducted a massive study in post-migration period in migrant camps, reveals that there is premature aging, death rate is increasing while the birth rate is very low. People do not marry early in migrant camps, as they do not have jobs, accommodation etc.
The KP intellectuals and leaders even apprehend that if such a trend continues at this pace only, one day the community may cease to exist.
But what have been the reasons for the denial of their rights to them? Dr Agnishekher says that as they are a small community, their shouts and cries do not matter both to the Centre and the state governments. And KPs entering 12 the year of their exile and living as refugees in their own country is a blot on the face of the largest democracy of the world, he adds. Had they been on the vote banks, governments would have done anything for them, echoes Dr Choudhary.Besides, he feels that the media has also failed to project their cause and it has played to the pseudo-secularists."These refugee camps are the blisters on the face of India secularism", says Dr Agnishekher.
What pains them most is that despite repeated requests of granting them refugee status or Internally Displaced People (IDP) Status, their requests have fallen on the deaf ears. The United Nations had passed IDP Act in 1994. Ironically India too has been one of its signatories. The IDP status empowers the displaced community in terms of international humantarian aid. But they have been denied even that.
"A refugee psyche has developed amongst us. We have been subjected to a religious persecution. Apprehensions, insecurity, uncertainty, depression, characteristic of slavery syndrome are rampant,"says Dr Choudhary.
The KP leaders see a deep rooted conspiracy in their exodus from Kashmir.Their repeated demands for announcing a probe into the reasons of their exodus has not been met so far. The distress sale of migrant property has continued unabated inspite of the Act against it. Their status continues to be undefined. Their demand for declaring them a religious minority in Kashmir has also not been met.
Regarding their return to the valley, most of them though want to return to their homes and hearth, still feel that the situation in not conducive for their return in Valley.Besides, the ground realities of security environment in the valley have to be take seriously. The KPs believe that a three-tier approach that will have confidence building measures before their return and rehabilitation needs to be addressed.
FEW FACTS AND FIGURES
*Over 3.5 lakh Kashmiri Pandits forced to leave valley in 1990
*Over 1200 KPs including few Sikhs killed by terrorists, most of them after being maimed and tortured in most inhumane ways.
*Over 800 KPs died due to sunstroke, snakebites in refugee camps at Jammu and Delhi
*Over 8000 KP refugees died unnatural deaths while living in sub-human conditions in exile
*More than 10,000 KPs are still living in sub-humane conditions in camps for want of better accommodation
*Government spends Rs per day per refugee but the same government spends more than Rs 45 per day per terrorist in J&K
*Over 1.2 lakh jobs provided to Kashmiri Muslims but not a single development scheme launched for Kashmiri Pandit youth.
* Over 27,000 residential houses, business establishments, shops, small scale industries, educational razed to the ground.
* A total of 110 shops out of 143 shops illegally occupied in Srinagar city alone.
*A total of 145 Hindu shrines and temples including Uma Nagri (Brari Angan),Kathleshwan Mandir, Raghunath Mandir, Bhairav Mandir burnt down by the terrorists in Kashmir.
REFUGEE CAMPS IN JAMMU PROVINCE
*Muthi camp Phase I and phase II *Purkhoo camp phase I, II,III and IV *Nagrota camp, phase II and I *Kathua camp *Battal Ballian camp five kms from Udhampur
MASSACRES OF KPs
*Sangrampora - 22-23 March 1997- seven KPs massacred
*Wandhama-26 January 1998- 23 non-migrant KPs massacred by militants in Wandhama in Ganderbal district.
*Telwani (Achabal)-28 January 1999- Three Kashmiri non-migrant pandits at Telwani, Anantnag
IMPRESSIONS BY PROMINENT KASHMIRI PANDITS
a) I feel ,I was not born at all…
- Triloke Koul,eminent artist and contemporary of M.F.Hussain
b)I lost my home, my childhood. I am deprived of the treasure of my ancestors. When I think of my people, tears roll down from my eyes……
-Anupam Kher, film actor and director
c) Exile has deprived me of my laughter……..
-Moti Lal Kemmu, playwright and theatre personality
d)The other day, I came across snow fall in Germany.It transported me to my land of birth, where the rhyme and rhthym of seasons scatter new melodies and satisfaction to the craving souls…..
-Pandit Bhajan Sopori, santoor maestro
e) When 'they' asked me when and why I had added Pandit to my name, I humbly replied " since 1989, and I shall 'wear' it like ' star of David' as long as I am a refugee in my own country……..
-Pandit Arun Koul, film maker
d) I have lost my landscape…my colours…my brush only paints the images of the exile now!
-Vir Munshi, artist
Three major epidemic outbreaks occurred in the exiled KP population in past 11 years....
1. 1991-92. An epidemic of drug resistant typhoid in Jammu in nine per cent population 2. 1994.Dengue epidemic in Jammu afflicting nearly seven thousand refugees 3. 1997-98 hepatitis E epidemic in Jammu in nearly 1500 refugees.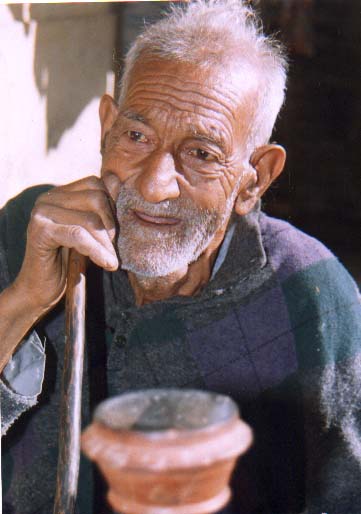 Vasudev,- or Vasu Totta- remembering those bygone days in his native Kashmir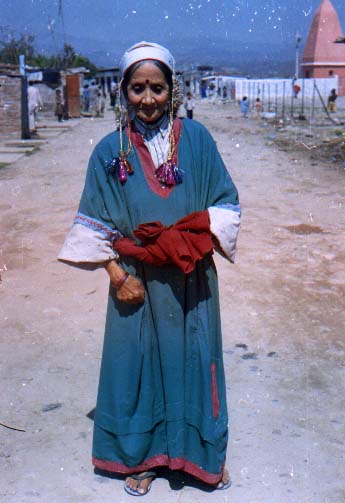 Kamalavati dreams of her return to her beautiful valley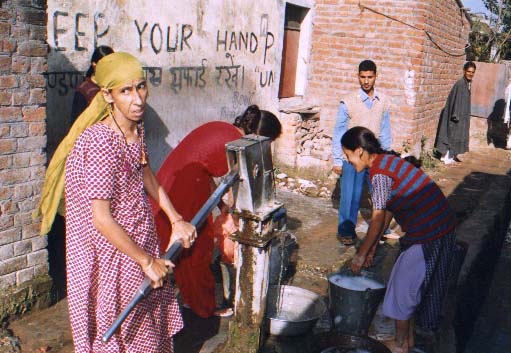 PHOTO CAPTIONS…..
1. Kashmiri migrant women living in unhygienic conditions in Purkhoo migrant camp in Jammu
2.
3.
4. Kashmiri Pandit migrants lady walks past a migrant camp in the initial years of turmoil
5. Migrant camps for KPs in Jammu.