Exclusive Interview
Dr. Agnishekhar, Founder, Panun Kashmir
For a sensitive writer who has made a significant contribution to world of Hindi literature in the country, the immense pain, hurt and the sense of betrayal on being hounded out of Kashmir valley on the basis of faith and religion has been too magnanimous. Having suffered too much in all these years of exile like the other 3.5 lakh Kashmir Pandits who had to flee their houses in Kashmir in early 90's and seek refugee in their own country, Dr Agnishekhar, founder and convenor of Panun Kashmir, the frontline socio-political organization of Kashmir Pandits worldwide, floated Panun Kashmir to fight for their rights and to work for finding a dignified and honorable return of KPs to their homes in Kashmir in the form of a separate "Homeland" with UT status carved within Kashmir Valley.
"Panun Kashmir (My own Kashmir)"is in focus again these days for it has not only given a boycott call for the forthcoming assembly elections in J&K but it has also has also threatened to boycott all the future assembly elections in the state unless the basis issue of Kashmiri Pandits, who have been forgotten by most of the political parties in J&K, is addressed. Led by Dr Agnishekhar who is not only an internationally renowned Hindi poet and writer but is also a philosopher and political thinker who has been instrumental in weaving a strong cadre of young exiled Kashmiri who are running the Panun Kashmir across the world, a delegation recently met the Kashmir Committee led by Ram Jethmalani in New Delhi besides the President of India Mr APJ Kalam, Congress president Mrs Sonia Gandhi and other leaders.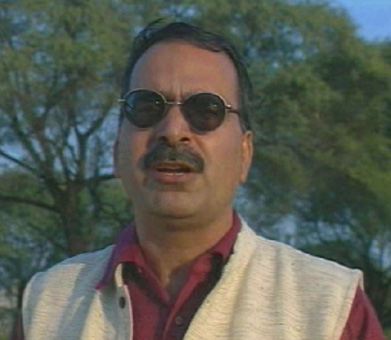 Dr. Agnishekhar

A widely travelled man who has been spreading awareness about the issue of genocide of Kashmir Pandit ethnic minority world over, Dr Agnishekhar discusses Kashmiri Pandits' boycott of assembly elections, their genocide, unfulfilled promises for their return to valley and the respective failures of both the state and Centre governments in addressing to these issues in an interview with KAVITA SURI.

Excerpts:

A Panun Kashmir delegation led by you met Kashmir Committee of Ram Jethmalani in New Delhi last week. Was it something to do with the forthcoming polls in the state?

Well, Panun Kashmir was invited by the Kashmir Committee headed by Mr Ram Jethmalani to have a dialogue on the Kashmir issue. We had wide range discussion including all the issues facing the exiled Kashmir Pandits. Discussion centered on the forced exodus, exile and Diaspora of Kashmir Pandit minority and the ongoing denial of their basic right to live and survive. We stressed the necessity of providing a political space to Pandits in the overall settlement of the Kashmir problem and the necessity of a ge0-political reorganization of J&K state which was accepted by the KC.

But then why the migrant Kashmir Pandit community has decided not to cast their votes and thus boycott the elections?

The decision to boycott the polls was not taken in a jiffy. After a thorough and detailed debate and taking into account the ground realities and future projections vis-à-vis the destiny of the community, Panun Kashmir decided not to participate in the forthcoming elections to the J&K assembly.

Reason are many to understand……………..

First of all, these six years of Farooq Abdullah rule and it is a grim reminder that we continue to be in exile, territory less and dis-enfranchised, without a voice in the state legislature and in the Indian Parliament. Kashmir Pandit community is now entered the 13th year of their exile but is still grappling with the problems of daily survival. The basic right to life is being denied to us, therefore the right to vote is inconsequential under the circumstances. The elected government which had promised honourable and dignified return besides proper rehabilitation, helped to push the community further into the abyss of despondency and dependence. The aspirants to a new government promise nothing better.

Elections have no meaning for Kashmiri Pandit community which has been forced out of its constituencies and as I said, is presently territory-less. The exiled community members cannot vote for candidates whom they do not even know and they cannot stand themselves as candidates, being out of bounds of their constituencies for the last 13 years and therefore unable to canvas support.

Till the genocide and exodus are not addressed, the elections are meaningless for the community and we will not participate in them. We will not budge an inch from its Margdarshan resolution and will stick to its demand of separate Homeland in Kashmir Valley on the basis of geopolitical reorganization of the State.

But you even criticized Election Commission of India?

Yes, the Election Commission of India has miserably failed in its duty to ensure a genuine and full participation by the exiled community by excluding most of the towns and cities except Delhi and Jammu from the elections for us where Kashmir Pandits have moved and migrated in search of shelter and livelihood. Thus a large chunk of population are being denied their right to franchise.

Election Commission has also unfortunately ``hoodwinking'' the country on the issue of Kashmir elections. `It has displayed double standards while discharging its duties. It postponed elections in Gujarat just because 16,000 people are displaced whereas polls are being held in J&K despite an entire community of over 3.5 lakh Kashmiri Pandits having been displaced.Pandits had not been able to go back to their homes for the last 13 years. Even the talk of setting up polling booths for the displaced Pandits in Jammu and Delhi is a half-hearted attempt at providing legitimacy to the electoral process in Kashmir.''

Would you go for poll boycott as Hurriyat has been doing?

Firstly, don't equate us with Hurriyat. While one in anti-national, we are totally for India. There is a difference. We believe in the Constitution and in the process of election. But the condition under which the present state elections are being held will not redress our grievances.

At the same time I want to make it amply clear that our disassociation from elections should not be equated with the Hurriyat's boycott call as the two are separate issues. Non-participation and boycott are two separate issues as boycott is forced through gun and non-participation is our protest.

But as you have given the call for poll boycott, how would you ensure that the exiled community would not participate in the polls?

We have already appealed all the Kashmir Pandit community members to join their ranks, irrespective of party or organizational affiliations and abstain from voting in the forthcoming elections, This is to register our protest against the failure of the state and central governments to investigate the genesis of the genocide and ethnic cleansing of Kashmiri Pandits. This is also to register protest against the ongoing human right violations of the community. This is to register protest against total neglect of the community by the administration vis-as-vis amenities for survival, education, vocation, jobs , commerce and medicare etc.

We will depute our cadres to see that the community's disassociation from elections will be total and the votes are not rigged by the 'self-styled' leaders for their vested interests. Unlike 1996 Assembly elections when the KP votes were rigged by the ruling Party, Panun Kashmir will not allow such a practice this time and it will deploy the cadres to check the same.

We also urge all those members of the community who have filed their nominations or in the process of doing so, not to fall victims to exploitation of the interests of the community. We advise them to withdraw their names as a clear message of the unity and solidarity of the Kashmiri Pandits in their struggle for their rights especially the right to homeland.

The Centre government recently announced Rs seven lakh per KP family economic package for Kashmir Pandits?

We spit on such packages as the community has rejected this package in 1997 when Mr I K Gujral was the Prime Minister. This economic package is an insult to the sentiments and sensitivities of the community which sacrificed everything at the altar of national interests and ideals. We outrightly reject the package. Kashmiri Pandits left behind everything to save their life and honor. The Central and the state governments are bartering the same away for petty pecuniary incentives. It is pitiable and shameful reflection on the perceptions and policies of the national leaders who rather than addressing themselves to the vital question of the genesis of the genocide of the Pandits, throw the onus of return, rehabilitation and all related issues to the hapless community.

What according to you was the main cause of mass migration of KPs from the valley?

We are an integral component of ancient cultural India. Our contribution to the arts and architecture, aesthetics, philosophy, languages, history of India is so much that only an ignorant person would deny integral relationship of Kashmir with India from time immemorial.

Politically speaking, we were considered an obstacle in achieving the goals of NIZAM-E-MUSTAFA, a Muslim polity, diametrically opposed to the secular democracy of India. Our silent refusal to resist the secession and theocracy are considered our crime. Hence a deep conspiracy of our ethnic cleansing.

Few other Kashmir Pandits organization have been contesting polls and a couple of other KP groups have demanded constituencies in exile.

In 1995, an attempt was made by RSS to dilute the political thrust of Panun Kashmir through a group of individuals. Besides, the ruling National Conference is also sponsoring such kind of people within the community to dilute or decision of Homeland and also to stay away from polls.

Going by what you describe as your secular and progressive legacy, why you are demanding separate homeland for Kashmir Pandits on communal lines?

You have to understand that entire population of Kashmir Pandits and other-non-Muslims minorities have been hounded out from their ancestral native land on the basis of faith. It has happened in secular democratic India in 1990s. They have rejected traditional secular-democratic-pluralism of our country in Kashmir. With our expulsion, they have completed the process of Islamisation of the valley. Inspite of this stark reality, we have not demanded a Hindu Homeland. We want to return to a specific area in the valley with political and constitutional empowerment.Granting Homeland with a Union Territory Status as envisaged by Panun Kashmir would restore free flow of Indian constitution and sovereignty of India in the valley.

Do you mean to say even concept of Kashmiriyat cannot provide you the sense of security in Kashmir?

Is there any Kashmiriyat visible in Kashmir? If there is, then why Kashmir Pandits are out? This concept did exist at one point but its was shattered over the decades by successive governments and fundamentalist forces. Kashmiriyat, at its heart, remained a political ideology of ruling elite than a secular cultural movement.

Dr Farooq Abdullah has always said that his government has a return module for Kashmir Pandits, Your response.

Both the state and central governments have shown utter neglect and total apathy towards Kashmiri Pandits in exile. Our sufferings have been both traumatic and painful. Ever since Dr Farooq Abdullah came to power, his frequent talk on our return to Kashmir is not merely a "political image building maneuver," but it is also a money fetching tactics too. Governments have never taken our people into confidence about the return and repatriation as it lacks the political will, the sincerity and seriousness.

What steps according to you should government of India take to resolve the Kashmir imbroglio?

There is no denying the fact that there has to be a political resolution of the problem. Firstly, terrorism has to go, gun and dialogue cannot go together. It is irony, government of India has always ignored the ideology of gun while addressing the cult of violence. It circumvents the roots cause. Now that terrorists have spread their tentacles nation-wide, it becomes imperative for our country to tackle this menace with iron hand. Given the global awareness against terrorism, we need to strike at the very roots of this mindset.

How the present global situation linked to terrorist violence in Kashmir?

Terrorist violence in Kashmir is not independent of overall world terrorism scenario. We have terrorist organizations operating in Kashmir with their headquarters in Pakistan, some of them are connected with Al Qaeda of Osama Bin Laden. Then you have been fighting foreign mercenaries in the valley. Even local operatives were indoctrinated and trained in terrorists training camps in Pakistan and also in Taliban held Afghanisatn.Isn't it an undeniable fact that these terrorist outfits have been working under one direction and command from across the border.

How do you view terrorist attack on WTO on 11 September in light of what your organizations has been telling the world?

There would not have been as much of clarity about terrorism as the WTC attack did evoke. This attack brought the full menacing potential of terrorism into focus. Though belatedly, nevertheless, world had realized that terrorism poses threat to the entire human life. It has also proved that no country however powerful and distant from the cradle of terrorism is immune from their depredation. It has vindicated our stand that terrorism, as means of achieving one's goal, cannot be justified on ideological basis, Be it in Kashmir, Chechnya, Sinkiang, Srilanka, Nepal or elsewhere.

There's lot of hue and cry over the J&K Resettlement Bill in the state. For some parties, it is one of the poll plans also. What is Panun Kashmir's position on it?

After raising the issue of Regional autonomy, National Conference government has now come out with another gameplan to creating communal divide in J&K State. Any move to allow those who had migrated to Pakistan in 1947 or their inheritors to come back to the state, settle them here and stake claim to the properties, will open floodgate for terrorists to enter the state. It will pose serious threat to the security concerns of the country. It should be repealed forthwith. It is ironical that Dr Farooq Abdullah seems to be more concerned about the return of those residing in Pakistan and less serious about the permanent return and repatriation of Kashmir Pandit refugees.

Why have you linked issue of autonomy with the Resettlement Act?

Both expose the communal mindset of NC government. Demand of regional autonomy aims at dilution of Indian sovereignty in Kashmir. Conceived on communal lines, it will divide J&K State into eight divisions and the Resettlement Act is a step further in this direction. Above all, by raising these contentious issues, Dr Farooq Abdullah is adopting the blackmailing tactics and bargaining with central government to meet is political end.

Since you are spearheading the Panun Kashmir, can you tell me what's the main worry you are confronted with at the moment?

My community in exile is facing a threat of extinction after exodus. Our people have suffered immensely in refugee camps due to sub-human conditions, diseases and physical hardships. The communal carnage, the forced migrations, the changed milieu and hostile environment alongwith a shattered social fabric, poor shelter, lack of privacy and security have resulted in serious health trauma. And it continues unabated till date. That is what really worries me.