Children's Column
Congratulations!
Bhavna, daughter of Dr. Rita and Balkrishen Khar of Andheri, passed Xth Class of Indian Council of School Examination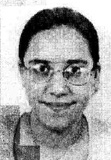 (ICSE), New Delhi in April 2001, securing 94.17% marks. She obtained 98% in Maths, 95% in Computers, 94% in each Hindi, Social Studies and Science and 90% in English. She stood first in Lilawati Podar High School.
Bhavna has also passed grade I &II of Speech and Drama conducted by the Trinity College, London with distinction (85%). She participated in Quiz Competitions, Trekking and Skating events conducted by her school. She has joined Ruparel College.
We are proud of you, Bhavana. Keep it up and keep in touch with Milchar.