Report
Varshik Hawan
The Varshik Hawan was this time performed on 11-12 March at Kashyap Bhawan. Since last year, the Hawan is being performed in the Bhawan premises itself as the adjoining ground has been dug for construction. The cement flooring of the Bhawan grounds had smoothened the Hawan Mandap area. Hawan, this year has been as well attended as in the past, inspite of pre-poning of children's examination.
The Mandap was well-decorated and the Mantras by our Guruji were supported by collective recitation of Mr. Manwati and Mrs. Dhar - an excellent recital of Sanskrit Shlokas.
Naveed served was prepared with cooking help from Jammu. This year Naveed was served well in time as the Puran Ahuti was held earlier than in the past. If this trend continues, which we hope it will, the late comers in future may have to change their time schedule.
The Hawan collections were all time high. The biradari not only affirmed their faith in our spiritual heritage by their presence, but also by making good donations.
Cultural Nite
This year the Annual Cultural Nite and the fund raising function was held on 16th March, 2002 at Rangsharda auditorium. This year's special attraction was a singing session by the well known Kashmiri Singer Shri Rajinder Kachroo. His rendition of Kashmiri Bhajans and Gazals enthralled the audience. The only lacunae was that the audience wanted more but his cramped legs could continue no more. The audience was reluctant to leave, their thirst for music not having sufficiently quenched.
The occasion started with Kashmiri rendering of songs by our youngsters who had won prizes in this year Mohan Lal Aima Music Award. The way these children sang their piece, gave us hope that our future generations shall not only indulge in music but not allow our language Kashmiri to die. These children are those born and brought up in Mumbai. They hardly speak Kashmiri. But their pronunciation in singing was often impeccable. This singing gave them confidence in using Kashmiri in day-to-day life.
This was followed by presentation of Mohanlal Aima Music Awards, Zaan-2001 Awards and the Life Time Contribution Award. The Life Time Contribution Award was given to Shri J. L. Kasid for his dedicated service to the Mumbai Biradari over the last four decades (Citation is printed elsewhere). He thanked the Biradari in his acceptance remark and pointed out what the Biradari had gone through in his days.
We had the honour of having Shri Amarnath Vaishnavi, the President of Yuvak Sabha and an undisputed leader of the KPs, on this occasion. He was presented a bouquet among loud applause.
This year as usual everybody was looking for the skit by our youth. This time it was a parody on cricket match of Lagaan. Of course the setting here was KPs of Aurangzeb era, fighting for their right to live through cricket. The humour was overpowering that the whole hall was in cries of laughter. Yet the underlying theme did not go unnoticed. For blending fact and fiction in a cohesive whole, and in a very short time, credit goes to Sanjeev Kaul and his team of twenty Kashmiri amateurs. The whole program was blended by Mr. P. N. Wali,the program committee chairman.
Kashmiri Movie - "BUB"
The preview of Kashmiri film -"BUB" was held at the preview theatre - Nehru Centre. To those few who attended , it was a great experience. Few films with 'Kashmir violence' as a theme have come up during the last few years. None could draw a realistic picture that the film "BUB" has succeeded in doing. It is no wonder that it is stated to be based on true incidents. And realistic it is. It sometimes becomes difficult to make realism artistic but the creator of the film Jyoti Sarup has succeeded in both these areas.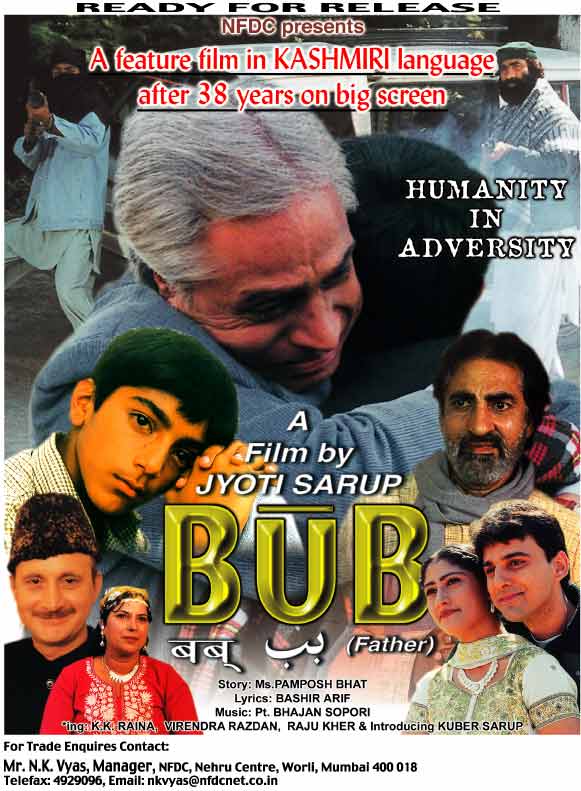 I think it is the third film in Kashmiri, since Manziraat in the early fifties and Mahjoor in the sixties. The dialogues are authentic and crisp. No under or over play. The credit for the plot and script goes to Jyoti's sister, Pamposh Bhat. The music for a change is authentic Kashmiri, by Bhajan Sopori. The lyrics are superb and so are singers' voices, especially Vijay Malla, Kailash Mehra & Gul Akhter.
The actors, are almost all Kashmiri. Mr. K.K.Raina, whose character runs throughout the movie, has done an excellent job. The young Kuber Sarup, 14 years old, does a very superb restrained part. Mr. Virendra Razdan has a special role of a person both naive and manipulative.
The film has English sub-titles (thanks to Shri J.L.Manwati). This will enable the exhibition of the movie in the non-Kashmiri areas as well. I hope we get to view it in Mumbai. It is being released in J&K in July and Music will be released by T - Series. It is a must for all the KPs, if not those friends who evince interest in Kashmir and also regional cinema. Kudos to Jyoti Sarup.
Kashmiri Pandit Food
Kashmiri food has been talked about for a long time in India and abroad. But it is mostly the Kashmiri Muslim non-vegetarian food. Not much is said about Kashmiri Pandit food, which has an identity of its own - but usually not known outside.
Great Maratha - a few star hotel if ITC chain in Mumbai made a special effort to have a week long Kashmiri Pandit Food Festival. It was a great success (although understandably only a few Kashmiris visited it).
The spirit behind the whole program was the dynamic personality of Siddharth Kak. Cooks from Jammu were brought and trained to cook in five star ambience. The fair was full in terms of both vegetarian and non-vegetarian variety. You could find Gogji Razmah, Nadhery Churma, Chok Vangun besides the usual Rogan Josh, Kalia, Yakhni, Kababrgah, Chok Charvan, Chaman, Damaloo, Monjhi etc. A great effort to cook them all in Mumbai with local supplies. Although Masala's were brought from Jammu. Om Takoo, our food specialist lent his hand to a considerable extent. Of course the credit goes to Mr.Haksar, the General Manager of the Hotel, who took this bold step.
Kashmiri Pandit identity receives another support with Kashmiri Pandit Food Festival - for food is an essential part of our cultural life.