Milchar
October-December 2002 issue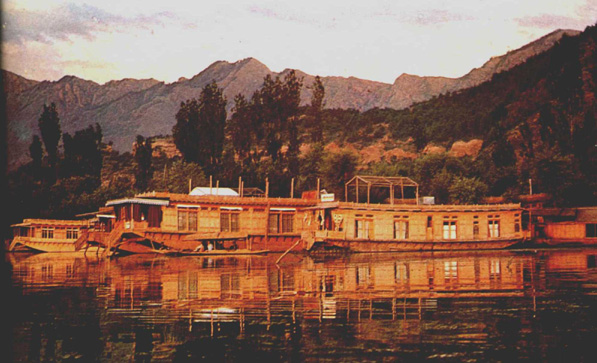 House Boats on Dal Lake in Srinagar. Credit for introducing House Boats in Kashmir goes to Pt. Narain Das, father of Swami Laxman ji.
Kashmir Turmoil
Kashmiri Pandits' Migration
... Javaid Iqbal Bhat
[Excerpts from 'Pundit Migration - The Psychology of Home Sickness' by the author, as appeared in the 28th October 2002 issue of 'Greater Kashmir', the most widely circulated English daily in the Valley.]
It was the sudden fear psychosis triggered by the open exhibition of lethal ammunition, which prompted Pandits to retrace the steps they had taken during their first migration. Some blood curdling incidents further deepened the fear. What at the atmosphere were two portentous happenings; first was the hanging of M.Maqbool Bhat in Tihar Jail in 1985 following the judgement handed out by N.K.Ganjoo and second the communal riots which ravaged South Kashmir in February 1986. The Chief Minister Dr. Farooq Abdullah resigned on January 18, 1990 and the first couple of months of the same year saw the mass exodus. Within a few months, the number had crossed 2.5 lakh.
In the heat of those momentous months, some Muslim youth resorted to abominable behaviour alien to the softer tenets of their faith. Slogans like, 'Jis ko Kashmir main rehna hai, Allaho Akbar kehna hai' although not meant for striking terror among Pandits, yet their import would have been lost only on the naive. A number of grisly acts of savageness against them (Pandits) who had quietly remained aloof from the rattling of guns outside, hastened their departure. The tale of Brij Nath Kaul, writer Kaul, his sister and his wife of Village Harman, Tehsil Shopian, is one among the heart rending tragedies which is a slur on the face of humanity. This young couple along with Kaul's sister was kidnapped in May 1990. The two young ladies were stripped off and molested in the public. They were then gangraped. After torturing them in various ways, the legs of husband and wife were tied to a jeep at village Imam Sahib. It was around midday. The jeep was driven, dragging the young couple and Kaul's sister along with. They cried and cried, their bodies were injured and bled profusely. The eyes of Bhushan Lal of village Aamsen, Tehsil Kulgam were gouged out and ears chopped away. After killing B.K.Ganjoo, an assistant engineer in the Telecom Department in March 1990, the militants forced his wife and his daughter to taste the blood soaked rice. Girija Tikoo of Bandipora worked as a laboratory assistant at the Government Girls High School in Trehgam, Kupwara. After abduction in June 1990, she was shred into pieces on a bar and sawmill.
It was indeed fear, which impelled them to review their staying decision in the widening chaos and eventually amid panic, disappeared behind the Pir Panchal. Though there is no irrefutable evidence to corroborate Jagmohan complicity preception, there is scarsely any doubt that with some crisis management exercise, he could have prevented the convoys of Pandits and not facilitated it as he did. It is outlandish to say that he had a plot in his mind to cipherise the Muslim population. A point worth marking here is if minority Muslims in Hindu Tamil dominated areas in Sri Lanka have reconciled to the Tamil homeland struggle launched by the LTTE, why haven't the minority Hindus in Kashmir?
Nevertheless fear of loss of limb, life and the intellectual property combined with the burden of history propelled them to march out for peaceful meadows but landed in snake infested refugee camps without a refugee status which could have attracted the attention of International Humanitarian Agencies. They are designated as Internally Displaced People (IDP). Why? In the reply lies the rub. In order to discourage the internationalization of the issue, the government of India has deliberately aborted any attempt to that effect. In consequence, they are deprived of international aid and assistance as is being supplied to other refugees of the world.
The demand of 'Panun Kashmir', a leading platform of displaced Pandits of a territorial enclave within Kashmir with adequate provisions of security, is ideally indefensible but practically unsustainable. Who knows, tommorrow another upheavel will throw up another demand for a seperate Sikh homeland. After all who could have imagined a Pandit homeland demand. All this when everyone knows that there are existing movements for a separate statehood in Jammu, separate union territory chorus in Ladakh.
This compartmentalization based on religio-ethnic identities will only accentuate the prevailing tensions and protract further the resolution of the vexed Kashmir issue. The repatriation must not be held hostage to the final settlement of Kashmir dispute, contrary to their return, is the indispensable ingredient of a composite strategy to tackle head on the Kashmir imbroglio. The common Muslims of Valley are yearning to pick up threads of shimmering inter-religious fabric, which was shredded by the unforeseen and sad turn of events. In the same breath, it must be stated that government of India is living on the Martian surface if it thinks that Pandits will be resettled in Kashmir without any tangible headway on the dispute-resolution front. Yes, it can be so but with a fear-ridden heart.
Nevertheless, we have something more than moral obligation to take up the cudgels on behalf of Pandits. There is no point listing our own woes. The world is conversant with them. Pandits are in the grip of undocumentable grief and indescribable misery. Enter Jammu and you can't help report on their piteous state. A countable number of materially well-off Pandits must not, as conscientious human beings, distract our attention from the bulk of them, who have to scrimp and save to keep the wolf from the door. It is one thing to jot down a mile long commentary on any subject under the sun, but quite another to spend a night in a refugee camp under a tent. One day, on my visit to Jammu, an elderly Pandit broke into tears on seeing my palm suffused with raw walnut-juice. Through his glassy eyes brimful with tears, I saw the multicoloured sorrows he and his community have to encounter. Materially sound or not, all of them sighing for a glimpse of their leafy, rosy and sweet-aired Vale.