Milchar
October-December 2002 issue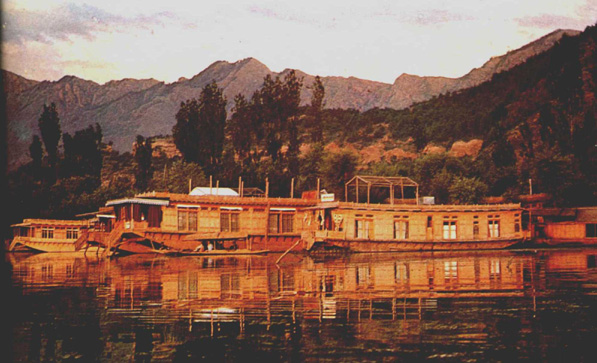 House Boats on Dal Lake in Srinagar. Credit for introducing House Boats in Kashmir goes to Pt. Narain Das, father of Swami Laxman ji.
Editorial
Our Brothers in Kashmir
... P.N.Wali

One of the things that struck me during my recent visit to Srinagar, first after exodus, was the number of KPs who had not left Kashmir even till today. This number is anything between nine to eleven thousand people. They are living in Srinagar, small towns and even far flung villages. Some times even one family in a village.
Their stay may be called by some foolhardiness but to others, it is sheer courage and grit. They faced real bad times. In early days, they were looked as unwanted representatives of Indian state. They had, with their own eyes, seen the worst attrocities committed on innocent people, whether it was Sangrampora, Wandhahama or any other place. A gentleman in Badiyar, was once thrown out from the upper storey window of his house. He broke his bones, went for treatment, got well and again continued to live in the same house, attending to his job in downtown Srinagar. He is still there. These people are in addition to few hundreds who are living in Srinagar, either their offices were there or they were transferred there on promotion etc.
These people live there. They find the environment comparatively less antagonistic than it was a few years back. But they feel that the rest of the Kashmiri Pandit community has forgotten about them. They feel that they are suspected or written off by the biradari members living outside the Valley, whether as migrants or otherwise.
I felt it is time that we spared some thought for these forelorn brothers. They are part of the community. They have every right for a sense of belonging to the community. And we owe it to them. In this war, they are in the fore-front. We are in the rare. We need to support them.
These people, have made their own Association, called Hindu Welfare Association, which tries to keep them networked together. They are holding annual Hawans at atleast 8 places. They are looking after their temples. They are performing their marriages (over 400 in 12 years). Even the government is doing nothing for them, when it announces from the top of the world that it wants KPs back in the Valley. To show its seriousness, let it first start making little easy for these people. Unemployment (about 350 youths presently) is a serious problem with them. Let the government help in this when it is helping even the families of hardened terrorists killed in the fight with security forces.
Let us atleast make it clear to these people that we are with them.