Annual General Meeting 2002
Secretary's Report for the Year 2001-2002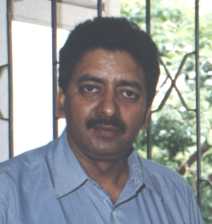 Dear Biradari Members,
It is my pleasure and an honor to be able to put before you a report highlighting the functioning of KPA Mumbai for the fourth successive year.
KPA Mumbai, in its very humble way, has strived to provide leadership to the Biradari so as to ensure that the future generation of our community, who have for reason beyond their control, got scattered globally, do not loose their roots. We have always thought this leadership to be like an iceberg where the media, the analysts and members of the Biradari see the one-tenth of it that stands above the water line and those to whom this portion looked shapely and interesting have been kind enough to shower their appreciation. But working in a socio-cultural association like ours, is like working at the base of the iceberg where it is cold, darken, uncomfortable and therefore unnoticed by observers who might feel nothing is happening. I am convinced that leaders should see their role as a part of large process and not be a process itself. They get to run with a baton for a few laps of a relay race.
I am thankful to all the members of the Biradari who have allowed me to run my laps and now it is time for me to handover the baton.
KPA Mumbai has been active during the year under report, as always, and has worked towards achievement of the goals for which the trust was set up.
Scholarship: KPA is proud to inform you that we have been appointed as the administrative agency for distribution of scholarship among the best performing students in the migrant school at Nagrota and Muthi Camp in Jammu by Sheela Dhar Trust, Mumbai. The scheme has been made functional from this academic year. The same Trust had also appointed us to identify some urgent need of the Muthi camp school, Jammu. It is a pleasure to inform you that Sheela Dhar Trust in consultation with KPA provided a water cooler to the camp school, thereby making lives of these young children studying in the school, more comfortable.
Medical Aid: We give out relief to the needy patients in two forms. The tangible being the cash assistance whenever somebody asks for it. As you would see from the balance sheet we have spent Rs. 7000/- on this account. The intangible being, providing accommodation in Kashyap Bhavan to the needy ones who come to Mumbai for treatment from various parts of the country. This year, we had patients staying with us along with their family members for a duration of more than 100 days in total. You would also be noticing from the balance sheet that we have been able to increase the medical funds to Rs. 3,50,000/- during the current year. This all has been possible because of the donation and contribution received from many of you.
It is our dream that in the coming years we have enough money in this fund so that we are in a position to help every needy member of our Biradari who ask for it. We request for generous donation to this fund.
Cultural Activities: The annual get together on 17th February 2002 where we all sat together to pray to the Almighty for the welfare of our community was very well attended. The most encouraging aspect was the participation of young generation in large numbers. This is a proof that KPA is doing work in the right direction passing our rich socio-cultural heritage to the generation next. We are thankful to all those who donated to KPA that day.
Mohanlal Aima Musical Awards had better participation this year. We are thankful to Shri Onkar Aima and his family for having donated the prize money for this award. This event will always be considered as a very important event in the cultural activity at KPA.
Annual Cultural Programme: 16th March 2002 and all roads led to Rangsharda Bandra, where we had Mr. Rajendra Kachroo, who came from Delhi to present us with a musically rich cultural evening. The continuous demand from all the youngsters during the show for the Kashmiri song bears a testimony to succees in our efforts of keeping the language alive through such programmes. We also met on the occasion of Navreh, in Kashyap Bhavan.
Thanks to contribution, both monetary and literary. Milchar, has been published regularly during the year. Now it is available on net at www.milchar.com
Zaan: This project conceived and implemented jointly with Lalded Educational and Welfare Trust needs support and co-operation by way of participation from all of you. KPA organized the event on 19 August 2002 and the prize winners were not only featured prominently in the Milchar but awarded on the stage of Rangsharda on 16 March 2002 in the presences of all the Biradari members. This programme which is basically designed by Lalla-Ded Educational & Welfare Trust with the aim to impart information about history, geography, culture and language of Kashmir will not be successful unless the elders and parents take interest. I would sincerely appeal to all of you to lend your help so that generations to come do not find themselves as rudderless boats.
We are thankful to Shri Sunil Fotedar of Texas, US for having created a site on the net which he maintains and updates with the inputs from Mr. M. K. Raina, Co-Editor Milchar. Logon to Website : www.zaan.net
Kashyap Bhawan: Kashyap Bhavan has become a revenue earner in our trust. We have received Rs. 111001/- as donation by those who use Kashyap Bhavan Hall for various functions. You would notice that there is a decrease in revenue as compared to last year. The reason for it is that we had to close the hall for a period of about two and a half months to carry out renovation and repairs. We spent about Rs. 1.8 lakhs for that. The hall now needs a permanent sound system, which can be a value added facility for the use of the hall.
Finance: The Balance Sheet comes to your hand along with this report reflecting the sound financial position of the Trust. Our deposits have gone up to
Rs. 13,22,431/- We have achieved this due to efforts of various Biradari members who donate by themselves and also collect donation from friends and well-wishers at the time of release of Annual Souvenir. The expenditure of printing has gone up as compared to last year basically because of two reasons, one because of the size of the Souvenir increased due to better response from donors and this year we decided that each Biradari member should get a copy of the Souvenir, so more printing was done.
Life Membership: We welcome the addition of 59 life members to KPA during the year and I request you all to approve their membership which has been already accepted by the Board.
This year again the elections are due for the Board of Trustees and I am sure the new team will carry the good work done so far. I wish that the incoming General Secretary receives the same co-operation as I received during my tenure from all of you.
Thanking you,
Yours Sincerely,
Suriender Kachroo
Outgoing General Secretary