Milchar
October-December 2002 issue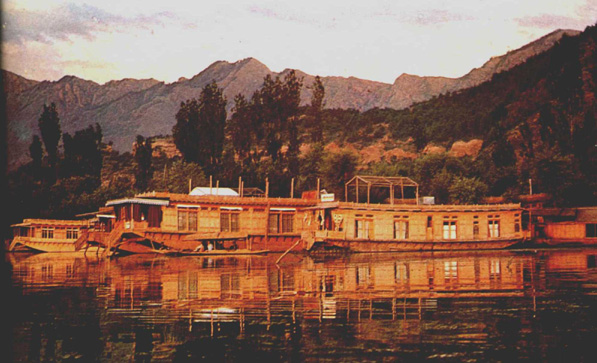 House Boats on Dal Lake in Srinagar. Credit for introducing House Boats in Kashmir goes to Pt. Narain Das, father of Swami Laxman ji.
Reflections
How the History is made?
.. Krakal
While travelling to Jammu by the Swaraj Express, do you know the snippets I picked from the long leisurely discussions we had all along the way? Sample:
1) Why Kashmiri Hindus were all Brahmins? Were other casts missing? No. The Kshetri (the fighters) under pressure from the invaders mostly migrated to Kishtwar and Bhaderwah side. So the Kashmiris in that part are mostly Kshetris. Brahmins migrated to other parts of the country. Lower classes got converted as their physical, mental and economical strength did not allow them much options.
2) Why Shivratri is celebrated by KPs one day earlier? What is Salaam? To break the religious and the spiritual moors of KPs which kept them alive despite extreme pressures and cruelties inflicted on them. The famous story of when Jabbar Khan wanted to shift Shivratri to June so that benefit of snow on the occasion was not available. That year it miraculously snowed on this occasion in June. Other dictum was to make them to come to Durbar on the Shivratri day to 'Salaam' (to pay obeisance to the Nawaab). This was to divert them from usual Shivratri prayers. To meet the situation, they decided to do the prayers on the previous night itself. It therefore happens to be 13th day of moonlit fortnight and not 14th as the rest of the country.
3) Why Kashmiri Pandits offer saltish Tahar to gods when the Hindu tradition is to offer sweets? It is said that the tradition of Tahar is from Central Asia. It used to be offered to gods in Kashmir without salt. Salt would be added to Prasad later to make it palatable. In course of time, the Tahar offered also became saltish.
4) What is 'Ramgodha' and 'Vagur' at Shivratri? Vagur, from Wahi Guru - it is from Sikhs. This addition to Shivratri paraphernalia was to please Sikh rulers. Similarly, Ramgodha was in deference to Dogra rulers, who worshipped Ramji.