Message from the President
Between Ourselves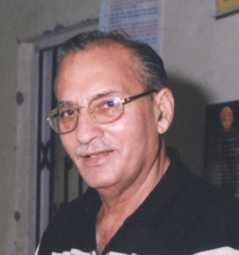 Namaskar.
• Recently when I was in Delhi, I met Shri M.K.Kaw, President, All India Kashmiri Samaj (AIKS) and other office bearers, for an interaction and updating myself as Vice President AIKS - Western zone. It was a fruitful meeting wherein various subjects regarding AIKS and community at large came up for discussion. Mumbai Association being considered as very important and prominent unit of AIKS, had a special mention by Mr Kaw. Recently AIKS has issued letters to all units, giving details of the duties assigned to them, so that the Zones could play an important role, for the betterment of the community. As one of the founder members of AIKS, when first All India meeting took place in Mumbai, I furnished some framework regarding the role, AIKS could play at the national level as an Apex body and accordingly its constitution was framed. We are sure that the organisation, under the leadership of Shri M.K.Kaw will move forward to achieve its set agenda.
Lately AIKS Executive has met Mr. Manmohan Singh MP, Mr. N. N. Vohra, Interlocutor and Jt. Secretary, Kashmir Affairs, Govt. of India and placed its views and suggestions before them on behalf of all Kashmiri Pandits. From our side, we pledge all our support to the Samaj, which we are sure, will be the authoritative voice of the KP community as a whole.
• It is very sad to state that we have lost our Vice President and a vetern social worker Smt. Shanta Kapoor after a short illness. Shantaji had been a trustee of the Kashmiri Pandits' Association for a long time. She was a source of inspiration to young and old in our Organisation. It will take a long time to fill up the vacuum created by her demise. We have also lost another community member Shri Mohan Kaul of Andheri after a sudden heart attack. A Film Editor by profession, Shri Kaul also produceed some serials. We all pay our homage to both of them and also pray for peace to their souls. On behalf of KPA, I convey our heartfelt condolences to the bereaved families. May God give them strength to bear the loss?
• I wish to pen down a few lines for a good friend Shri Maharaj Kishen Raina, one of our Trustees and Coordinating Editor, MILCHAR. I happened to be introduced to him way back in 1968, when he was in search of a job in Mumbai. I had totally forgotten the event till his migration to this place in 1995 when he reminded me of the same. Whatever we express or write about Raina Sahab will not be commensurate with his qualities. He is doing community proud by carrying out the life membership drive which has risen to more than 600 now. He, on his own sends messages across the world regarding KPA / Lalla-Ded activities. He has been contributing to, compiling and co-editing MILCHAR for years, which he has transformed into a quality magazine. As we all know, he is well versed in Kashmiri language, and has been writing short stories and poetry in Kashmiri for a long time. 'Dalvanzun' , a humorous poem composed by him which was sung by Dolce Bhan at the recently held Annual Cultural Show, as also the satirical poem 'Ladi Shah' which he himself recited at the show, were profusely applauded. ZAAN programme is his prodigy and his contributions to our two internet sites i.e. www.zaan.net and www.milchar.com in association with Sunil Fotedar of Texas, are really praiseworthy. He is ever helpful to all and we wish him all the success in his missions.
M.L. Mattoo, President