Tribute to Shantaji Kapoor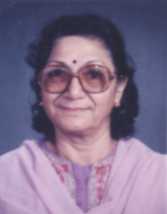 Shantaji Kapoor
Ah Didi !!
… M.K.Raina
My frame is deep frozen
A long tongue protruding out in distress
My eyes lost into the vacuum
And paralysed.
My heart is sinking
I have no questions to ask
No sermons to deliver
My words are failing me.
I remember when I met you first
You caught me by my hand
I sought your introduction
You said "I am Shanta, but call me Didi".
And I concluded
I had someone to support me
Show me the way in a world strange
Lead me and give me love.
You called me 'Bhaijan'
From the core of your heart
Showered upon me extreme affection
But, departed so soon, untimely ...
True ... Whoever is born, is to die
We are only spectators
Mute witness to the happenings around
Moving statues and powerless.
We will wail for a while
And revert back to our 'Karma'
Look out for the livelihood
And live our lives till we meet our own end.
But that again...
Will not be the end of the world
There will be no blackouts
World will move on, as it always did
And that is the life ...
Remembering you with grief
M.K. Raina