Stories for the Children
… M.K. Raina
Three Questions
Thousands of years ago, there was a state in Bharatvarsha, called Batsala. Arunagiri was its capital.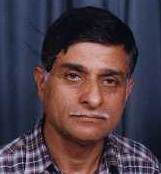 Maharaja Abhayadhiraj was the king of Batsala. He was a noble and pious man. Maharani Vasundhara was his queen. She was very beautiful. Maharaja had won her in a swayamvara from among a dozen competitors . He had fought and killed a bison bare handed in the swayamvara. People of Batsala were very happy with the king and the queen. They would always pray for their long life.
For a long time after their marriage, Maharani Vasundhara did not bear any child. Medical advice was sought from the royal physicians but to no avail. Rituals were performed in order to appease the deities at the instance of learned Brahmins, but they were of no consequence. Maharani Vasundhara was desperate. Maharaja, though himself very upset, consoled her saying that it was probably the wish of gods. Still they prayed fervently for a child, successor to the throne.
It was early Spring. Maharaja and Maharani were taking a stroll along the stream flowing by the side of the Rajmahal. Mahamantri Sura was following them at a distance. Maharaja heard some noises coming from the gate of the Rajmahal. He asked Sura to look into the matter. On reaching the gate, Mahamantri found the royal guards questioning an old man. The old man was requesting them to permit him to meet the king but the guards were not relenting. Mahamantri asked him who he was and why he wanted to meet the king. Old man said that he had come from a distant place only to meet the Maharaja and reveal a secret to him. Convinced that the old man had something important to reveal, Mahamantri let him in and promised him an audience with the king. Maharaja Abhayadhiraj was informed about the old man's request. He issued instructions that the visitor be immediately brought to the Durbar. He also asked his Mahamantri and other ministers to be present.
The old man was escorted by the chief of royal guards. He saluted the Maharaja in the customary manner. Maharaja welcomed him and asked him who he was and why did he want to meet him? The old man, introduced himself as Joginda, a yogi. He said, he hailed from a distant place and that he wanted to make some revelations.
Yogi Joginda continued, "I have been meeting the people who visit your country off and on and through them, I learned about your nobility and generosity. I always desired to meet you but was waiting for an opportune time. When I heard that you have no child to succeed your throne, I was pained. I decided to invoke the blessings of Lord Brahma through Tapasya. At the conclusion of my Tapasya, Lord Brahma appeared in my dream. He directed me to perform a 100 days uninterrupted Yagna, to grant me a wish, which I did. Now I have come here to tell you that Maharani Vasundhara will soon be blessed with a male child."
Cries of joy rented the air. Maharaja and Maharani were thrilled at this revelation. Maharaja directed his Mahamantri to arrange free meals for a hundred Brahmins. He gifted Joginda precious gems and requested him to stay on as royal guest for a week. Maharaja personally looked after his comforts. Yogi Joginda was moved at the Maharaja's hospitality. While departing from the palace, he said, "I shall come again to bless the child."
In due course of time, Maharani Vasundhara gave birth to a beautiful male child. Rajmahal was illuminated and a free langar was arranged for the poor for three days. Sweets were distributed among the friends and Rajmahal staff. A special emissary was sent to yogi Joginda to inform him about birth of the child.
On his arrival at Rajmahal, Joginda performed puja along with Maharaja Abhayadhiraj. He blessed the child and named him 'Arisudana'. Joginda told the king and the queen, "Rajkumar Arisudana should be crowned as successor to the throne only when he attains the age of twenty. At the age of fifteen, he should be sent outside the territory of Batsala in the garb of an ordinary person to seek answers to the following three questions. 1) In what lies one's lasting pleasure? 2) What is that which a woman loves most? 3) What is that which one can not hide for long? Rajkumar should be given a maximum period of five year's to seek the answers. He should be crowned as successor to the throne only if he gets all the answers right".
"And how do we know that he got the correct answers", asked Maharaja. Joginda took a piece of bhojpatra, wrote something on it and wrapped it in a piece of cloth. He made it into an amulet and handed it to the king. "Correct answers are written here. It should be opened only after the Rajkumar returns with the answers." Saying this, the yogi left. Maharaja secured the amulet in the treasury vaults and relaxed. His successor was before him. He had nothing to worry about, he thought. Rajkumar would definitely come up to his expectations and get the right answers.
Rajkumar Arisudana was brought up with lot of love and care. As he grew up, his parents told him about the yogi and his three questions. Rajkumar wanted to leave immediately but Maharaja and Maharani did not permit him as he had not attained the age of fifteen.
On the day of his 15th birthday, Rajkumar Arisudana rose early in the morning. He was given a ceremonious bath. He then performed puja in the royal temple along with his parents. A grand Durbar was organised on the occasion. He was seated on a rosewood pedestal in the centre of the Durbar Hall while Rajguru chanted mantras from the holy scriptures. Tilak was applied on his forehead. He was then dressed in white robes like that of a common man. Maharani offered him sweets and a glass of milk. Maharaja and Maharani, both garlanded him. A pouch containing fresh and dry fruits, saamgri for performing puja, Gangajal and an additional set of clothes, was placed on his shoulder. He was now set to leave the palace. Maharaja, Maharani, Mahamantri and Rajguru accompanied him. At the palace gate, two decorated horse driven carriages were waiting. Maharaja, Maharani and Rajkumar got seated in one and Mahamantri, Rajguru and others in the second. These carriages drove them towards river Surbhi. People of Arunagiri thronged both sides of the road leading to Surbhi. They were raising slogans and praying for safe return of the Rajkumar. On reaching the river bank, they all alighted from the carriages. Maharaja and Maharani embraced Arisudana and then led him to a boat decorated with flowers. Arisudana took the oar in his hands and waved to his parents and the people. Maharaja and Maharani stood motionless, tears trickling down their eyes. They watched their prince rowing away till he was out of their sight.
Next morning, as the Sun sent its first rays into the palace, Maharani woke up. As usual, she paid obeisance to the rising Sun. Arunagiri, the capital of her kingdom Batsala, was so located as to receive the Sun's rays first. But this morning was different from other mornings. Rajkumar Arisudana's absence was being felt everywhere. Maharaja gathered courage or at least put a brave face but Maharani was deeply distressed. She could not hide her grief.
[[
Rajkumar Arisudana reached the outskirts of his kingdom in the afternoon. He tied his boat to a tree, threw away all flowers and garlands into the river, lest some one recognise him. He set on foot towards an unknown destination. While on his way, he came across a big shady tree and decided to take rest before proceeding further. He hung his pouch on a branch and laid down. He soon fell asleep.
When Rajkumar woke up, it was almost dusk. He noticed a stranger sitting beside him. The stranger asked him who he was? In order to keep his identity hidden he said, "I am Ananta. I hail from Batsala. I have set forth for the world outside my country in search of a livelihood. Who are you and what is this village called as?" The stranger said, "I am Anusuya. This village is 'Rudraloka'. I hail from a village called 'Chandri'. It is a day's journey from this place. I plan to spend the night in a temple nearby and leave for my village early morning. You can accompany me if you so wish." Rajkumar Arisudana, who was now Ananta, nodded in agreement. They reached the temple after a short walk. Both of them had some fruits and milk for dinner and decided to rest for the night.
Next morning, after taking a bath and performing puja in the temple, they left for Chandri village. On the way Ananta noticed, Anusuya was not as old as he appeared the previous night. He was probably middle aged, good looking, though lean. During their journey, they ate whatever Ananta carried in his pouch. They reached the village late in the evening. Anusuya asked Ananta, "Where do you go now? You must be very tired. Why don't you spend the night with me and leave for your destination tomorrow?" Ananta readily agreed.
On reaching his home, a small hut made of bamboo and hay, Anusuya called out to his wife. A young lady appeared at the door. Anusuya introduced her as Pushpalata, his wife and informed her that Ananta would be staying with them for the night. Ananta observed that the place, though clean, clearly reflected the poverty of its owner. Pushpalata, soon brought a bucket of hot water and washed their feet. She then served them a good meal. After dinner Ananta stretched himself on the floor and soon fell asleep.
On waking up next morning, Ananta did not find Anusuya around. He enquired with Pushpalata. She told him that Anusuya had left for the fields at dawn. She also told him that she had prepared flour cakes and soup for Anusuya, which she was going to deliver to him. Ananta thought he could give some relief to Pushpalata. So he volunteered to carry the food for Anusuya, to which Pushpalata agreed. She added some more cakes and soup for Ananta.
Anusuya was ploughing the land. He had only one ox and in place of the other, he had put himself. He was perspiring profusely. Looking at Anusuya's pathetic condition, Ananta thought to himself as to what could be the cause of Anusuya's extreme poverty? He became curious . He wanted to know more about Anusuya and help him. On seeing Ananta, Anusuya stopped and retired to a green patch. Both of them opened the pack and had the soup and the cakes. While they were having their lunch, Ananta broached upon the subject. Anusuya, finding a sympathetic friend, began narrating his life story.