Between Ourselves
… M.L.Mattoo, President
Dear Biradri Members, Namaskar.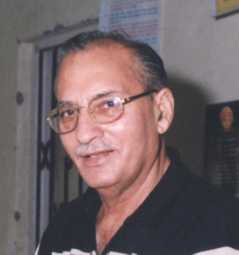 • We have now regularised 'MILCHAR', the mouth piece of Kashmiri Pandits of Mumbai on bi-monthly basis, thanks to all those who put their efforts into it.

• Our AGM was held on 14th September 2003, but I am sorry to state that the required attendance was not there. Basically this is the occasion where lot of interaction can take place and I still emphasize that without your commitment and the participation, we cannot carry out our programmes. Following important decisions were taken:

a) To renovate patients' flat on priority basis. It was announced that Smt Somavati Wazir, mother of Sri Surinder Wazir would bear the cost of this renovation in the name of her late husband Shri Shyam Lal Wazir. The General Body expressed its thanks to Smt. Wazir for the kind gesture.

b) The office flat renovation with the help of an architect would be taken up in second phase.

c) As a step towards the office automation, purchase of a PC was approved. This would enable us to mainatain all important records at Kashyap Bhawan, and also pave way for its effective working.

• A week back I participated in the Executive Body Meeting of AIKS at Jammu for two days on 20th and 21st September 2003 representing KPA Mumbai. Delegates from the affiliate units all over India participated. Decades after, AIKS has become active under the able Presidenship of Shri M.K.Kaw. The draft agenda on National Policies on Kashmir, AIKS Constitution and the Social and Cultural Reforms were discussed in the meeting and various suggestions from affiliate members were incorporated. In addition, a Common Minimum Agenda for KPs was also discussed so that all affiliates can work in cohesion towards a common goal. Besides this, AIKS will constitute an expert group to draft a suitable legislation for creation of Management Body on the pattern of SGPC to look after the shrines, temples, cremation grounds and other religious places of Kashmiri Pandits in the Valley. It was also decided to constitute a high level committee to draft an act for the take over, management control and protection of left over property, land, orchards and other assets belonging to displace persons in Kashmir. A resolution was passed for reservation of 10% quota for migrants in the State and Central Government departments in the Valley for a period of next 10 years, as also for reserving 10% share in the jobs announced by the Prime Minister for the State recently. All the delegates were worried over the declining demography of Kashmiri Pandits in camps and the marriage trend, as a good number of outside-community marriages took place after the exodus.

Adoption of Devanagri as one of the scripts for Kashmiri Language, in addition to Nasthaliq, was strongly asserted by all affiliate representatives. I am glad to announce that the KPA Mumbai takes a lead in this direction by implementing the use of new Streamlined Devanagari-Kashmiri script from this issue of Milchar.

Our Zaan programme was much appreciated in the meeting and it was said that it is being discussed with other persons who are working on the Kashmiri Primer all over India and abroad. The meeting concluded with a press conference at Ambphala. An open house discussion with local Kashmiri Pandit intelligentsia and an opinion gathering on unity from all political parties, was also held at the Press Club, under convenership of Shri Shyam Kaul Journalist, where a lot of emphasis was laid on living and unemployment plight of migrants in camps. I am personally thankful to Shri TN Khosa, President Kashmiri Sabha, Jammu, for making elaborate arrangements for the meetings.

• A Kashmiri Language Workshop was held at Kashyap Bhawan on 7th September 2003. This was in preparation to the 4th Kashmiri Quiz Contest to be held at the same venue on 19th October 2003. Though attendence at the Workshop was very thin, it is expected that the Quiz Contest will be well attended. I request biradari members to come forward and give this programme a boost.