Report & Biradari News
Annual General Meeting:
Annual General Meeting of the Kashmiri Pandits' Association, Mumbai was held on 14th September 2003 at Kashyap Bhawan. Apart from transacting the normal statutory business, decisions with regard to renovation of flats and modernisation of Kashyap Bhawan office were also taken.
Kashmiri Language Workshop:
A Kashmiri Language Workshop was held at Kashyap Bhawan on 7th September 2003 under the Project Zaan. The objectives of the Workshop were a) to promote Spoken, Reading and Writing Kashmiri; b) to acquaint with the Standardised Devanagari-Kashmiri Script and c) to improve the Content and Conduct of Kashmiri Language Section of the 4th Kashmiri Quiz Contest. This workshop, besides emphasising upon the use of Devanagari script for Kashmiri, also dealt with the use of Roman script for readng and writing Kashmiri. It has always been felt that some people, though interested in the Kashmiri language, are not familiar with the Devnagri script. For them, Roman is an alternative and it was amply proved in the Workshop.
4th Kashmiri Quiz Contest:
This Quiz Contest will be held on 19th October 2003 at Kashyap Bhawan. The Contest is open to children as well as elders. Timing is 11.00 am to 5.00 pm. Refreshment and working lunch will be served to the participants.
News from Bangalore:
According to a press release, the Kashmiri Visthapit Seva Samiti, Bangalore organised Janamashtami celebrations in the city on 19th August 2003 with full traditional gaiety. The programme started with Aarti, followed by Bhagvat Geeta pravachan and Bhajan Kirtan and concluded with a Maha Mangala Aarti at midnight. The programme was attended by a large number of KP families and Kashmiri and north Indian students.
Appeal for immediate financial aid:
Reproduced here, is an appeal from Vikesh Kaul of Dehradun, requestiong financial help on humanitarian grounds. The appeal has appeared in the July issue of 'Harmukh', the official organ of Kashmiri Sabha, Dehradun:
'I, Vikesh Kaul, S/o Late Sh. S.N.Kaul, R/o Narparistan, Srinagar, was caught in a cross fire and nearly died during an encounter between army and militants. I had to abandon the Valley with my mother and sister to Dehradun on 20th December 1992. During the course of my treatment at Dehradun, I received a severe stroke of parapligia, which has left my lower part of the body beyond control. In consequence to the above, I am now confined to a wheel chair for the last nine years with 60 % disability. We are presently putting up in a hired yet meagre accomodation at 22, Sumanpuri, Adhoiwala, Dehradun (Tel: 2789926). I am completely dependent on my mother and sister for all the bodily functions which remain beyond my control. I am barely striving for survival on the very meagre resources which have already exhausted. We are on the verge of starvation. I request through our 'Harmukh' that district administration, NGOs, societies and individuals to come forward and help me out of this crisis.'
Appeal for Donations:
Kashmiri Pandit Sabha, Amritsar has appealed to KP Biradari for donations for the reconstruction of Shivala. Donations may be sent to Shivala & Trust Kashmiri Panditan, Chowk Farid, Amritsar.
Kashyap Foundation:
Kashyap Foundation and its off-shoot Kashyap Cooperative Housing Society had both its General Body Meetings held on 21st September 2003 at Verova, Mumbai. The Cooperative Society has enlisted about 120 members while more than 55 have paid the first instalment towards acquisition of land. The Society is vigorously following its goal of having a cooperative housing society for Kashmiri Pandits in Mumbai.
Shri Jagar Nath Saproo - Artiste remembered:
On 16th August 2003, ISKCON had organised a music concert by the celebrated vocal maestro Pt. Jasraj at Nehru Centre. The concert was dedicated to the memory of Shri Jagar Nath Saproo - Artiste, father of Shri Surdasji, the Vice President of ISKCON, Mumbai.
Four new Hits of Girija Pandit: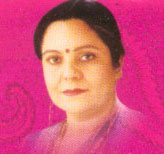 Girija Pandit has issued another set of four cassettes of music titled

. Though the writer, composer and singer of divine tune has some songs in this collection which could be not necessarily devotional, it is many a times difficult to draw a line between secular and the sacred. This collection shows a maturity of higher order from Girija. The tunes are more Kashmiri and the music quality is high.
In this collection, she has also sung some numbers from her revered father Shri Janki Nath Kaul. He is a pious soul, involved in the search for the Ultimate, and is very well respected for that. For us, his songs speak the truth (for audio clips, go to http://koshur.org/music/GirijaPandit/index.html)