Report & Biradari News
Workshop on Enhancing Personal Effectiveness: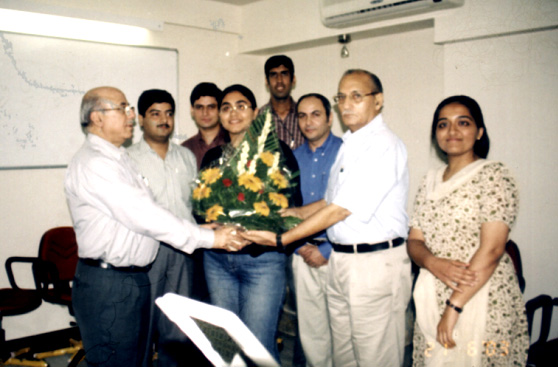 A Bouquet being presented to Dr. Om Kaul
This Workshop was conducted on 21st June 2003 in Mumbai for the youth of our biradari, as part of ongoing 'Service Activity' of KPA, with the idea that such events enhance the community relationship along with the career development. This probably is a unique event for a social and cultural organisation like ours. Some of the topics discussed were:
a) Understanding the Concept of Personal Effectiveness. b) Understanding one's Personality Development Areas. c) Enhancing Social Effectiveness. d) Building an Effective Career.
The participants were young Kashmiri Pandits occupying managerial positions in various companies, including other young persons completing their MBA courses. The programme was conducted by none other than the eminent International Management Consultant Dr. Om Kaul. A flower bouquet was presented to Dr. Kaul by Shri M.L.Mattoo, President, KPA as a token of appreciation.
The Board of Trustees, KPA extends thanks to Dr. Om Kaul for acceding to its request and conducting the programme successfully.
News from AIKS
According to a Notification issued by the General Secretary, AIKS, the following additional office bearers have been nominated to various positions in the Executive Committee :
(1) Shri L.N.Kaul, Kolkata - Vice President, East Zone. (2) Shri D.N.Kaul, Lucknow - Vice President, Central Zone. (3) Shri S.K.Dudha, New Delhi - Treasurer. (4) Shri Rajinder Premi, Jt. Secretary.
Correction
In the list of Vice Presidents of AIKS (Milchar April-May 2003), the name of Shri R.K.Mattoo (Bangalore), appointed as Vice President -Southern Zone, was erroneously left out. The error is regretted.
Kashmiri Sahayak Sabha, Chandigarh
Transfer of the Kashmiri Bhawan building in the name of Kashmiri Sahayak Sabha Charitable Trust, Chandigarh was approved by the Estate Officer, Chandigarh Administration. Our congratulations to the Sabha.
Durganag Yatri Bhawan Inaugrated
Yatri Bhawan at Durganag, Srinagar was inaugurated on 12th July 2003 by His Holiness, the Shankaracharya of Shingeri Math and Pt. Mangat Ram Sharma, Dy. Chief Minister of J&K. Mr. Omar Abdullah, MP was also present on the occasion, representing his father Dr. Farooq Abdullah. Shri P.N.Takoo, President of the Durganag Trust welcomed the guests.
Birth:
Smt. Seema Mattoo (W/o Shri Sunil Mattoo) of Saraswati, Suchidham, Goregaon gave birth to a baby boy on 6th May 2003. The child has been named Ishaan. May God bless him.

Change of Address:
Mattoo Sunil
Old Add: 101, Saryu B-Wing, Suchidham.
New Add: D-403, Saraswati C.H.Society,
Suchidham, Goregaon (E), Mumbai 400 097.
Tel: 28491056.

Pandita Anil Kumar
New Add: A-1, Flat No. 10, RCF Colony,
Kurul, Alibaug, District Raigad 402 201.

Pandit Som Nath
Old Add: Neminath, Shastri Nagar, Vasai.
New Add: Flat No. 502, Bldg. 1-B,
Raheja Nest, Andheri (E), Mumbai 400 072.
Tel: 28573362.