Milchar
October-November 2003 issue
Kashmir's Silk Embroidery with floral patterns
Between Ourselves
… M.L.Mattoo, President
Namaskar.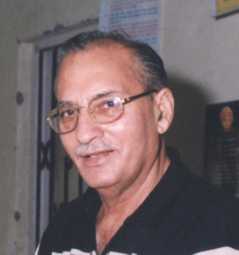 • On Sunday, the 19th October 2003, we had a unique occasion at Kashyap Bhawan where we had organised the 4th Kashmiri Quiz Contest under Project Zaan and simultaneously the inauguration of the much awaited renovation of the accommodation reserved for patients coming to Mumbai for specialised treatment. A large number of Biradari members were present on the occasion. Along with this we also had a visit and blessings of Jagatguru Shankaracharya Shri Swami Amritanand Devtirthji Maharaj of Kashyap Meru (Kashmir Peeth, Srinagar), nominated by the Varanasiya Vidvat Parishad, Kashi Governing body of the 'Shankaracharyas' who has assumed his Aasan at Shankaracharya Temple, Srinagar on 13th September 2003. The renovated flat was inaugurated by Smt. Somavati Wazir W/o of Late Shyam Lal Wazir along with Jagatguru Swamiji. A small pooja was performed by our guruji Shri Ramji Sabni in the flat along with the B.O.T. members. A lunch was sponsored and served by Shri. Om Takoo, Proprietor 'Poush' restaurant, Andheri (W). Our sincere thanks to him for his voluntary service.
Swamiji explained to the members his action plan for Jammu and Kashmir. He also had an exclusive and brief meeting with the B.O.T. members, giving details of the priorities he had earmarked in a Memorandum submitted to the President of India. Text of the Memorandum is given somewhere else in this issue.
•Project Zaan : 4th Kashmiri Quiz Contests under this Project were conducted on the same day in the afternoon. For this, lot of efforts had been made by the organisers but the participation was discouraging. Trophies were also given away to the last year's winners. Our assessment is that we desire and talk a lot about maintaining our language and heritage but fail to act on it by non-participation. World over is a cry by our community that language is the only bonding factor which should be learned and spoken by all of us, more so by our children, but action is nowhere. Kindly give it a thought again.
•B.O.T was pleased to authorise a donation of Rs. 10.000/- to A.I.K.S. and a DD was handed over to the President A.I.K.S. at New Delhi recently.
•During my recent visit to Jammu, I had a lot of interaction with various Kashmiri Pandit organisational heads, like Shri T.N. Khosa, Shri Vaishnavi, Shri H.L.Chatta and Shri R.K.Bhat (AIKS youth) about their activities and fulfilling various social obligations and mitigating the miseries of the migrant community. A great service being done by them indeed. One of the unique occasion observed was performing the mass Yagnopavit ceremony of nearly 30 boys by the All India Kashmiri Pandit Sanatan Dharam Sabha, Jammu - a laudable community service taken up by its leaders every year.
•I had a long standing desire to visit the Migrant Camp Schools in Jammu. I took an opportunity to visit the Muthi, Purkhoo & Mishriwalla camp schools and collected some first hand information. One of the visible and often spoken plight of these children is undernourishment, due to which they suffer from joint pains, rickety legs and paleness. The basic requirements for this is medicines like Calcium, Iron and other energy revitalisers. I shall try to make a brief report of this to circulate among the Biradari members and try and procure these medicines through their good offices. Another pathetic situation in the Camps is the problem of unemployment of youth who have completed their graduation or high school education. Many of these youths are prepared to return to the Valley and get killed rather than remain unemployed.
On the other hand the Chief Minister, Mufti Sayeed has thought of a novel way of giving jobs to the Muslims under the guise of combating militancy by planning to give a stipend of Rs.3000/- to each terrorist who surrenders to the government and would also be on the pay roll of the state government like any other employee. In addition an amount of Rs.2,00,000/- would be kept in a fixed deposit for each of the surrendered militant. The irony is that not a single political outfit of the Kashmiri Pandits has raised their voice against this policy of the government. This the reason why the government of India has taken us, the Kashmiri Pandits, for granted and Mufti has the audacity to say in a recent press interview in London, that the Kashmiri Pandits are a miniscule community and are capable of taking care of themselves.