Milchar
January-February 2004 issue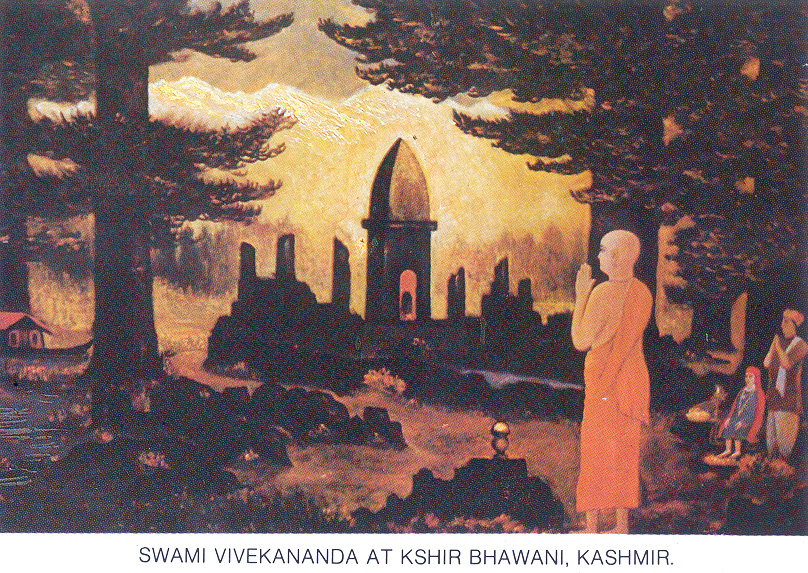 Swami Vivekananda at Kshir Bhawani, Kashmir

Between Ourselves

Editorial

From the Pages of History

Health

Viewpoint

Our Heritage

Script for Kashmiri Language - Part 1

Introspection

Holocaust Day

Stories

for

the Children

National Schools of Kashmir - Part 3

Spirituality & Religion

Poems

Children's Page

Report & Biradari News
Report & Biradari News

Heritage Lottery Fund
Britain's Heritage Lottery fund has sanctioned aid of £45,000.00 to Kashmir Bhawan Centre, Luton to start a website on Sir Aurel Stein manuscripts pertaining to Kashmir, which are available in Oxford University's Bodelein Library. The Deputy High Commissioner of India officially launched the project at the India House on 17th December 2003. A number of representatives of press, media and distinguished scholars and members of Kashmir Bhawan Centre were present. The Deputy High Commissioner gave a detailed account of works executed by Sir Aurel Stein who was an Indologist, Archeologist, Geographer and Translator.
During the coming years, Kashmir Bhawan Centre in Luton will help Shri S.N.Pandita an Indian scholar and grand son of Shri Nityanand Shastri who assisted Shri Aurel Stein in translating Kalhana's Rajtarangini and Hatim's tales and Dr. Evison, Chief Librarian of Bodeline Library to jointly work on the Kashmir manuscripts collection available in the library. There are 300 manuscripts considered precious Treasures of Kashmir history, language and literature which bear remarkable stamp of oriental legacy.
Felicitated :
Dr. Motilal Anand Vaishnavi of Health Care Delivery Systems, International Technology Resc. Centre, Civil Hospital, Gandhinagar, Gujarat was felicitated at the Annual Ceremony of India International Friendship Society, New Delhi. The ceremony was held at the Hotel Holiday, Juhu, Mumbai on 11th November 2003, where a Seminar on 'Economic Growth & National Integration' was held along with the presentation of awards. Shri Vaishnavi was honoured with the India's most coveted Institutional and globally reputed Presentation of 'Bharat Jyoti Award' along with a 'Certificate of Excellence'.
Shri Vaishnavi is a life member of Kashmiri Pandits' Association, Mumbai.
Annual Hawan:
This year, the Annual Hawan was performed at Kashyap Bhawan, Bhawani Nagar, Andheri. Hawan started at 3.00 PM on 7th February. Puran Ahuti was offered at 2.00 PM on 8th February. About a thousand biradari members partook Naveed on the occasion.
Milchar Editorial Board:
Shri J.L.Manwati has been appointed as Associate Editor of Milchar. The decision was taken in a meeting of the Board of Trustees of Kashmiri Pandits' Association, Mumbai on 25th January 2004.
'tsók módúr' released:
This book of short stories in Kashmiri by Shri M.K.Raina, a member of the Board of Trustees of KPA and Co-editor, Milchar, was released in a function held at Kashyap Bhawan, on 26th January 2004. The book was released by Shri J.N.Kachroo, Ex. Principal, National High School, Srinagar and a founding member of the Project Zaan. It is worth mentioning that the stories are written in Standardised Devanagari Kashmiri Script side by side with the Indo-Roman Script, the first attempt of its kind, for benefit of the readers.
Akruti Kashmiri Software:
The Cyberscape Multimedia Limited, under a package arrangement with Shri M.K.Raina, have released Akruti Kashmiri Software, the modified version of their Akruti Devanagari Software. This software is upgraded with the inclusion of three new diacritical marks of the Kashmiri Script as approved by the Standardisation Committee headed by Dr. Roop K. Bhat of Northern Regional Languages Centre.
It may be mentioned that another Kashmiri Software namely 'Arinimal', is already available free of cost from Shri Sandeep Bhat of Penfosys, Pune, the developer of the software.
AIKS Delegation meets Frank Pallone Jr.
A delegation of All India Kashmiri Samaj (AIKS) led by its President Mr. M.K.Kaw met Frank Pallone Jr., Chairperson of Kashmir Task Force of the India caucus, in New Delhi on 11th January 2004 and discussed the emerging situation in Kashmir particularly after the successful India Pakistan summit and the SAARC declaration on terrorism and SAFTA. The delegation represented all affiliates and associates of AIKS. Amongst those who were part of delegation included Mr Sunil Shakdher, Vice President AIKS and President, Kashmiri Samiti Delhi (KSD); Mr H.N.Jattu, Vice President AIKS and President, All India Kashmiri Pandit Confrence (AIKPC); Mr. M.L.Kaul General Secretary AIKS; Mr. Shiban Dudha, Treasurer and Political Advisor, AIKS; Dr. M.L.Hashia, Vice President Kashmir Sewak Samaj, (KSS) and Dr. B.L.Khachroo, President Kashmiri Pandits United Forum (KPUF).
At the outset the president Mr Kaw expressed gratitude on behalf of the community in exile for the uninhibited support from the US Congressman in the International fora for espousing the cause of internally displaced community. The delegation emphasized that the Pandits are against any division of Kashmir and they were having feelers from different shades of opinion in Kashmir, including mainstream political parties and those who have a difference of opinion to initiate a dialogue on their return and political rehabilitation with honour and dignity.
The plight of Pandits still living in Kashmir valley was also discussed with Mr. Pallone. He was given a first hand account of their miseries which had compounded due to continuous indifference shown by the state and central Governments. Mr. Pallone was all support for AIKS stand on Kashmir.
Frank Pallone, Jr. is known for his great love and respect for India. Very few know that he has also championed the cause of other suffering people around the globe, be they native American tribes in the U.S.A. or victims of genocide such as Armenians and Kashmiri Pandits, or those who died in the Bhopal Gas Tragedy. Congressman Pallone was the inspiration behind the creation of the India Caucus in the U.S. Congress in 1993 and served as its Co-chairperson until 1998. While his personal passions include environment and health care, he has long campaigned for granting a permanent security council seat for India, closer military tied between Israel, America and India, and continuation of rogue nation status for Pakistan on account of its various misdeeds.
Mr. Frank Pallone has not taken up the cause of Kashmiri Pandit community in exile only in US but has time and again vociferously presented the plight of this community with highest Indian authorities as well. In recognition of his relentless services to the Kashmiri Pandit Community in exile, he was honoured with a shawl and a momento. AIKS also acknowledged the contribution of Dr. Vijay. K.Sazawal of Indo American Kashmir Forum (IAKF) for his espousal of the cause of Kashmiri Pandits in exile at the higher levels of US administration.
(Input: AIKS)
News from Faridabad
vúshún athvàs: Under the auspices of KSS Faridabad, a congregation of the Kashmiri Pandit artistes living in the National Capital Region organised 'vúshún athvàs' at Sharika Bhawan, Faridabad. The artistes met in two sessions. Morning session started at 11.00 am and involved discussions about the present state of exiled Kashmiri Pandit artistes and the ways to establish them, as the Music, Theatre and other art forms of Kashmir can be saved by saving our artistes only. All the artistes present expressed their concern about their recorded numbers with Radio Kashmir Srinagar. The record of the credits of the artistes has been destroyed by the radio Kashmir authorities after the turmoil in 1990, so that no artiste can claim that these songs have been sung by him/her. The artistes vowed that they will do their best to re-record the number sung by them when they were in Kashmir.
The mindset of Kashmiri Pandit community regarding the artistes was also underlined by the artistes. They are specially invited (to sing) for the 'Mahendiraat'. The artistes pledged to change this mindset, so that they are not taken as mere marriage singers.
The evening session involved a cultural programme at Sharika Bhawan Auditorium, where many KP artistes participated and gave their performances. The artistes included Mrs. Archana Sopori, Abhishek Raina, Darshana Mehra, Dhananjay Kaul, Sanjeev Raina Gautam,Mrs. Sushma Kalla, Pulkit Premi, Satish Handoo, Subhash Handoo, Rohit Das, Sandeep Kaul, Usha Talashi and Dalip Langoo. Shri Roop Krishan Kaul accompanied the artistes on Tabla, Sunny Nayak on Dholak and Sonu on the Keyboard. Programme was compared by Shri Dileep Kumar Kaul.
At the end, the artistes presented a Memento to Shri J.N.Kaul Papaji to express gratitude for his encouragement. Shri Subhash spoke on behalf of the KSS Faridabad and thanked everybody for cooperation.
Navreh at Hari Parvat, Faridabad:
According to a a message from Kashmiri Sewak Samaj, Faridabad, Navreh, will be celebrated on March, 21, 2004 at Hari Parvat, Anangpur, Faridabad, in a befitting manner with fervour and gaiety. The programme will include Satsang, discourse on Art of Living and exhibition of Sacred Relics of Pir Pandit Padshah Reshi Peer Sahib, besides Maha Yagna.
The Committee is making efforts to bring the 'RELICS' of Peer Pandit Padshah, RISHI PEER, to Hari Parvat, for the "Darshan" of the devotees. The "RELICS" will be accompanied by a group of immediate descendents of the great PEER Sahib.
Satguru Sri Sri RAVI SHANKER, the founder of the 'Art of Living' will also give a discourse. Ms. Chitra Roy, famous singer and party will lead Satsang. Distinguished Kashmiri Artists will present a two hour programme of Kashmiri Music.

Nuptials :
Tejasvi D/o Smt. Sarla & Shri M.K.Kachroo of Chembur was married to Shailendra, S/o Smt. Savita & Shri S.P.Bakshi of Delhi, at Delhi on 17th November 2003.

Alok, S/o Smt. Usha & Shri Ashok Tiku of Indra Darshan, Oshiwara married Sumedha, D/o Smt. Sarla & Shri Avtar Krishen Tikoo of Indore at Indore on 7th December 2003.

Sameer, S/o Smt Meena Wanchoo of Vile Parle, Mumbai was married to Pritika, D/o Smt. Rita and Dr. N.K.Shah at Kolkata on 19th January 2004.

Parag, S/o Smt. Asha Kaul of Gandhi Nagar, Bandra was married to Sheetal, D/o Smt. Asha & Shri Radha Krishen Tikoo of RNA Complex, Mira Road at Mumbai on 26th January 2004.

Shikha, D/o Mrs. Nirmala and Late Tej Kishen Tiku of Pune was married to Prashant, S/o Mrs. Pinky and Mr. Vijay Kumar Gupta at Mumbai on 31st January 2004.

Ashish, S/o Smt. Meena & Shri Ashok Dhar of Model Town, Mulund was married to Anshi, D/o Smt. Veena & Shri Tej Krishen Raina at Delhi on 31st January 2004.
Yegneopavit (Thread ceremony) performed :
Parag S/o Smt. Asha Kaul on 23 January 2004

Ashish S/o Smt. Meena & Shri Ashok Dhar on 26th January 2004.

Arvind S/o Shri Radha Krishen Tikoo on 23rd January 2004.
===============================
Editor-in-Chief: P. N. Wali. Printed and Published by C.L.Raina for and on behalf of Kashmiri Pandits' Association (Regd), Kashyap Bhawan, Plot No: 16, Bhawani Nagar, Marol Maroshi Road, Andheri (E), Mumbai 400 059.
Tel: 28504954. E-mail: kpamumbai@yahoo.co.in
Printed at Expressions, Vasai 401202. Tel: 0250-2342777.
===============================