Milchar
March-April 2004 issue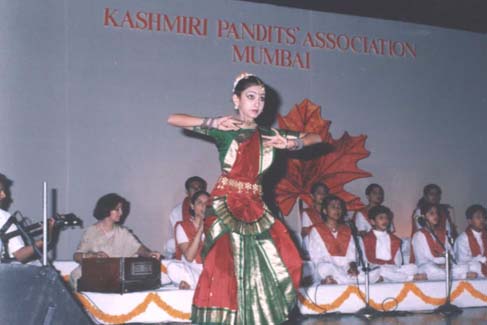 Kashmir's Students of the Vinod Sur Shringar Music Academy

performing at the Annual Cultural Nite at Rang Sharda, Bandra

Between Ourselves

Editorial

From the Pages of History

Sweet and Sour

Rejoinder

Our Heritage

Language

Spirituality & Religion

National Schools of Kashmir - Part 4

A Story dedicated to Project Zaan

Poetry

Children's Page

Report & Biradari News

Book Release

Letters
Between Ourselves
… M.L.Mattoo, President
Namaskar.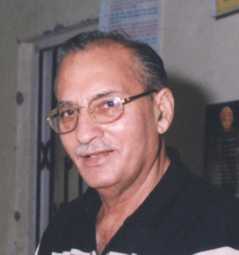 •The year 2003-2004 Cultural Programme 'Posh Nool' held on 27th March at Rang Sharda was well received by our biradari members. This event and the Annual Hawan have become the main focus of our community.
Kashmiri Pandits' Association, over the years now, has endeavoured to present a broad spectrum of our cultural aesthetics on the occasion, and truly so, this programme was conceived, developed and presented by amateur and professional artistes from our biradari members with beautiful and marvellous stage settings of 'Chinar' leaf and 'Dejihoroos'. Audience appreciation was remarkable as they stayed till end of the programme.
I am grateful to each one of the artistes and performers. My sincere thanks are to Smt. Rita Kaul and her troupe, Smt. Nirja Pandit, Smt. Jaya Bhan, Smt. Veena Kaul from Pune, Shri Sunil Mattoo (Trustee), Shri Pankaj Raina, Shri Sanjeev Kaul and his team for their willing participation. My thanks are also to Shri Chand Dhar and Shri Bharat Pandit for the efforts they put in as anchors to conduct the programme and to keep the audience in good humour.
My thanks to management of Rang Sharda and our Vice President Shri J.L.Kak for their help and cooperation. I thank all the advertisers for releasing their advertisement for our Souvenir, and the biradari members who worked zealously for obtaining the advertisements.
• This year, the Souvenir was dedicated to the memories of Late Onkar Aima and Late Shanta Kapoor (erstwhile senior Trustees of our Board) for their involvement, intregation and dedicated service to the community.
• The 'Life-time Contribution Award' for the year 2003-2004 was conferred upon Dr. Nand Lal Zutshi, our past President and now a US resident. He had worked with his unparalleled ability, integrity and honesty for the welfare of the community for decades together. This Award was received by his sister Smt. Leela Mam on his behalf as he was away at Rishikesh.
• Sequel to the honour recently conferred upon three of our brothren, Maj. Gen. T.K.Kaul, AVSM, VSM, GOC Maharashtra & Gujarat, Shri Bhajan Sopory - the Music Maestro and Shri Anupam Kher, renowned versatile artiste, by the President of India, being a matter of pride for the community, our BOT felicitated them by presenting 3-volume set of Rajatarangini and a flower bouque to their wives. Shri Anupam Kher, however, being away in London, could not be present on the occasion.
• Shri Sunil Fotedar of USA was presented in absentia, a 'Special Zaan Award' for his dedication towards Project Zaan and propagation of its programmes through internet at the international level.
At the end, Maj. Gen. T.K.Kaul, Shri Bhajan Sopory and Mr. Javed Amin, J&K's Asstt. Resident Commisioner in Mumbai, who was also present in the auditorium, were highly appreciative of the Programme.
• In response to a humanitarian call for help of one Smt. Lalita Kabu of Dehradun through 'Harmukh', a sum of Rs.5000.00 was sent to her to augment the expenditure on her ailing son. Smt. Kabu a widow, has no regular source of income and she has already lost her elder son because of cancer.