Milchar
March-April 2004 issue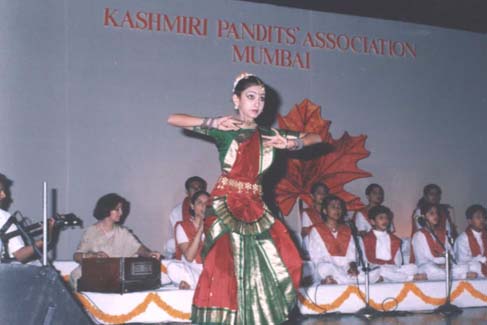 Kashmir's Students of the Vinod Sur Shringar Music Academy

performing at the Annual Cultural Nite at Rang Sharda, Bandra

Between Ourselves

Editorial

From the Pages of History

Sweet and Sour

Rejoinder

Our Heritage

Language

Spirituality & Religion

National Schools of Kashmir - Part 4

A Story dedicated to Project Zaan

Poetry

Children's Page

Report & Biradari News

Book Release

Letters
Report & Biradari News

REPORT :
Annual Cultural Nite 'pòshû nùl' :

"Tedious but Captivating". "Could have been crisper". "The room for improvement in the stage management was felt". "Themetic attempt of evolution of Kashmiri music and contribution of Radio Kashmir was well conceived". "Backdrop of chinar leaf in autumn and two pands on either side depicting 'déjíhòr' and 'atûhòr' created hitherto never-seen background ambience". "Enjoyable entertainment capsule with interesting skit with a message". "Could have been less time consuming". "Could never imagine that Mumbai has such a huge talent in Kashmiris".
These were some of the reactions / comments of the biradari members on the Annual Cultural Nite held on 27th of March 2004 at Ranga Sharda, Bandra, Mumbai.
This year, the musical component of the Cultural Programme was theme-based - 'the evolution of Kashmiri Music in the post-independence era and the role played by Radio Kashmir in popularising Kashmiri folklore. The Programme conceptualised by Shri J.L.Manwati, was organised and presented by Mrs. Rita Kaul voluntarily as usual, after she worked on for weeks upon the concept together with artistes and performers. The chorus support for the entire programme was rendered by the talented non-Kashmiri students of Vinod Sur Shringar, who, to the amazement of the audience, rendered songs in Kashmiri dialect with impeccable diction.
The musical capsule opened up with 'Shraddha Vandana' followed by 'Käshúr Vanvún'. The capsule embodied the salient features of Kashmiri music like, Bajan, Nàt, Lìla, Lådìshàh, Lúkûbäth, Chhakûr, Gúlrèz and finally it ended with crescendo of Bollywood songs based on Kashmiri folk like in 'Mission Kashmir' and recently released 'Sheen' of our own Ashok Pandit. The nostalgia of time-old songs, sung originally by veterns like Mohan Lal Aima, Mohd. Abdullah Tibetbaqal, Raj Begum, and rendered by our own artistes, created an atmosphere of our own land of origin in the real perspective. Nirja Pandit's come-back after 3-year sabbatical was appreciated and her renditions added a different hue to the Programme. 'Sanawun ye Santoor ....' song was a pleasanr surprise to even Bhajanji, who was present in the auditorium. Veena Kaul had come all the way from Pune. She treated the audience with selected 'Vaakhs' of Lalla ded and her rendition of Raj Begum number was a hit. Pankaj Raina rendered Naat 'Ya Nabi gosh....' originally sung by Mohan Lal Aima, with intensity and poise. The voluntary participation of our talented artistes and performers not only make us proud, but reminds us that we are a vibrant community.
The performance of our young brigade, (which no longer is young now) defies the normal conception of stamina. In 15 days time, Sanjeevji thought, conceived, scripted, casted the actors and rehearsed day and night, and produced a wonderful skit which held audience captive till past-midnight. This band, we have to admit, has abundant talent and rich repertoire and the knack to establish a rapport with the audience. The skit based on three generations, in the period of time, reflected our present social millieu in which we are ensnared. The message-oriented climax was indeed plausable.

Life-time Contribution Award:
This year, annual 'Life-time Contribution Award' was awarded to Dr. Nand Lal Zutshi, who being stuck-up in Rishikesh, could not be personally present to receive the Award, which was received on his behalf by his sister Smt. Leela Mam.

Felicitated :
Another feather added to the Musical Nite this year was that Padamshree Awardees of 2004 from the community viz Shri Anupam Kher & Shri Bhajan Sopori, and the recipient of AVSM, Maj. Gen. T.K.Kaul, AVSM, VSM, were felicitated by the Kashmiri Pandits' Association. A 3-volume set of Kalhana's Rajatarangini by M.A.Stein was presented to the distinguished members of the community.

Special Zaan Award :
One more landmark feature of the Award Presentation Event was that a 'Special Zaan Award' was, in absentia, given to US based Shri Sunil Fotedar, who selflessly and on his own volition created a website for the Project Zaan, and thus gave it electronic wings. The Award was received by Shri Ashok Pandit on his behalf.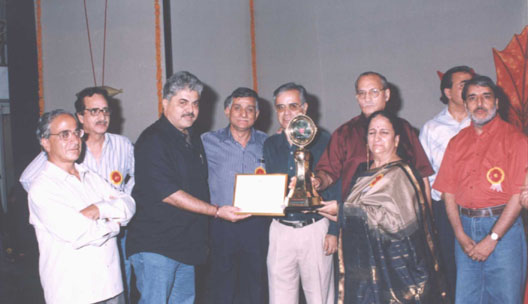 Film Director Shri Ashok Pandit receiving the Special Zaan Award on behalf of Shri Sunil Fotedar. The Award, presented by Shri M.L.Mattoo, Chairman Lalla Ded Educational and Welfare Trust, Mumbai on 27th March 2004, was given to Shri Sunil Fotedar for his unrelenting support to Project Zaan.

The entire programme of 4 hours ( shall we call it tedious or enjoyable), was anchored with great aplomb by Chand Dhar and Bharat Pandit. It reminded audience of Jugalbandi of Shah Rukh Khan and Saif Ali Khan in the recently held Filmfare Award function - minus 'Kantaben Episode'.

NEWS :

'Sheen' shines at Geneva convention:
Ashok Pandit who is 'championing the case of displaced Kashmiri Pandits', is all set to release his issue based film 'Sheen' on May 7. Recently, the filmmaker just couldn't stop talking about his experience at the recent 60th Session of the UN Commission of Human Rights in Geneva. Apparently, 'Sheen' has been screened at the special showing and received a standing ovation from the audience. "It was quite an experience for me. There were representations of Lashkar-e-Toiba and different terrorist organisations right there seated in front of me. I am glad to say that everyone liked 'Sheen', and I am sure the Indian audience too will take to it. It is an issue-based entertainer and people should not mistake it for a dark film. The film that was screened in Geneva was a 90-minute festival version of the actual film", revealed Pandit. (Times of India, April 19, 2004)
The film has been released on 7th May 2004.

Appointed :
Dr. Maharaj Krishan Bhan, well known Pediatric Scientist, is the new Secretary of the Department of Bio-Technology, Government of India. Dr. Bhan's name was cleared by the Appointments Committee of the Cabinet on January,13, 2004.
Dr. Bhan is currently Professor of Pediatrics and Chief, Pediatric-Gastroenterology and Nutrition at the prestigious AIIMS, New Delhi. His contribution in the developement of various Vaccines against diseases in Children have been widely acknowledged. His guidelines for Oral Rehydration have reached the Physicians all over the country and helped in reduction of Child Mortality. He has published over 150 Research Papers. He is the Chairman and Member of several Advisory Committees of the Child related programmes in the country.

Bhagawad Geeta Interactive CD Released:
This multimedia CD, developed and marketted by Penfosys Pvt. Ltd., Pune (Sandeep Bhat) includes the complete Geeta along with the text of the Sanskrit Slokas and their authentic translation in English, Hindi, Marathi and Gujarati. It includes melodious chanting by Shri Swami Brahmananda and translations by H.H.Swami Chinmayananda of Chinmaya Mission. The CD is priced at
Rs. 1200.00. Shri Sandeep Bhat has offered a discounted price of Rs. 750.00 for members of the KP biradari. Contact at Tel: 020-5884148/4467913.
E-Mail: sandeep@penfosys.com

Kashmiri Ramayan now here :
Ramayana in Kashmiri was written by Pt. Prakash Kaul, more than one and half century back. It was a great piece of poetry, devotion and a skillful presentation of the great epic. But it has not reached the common man. Today is the need for something more concise, palatable and accessible. Girija Pandit has done it. She has come out with rendering of Ramayana from start to the end in one tape length (60 minutes). The word flow is excellent and appropriate to the theme. I have many times tried to find whether she is greater as a poet or a singer? The decision is difficult.
This time Girija shares singing laurels with our talented young artist Sohail Kaul. Both have played equal part in giving voice to this epic to the music composed by Girija herself. Their singing makes Ramayana come alive
The cassette has been released by Nice Music Industries and costs Rs. 35.00 apiece.

'Yadvatur' Audio Cassette and CD released:
'Yadvatur', a collection of Sufi songs based on the lyrics of Ahmed Dar, Ghulam Nabi Gohar, Habba Khatoon, Abdul Ahad Azad and other folk songs, sung by Nirja Pandit was recently released in Jammu. The collection is a heartfelt homage by Nirja Pandit to a well known music composer of Kashmir and her teacher Nassarullah Khan. The music track, which also includes a 'Naat' was recorded in Srinagar under the supervision of Nassarullah Khan Sahib himself. Nirja Pandit is a renowned singer and a member of the Mumbai biradari.

Book Released:
'A Thousand Pettaled Garland', a book of poems in English authored by Dr. K.L.Chowdhury was released at a function held by 'Sabzar' NGO on 5th March 2004 at Jammu. The book was released by Mr. Vijay Bakaya, IAS, Planning Commisioner, J&K Govt. The function was presided by Dr. Amitabh Mattoo, Vice Chancellor, University of Jammu.

Awards for the Meritorious Students:
Shrimati Rajlaxmi Kaul Memorial Trust, Virar proposes to award prizes to the meritorious students from Std. I to Graduation, who are declared successful in the annual examination in the first attempt in the academic year 2003-2004. One Prize per class will be awarded to the top scorer, in the form of books only. Other students who satsify the conditions will be awarded Merit Certificates. Last date for submission of Marks Sheet and the student's bio-data at the registered office of the Trust is 7th July 2004. For further details, please contact the President, Shrimati Rajlaxmi Kaul Memorial Trust, G-10, Suman III CHS Ltd., Chhatrapati Shivaji Marg, Virar (W), 401303. Tel: 250-2503596

Nuptials:
Dr. Sanjeev Kaul, S/o Mrs. & Mr. A.K.Kaul of Crescent, Ambedkar Road, Khar, was married to Ankush, D/o Mrs. & Mr. Reshi of Delhi on 5th December 2003.
Births:
A male child was born to Amita and Rohit Kachroo of Garden Estate, Pokhran Road No.2, Thane on Ist April 2004.
Obituary

Ah! 'Lala'

With the passing away of Pt. Raghunath Kaul (Vakil) endearingly called 'Lala' on 12th of April, 2004 at Pune, after a brief illness, the curtain has fallen on the life of a octogenarian (born in 1914) - a noble and distinguished son of Mother Kashmir.
Born into a family of lawyers (the reason why 'Vakil' epithet got bracketed with their Kaul surname), Raghunath Kaul (Vakil) joined the family profession after qualifying himself in Law from Lucknow in late thirties.
Raghunath's childhood was spent in a joint family where he learned his lessons in loving, caring, sharing and above all, bonding. His moral and ethical values smoothly flowed down in him, as inherited attributes. Education in jurisprudence taught him to be judicious.
The political vicissitudes of Kashmir taught Lala to be a keen political observer and an analyst. The Qabaili Raid of 1947 and the determination with which Kashmiris withstood this onslaught and the maturity exhibited by Muslims at the time of 'Moi-Muqadas' tragedy had non-genetic impact on Lala's persona. Lala was 'Batta' to the core. At a time when some Kashmiri Pandits in a bid to exhibit proximity with the powers that be, had wrapped themselves in the garb of pseudo-nationalists, Lala demonstrated that he could also join the nationalist stream and yet maintain the 'Batta' distinction.
Though an ardent believer in 'Kashmiriyat', Lala believed that the quintessence of Kashmiriyat was more of an 'act of faith', rather than the influence of Sufism, as we were made to perceive.
However Lala felt as if cheated, at the hands of his Muslim colleagues and friends who turned mute spectators when the plans to oust Pandits from the land of their origin were executed by the very people who swore by Kashmiriyat. Disillusioned Lala left Kashmir harbouring in some corner of his heart, sweet memories of his long and fruitful life in the Paradise - now lost, who knows, perhaps, forever.
-J.L.Manwati