Milchar
March-April 2004 issue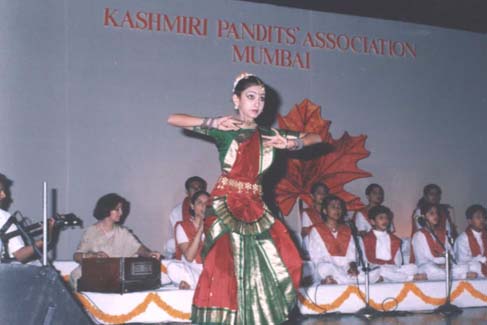 Kashmir's Students of the Vinod Sur Shringar Music Academy

performing at the Annual Cultural Nite at Rang Sharda, Bandra

Between Ourselves

Editorial

From the Pages of History

Sweet and Sour

Rejoinder

Our Heritage

Language

Spirituality & Religion

National Schools of Kashmir - Part 4

A Story dedicated to Project Zaan

Poetry

Children's Page

Report & Biradari News

Book Release

Letters
Book Release
'Kashmir and the Convergence of Time, Space and Destiny'
- Dalip Langoo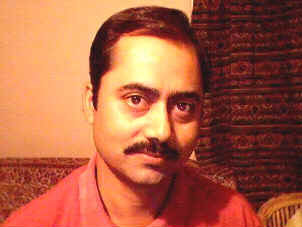 The book 'Kashmir and the Convergence of Time, Space and Destiny', authored by Patrizia Norelli-Bachelet (Thea), gives an in-depth study of Kashmir and the prominent position it holds in the destiny of India. Thea is the Director of Aeon Centre of Cosmology in South India. Her special contribution to the world of Vedic wisdom is a uniquely Indocentric geo-cosmology, one of its kind. In her numerous published works Thea has brought the ancient formulas into our contemporary world as an example of the need for a periodic renewal. In her books she reveals how this is done. The author has dedicated thought provoking essays to His Holiness Jagat Guru Sri Bhagvaan Gopinath ji, his disciples and devotees, and the community of Kashmiri Pandits. The essays mention of how the destiny functions and relates to our individual and collective destiny. In fact correcting ourselves and paving the way to fulfill destiny in its most exact way that enables the things to lead towards complete harmony, which further is responsible for all peace around not crisis at all.
Least realise that the community is at the dying stage but the words of Ma of Pondechery are enlightening, which she revealed to Dalai Lama -"Before leaving her body, after a visit from the Dalai Lama in 1972, the Mother, Sri Aurobindo's co-worker, commented on precisely our situation: a community, and an ancient community at that, dispersed, cast out of their homeland and with apparently no help to counter forces set on their total. She commented that when such a fate comes to pass the community must look deeply within itself; a dispersal of this nature usually indicates that some form of renewal, restructuring has to come about".
What we want is total peace and harmony and I must say that this book on Kashmir is worth inspiring and preserving one, which speaks of our grief and explain the Vedic and new ways to learn about the same. The book is available from Aeon Books, P.O.Box 11, Kodaikanal, Tamil Nadu, India 624101. E-mail: pheidt@sancharnet.in
Price: Rs. 108/- PLUS Courrier charges.

J.L.Manwati adds: Estoric doctrines, we have to admit, can be fathomed by either the 'chosen ones' or by the 'initiated ones'. 'Kashmir and the Convergence of Time, Space & Destiny' is a book that is to be read, and assimilated, only then some comprehensible attempt could be made to give one's own comments on this inscrutable work of Ms. Thea.
The author believes that the Vedic knowledge in its original form has, with the passage of time, got curiously mixed up with post-Vedic era, and the result is whole equilbrium of the 'Time & Space' of the entire Cosmos has lost the balance, putting in disarray the Vedic Astrology, Vedic Cosmology and the Vedic fundamentals of Divine Maya. She believes that these days we measure 'Time & Space' through the western Zodiac system 'Sayana', disregarding the original Vedic astrological system 'Nirayana', which she feels is responsible for all the 'ills' of India as a country in general, and Kashmir in particular, which according to her is 'most vital area in India for preservation of Sanatan Dharma. Thea would like us to believe that had we Kashmiri Pandits taken cognizance of convergence of Time & Space, according to Vedic system, we would have premonition of the perdition that befell us in 1989 and onwards. Thus 'Dashavtar' theory of Evolution is both intriguing and thought provoking. It is hureculean task to pinpoint at what period of time did the 'Vedic Time' got mingled up with the later versions of vedas, so that we could fix the age of Avtars or their Ascendent Birth constellations on the 'Map of the Time', to determine the future of India and more particularly of Kashmir.