Milchar
May-June 2004 issue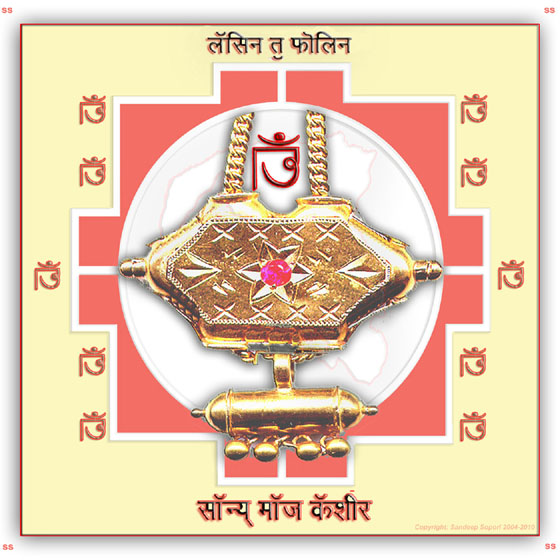 Kashmir's International KP Logo - Proposed & Designed by Sandeep Sopori, USA

Between Ourselves

Editorial

From the Pages of History

Sweet and Sour

Our Heritage

A Story dedicated to Project Zaan

Poetry

Children's Page

Report & Biradari News

Book Release

Laughs
Message from the President
Between Ourselves
M.L.Mattoo, President
Namaskar.

• This year, June month remained very hectic for KPA to liaise with the Director, Technical Education, Maharashtra State, Mumbai. It was because this year onwards, as per the ruling of Supreme Court, DTE decided to condut CET for Ist year Engineering courses for all students, including J&K Migrants. This was putting our students from Jammu, Delhi and other states to lot of inconvenience financially as also on account of railway reservations so as to be in Mumbai on two occasions, i.e. for CET and Counselling, as the gap between the two was very large. Hence a team comprising myself, Shri C.L.Raina (General Secretary, KPA), Shri Virander Takoo (Trustee KPA) and Shri A.N.Vaishnavi, who had come from Jammu, met Prof. N.B.Pasalkar Director, Technical Education, Maharashtra a number of times, explaining our difficulties and pleading that the CET should also be conducted at Jammu & Delhi. Finally after our persuations and with the help of Shri M.K.Kaw, President AIKS, New Delhi through AICTE, New Delhi, the Director agreed to hold CET at National Institute of Technology, Jammu and Bhartiya Vidyapeeth, New Delhi. Our sincere thanks to Prof. N.B.Pasalkar and his team for acceeding to our request.

•All India Kashmiri Samaj held its Executive Body Meeting and AGM at Jammu on 18th to 20th June where KPA Mumbai, being an affiliate, was invited to attend. I attended the meeting on behalf of the KPA, Mumbai. During the Conference, an interaction meeting with various J&K political organisations, proved to be very fruitful, advising all Kashmiri Pandit organisations to get their act together under one umbrella. On the 3rd day of the Conference, the guest speakers were Lt. Gen. (Retd) S.K.Sinha, Hon'ble Governor, J&K State, Shri M.K.Rasgotra, Former Foreign Secretary, Govt. of India, and other important KP leaders. The proceedings and the Resolutions passed in the Conference are separately mentioned in this issue.

•KPA received requests from the Principals of Muthi, Purkho and Jhiri/Mishriwala Camp Govt. Mixed Higher Secondary Schools, Jammu for their requirement of Uniforms, Note Books and School Bags for about 150 economically weaker students. Out BOT sanctioned Rs. 25000.00 for the purpose. We took the opportunity of my presence at Jammu and distributed the above items personally to the students.
In addition to above, a request from the Head Master, Camp School, Jhiri/Mishriwala, Jammu for requirement of hygeinic drinking water, a Eureka Forbes H1-F10 Aqua Guard Water Purifier was fitted at the school premises at a cost of Rs.8500.00. The gesture was very much appreciated by the parents of the students and the press.
I must record my thankfulness to Shri S.K.Jalali and Shri Sandeep Kaul for the support they provided me during my engagement at the Camps.

•We have received the following donations for our Relief activities:
M/s KREBS Biochemical and Industries Ltd., Hyderabad: ... Rs. 25000.00
M/s Anna Bulk Carrier, Mumbai ... Rs. 8500.00

•In response to a humanitarian call for help from New Delhi, a sum of Rs. 5000.00 was sanctioned by the BOT, KPA and sent to the person concerned as a token gesture for his medical treatment.
A list of about 20 unfortunate destitute persons who continue to live in the Valley, alongwith a request for some relief was received and discussed by our BOT. Our Association selected five persons (blind, deaf and dumb, paralytic and sick with terminal diseases) and adopted them for this year (for the time being). A sum of Rs. 6000.00 have been sent to each of them by DDs.

•Lastly I believe, 'Milchar' subscriptions have not been renewed by a large number of our Biradari members. Kindly do subscribe as soon as possible, so that you have a copy in your hands. All that you need to do is to send us a Cheque for Rs.100.00 (subscription for one year) drawn in favour of 'Kashmiri Pandits' Association, Mumbai'.

Thank you.