Navreh Sandesh
- Pt. Pawan Ji Pandita

Navreh, is an ideal time to contemplate on our current journey from the past 22 years, the new rays of the sun in the morning of the Navreh Vikrami 2069 bring with it new enthusiasm and a new message. Somewhere in the womb of darkness of the night light was getting nurtured and finally appeared in the morning giving us the message of a new life. We see a lot of negativity all around us; this is the darkness of the night. But we shouldn't lose hope. From this womb of darkness itself the light of truth will emerge.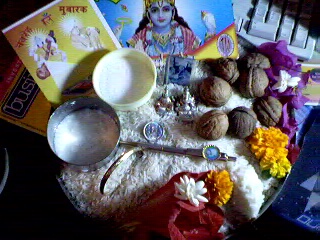 Navreh Thaal
Courtesy: Dalip Langoo
Our work is not to continue seeing this womb of darkness, but to bring a change in this. A teacher like Chanakya can change the whole authority and the country's reputation leading to an efficient ruling.

In order to see a brighter future for us, we need to start to bring about a change today and begin with ourselves. The NavrehDay is an ideal day to make a resolution for our Baradari. On Navreh & Zangtri musical entertainment,singing songs and serve "Kahawa, Looch and Kulcha"is also necessary, but is not only abou for these things.. If we believe that this is all we should do on our Navreh & Zangtri days, then we will remain in the same state as today for the next several decades.

Building our characters is the only way forward to eradicate this womb of darkness.
May this Navreh Vikrami & Zangtri bring the light of truth, love and sacrifice in all our lives. 

With Blessings
Pawan Pandita
www.kashmiriguruji.com
---
We celebrate New Year's Day, Navreh, on Chaitra Shukla Paksha Pratipada which mostly fall in the month of March and April. The word 'Navreh' meaning the New Year. New year should be full of happiness, health and prosperity we keep a Thali which is filled with rice, curd, 'Kulcha' bread, boiled rice , nine walnuts, pen, fresh flours, some money and 'Nishpatri' Panchang and see the same in the morning hours 'Pratakaal'. We lose a lot in these twenty one years. Migration might be a pleasure to someone who loves to be comfort and adding wealthy lifestyle. In fact, The same migration to the man who loves and respect his own culture and mother land always feel the pain of migration. The barbarous killing of  Kashmiri Pandits which have forced us to leave our own motherland. However the government is keen to provide a healing touch to militants. But the legendary Kashmiri Pandits, who were virtually exterminated from the Valley, have not even received the displaced status. 
Our community is not yet awakening and are not coming forward to face this challenge. We always depend on others think they will come to our rescue, but now the time had come we should become one and fight for our rights. 
'Samana mantra samite samane Saman mana sah chit maysham saman mantrm abi mantray vah saman na voh havisha ju homi' (Rig Ved).
Our thoughts should be one, our nature should be one, our hearts should be one  and our aim should be one. Love and peace keeps us together. 
 
May God bless our community and give us that much of strength, so that we can face the coming challenges. I hope we will think over this and get ready. 
---