Pandit Harabhatta Shastri
'The celebrated scholar of Shaiva lore'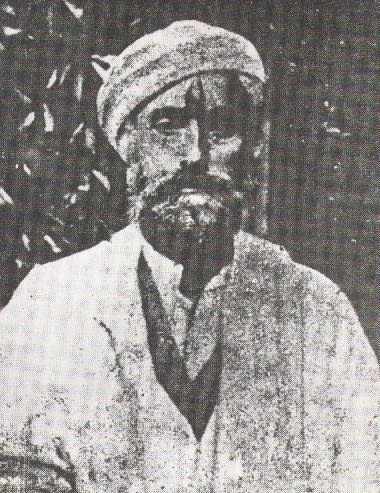 Pandit Harabhatta Shastri
[ Pandit Harabhata Shastri (HBS) is a name surrounded by a brilliant scholastic aura, though known to very small group of Sanskrit scholars of Kashmir (a tribe that is diminishing day by day). And even these few have nothing more than a sketchy information to give about the life and works of the great Pandit. Sadder still, when we at NSKRI sought to ascertain certain biographical details about him from some of his nearest surviving kin, we almost drew a blank. The great man who wrote the most brilliant gloss on 'Panchastavi' and brought out a series of Shaiva texts of Kashmir, is virtually unknown to most Kashmiri Pandits today.

It was an American scholar, Prof. David Brainered Spooner who came all the way from Harvard University to learn at the feet of Sanskrit scholars of Kashmir like HBS. We are giving below a brief biographical sketch of HBS who dazzled Dr. Spooner and came to be known as one of the greatest interpreters of Shaiva philosophy of Kashmir. Yet we acknowledge that a lot of light needs to be thrown on the celebrated scholar. Through these columns we request Kashmiri researchers and scholars who may have had the good fortune of coming into contact with HBS to provide us with more details about his life and works. ]
Born as Harabhatta Zadoo in 1874 in a family that has produced some of the top most Sanskrit scholars of Kashmir, HBS had learning running in his veins. His father Pandit Keshav Bhatta Zadoo was the Royal Astrologer in the Court of Maharaja Ranbir Singh, the then ruler of Jammu and Kashmir who was a great patron of scholars and scholarship. His nephew, Prof Jagaddhar Zadoo, has the credit of editing the first edition of the Nilmata Purana with Prof Kanji Lal. The Zadoos originally belonged to Zadipur, a village near Bijbehara in South Kashmir, but later migrated to Srinagar, their surname being linked to the village of their origin thereafter.
As an atmosphere of Sanskrit learning prevailed in the family, young Harabhatta took to it as fish take to water. Studying Sanskrit at the Rajkiya Pathshala in Srinagar, it was in 1898, exactly a century ago, that he obtained the degree of Shastri and came to be known as Harabhatta Shastri.
In view of his profound scholarship, HBS was appointed as Pandit, and later Head Pandit, at the Oriental Research Department of Jammu and Kashmir state, a post from which he retired in 1931.
This was the Maharaja's own way of patronising the learned men of his state.
His razor-sharp intellect, his great erudition, and, especially his deep insight into the Shaiva philosophy of Kashmir won him the esteem of such distinguished scholars as K. C. Pandey of Lucknow University and Prof James H. Wood of the College of Oriental Languages and Philosophy, Bombay. His repute attracted the well known linguist Prof Suniti Kumar Chatterji to him and he stayed in Srinagar for two years to learn the basics of the monistic philosophy of Kashmir Shaivism from him.
It was only after David B. Spooner came from USA to Kashmir to learn from scholars like HBS and NS that Sanskrit began to be taught as a subject at the Harvard University in 1905. At that time only nine students were studying Sanskrit out of a total of 5000 at Harvard.
In the meantime HBS engaged himself in scholarly pursuits which were to form the basis of his repute. He wrote his famous commentaries on Sanskrit texts from Kashmir which included the 'Panchastavi'-- a pentad of hymns to Mother Goddess. With his profound scholastic background and his deep insight into Shaiva and Shakta traditions, HBS explained and elucidated Shakta concepts contained in the Panchastavi in his famous commentary, specially on the 'Laghustava' and the 'Charastava' which came to be known as "Harabhatti" after him. These hymns, held in high esteem from quite ancient times in Kashmir, have a special significance for the votaries of Trika philosophy. There was a debate for quite some time on the authorship of 'Panchastavi', some attributing it to Shankaracharya, some to Kalidasa and some to Abhinavagupta. It was HBS who proved it convincingly that it was actually composed by Dharmacharya. This view was shared by Swami Lakshman Joo, too.
HBS also earned great repute for having compiled and edited nine Shaiva texts, with notes and explanations, which were published by the J & K Research and Publications Department under the general title 'Kashmir Series of Texts and Studies.' Other significatnt works by HBS include a commentary on 'Apadpramatri Siddhi' of Utpala, Vivarna on Bodha Panchadashika and Parmarth Charcha.
This "celebrated scholar of Shaiva lore", one of the greatest interpreters of the Shaiva philosophy of Kashmir, passed away in 1951. His illustrious American disciple, Dr. Spooner, often wrote leters to him and also to Prof Nityanand Shastri and Pandit Madhusudan Shastri. The letters he wrote to HBS have been lost, but those he wrote to NS have been preserved by NSKRI. In these letters he never forgot to mention HBS and remember "the great days" he had spent with him.
Source: Unmesh - Monthly Newsletter of N.S. Kashmir Research Institute