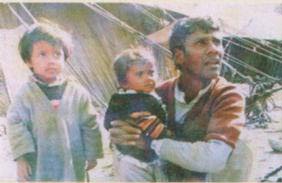 Terrorist Violence against Kashmiri Pandits in Kashmir
Terrorism in Kashmir is an ideological struggle with specified political commitments which are fundamentalist and communal in character.
Terrorist violence is aimed at achieving the disengagement of the state of Jammu and Kashmir from India and its annexation to Pakistan. It is, the continuation of the Islamic fundamentalist struggle for the homeland of Pakistan which claims Jammu and Kashmir state on account of its Muslim majority character.
The major dimension of the terrorist violence in Kashmir is the terrorists' commitment to the extermination and subjugation of the Hindus in the state because Hindus do not subscribe to the idea of separation from India, nor do they expect to be governed by the authority of the state which derives its sanction from the law and precedent of Islam. Kashmiri Pandits (Hindus) have always been in the forefront of the struggle against secessionism, communalism and fundamentalism. Hence this peace loving minority with a modern outlook became the main victim of terrorist violence. The strategies involved in the terrorists' operation against the Hindus in Kashmir include:

The extermination of Hindus
Subjecting Hindus to brutal torture to instill fear among them in order to achieve their submission.
To engineer a forced mass exodus of Hindus from the land of their ancestors and birth by way of issuing threatening letters, kidnappings and torture deaths on non-compliance of the terrorists' dictates and ensure the destruction of the secular and pluralistic character of the socio-political fabric of the Kashmiri Society.
Attacks, molestations, kidnappings, gang rapes of the women folk of the Hindus in order to instill fear and humiliation in them.
Destruction and burning of the residential houses of the Hindus who leave their homes in look out for safety. Looting of their properties and appropriation of their business establishments to ensure that they do not return.
Attachment of their landed property.
Destruction of the social base of the Hindus by the desecration and destruction of their places of worship.
Appropriation of the property of the Hindu shrines and its attachment to Muslim religious endowments.