Parmayogi
Sh. Som Nath Dhar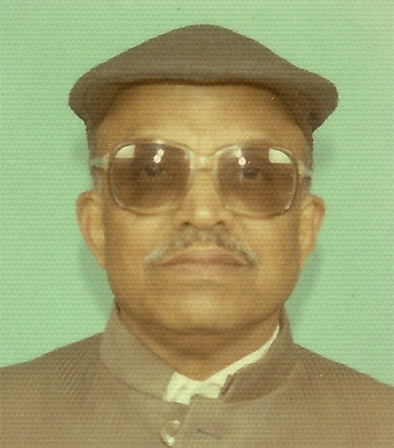 Parmayogi Sh. Som Nath Dhar
Parmayogi Sh. Som Nath Dhar was born on 27-Nov-1935 in Anantnag district of Jammu & Kashmir. His parents, father Pandit Maheshwar Nath Dhar and mother Smt. Dhanwati Dhar were tremendously religious and simple human beings. He had a sister and has a younger brother, Dr. D N Dhar who is equally religious and probably one of the best Persian scholars of the country. Parmayogi was employed in J&K Education department from where he retired as a Senior Lecturer (English) in 1993. He was very well known and respected throughout the length and breadth of the state for teaching even complex literature in a simple to understand format. That was the greatness of him as a Teacher. He left for the heavenly abode on 30-Nov-09. He is survived by his wife, Smt Roopa, two daughters, Smt Meena Dhar (who is working as a Sr. Accounts officer in AG's office, Jammu), Smt Jeeta Peshin (Officer in State Bank of India, Jammu) and two sons, Sh. Sunil Dhar (SAP Practice Lead for Price Waterhouse Coopers for Mumbai region) and Sh. Kamal Dhar (working as a Sr. Manager in Accenture at Bangalore).
From his childhood, Parmayogi was into religious studies and would spend lot of time in spiritual and religious activities and discourses. In 1992 he joined "Self Realization Fellowship" of Paramguru "Paramahansa Yogananda". Although the family was a bit hesitant due to the fact that he would have to meditate 6-7 hours daily at such an age, he was pretty clear that he wanted to attain the self realization and needed a Guru for this purpose. He was well read and studied all the religious texts (Mahabharata, Shri Bhagwadgitaji, Ramayana, Upanishadas, Puranas, Veds and various other religious scriptures including Holy Bible, Japji Sahab and Holy Quran to understand the similarities between various religions). His Yogic studies and meditation took him to an altogether different world. After completing all the Kriyas in Self Realization Fellowship he went to his last Guru Sh. Shibendu Lahiriji Maharaj and with his blessings completed the last (2300) kriya in September' 09. Guruji Shibedu Lahiriji Maharaj is a master of Kriya Yoga and he selected Somnathji among all the disciples present in Benares and gave him the last kriya. Even Guruji conducted a langar in memory of Dhar sahab at Banaras on 8-Jan-10 which was attended by thousands of saints and the family members. He was well versed in Hindu rituals and Poojas and Pandits conducting Pooja, Mekhul & marriages would love him as he encouraged and gave them moral support in their activities rather than showing he knew better than them.
Relationships and leadership which is very important in modern corporate world and for what training is imparted to their leadership team spending millions of dollars and efforts in so many forums was ingrained naturally in Parmayogi. He was a born leader. He was General Secretary for the Sr. Lecture's Association. For those who have lived in Jammu in 1970s & 1980s, SRML Hr. sec School would always have violent fights between various groups of students. When Parmayogi was posted in the institution, one day same trouble erupted. While most of the respected authorities, decided to stay locked (and rightly so), he went to the students, communicated the divine words of Lord Krishna contained in Bhagwatgitaji. The effect was electric and seen to be believed. The students stopped the fighting, touched his feet and that day marked the end of battles in the institution. It was possible because he had a pious heart and that is what endeared him to one and all.
Parmayogi virtually took a sanyas (while still living at home with the family) in 1992 and remained in that state till his last day. For him there was no difference based on caste, creed, religion or status in society. He felt that till such time we do not take care of weaker sections of society we will not be able to reach God. He would always be busy with spiritual thoughts and convey the essence of Bhagwadgitaji and Yoga in simplest terms. He was respected across the spectrum and commanded respect from one and everyone, child and old. He believed in simplicity and would lead a simple life which embodies the spirit of Lord Krishna's sermon to Arjuna in the Mahabharata better known as Shri Bhagwadgitaji. He would welcome one and all and would respect even children with hand folded namaskar and bowing of head. When his children would ask him why he bowed his head even to children, he would saintly say that he is bowing his head to God as all of us are embodiment of God.
Parmayogi has written about 200+ Kashmiri Bhajans and 150+ English poems. At the age of 74 he attained Self Realization.
Courtesy: Sh. Kamal Dhar