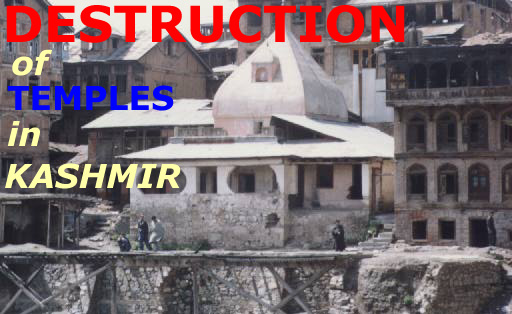 Table of Contents
Atrocities in Kashmir
Destruction of Temples
Desecration of Hindu Temples in Kashmir from the advent of Islam 1339 A.D.
Temples Destroyed and Desecrated in Feb. 1986
Temples Destroyed and Desecrated from 1987 to 1990
Temples Destroyed and Desecrated from 1990-Dec. 1992
Temples Destroyed and Desecrated after Dec. 6, 1992
Temples Vandalized in Kashmir after December 6, 1992
Press & Police Reports
A list of Temples Destroyed




The Press on Demolition of Temples

INDIAN EXPRESS
DEC.15,1992

J-K MILITANTS DEMOLISHED 40 TEMPLES, 150 HOUSES

SRINAGAR: Kashmiri militants have destroyed at least 40 temples and 150 houses during the past five days, even as pro-militant political leaders urged Muslim countries to enforce economic blockade on India for the Ayodyha incidents. Most of the incidents have been reported from rural Kashmir, especially Anantnag district in the south and Baramulla and Kupwara districts in the north. In Srinagar city, a temple and seven houses at Banamoholla and a cremation shed at Karan nagar, Migrant houses at Jawaharnagar, Natipora and some other localities were burnt. In villages like Wadipora in Kupwara, Chinigund, Verinag, Peba and Doru in Anantnag, Shergund in Baramulla, Kokernang and Chack-e-Narain, entire settlements of minority houses schools, Dhramshallas and Ashrams were reduced to ashes. While official figures said nearly 14 hundred were burnt, the minority community put it around 4000. Several precious Idols of Antique value were also burnt close with the temples.

The house of eminent Kashmiri poet, Sarwanand Premi at Amnoo in Kulgam was also reduced to ashes.

---

DAILY EXCELSIOR
Dec. 31, 1992

Report on UMANAGRI TEMPLE
(FROM SWAMI SVOYAMANANDA)

On Dec. 8th, 1992 the militants attacked and set on fire the Uma Nagri Complex. In the complex an old Dharamshalla depicting the Kashmiri art and craft was not even spared and everything was destroyed within the temple. Besides Sh. Dhooni Shab which was burning since 1872 day and night even during the rule of Pathans has also been set on fire. In addition to it the famous temple constructed of marble stones inside a poll of water named Shiv Shakti Kund also was not spared. It was recently constructed at a cost of more than Rs. 10 to 12 Lakhs and with the help of people but it has been raised to ground by the hand grenades by the militants.

---

DISTRICT POLICE OFFICE ANANTNAG
No: DYSPDAR/ 1109
Dated: 15-2-1993
Shri Swami Svoyamananda, Ashram
Camp Kashmiri Pandit Sabha,
Ambphalla, Jammu Tawi

Sir,

Kindly refer your letter No.1507 Dated: 25-1 -1993, regarding demolition of Uma Temple by blasting on 8th Dec.1992. In this regard the FIR copy of the said incident is enclosed herewith for your kind persual. The buildings of the trust have been gutted completely due to the fire. The Uma Devi Idol has been broken by the miscreants into the pieces, but the structure of the Temple is intact. The iron railing is partly damaged.

Hence the report is submitted for your kind perusal.

Your Sincerely,
sd/-
(Superintendent of Police)
District Anantnag.

Enc:- FIR copy vide No. 40/920/S 436, 295.

---

DAILY EXCELSIOR
DATED: AUG. 10, 1995

97 TEMPLES DAMAGED IN MILITANT ATTACKS IN VALLEY

New Delhi Aug.9: As many as 97 Temples were burnt or damaged in the incidents of terrorist violence in Jammu and Kashmir from 1992 till July this year and 1747 civilians lost their lives in the last 19 months, the Lok Sabha was informed today.

The Minister of State in the Prime Minister's office Mr. Bhuvanesh Chaturvedi said in a written reply. 31 Temples were damaged only this year, and added that security arrangements have been made in vulnerable areas including regular patrolling by security forces for the protection against possible attacks by militants.

From 1990 onwards ban was inposed by terrorist groups on the annual Shri Amar Nath Ji Yatra continuously upto 1995. For last two years the district administration of Anantnag has kept itself away from making Yatra arrangements. The local Ponywallas, shopkeepers, hotellers and suppliers of tents for Yatris have also boycotted the Yatra.

For Hindus the temples have been centers of spirltual solace and places of philosophical discourses and discussions. Their desecration, after independence, in Kashmir has ramificatlons ------ unknown till date.