Rai Bahadur Pt. Shyam Manohar Nath Sharga "Saghir"
An intellectual giant with a poetic mind
By Dr. B.N. Sharga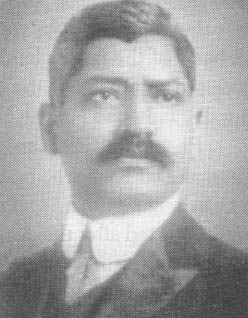 Hinduism as we all know is no religion. It is actually a way of life being governed by the Vedantic wisdom. It has been evolved over thousands of years by different learned saints and sages through their doctrines, who were actually the original thinkers and philosophers.
The most ancient and pioneering text on the Vedantic philosophy is Yoga Vashishta, in which sage Vashishta exhorts to adopt the path of Karma or duty, giving equal emphasis on acquiring Gyan i.e. wisdom and knowledge. One of the ardent admirers of the doctrine of Yoga Vashishta was Rai Bahadur Pt. Shyam Manohar Nath Sharga "Saghir" who dedicated his entire life in the pursuit of knowledge and wisdom and achieved glorious heights in academic excellence. He became a shining star of the community whose extraordinary contributions in the various fields became memorable landmarks for the future generations to draw an inspiration from them for all times to come.
The ancestors of Rai Bahadur Pt. Shyam Manohar Nath Sharga were the famous Dattatreye Kauls of Rainawari mohalla in the Srinagar district of the Kashmir Valley. He was a descendant of Pt. Narain Kaul (1640-1712). His ancestor Pt. Zind Ram Kaul came to the imperial capital Delhi from Kashmir in the fag end of the 17th century during the rule of Mughal emperor Aurangzeb (1658-1707) through the old Mughal route via. Murree, Rawalpindi and Lahore. He was a Sanskrit and Persian scholar and a very good horseman with fighting abilities. After sometime due to his good physique he got a job in the Mughal imperial army. He was placed in the mounted regiment under the command of Siddiq Beg Khan Bahadur. He then started living in Bazaar Sita Ram in Delhi with his family members.
Pt. Zind Ram Kaul had a son Pt. Sahib Ram Kaul, who was also a good scholar of Sanskrit and Persian language like his father. As in those days the jobs were generally given from father to son on the basis of the family background, so he was also placed in the mounted regiment of the Mughal army under the command of Murshidzada Ifaq Nawab Mohammad-ud-Daula.
Pt. Sahib Ram Kaul had two sons Laxmi Narain Kaul and Niranjan Das Kaul who had their traditional education in Urdu and Persian language in a Maktab at Delhi. As the decline of the Mughal empire started after the death of Aurangzeb in 1707 and the people started migrating from Delhi to other places for better job opportunities so both Pt. Laxmi Narain Kaul and his brother Pt. Niranjan Das Kaul then came to Faizabad in Oudh around 1770 to get some good job in the court of Nawab Shuja-ud-Daula (1753-1775) who was at that time encouraging these migrations from Delhi to his seat of power at Faizabad. Since both these brothers had a very good physique and were skilled horsemen and fencing experts so Nawab Shuja-ud-Daula readily made them commanders of his royal mounted guards, which was an elite force to look after the security of the royal family members. They were entrusted with the task of looking after the security arrangements of Nawab Shuja-ud-Daula's daughter in law Begum Shamsul Nisa and her jagir, who was not having very cordial relations with her husband Nawab Asaf-ud-Daula well known for his great fancy for Iranian fad, so much so that when his son Wazir Ali succeeded him after his death in 1797 the British Resident refused to accept him as the ruler of Oudh and his legal heir. Because Nawab Asaf-ud-Daula's wife Shamsul Nisa had made a complaint to the then governor general Warren Haistings to that effect.
Here it must be kept in mind that Nawab Shuja-ud-Daula's principal wife Ummatul Zohra popularly known as Bahu Begum who was an adopted daughter of the Mughal emperor Mohammad Shah Rangiley, was the richest Begum of Oudh. Her ever growing source of income was a very big jagir, which included the places like Gonda, Jais, Kharu, Allka, Rukka, Parsiddipur, Salone and Samanantar with districts like Nawabganj, Gharaiyya Khas, Begum Bari, Mecoganj and Sindh. She was entitled to collect taxes from the meat merchants and branding cattle. Apart from all this she owned an extraordinary collection of rare jewellery worth crores of rupees.
Bahu Begum used to manage her big jagir by about 10,000 regular and irregular soldiers. Her royal force of 2,000 horsemen was under the over all command of Ahmad Ali ably assisted by the commanders like Pt. Laxmi Narain Kaul and Pt. Niranjan Das Kaul. She also had a fleet of 25 boats at her disposal. So that way she used to command a great authority over the administration of Oudh. She saved the crown of Nawab Shuja – ud - Daula after the battle of Buxar by paying a huge war compensation and loan to the British. She became so much pleased with the performance of both Pt. Laxmi Narain Kaul and his brother Pt. Niranjan Das Kaul on the various battle fronts that she granted a royal Wasiqa a sort of hereditary pension of 200 Shahi rupees per month to each one of them equivalent to present 30,000 rupees besides few villages as jagir in the Farrukhabad district. They were the two out of 12 eminent persons who were especially selected by Bahu Begum for this royal honour. She bestowed the title Sharga upon them. The jagirs of both these brothers in the Farrukhabad district were confiscated by the British later on after the death of Nawab Asaf - ud - Daula in 1797, when the British out of turn installed his half brother Nawab Saadat Ali Khan on the throne of Oudh in 1798.
Nawab Shuja-ud-Daula died in 1775 at Faizabad. After his death his eldest son Nawab Asaf-ud-Daula became the ruler of Oudh who then shifted his seat of government from Faizabad to Lucknow in 1775 just to avoid too much interference of his mother Bahu Begum in the day to day administration. When Lucknow became the new capital of Oudh then naturally both Pt. Laxmi Narain Kaul Sharga and Pt. Niranjan Das Kaul Sharga also came from Faizabad to Lucknow with the royal entourage and started initially living in Rani Katra with their family members in a rented accomodation.
Though the people used to sing paeans about Nawab Asaf-ud-Daula and his most liberal rule like jisko na de maula, usko de Asaf-ud-Daula but the real wealth and affluence was only confined with the nobles connected with his court whereas the life of a common man on the street was most miserable and pathetic. There existed one more world in Lucknow beyond the culture of palaces, which was full of filth and miseries. Reverend William writes in Indian Recreations published at London in 1804 thus, "Among all this blaze of wealth and magnificence, thousands of poor wretches are seen on the road to all appearance in real want. There is not perhaps in the whole compass of human affairs a more striking display of inequality of condition. Extravagant wealth is amassed in the hands of one man and is confined in the narrow circle of his favourites."
Pt. Laxmi Narain Kaul Sharga had three sons Prem Narain, Sheo Prasad and Durga Prasad, while Pt. Niranjan Das Kaul Sharga had four sons, Nar Singh Dutt, Badri Nath, Kanhaiyya Lal and Kedar Nath besides two daughters Chando married in a Mushran family of Rani Katra, and Meena who was married with Pt. Baij Nath Sopori of Kashmiri Mohalla, Lucknow.
Pt. Durga Prasad Sharga was born around 1797. He was a very good scholar of Urdu, Persian and Arabic language. He was employed in the Oudh court as a Mushirkar. It is said that when Lord Dalhousie dethroned the last king of Oudh Nawab Wajid Ali Shah on 7th February 1856 a delegation under the leadership of queen mother Malka Aliya went in May 1856 from Lucknow to England to pray before Queen Victoria of England to restore the throne of Oudh to Nawab Wajid Ali Shah. Pt. Durga Prasad Sharga was one of the members of this delegation in the capacity of an advisor of Malka Aliya. Though Queen Victoria refused to grant an audience to this delegation, but the petition bearing the signatures of Nawab Wajid Ali Shah's mother Janaba Aliya Taj Ara Begum and Wajid Ali Shah's eldest son and heir apparent to the throne Mirza Mohammad Hamid Ali and his next brother Mirza Mohammad Jawwad Ali Sikander Hashmat Bahadur was then presented on 6th August 1857 before the House of Lords for a brief debate by the then Chancellor of Exchequer Lord Campbell but was later on withdrawn on technical grounds. Malika Aliya (Malika Kishwar) was the daughter of Nawab Hussain-ud-Din Khan of Kalpi near Kanpur. While on her way back from London to Lucknow she died at Paris in 1857 at the age of about 55 years. The British then stopped the payment of Wasiqa to Pt. Durga Prasad Sharga and confiscated his jagirs. The payment of Wasiqa was restored to him in 1859 after getting the clearance from the city magistrate that he did not take any part with the rebels during the Mutiny of 1857. Pt. Durga Prasad Sharga died around 1870 in Kashmiri Mohalla, Lucknow at the age of about 75 years.
Pt. Durga Prasad Sharga had three sons Bansi Dhar, Sri Kishan and Bishambhar Nath. Pt. Bansi Dhar Sharga was born around 1828 in Kashmiri Mohalla, Lucknow, Pt. Bansi Dhar Sharga after completing his traditional education in Urdu and Persian language became a Bakshi a pay master in the Shahi Fauj of king Amjad Ali Shah (1842 – 1847).
He lost his job when Gen. Outram forcefully evicted the royal family members from the Chhattar Manzil palace on 23rd August 1856 and the British disbanded the Shahi Fauj. Though the British absorbed the Kashmiri Pandits in their services who were employed in the Lahore durbar after the annexation of the Punjab Kingdom in 1849, but they adopted a different policy after the annexation of the Oudh kingdom by them in 1856, simply because the rulers of Punjab were skihs whereas the rulers of Oudh were Shia Muslims, who raised a banner of revolt against them in 1857 under the command of Begum Hazrat Mahal. Pt. Bansi Dhar Sharga was victimized by the British for the role played by his father Pt. Durga Prasad Sharga in supporting the claim of Nawab Wajid Ali Shah on the throne of Oudh. The British to break the backbone of the Nawabs and their loyal employees not only confiscated their properties but also deprived them from the government service. Pt. Bansi Dhar Sharga had to face this music for no fault on his part.
He was a man of great taste and used to live with great affluence and pomp and show commanding both respect and honour. He was married with Kaula Bibi who was the daughter of Pt. Mehtab Rai Tankha and granddaughter of Dewan Zind Ram Chowdhary Tankha who was the incharge of the government treasury of Nawab Asaf-ud-Daula. Pt. Bansi Dhar Sharga died around 1886. He had only one son whose name was Pt. Baij Nath Sharga.
Pt. Baij Nath Sharga was born around 1850 in Kashmiri Mohalla, Lucknow. After completing his traditional education in a Maktab he first became a sharistedar in the Farrukhabad district during the British rule and then on the recommendation of his father in law Dewan Moti Lal Atal who was very close to Maharaja Sawai Ram Singh II (1835-1880) of the Jaipur state, Pt. Baij Nath Sharga became the Nazim of Ganganagar and started living in Tehsil Naveli under the jurisdiction of Sawai Madhopur.
Pt. Baij Nath Sharga being the son in law of Dewan Moti Lal Atal very soon started wielding considerable power and influence over the administration which offended the local Rajput chieftains and other courtiers. The Rajput chieftains could not digest the rule of a Kashmiri Pandit over them. So they hatched a conspiracy to eliminate Pt. Baij Nath Sharga to make the way for some Rajput to take over the administration of Sawai Ganganagar. Pt. Baij Nath Sharga subsequently died under mysterious circumstances due to poisoning in 1890 at the age of about 40 years.
Pt Baij Nath Sharga while serving as Nazim of Sawai Ganganagar earned a lot of money and built a big haveli in 1883 in Kashmiri Mohalla, Lucknow for the lavish living of his family members. He lived a king size life and fully enjoyed every moment of it. He was married in 1868 with Radhika Rani (Shyam Rani) the daughter of Dewan Moti Lal Atal of the Jaipur state. He had two sons Brijendra Nath Sharga and Shyam Manohar Nath Sharga besides three daughters Kam Rani who was married with Pt. Suraj Narain Bahadur the son of Pt. Har Sahai Bahadur of Kashmiri Mohalla, Lucknow, Lado Rani who was married with Pt. Kishan Lal Hukku of Allahabad and Kashi Shuri who was married with Pt. Kunwar Kishan Dar the son of Pt. Mohan Kishan Dar of Agra.
Pt. Baij Nath Sharga's elder son Pt. Brijendra Nath Sharga was born in July 1877 at Madhopur. He did his M.A. in English literature from Canning College, Lucknow around 1898. He then went to England in 1902 to study law. He did his bar-at-law from Lincon's Inn, London in 1904. But before he could return back to his motherland he met with a tragic road accident; when he came under the wheels of a horse driven carriage while going to the market on his bicycle to purchase some articles for his relatives back home. He subsequently died on 21st October, 1904 in a London hospital and was cremated there. From his death bed on the suggestion of Pt. Iqbal Narain Masaldan his classmate who was the son of Pt. Shyam Narain Masaldan a great social reformer of Lucknow, Pt. Brijendra Nath Sharga bequeathed Rs. 10,000/- to Dr. Annie Besant for providing facilities for the education of Kashmiri Pandit boys in the Central Hindu College, Benaras (Varanasi). Dr. Annie Besant built a magnificient Sharga Hall in his loving memory in the Central Hindu College, Benaras. Pt. Brijendra Nath Sharga was married with Indrani Hukku but she died quite young before his death.
Pt. Baij Nath Sharga's younger son Pt.Shyam Manohar Nath Sharga was born on 21st December 1879 in Tehsil Naveli of Sawai Madhopur in the erstwhile Jaipur state. He had his early schooling in the Centennial School, Lucknow and then in Maharaja School, Jaipur where he used to live with his maternal grandfather in his haveli on Chaura Rasta. He then took admission in Government Jubilee High School, Lucknow in IX Class in 1893 by which time he had developed a total command over Sanskrit, Hindi, Urdu, Persian and Arabic language. He passed his entrance examination in 1895 in first division scoring the highest percentage of marks which was conducted by the Allahabad University at that time and got the scholarship of the U.P. government for higher studies. There was no facility of electricity then. He used to read in the light of an oil lamp at night with great difficulty as its wick used to flicker with the wind disturbing his mental concentration on his studies.
While he was studying in the Centennial School, Lucknow a rogue student of his class hit the writing slate on his forehead so forcefully that it resulted in a deep injury on his forehead which later on developed swelling due to some infection causing much worry to his relatives. He also developed high fever due to this infection. The antibiotic drugs were not discovered by that time. So when the doctors expressed their inability to treat him, his relatives then as the last effort took him to Benaras to present him before Swami Bhaskaranandji who was a very great spiritual saint of that period with supernatural powers. Swamiji gently put up his thumb on Pt. Shyam Manohar Nath Sharga's forehead as if the former was applying a tilak to the latter and lo behold all the problems of young Pt. Shyam Manohar Nath Sharga at once vanished into the thin air like a miracle and he became perfectly alright. Since then he never complained any headache till his death.
Pt. Shyam Manohar Nath Sharga took his admission in the Canning College, Lucknow in 1895 and did his F.A. in 1897 and B.A. in 1899 in first division from this institution which was affiliated with the Allahabad University then securing first position in both the examinations. He then did his M.A. in English literature in 1901 in first division but was placed in the second position in order of merit as his British professor in the Canning College became partial and gave two marks more to a European student so that a native student could not boast of this unique distinction. Pt. Shyam Manohar Nath Sharga all through his academic career instead of doing five questions out of ten as per instructions in the examinations used to write the answers of all the ten questions with a remark see any five for the examiner on his answer books.
He was then appointed as the Professor of English literature in 1902 in the Canning College but he also continued his studies and joined the law classes. He then passed the pleader's examination of the Allahabad High Court in 1904 and in the same year he did his LL.B. from the Allahabad University in first division with first position in order of merit.
He then left the job of teaching in the Canning College and started his legal practice. In April 1904 his mother Mrs. Shyam Rani Sharga died at the age of about 52 years due to which he became a little indecisive about his future plans. But he somehow continued his legal practice for another two years. He then in 1906 became the judgement writer in the court of Chief Judicial Commissioner, Lucknow.
The British then appointed him as Munsif at Barabanki in 1908. He used to go to Barabanki to attend his court from his residence at Lucknow on his private Tonga daily. After serving as Munsif in the few districts of U.P. he got the promotion and was made a sub judge in 1919 and was posted at Hardoi. He then became an additional sessions judge of Bahraich in 1924. From Bahraich he was transferred to Lakhimpur Kheri in the same capacity in 1927. He then became subjudge and assistant sessions judge Sitapur in 1929. In 1930 he became additional sessions judge Unnao. He finally retired as the district and sessions judge Gonda in 1934 after putting in a long record of meritorious service.
Although he was a very brilliant and competent judge with an unblemished record of service but even then when according to seniority his turn came for the appointment in the Oudh Chief Court, the British elevated a pro British Muslim judge to the Bench superceding him. He was victimized by the British for his very strong nationalist views and for his close connections with Dr. Annie Besant and some other Congress stalwarts of that period like Pt. Moti Lal Nehru who was a regular visitor to his place and Pt. Bishambhar Nath Sahib who was his grandfather in law.
He was a man of independent character and never used to mix up freely with the British officers in the official functions, gatherings, parties and dinners just to gain undue favours of the British. Being a highly orthodox person he simply used to take fruits and that too in a silver plate on such occasions, which was definitely not to the liking of the British. On one such occasion when the venue of the party was changed at the last moment; he kept on sitting at the original place and did not change his seat. Later on he justified his action by narrating an old Urdu couplet Hazrat-e-Daag jahan baith gaye baith gaye.
The British then to show their impartiality and fairplay to the public at large made him chief judge of the Udaipur state in 1934 during the rule of Maharana Bhopal Singh in that state. In 1935 the then Viceroy and governor genreal of India Lord Willingdon conferred upon him the civilian title of Rai Bahadur for his long meritorious service to the British empire.
Rai Bahadur Pt. Shyam Manohar Nath Sharga as the Chief Judge of the Udaipur state created history when he cleared all the backlog of cases within a record time of three years single handedly. He used to work like a giant and became popular in the state as a convicting judge. He used to give very harsh punishments to the hardened criminals so that they may not dare to commit the crime again. His judgements always used to have the flavour of English literature and were generally written in the Miltonian style of English. In official functions of the state he used to sit next to Maharana Bhopal Singh, who became very happy with the performance of the former.
After completing his term of three years he came back to Lucknow from the Udaipur state in 1937. Maharana Bhopal Singh of Udaipur on his departure from the state presented him an Italian Fiat car, a Havadar and a sword of honour besides some precious jewels in recognition of his outstanding work in the state.
Rai Bahadur Pt. Shyam Manohar Nath Sharga started writing Urdu poetry quite early in life. He began composing parodies about his teachers when he was harldy 8 or 10 years old. He then started composing serious Ghazals in the company of some matured Urdu poets. He then started reading the Dewans of noted Urdu poets just to develop his own style of poetry writing. He liked the narration of Khwaja Wazir Lucknavi and then tried to follow the same style of poetry writing. He always tried that his poetry should not be confined to mere romanticism and imaginary ideas but should also convey some message. He never composed any thing on demand or in anybody's praise for some favour. He only expressed those emotions and feelings in his poetry.which he himself felt in his heart as a poet. The following couplet composed by him under the pen name Saghir reflects that approach very explicitly.
Taras jayegi duniya gul phishani ko Saghir apni
Zamana phir dikhayega na aisa khush bayan barson.
He never took poetry writing as a serious profession but as a pass time so whatever came into his mind on any topic under the sun he simply expressed that in a poetic form with out bothering much about the nuances of Urdu poetry writing and its grammer. The following Ghazal composed by him will give an ample idea about the style of his poetry writing.
Nahin para mere gham ke rakam ka
Kaleja chak hota hai kalam ka
Gharik-e-zar hon bahre karam ka
Mujhe kya gham hissab-e-besho kam ka
Kiya raftar ne kiski yeh pamal
Ki surma ban gaya nakshe kadam ka
Tagaful bhi hai zalim ka kayamat
Ki dil mushtaq hai mashke sitam ka
Kiye kya kya gulemani shigufta
Karishma dekh is tute kalam ka
Do alam ho chuke bismil Ilahi
Abhi, agaz hai husne sanam ka
Saghir –e khasta jan se puchiye hal
Shuru – e – ishk mein zapt – e – alam ka
Generally Urdu poets compose the happenings of the day from the early morning till late night which they call as Subah Roz in different forms and styles. The style of Saghir can be judged from the following lines composed by him :
Pahla pahar hai raat ka hai khushnuma saman
Hone lage hain subah ke asaar kuch ayan
Aati hai tan mein taza naseem sahar se jan
Tadke ki chandni ki latafat ho kya bayan
Yon shafaq asman mein hain tare jame hue
Moti hon jase farsh pe bikhre pade hue
Kante pare hain halk mein hasrat hai ghoont ki
Pani nahi hai naam ko thaili mein oont ki".
He never composed anything in praise of anybody to gain some favour nor on demand of any person. His main motto while writing Urdu poetry was always for self pleasure and to satisfy his creative urge. That is why he never bothered to publish any Dewan for posterity. Now much of his poetic compositions are untraceable although a few of them are there in the first volume of Bahar-e-Gulshan-e-Kashmir, which was published in 1931.
Rai Bahadur Pt. Shyam Manohar Nath Sharga was married in May 1892 at Farrukhabad with Kunwarpati (Dhan Rani) the daughter of Pt. Niranjan Nath Sahib and granddaughter of Pt. Bishambhar Nath Sahib of Allahabad, which was arranged by Pt. Bhairom Nath Sharga. He had two sons Manharan Nath and Kailas Nath, besides five daughters Janak Dulari (b – 1898) who was married with Pt. Kunwar Krishna Gurtu the son of Pt. Sri Krishna Gurtu of Gwalior, Shyam Kumari (b – 1903), who was married with Pt. Jagat Prakash Taimni the son of Pt. Sri Ram Taimni of Lucknow, Ram Kumari (b – 1906), who was married with Dr. Sidh Nath Kaul the son of Pt. Radhe Nath Kaul of Lahore, Roop Kumari (b – 1909) who died quite young and Susheel Kumari (b – 1912) who was married with Pt. Hari Narain Shivpuri the son of Pt. Lakshmi Narain Shivpuri of Pratapgarh.
R.B. Pt. S.M.N. Sharga's eldest son Pt Manharan Nath Sharga was born in 1895. He passed his middle examination around 1902 from the Government Jubilee High School and then left his studies. He was then fixed up in the railways by one of his relative Pt. Kali Sahai Sharga at Calcutta (Kolkata). But there he had a row with another relative Pt. Kunwar Krishna Sharga who created some mischief and then left the job in utter disgust. He then came back to Lucknow from Calcutta and did nothing. He was married around 1914 with Rupwanti (b – 1901) who was the daughter of Pt. Maharaj Krishna Haksar of Gwalior. He had a son Gauri Nath besides two daughters Swaroop Kumari who was married with Pt. Gopi Kishan Kitchlu the son of Pt. Kunwar Kishan Kitchlu of Jammu and Savitri Kumari who was married with barrister Suresh Narain Mulla the son of Justice Tej Narain Mulla of Allahabad. Pt. Manharan Nath Sharga died around 1974 at Kanpur at the age of about 78 years. His wife Mrs. Rupwanti Sharga died earlier in Mahanager, Lucknow in 1972 at the age of 71 years due to paralysis.
Pt. Gauri Nath Sharga was born in 1916. He passed the entrance examination around 1942 and then joined the Police Training College, Moradabad and became a sub inspector of police around 1943. He then did his F.A. privately from the D.A.V. College Kanpur and became a deputy superintendent of police. He retired from active government service in 1975 from Kanpur. After his retirement he started living in C – 24, H – Road, Mahanagar, Lucknow. He was married with Jaiwanti Madan (b – 1920) the daughter of Pt. Bishambhar Nath Madan of Faizabad. He had four sons Guru Nath, Ganga Nath, Vijay and Rajiv besides five daughters Prabha married to Pt. Upinder Kishan Razdan of Delhi, Pushpa married to Dr. Vishwa Nath. Reuof Delhi, Padma married to Girish Srivastava of Lucknow, Shashi married to Sanjeev Misra of Kanpur and Meera married to Pt. Jawahar Wattal the son of Pt. Hira Lal Wattal of Allahabad.
Pt. Gauri Nath Sharga died in February 1995 at Delhi at the age of about 78 years. His wife Mrs. Jaiwanti Sharga died later in September, 1995 at Delhi due to brain Cancer at the age of 75 years.
R.B. Pt. S.M.N. Sharga's youngest son Pt. Kailas Nath Sharga was born in 1914 on the day of Janma Asthami the year in which the city of Lucknow suffered a terrible flood when the swollen Gomti river practically submerged half the city areas in knee deep water. He had his early schooling in Government Jubilee High School from where he passed his entrance examination in 1931. He then did his F.A. and B.A. from the Lucknow University in 1933 and 1935 respectively. He then took his admission in M.A. with English literature as his subject and passed his M.A. and LL.B. examinations simultaneously in 1937 as the double course was allowed at that time. He then qualified the P.C.S. (Judicial) examination but the British did not appoint him as a Munsif for want of vacancy. He then started his legal practice. When India became free in 1947 and Pt. Govind Ballabh Pant became the first Premier of the then United Provinces he appointed Pt. Kailas Nath Sharga as a judicial officer in 1947 and posted the latter at Moradabad. Pt. Kailas Nath Sharga served first as a judicial magistrate and then as an additional district magistrate judicial in a numbers of districts of U.P. like Barabanki, Rae Bareli, Gorakhpur, Aligarh, Bahraich and Varanasi. He retired as A.D.M. (J) from Sultanpur in 1975 after attaining the age of superannuation. The noted filmmaker Muzaffar Ali shot some, scenes on him for his well researched documentary film The Wasiqedars of Oudh.
Pt. Kailas Nath Sharga was married in 1934 at Kanpur with Raj Kumari (Rajwanti) the daughter of Pt. Rameshwar Nath Dar of Kanpur. He had four sons Dr. Baikunth Nath Sharga, Dr. Amrit Nath Sharga, Arjun Sharga and Vinay Sharga besides two daughters Saroj married to Pt. Shyam Mohan Nath Dar of Mandsaur and Dr. Sita married to Pt. Kamal Zutshi of Nagpur. Pt. Kailas Nath Sharga died on 7th July 1991 at Lucknow at the age of about 77 years. His wife Mrs. Rajwanti Sharga died on 16th February 2004 at the age of about 87 years at Lucknow. Both of them died in the historic haveli of Kaul Shargas in Kashmiri Mohalla.
Rai Bahadur Pt. Shyam Manohar Nath Sharga had a multidimensional personality. He was a tall and well built man with a very good physique as he was fond of doing the Indian excersises daily to keep him fit and sturdy. He was also fond of wrestling. He was a voracious reader and used to read books practically on all the subjects. He had a big personal library with a vast collection of rare books and manuscripts. He had an awe inspiring personality and used to command a great respect in the society. He was a great philanthropist and so used to help many people in many ways both financially and otherwise. He was a great votary of women's education and extended all the help and support to his brother in law Pt. Suraj Narain Bahadur to start a girls school in Kashmiri Mohalla in 1904. He even provided residence free of cost to the head mistress of this girls school, Miss Rosalina Ingliss an Irish lady on the recommendation of Dr. Annie Besant.
He also had vast agricultural lands in village Naubasta Khurd on Sitapur Road, which were taken away by the state government in 1950 under the Zamindari Abolition Act to deprive the elite of the society their social status under the false notion of bringing about socialism by removing the disparities in the society.
He also purchased the palace of Nawab Makzan-ud-Daula on Maidan Ilach Khan in 1934 where it is said once Nawab Wajid Ali Shah stayed when he came to Lucknow incognito from his detention in Calcutta in Fort William.
He had a limited friend circle. The people like Justice Sir Wazir Hasan, Justice Bisheshwar Nath Srivastava, Justice Gokaran Nath Misra and Mirza Jaffar Ali Khan 'Asar' were very close to him.
Though Kashmiri Mohalla of Lucknow has produced a galaxy of social and political figures like Pt. Sheo Narain Bahar, Pt. Shyam Narain Masaldan, Pt. Bishan Narain Dar and noted Urdu poets like Pt. Daya Shankar Kaul 'Naseem', Pt. Ratan Nath Dar 'Sarshar' Pt. Brij Narain Chakbast etc. in the 19th century, but none of them ever bothered to develop their own locality. Rai Bahadur Pt. Shyam Manohar Nath Sharga took this task and to improve the environment and living conditions in the locality he with the help of some other like minded and enthusiastic persons developed a beautiful park in the mohalla for the recreation of the local residents in 1918, which was then duly named after him as Sharga Park by the Lucknow. Municipal Board. He also became instrumental in launching some other such welfare schemes for the benefit of the people. He was actually a great missionary and a visionary, a great educator of ideas and philosophies.
Building houses was his greatest passion. He had twelve houses in Kashmiri Mohalla and a big Shadi Khana for organizing community functions and for performing community marriages which he used to give without charging anything from the community members besides providing utensils on such occasions and some other items connected with such functions.
He used to recite quite often the Urdu couplet Jahan mein jahan tak jageh paeyye imarat banate chale jaeyye whenever he was in good mood. Smoking Hukka for a few minutes after the meals was his most favourite style. Sometimes he also used to enjoy an outing with his family members on his luxurious Chevrolet car.
He was a great animal lover and had a big collection of about 5000 pigeons of rare breed. Kite flying and playing cards were his favourite passtime. He always recognized the dignity of labour and never felt any hesitation in doing any type of manual work. He also learnt horse riding and swimming as a hobby.
In 1950 the retinue of his domestic servants hatched a conspiracy and committed a very big theft in his haveli, which continued for a record time of about six months unnoticed. This theft was detected when a Kashmiri Pandit Kotwal of Chowk Kotwali Pt. Jagdish Munshi found a black man, selling Dijahroos in the main jewellery market at night. Suspecting some foul play Pt. Jagdish Munshi took that suspect to the Chowk Kotwali where the accused was then subjected to a thorough police interrogation upon which he spilled the beans and confessed his crime. He revealed to the police that with the help of other domestic servants of the Haveli he was indulging in this type of stealing for the last six months. His modus operandi was quite simple. He used to pick up precious articles one by one daily very secretly and then used to sell them in the market at throw away price for money. As the judge saheb was living alone with his wife who was practically blind so the accused had also chalked out a fool proof plan to kill the judge saheb in case of any resistance from his side.
Pt. Jagdish Munshi to confirm the confession of the culprit then sent a posse of policemen to the residence of judge saheb who initially didn't believe that a theft had been committed in his fort like haveli but when the policemen placed the keys of Toshakhana before him and told him that the accused was telling his name as Paras Ram the judge saheb then got the greatest shock of his life, as in this unique theft of its own type his lifelong earnings including precious jewellery and a big collection of rare artefacts worth about 50 lacs were stolen. This historic theft captured the banner headlines in almost all the newspapers of the city the very next day.
After this most unfortunate event Rai Bahadur Pt. Shyam Manohar Nath Sharga became a completely broken person. He then lost all interest in life. He could not recover from this catastrophe as it was not possible for him to begin once again from a scratch at that age. He also felt the guilt that he had deprived his legal heirs of a big fortune. All these developments naturally had a very bad effect on his health. He became seriously ill and ultimately left for his heavenly abode on 14th May, 1952 at the age of about 73 years after a protracted illness. His wife Mrs. Dhan Rani Sharga died three month later in September 1952 at the age of about 72 years. Thus an era of nobility and old values has come to an end with a sad note. Nobel Laureate Gurudev Rabindra Nath Tagore's golden words that The butterfly counts not months but moments and has time enough should be a guiding force for every one in life for achieving success.