IN our country the people have a great fascination for the game of cricket. They watch this game with great passion that is why it is being generally regarded as the second religion of the country, All the T.V. channels now regularly telecast their programmes based on this game in which experts express their viewpoints on the finer aspects of this game. It has now become a source of earning big fortunes almost overnight.

Many cricket players have become millionaires and own big posh bungalows besides a fleet of imported luxury cars as very big money is involved in this game. The first Kashmiri Pandit to make a mark in this game as an umpire on international horizon was Pt. Swaroop Kishen Reu, who earned a place for himself in the Wisden Cricketerís Almanac for his unbiased and analytical decisions based on his deep knowledge about the rules of the game.

The history of cricket in India is really very interesting. The British sailors brought this wonderful game to our country in the 18th century.

They used to play this game at the Bombay port for their recreation and enjoyment. The first recorded cricket match was played between British soldiers and English settlers in India in 1751. The first cricket club in India was established at Calcutta in 1792 known as Calcutta Cricket Club. It was the second cricket club after M.C.C. of England in the world.

Parsis of Bombay were the first to be attracted towards this new game. They learnt the techniques of this game very soon and to make it popular in the country formed the Oriental Cricket Club in Bombay in 1848.

After sometime another cricket club by the name of Young Zoroastriansí Club was formed by the young Parsi boys to play cricket . The Hindu boys then formed their own club in 1866 to play this game which was duly named as Hindu Gymkhana.

The cricket lover Parsi youngmen again were the first to send their team on a tour to England in 1886 under the captaincy of one Dr.Patel to play matches there . This cricket team of Parsis again went to England in 1888 and won several matches there, which impressed the Englishmen so much that they sent their team to Bombay to play a match against the Parsis of the city and surprisingly again the Parsis defeated Englishmen in this friendly match . Gradually this took the shape of an annual Presidency cricket match between the Englishmen and the Parsis of Bombay, which became triangular affair in 1907 when the Hindus also started participating in this tournament. This became a quadrangular tournament in 1912 when the Muslims also joined it to enjoy this game.

It was in 1911 that an all India cricket team visited England under the captaincy of Maharaja Bhupendra Singh of Patiala consisting of star cricketers of that period . In 1926 two members of the Calcutta Cricket Club went to London to seek the membership of the then Imperial Cricket Conference for proper recognition of their club . Although technically and legally it was not an official delegation from India yet Lord Harris who was the Chairman of I.C.C. then allowed M.C.C. to send a cricket team to India with Arthur Gilligam as its captain. This M.C.C. team played cricket matches against an all India team as well as Hindu Gymkhana .

To make this game of cricket popular in the whole country a meeting of the delegates from Sind, Punjab, Patiala, Delhi, United Provinces, Rajputana , Alwar, Bhopal, Gwalior, Baroda, Kathiawar and Central India was held on 21st November 1927 at Delhi in which it was decided to form an all India body to control the affairs of cricket in the country and to give a fillip to this game, Consequently in December 1928 the Board of Control for Cricket in India known as BCCI was duly constituted to govern and guide the activities of cricket in the country. Mr. R. E. Grant Govan an Englishman became the first President of B.C.C.I.

India played its first official Test match against England at Lords between June 25-28, 1932. The captain of the Indian team was legendary Col. C.K. Naidu whereas the English side was led by D.R. Jardine. India lost this Test match by 158 runs. The M.C.C. team then visited India in 1933-34. Thus India was then recognized as the

6th cricket playing country in the world. That is how the game of cricket had established its firm footing in our country.

Pt. Swaroop Kishen Reu had a great passion for the game of cricket right from his childhood. His grandfather Pt. Shyam Kishen Reu was a highly religious and orthodox person, who was the resident of Habba Kadal locality in the Srinagar district of Kashmir valley. He was married with Ragya the sister of Pt. Kishan Lal Ruggu, who was the first Indian to become the manager of Cooperative Paper Mill, Lucknow during the British period, Pt. Shyam Kishen Reu had a son Tej Kishen besides two daughters one of whom was Mrs. Inderpati Razdan.

Pt. Shyam Kishen Reuís son Pt. Tej Kishen Reu, who was born around 1908, after completing his studies came to Delhi around 1940 and got employment in the Indian railways .

He was married with Dulari, the daughter of Pt. Ragya Prasad Zadu of Lahore. He built a house at 1835 Mohalla Imli, Chowk Mubarak Shah near Bazaar Sita Ram, which had a big concentration of the population of Kashmiri Pandits in Delhi then.

Pt Tej Kishen Reu had three sons Gyan Nath, Swaroop Kishen and Iqbal Kishen.

Pt Tej Kishen Reuís eldest son Dr. Gyan Nath Reu was born around 1928. He did his M.A. from the Delhi University and then took up a job in the P

& T department at Delhi. He retired from active service in 1988 as an assistant director . He also did a diploma course in homoeopathy and was a practising homoeopathic doctor.

He was married with Geeta Dar. He had a son Gopal Reu and a grandson Rahul Reu, He died in 1984 at Delhi.

Pt Tej Kishen Reuís youngest son Pt. Iqbal Kishen Reu was born around 1932. He was employed in the railways and had a thorough knowledge of Kashmiri

Karm Kand. He was a practising Kul Purohit and used to perform religious rituals of his jajmans, After performing the marriage of Priyanka Gandhi with Robert Vadra in 1996 according to K.P's traditions he left this job. He then on the request of Justice Pratap Narain Bakshi the founder President of All India Kashmiri Samaj trained Pt. Jeevan Dar of Allahabad in Karmkanda to carry on his legacy.

After Pt. Jeevan Darís death his wife Mrs. Poonam Dar has taken up the batton. She also publishes a Kashmiri almanac every year for the benefit of the community. Pt. Iqbal Kishen Reu died in 2004 at Delhi after a long illness. He was unmarried.

Pt. Tej Kishen Reuís second son Pt. Swaroop Kishen Reu was born on 13th July 1930 in his ancestral house in Habba Kadal locality of the Srinagar district in Kashmir. He had his schooling in Delhi, where his father was posted. He did his B.Com and LL.B. from the Delhi University He then took up a job in the office of Accountant General of India and due to his sincerity and hard work became an Accounts Officer in it.

Pt. Swaroop Kishen Reu had a great love for, the game of cricket right from his childhood . He was a member of the Delhi University cricket team as a batsman cum wicket keeper. He made his debut as an umpire in December 15-20, 1978 Test match at Bangalore in the first series against the West Indies led by Clive Lloyd but unfortunately that Test match had to be abandoned due to riots. In the next Test match of this series at Madras he and the other umpire J.D. Ghosh were criticized by the experts and commentators for allowing too many bouncers in the match by D.L. Haynes, causing severe injuries to the players. This West Indies team had cricket stalwarts of that period like M.D. Marshall, A.B. Williams, Jwel Gardner, Michel Holding and Sir Vivien Richards, etc.

A year later in 1979 at the same ground Pt. Swaroop Kishen Reu, his fellow umpire and players had to lay prostrate on the ground during the session of the game when swarms of bees attacked all of them suddenly to save themselves from their sting, which was really a very peculiar sight to watch.

As an umpire Pt. Swaroop Kishen Reu was a witness to numerous Test records which were achieved in the history of Test cricket right before his eyes mainly by Sunil Gavaskar and Kapil Dev. Kishen Reu was generally considered to be a lucky umpire for India. But in his 13th Test in 1983-84 at Kanpur India lost the match. In the Test series against England in 1981-82 in the fourth Test match at Calcutta he stood in the Eden Garden ground as an umpire before a record crowd of about 4 lac spectators throughout its five days, which is a world record. A further niche was carved at Bombay in 1983-84 series when he erased the feeling of indecision felt by his fellow umpire M. V. Gothosker after an Indian appeal against Haynes for handling the ball. It was fourth such dismissal in the history of Test cricket.

Pt. Swaroop Kishen Reu being a law graduate used to apply his legal and analytical mind while enforcing rules and regulations of the game as laid down by the I.C.C. on the ground. He once took to task Imran Khan the skipper of Pakistan for tampering with the ball. His last Test as an umpire was at Bombay, from November 28 to December 3 in the 1984- 85 series against England led by David Gower . He stood on the ground as an umpire in 17 Test matches which is an Indian record shared with another Indian umpire B. Satyaji Rao.

Pt. Swaroop Kishen Reu apart from performing the duties as an umpire in Test matches also had the opportunity to do the same job in One Day International matches as well. His first ODI was India verses England at Jallundhar on 20th December 1981 and his last ODI was England verses Pakistan at Sharjah on 26th May 1985. In the ODI played at Jallundhar in the Gandhi Stadium in 1981-82 series the Indian side was led by Sunil Gavaskar with Dileep Vengsarkar, Kapil Dev, Kirti Azad, Sandeep Patil, Ravi Shastri and Madan Lal as its members. The captain of the Englandís team was Kitch Fletcher and Graham Gort, Geof Boycott, Ian Bothom, David Gower, Mike Getting and Geoff Cook were its members. India won this ODI by 6 wickets.

In recognition of his outstanding services for the game of cricket he was awarded Padma Shree in 1986 by the President of India Gyani Zail Singh. He then started leading a retired life. He died on 21st November 1992 at the age of 62 years at Delhi due to Cancer.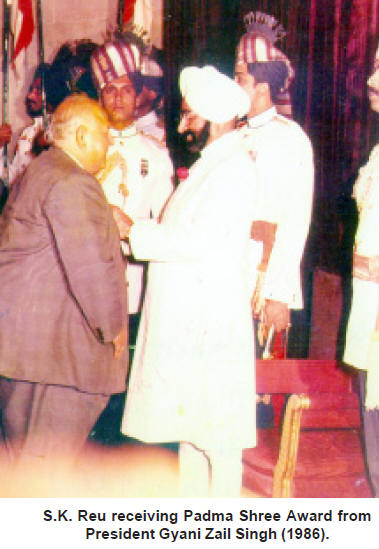 Pt. Swaroop Kishen Reu got married in 1960 with Sunita who was the daughter of Pt. Shibban Lai Handoo of Delhi. He had three sons Sanjeev, Sunil, and Susheel.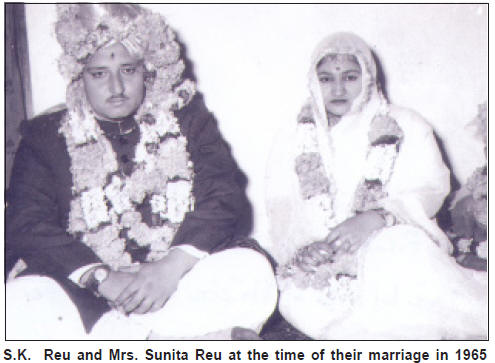 Sanjeev Reu is holding a high post in Tata International and is married with Savita. He has a son Yugal and a daughter Latika. Sunil Reu is working in Dubai and is married with Jyoti.

Susheel Reu is employed in Atlas Cycles of Jallundhar He is married with Sheetal and has a son Saransh and a daughter Srishti.

Pt. Swaroop Kishen Reu was a jolly good fellow. He was quite obese, so could be very easily identified on the cricket grounds. Teresa Mclean in his book

The Men in White Coats has written that with his huge girth lending him a Sydney Greenstreet profile, Swaroop Kishen was perhaps the most instantly recognized umpire ever to take the field in a Test match not with standing one or two extroverts of recent years, and a rear view of him was chosen to grace the dust jacket of this book on umpires and umpiring .

It was a real treat to observe him pedalling bicycle in the lanes and bylanes of Delhi with folds of flesh hanging on both the sides of its seat covering it completely from public view.

Pt. Swaroop Kishen Reu had a great sense of wit and humour. To cut jokes was his favourite pastime. He was also famous for chewing tobacco. He was great foodie.

Kashmiri delicacies were his greatest weakness so he loved to cook the Kashmiri dishes at home, like an expert chef.

He was a man of many traits. Though he was a soft spoken person who never lost his temper, yet he was very firm in his decisions, such people are always remembered for their peculiar habits and characteristics.

The game of cricket mixed with glamour has become a big business now than a mere sport. Newly introduced young scantly dressed and curvaceous cheer leaders from America and other foreign countries who pump an extra dose of adrenaline in your blood vessels while watching a match has given an entirely new dimension to this game. There was a time when slaves used to be auctioned in the markets of different countries of Central Asia. Now star cricketers are being auctioned in presence of film actions and industrialists who make bids for them. Some of the money minded cricketers even do not care for national honours.

This is the new face of this gentlemanís game, which it used to be once upon a time. Abraham Lincoln has very rightly said that in the end itís not the years in your life that count, it is the life in your years.