Milchar
March-April 2004 issue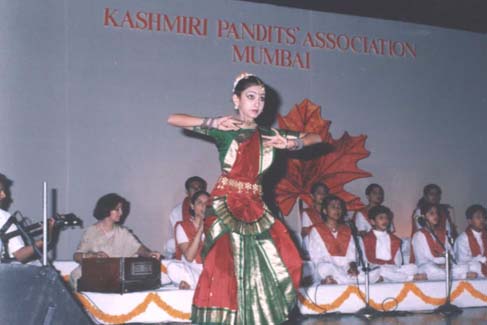 Kashmir's Students of the Vinod Sur Shringar Music Academy

performing at the Annual Cultural Nite at Rang Sharda, Bandra

Between Ourselves

Editorial

From the Pages of History

Sweet and Sour

Rejoinder

Our Heritage

Language

Spirituality & Religion

National Schools of Kashmir - Part 4

A Story dedicated to Project Zaan

Poetry

Children's Page

Report & Biradari News

Book Release

Letters
Rejoinder
… J.L.Manwati

Apathy of 'Naad'

[The below reproduced letter dated Ist February 2004, addressed to the Editor NAAD, was a reaction to the article of Dr. Roop Krishen Bhat published in the January 2004 issue of NAAD. The article while enumerating the books available for learning Devanagari-Kashmiri, had totally obliterated the work conducted by Project Zaan in this field. Unfortunately, this letter did not find any place in the subsequent issues of reputed NAAD . The letter is reproduced here to put the record straight. - Editor]

This has reference to the article titled 'Let us Learn Kashmiri' by Shri Roop Krishen Bhat in January 2004 issue of Naad. The effort of Shri Bhat in taking up the cause of our near-languishing language from our midst and highlighting the resultant erosion of our identity is laudable. Shri Bhat has assiduously been working for the preservation of Kashmiri language over the years and has been an important member on the Committee of Experts for Standardization of Devanagari Script for the language. All of us are equally aware and grateful to Shri Bhat for his strenuous research based exertion to compile and publish several books for the beginners / learners of the language.
In this article Shri Bhat has enunciated a list of books and audio tapes etc. available for learning Kashmiri language, which shall, no doubt, help the beginners to lay their hands on the available material for learning the basics of the language. But, nowhere, Shri Bhat has made any mention of the 'Basic Reader for Kashmiri Language' published by the Lalla Ded Educational & Welfare Trust under the Project Zaan in March 2001, which stands now updated in September 2003 by incorporating further modifications approved by the Expert Committee. Inadvertence could have been the reason, I presume. For, even obliquely I refuse to comprehend that it could have been intentional.
[But, Mr Editor your parenthetical insertion in Shri Bhat's article where you have kindly mentioned 'Project Zaan' has encouraged me to make a small digression-albeit without your permission.]
How could Shri Bhat have forgotten to make a mention of this 'Reader', when I have presented this book myself to him in February 2001 at my residence in Mumbai. That time Shri Bhat spontaneously claimed it to be 'A pioneering work.' The revised version of the 'Reader' was also electronically sent to about a thousand destinations across the globe, including Dr. Bhat, way back in November 2003 which he duly acknowledged and appreciated. But, knowing the complexities of the human mind, certain things slip off the 'Tab'.
It is not Shri Bhat alone, we at Lalla Ded Educational & Welfare Trust have received step-motherly treatment vis-a-vis this 'Reader' from even Koshur Samachar. I, as the President of the Kashmiri Pandits' Association, Mumbai then (2001), telephoned Shri. S. N. Bhat "Haleem Sahib', the editor of the 'Koshur Bhog' of Koshur Samachar and explained at length the purport of the Reader and requested him to write a small critique on the Reader and give us his valued suggestions as to how to improvise the future editions / works. Haleem Sahib expressed his 'amazement' that such a stupendous task had been undertaken by the Lalla Ded Educational & Welfare Trust. He further suggested that a set of six books be sent to him which he could send to various linguists / playwrights like Dr. Shant, Dr. S. Toshkhani, Shri. Kundan and others for their critical appreciation. Not to speak of penning a critique himself, Shri Haleem did not even write a single line in his Koshur Bhog about the book all these years.
It is unfortunate that denying the credit where it is due, has been the bane, I am sorry, of our community. The hyperflow of intelligent quotient in our community which gives us the power to break even the most elusive and inscrutable enigmatic problems in the realm of our lives makes us to harbour a feeling of being 'Know-all' with near vanity. This quality of self-esteem sometimes makes us impervious to the reasonable arguments or to matter-of-fact situation. This distinctive instinct of our character makes us to believe that our faculty of reasoning is infallible which involuntarily lends an element of intolerance in our pschye. As a result we are politically leaderless, socially adrift and academically directionless.
(Shri J.L.Manwati is Member, Project Zaan)